Apple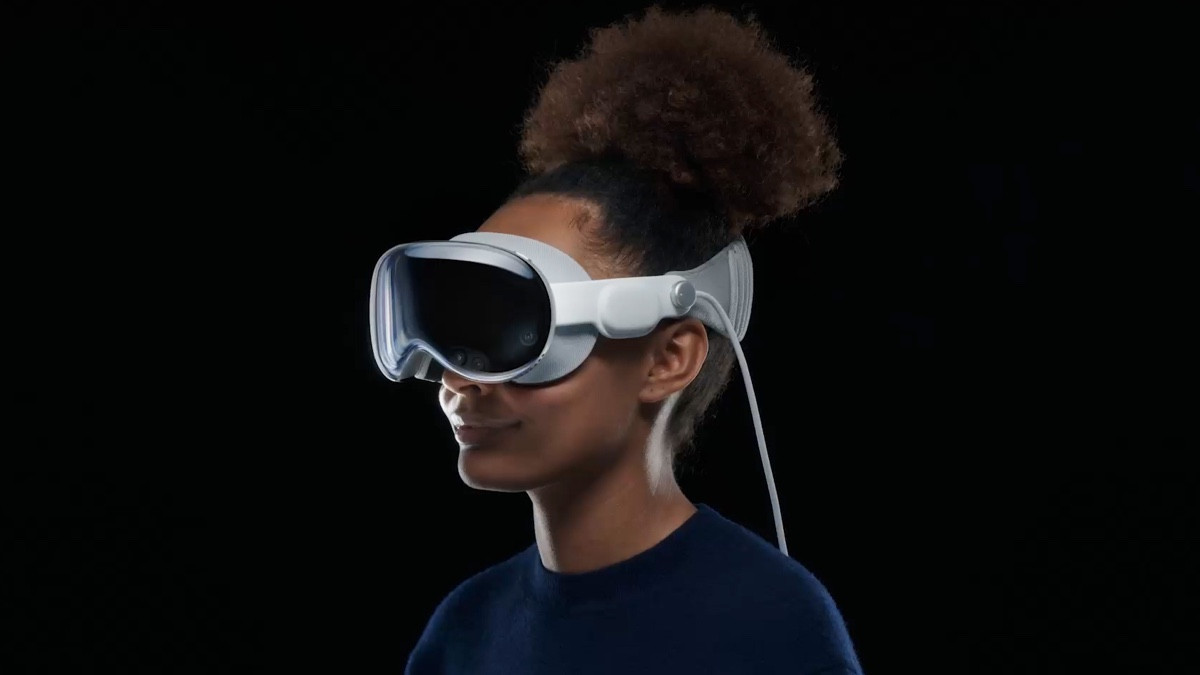 Wareable is reader-powered. If you click through using links on the site, we may earn an affiliate commission.
Learn more
Apple has unveiled its long-awaited augmented reality headset – the Apple Vision Pro – after years of rumors.
Tim Cook described the Vision Pro as the beginning of a journey, where Apple will take us to a truly augmented reality future. But there's a very long way to go.
The Vision Pro headset is very much a v1 product – and while Apple did its best to assuage the obvious criticisms about what this product is for or who might want it – these still remain, and more.
And then there's the price tag. It will cost $3,499/£2,849 – making it all but a toy for developers and the worst people in your office.
However, there's so much to dig into here and some truly transformational tech for the VR/AR space.
> The best smartglasses and AR headsets
Design
Apple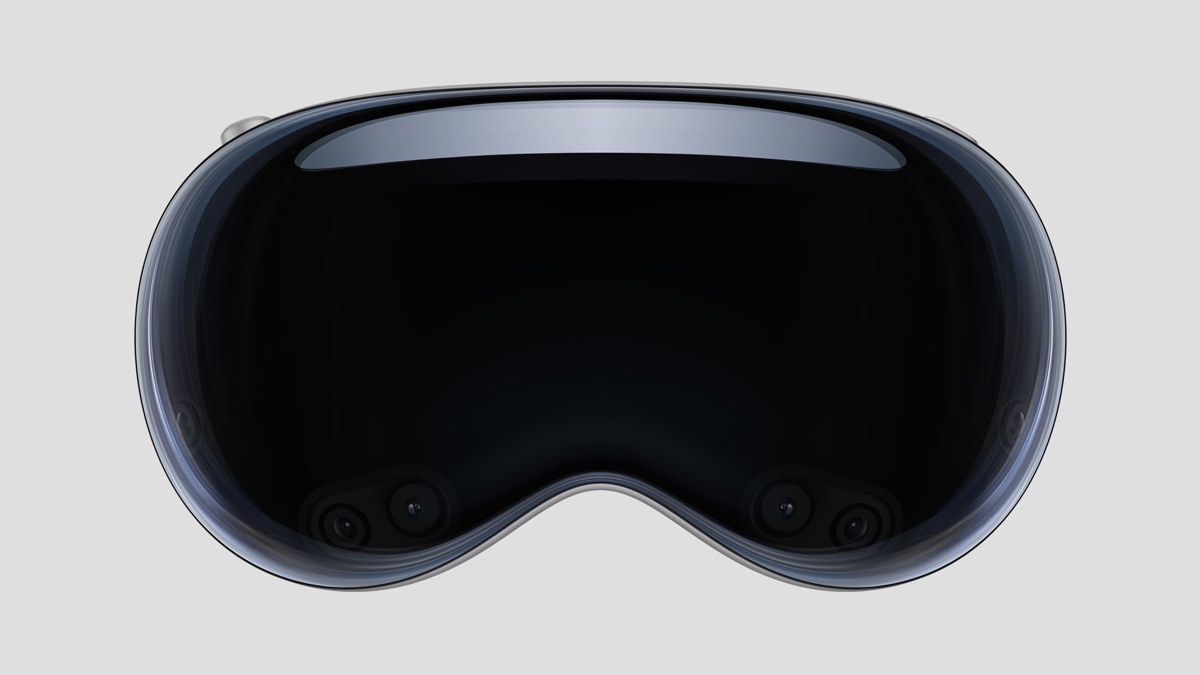 It looks sleek, it looks like an Apple product. It also looks like a VR headset, which is exactly what it is. Apple hasn't changed the game here in terms of look – but we're intrigued by how light it is to wear.
We'd imagine Vision Pro is very light, and that's because Apple has made a design concession other brands have shied away from. It's put the battery into a pocket-worn pack, connected by a thick braided wire. It's a classic Apple new project line move, making a big compromise in favor of an aggressive design and better usability.
That battery pack will power two hours of use, so you'll need to plug it into the mains if you want to watch a movie. Less than ideal.
There's an airflow system to keep you cool (or try to) to make wearing more comfortable, and a modular system with a variety of shaped faceplates to help you get the right fit.
Apple wants you to stay connected to the real world by enabling you to see and interact with people around you, which is where EyeSight comes on.
Most of the features, bar movie watching, of course, are overlaid on the real world. Well, a video of the real world, captured through the front-facing cameras.
Apple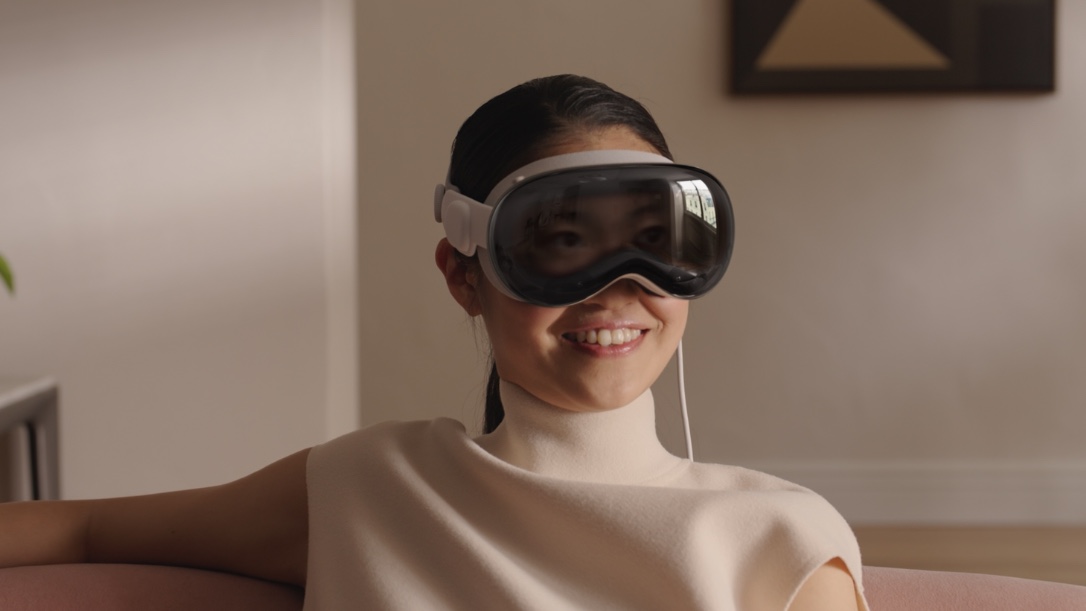 People will also be able to see your eyes. And this is where things start to get a bit Black Mirror. Your eyes are a projection, displayed on a front screen, taken from a facial scan performed during set up.
This scan is your "digital persona", and this is where the Vision Pro takes a lurch into the metaverse. Your persona also represents you in FaceTime or Zoom calls, taken from inside Vision Pro.
Tech specs
Apple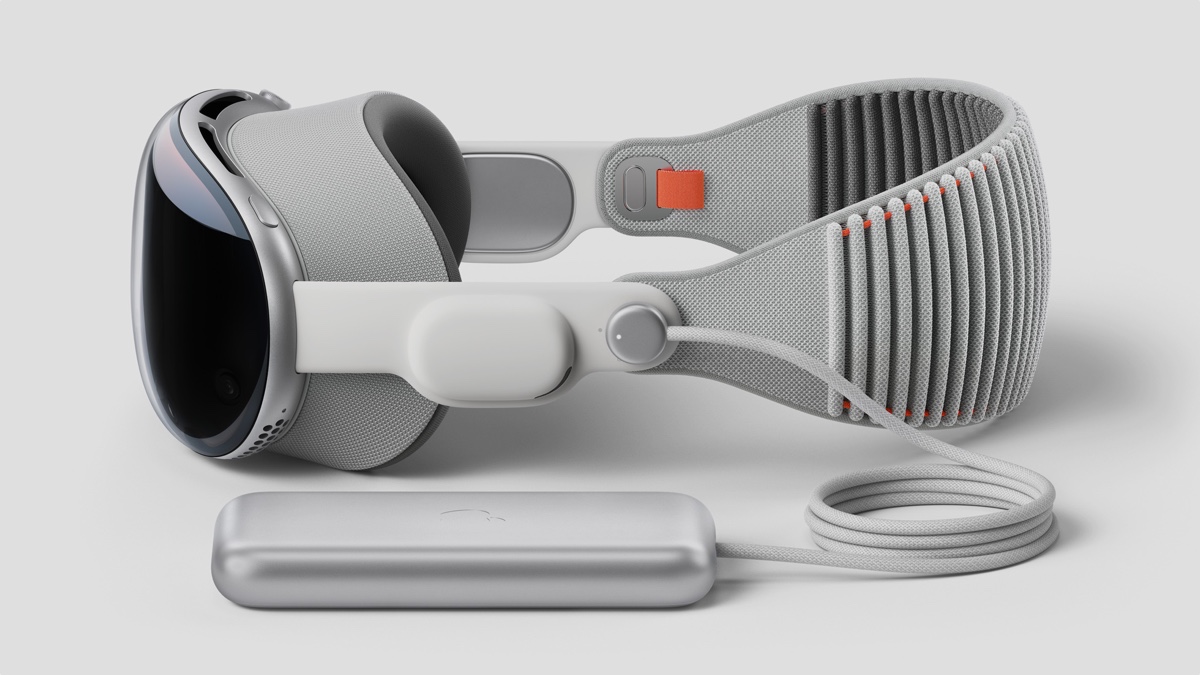 Inside the Vision Pro, things get very high-end and Apple starts to justify that mad price tag.
The screens are dual Micro OLED panels the size of a postage stamp, wrapped in three-element custom lenses to give you a visual everywhere you look.
Those Micro OLED panels pack in 23 million pixels, and at an incredible density. There are 62 pixels crammed into the space of a single iPhone pixel, offering in excess of 4K for each eye. So we're expecting a seriously jaw-dropping set of visuals, probably unparalleled to anything we've seen to date.
There are also two chipsets at play, the M2 running alongside the all-new R1 chip. The R1 processes input from the 12 cameras, five sensors, and six microphones to power the EyeSight tracking.
Impressive controls
Apple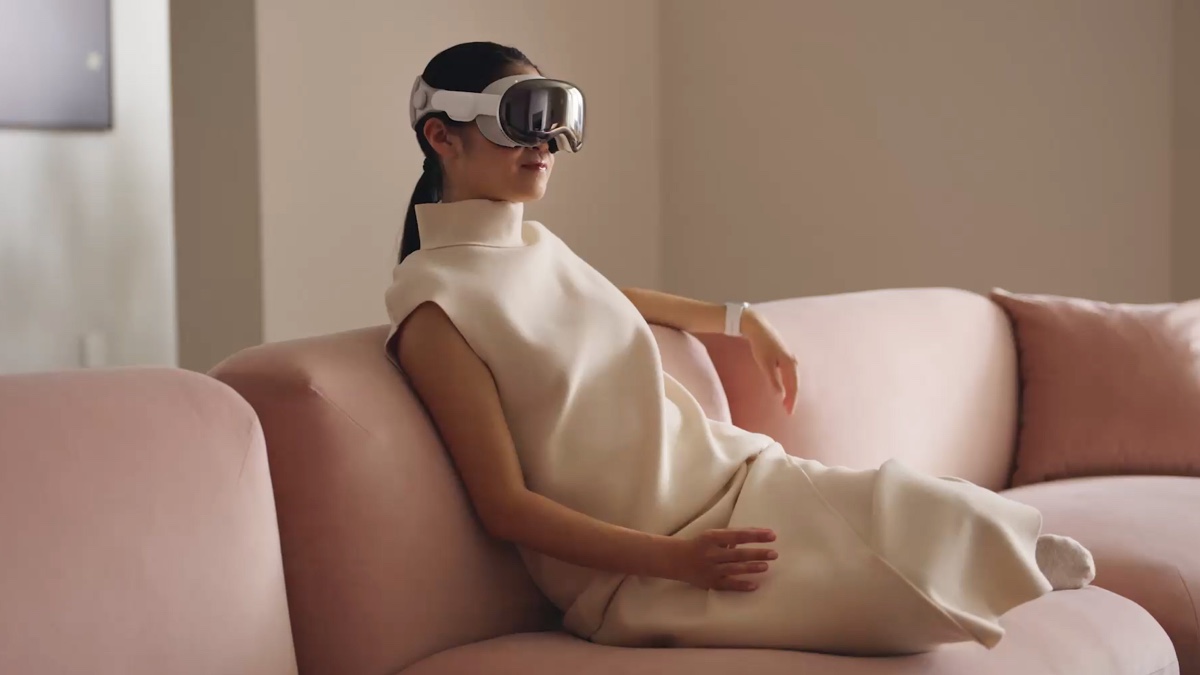 One of the most impressive and possibly game-changing elements of the Vision Pro is the control system. Apple has opted against a physical controller, and everything is controlled by eye-tracking, hand gestures, and voice control.
You look at menu items to highlight them, and then you can use a pinching or grabbing gesture to select them.
Apple showed a demonstration of a user looking at a search box, and then speaking the query. It's seriously impressive, and one can easily see how this will form the basis of wearable control in the future.
Use cases
Apple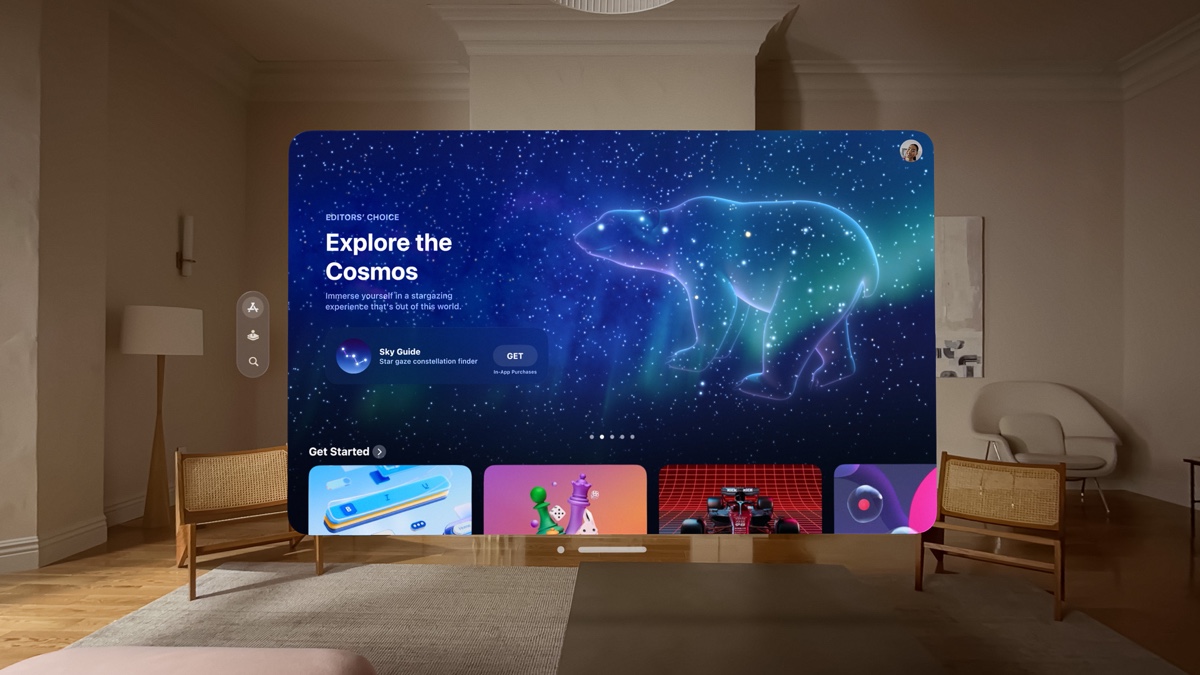 Apple calls the Vision Pro a "spatial computer" more than a VR or AR headset, so the easiest way to describe it is an iPad Pro for your face. That's quite a pertinent comparison because Apple is opening iPad apps up to Vision Pro.
Apple has put a focus on you being able to see your real-world space, so your desktop is placed over your surroundings. From there, you can use Apple apps just like you would on your desktop.
If you don't want to see your surroundings, then Apple can show "environments", and immersive landscapes (think Apple TV screensavers) so you can chill out – and we would imagine these are seriously impressive.
Apple showed off:
Using apps
Work presentations and collaborative projects
Super-intense Zoom calls
Manipulating 3D models
Watching content
Listening to music via the Spatial headphones
Playing games via Arcade
Capturing Spatial Videos and Pictures, and watching them back
Apple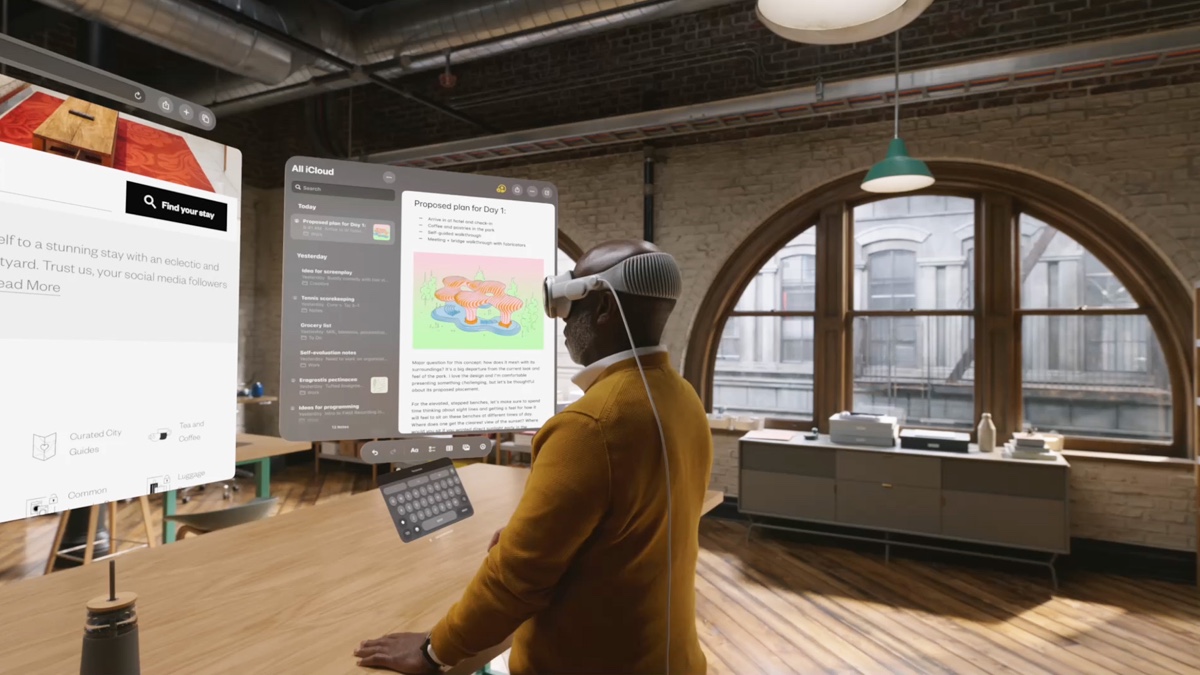 Apps can be opened at the same time, and you can adjust the size in your field of vision, so obviously this would create an immersive space, akin to having the world's biggest monitor in front of you.
And if you open your MacBook screen and look at it while wearing Vision Pro, the whole screen will magically appear in your virtual space, and you can resize it at your leisure.
Watching movies puts a huge movie theatre-sized screen in front of you, and the screen will dim your surroundings and accompany it with some soothing light.
The company announced a series of content partnerships, including Disney+. But while it put focus on movies and arcade games, little was said about the kind of immersive VR gaming that Oculus and PlayStation have focused on.
The 12 cameras enable users to take spatial videos and pictures, with a stunning depth of field that can be watched back on the headset.
It looks incredible, but the video of a man wearing the headset while playing with his kids was so dystopian that it made us want to move to the forest and reject technology altogether.
---
---