Wareable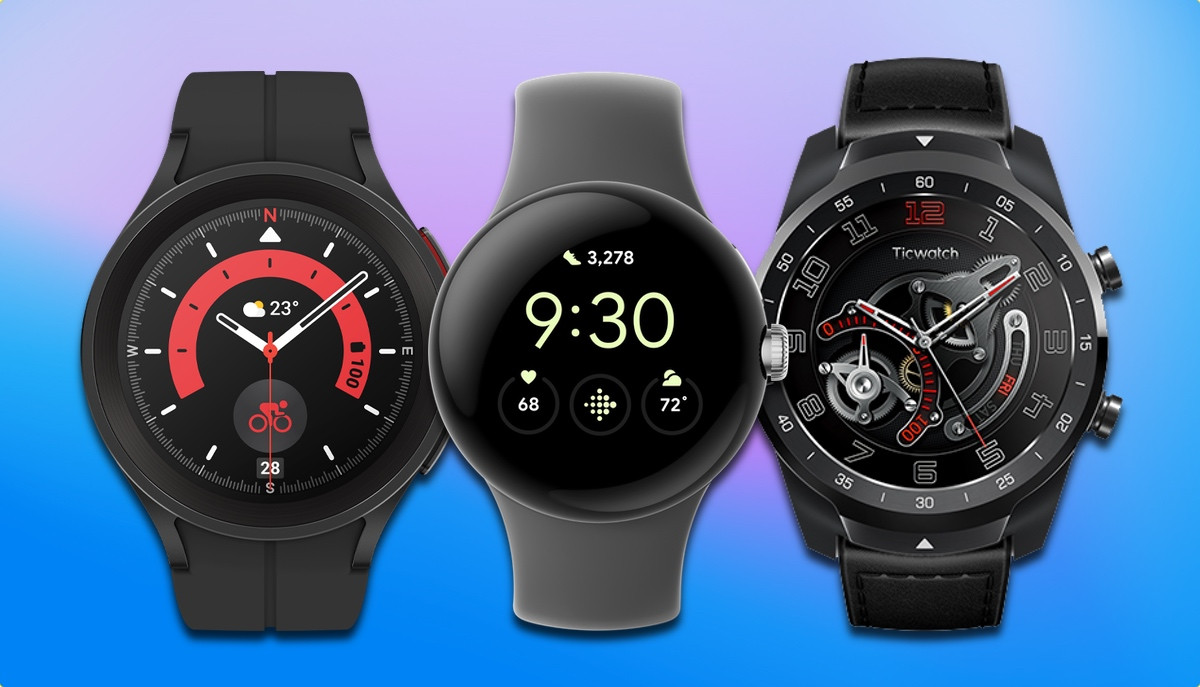 Wareable is reader-powered. If you click through using links on the site, we may earn an affiliate commission.
Learn more
If you own an Android phone and you're looking for the perfect smartwatch to pair with it, you have a lot of options to pick from.
Google's Wear OS 3 core software update is now running on a growing list of devices - with watches from Samsung, Google and Fossil being the most notable – and more are still to follow.
Away from Wear OS, though, there are also smartwatches from Garmin, Huawei and Amazfit that all work brilliantly with Android phones.
Here are our top pick Android watches from our reviews.
Samsung Galaxy Watch 5 & Watch 5 Pro
Samsung Galaxy Watch 4 & Watch 4 Classic
Google Pixel Watch
Montblanc Summit 3
Fossil Gen 6
Skagen Falster Gen 6
Diesel Griffed Gen 6
Michael Kors Access 6
Razer x Fossil Gen 6
Citizen CZ Smart 2nd Gen
TicWatch Pro 3 (upgrade to Wear 3.0 TBC)
TicWatch Pro 3 Ultra GPS (upgrade to Wear 3.0 TBC)
TicWatch E3 (upgrade to Wear 3.0 TBC)
Which Wear 2.0 devices won't get the upgrade?
There are scores of existing Wear OS devices that won't get the new Wear OS 3.0. Those devices remain on sale, but will only get crucial support for the next couple of years.
This does make them hard to recommend, so that's why we've chosen not to include them in this list.
They still work fine, and won't lose any current features. And if you like the smartwatch and the price fits, it still could be a good choice.
But it's important to know what you won't get. Google seems to be creating a two-tier Play Store, where Wear 3.0 apps are better than Wear 2.0 ones. And many are not compatible with older devices. Even Google's own new Wear 3.0 apps, such as Google Maps, cannot be used with the majority of its Wear OS smartwatches.
So, if you don't want to feel like a second-class smartwatch citizen, it might be best to stay clear of older Wear 2.0 watches, and choose one of the newer devices – or a non-Wear OS watches entirely, which we'll also list below.
Top pick: Samsung Galaxy Watch 5 Pro
Wareable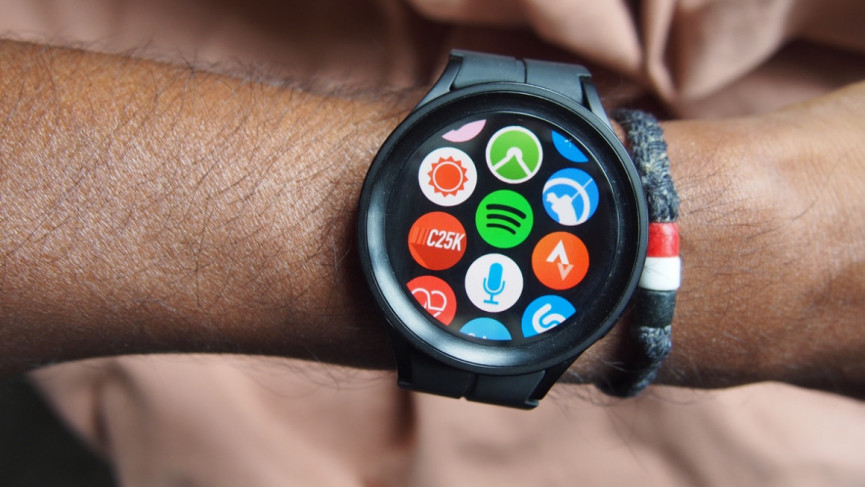 squirrel_12862571
Samsung Galaxy Watch 5: specs and features
Wear OS 3.5
Phone compatibility: Android only
Case size: 45mm
Battery life: 80 hours
Water rating: 5ATM
Connectivity: Wi-Fi, Bluetooth, NFC, LTE
Display: Super AMOLED
Weight: 46.5g
---
An all-new addition to the Samsung smartwatch stable, the Galaxy Watch 5 Pro delivers welcome battery improvements, the same core smartwatch features, and a shift in design that feels like a step in the right direction.
Samsung has included a 590mAh capacity battery that it says should deliver a typical usage time of up to 80 hours, which is just over 3 days. It also quotes 20 hours of GPS battery life, which was borne out in our testing. It's an impressive upgrade, that puts it head and shoulders above Wear OS watches.
Sports-tracking does lag Apple and Garmin, but the ECG and blood pressure tracking make for a decent health-focused smartwatch. It also includes a temperature sensor, and the company has announced this will be used for menstrual cycle tracking.
With three day battery life, and the benefits of Wear OS apps and ecposystem, the Galaxy Watch 5 Pro is a better smartwatch than the standard Watch 5 and Pixel Watch – but expect to pay more.
Read our Galaxy Watch 5 Pro review.
Samsung Galaxy Watch 5
Wareable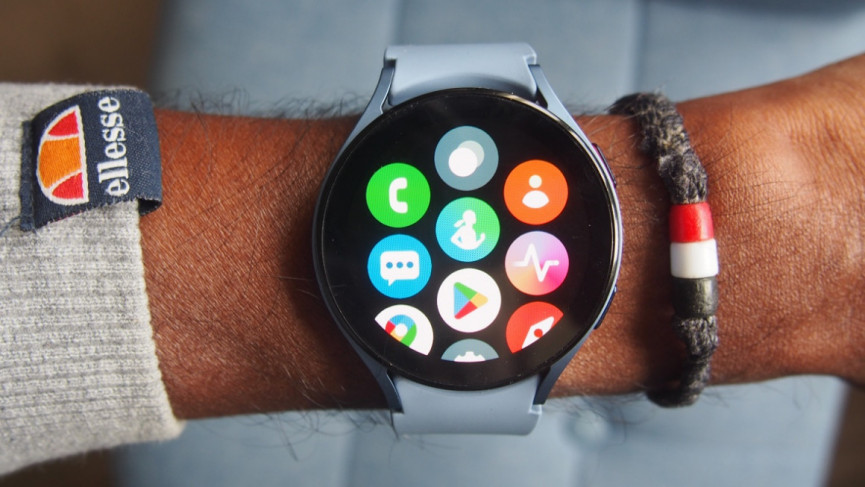 squirrel_12862569
Samsung Galaxy Watch 5: specs and features
Available in 44mm/40mm
Works with Android only
Up to 40 hours of battery life
Run on Wear OS 3.5 with Samsung One UI Watch 3
Samsung Pay or Google Pay support
Download apps from Google Play Store
ECG, PPG, GPS and BIA sensors
LTE options
Swim-proof 5ATM water resistance
---
The Samsung Galaxy Watch 5 remains the best smartwatch for Android users, thanks to the improved Wear OS 3.5.
That said, the changes between it and the Galaxy Watch 4 are so small that this isn't one to rush to upgrade to. If you see its predecessor for a great price, then it might be a smarter choice.
If you're an Android phone owner looking for a smartwatch that behaves like one, it's still a great option, and the bustling app store and comfortable build make it a strong choice.
It works well as a fitness tracker, but we found that accuracy issues and the app experience meant that, at least as a fitness watch, there are better options elsewhere.
The health angle is strong, however, with it featuring both ECG and blood pressure tracking, although you need to validate via a cuff if you want to use the latter. Again, the temperature sensor will be used for menstrual cycle tracking.
Battery life also remains a slight issue, even if it's not nearly as poor as the Pixel Watch. We got between 1-2 days in our testing – around the same as the Apple Watch Series 8.
If you're looking for longevity, the Galaxy Watch 5 Pro is a much better choice.
Read our full Galaxy Watch 5 review.
Google Pixel Watch
Wareable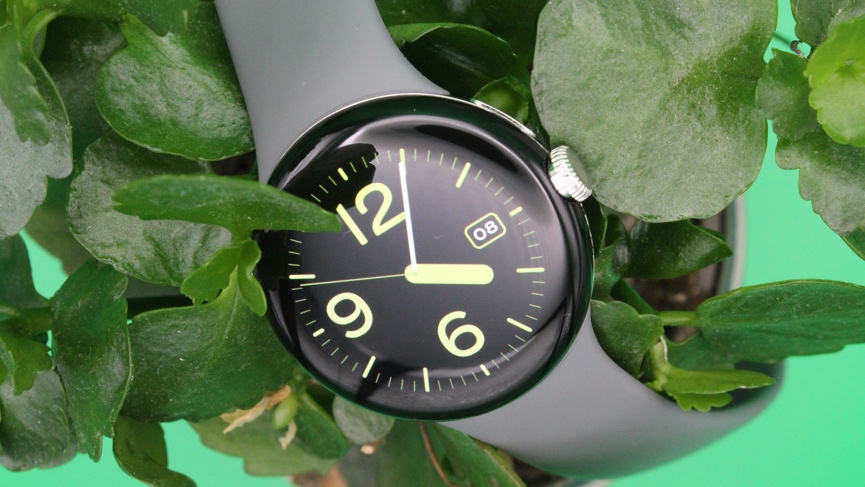 squirrel_12863289
Google Pixel Watch: specs and features
Size: 41 x 41 x 12.3mm
Display: 1.2-inch AMOLED display; 450 x 450 resolution
Connectivity: Wi-Fi, Bluetooth, NFC, LTE
Weight: 36g
Chipset: Exynos 9110
Battery life: 24 hours
Phone compatibility: Android
Storage: 2GB RAM; 32GB internal
Water rating: 5ATM
---
The first-ever smartwatch from Google is also our first look into what will likely end up being the full-fledged mascot for Wear OS by the time a second or third generation rolls around.
The debut model, however, is a real mix of highs and lows. Fitbit integration is absolutely superb, and provides a much friendlier place to track and view data (in comparison to Google Fit), while we also think it's one of the best-looking smartwatches on the market.
It's a little disappointing there's no larger case size, but it really suits men or women with small-to-medium wrists. In fact, given the wide range of bands available already, we think it rivals the Apple Watch for being the easiest smartwatch to dress up for formal occasions and down for exercise.
The real Pixel problem is battery life – and in our testing it often couldn't last a full day, which is inexcusable in 2023. That's why we still think most people will be better served with one of Samsung's Galaxy Watch 5 models.
With Fitbit's best-in-class sleep tracking at the heart of the experience, the 24-hour battery life - which is a very generous estimation - just isn't enough to power the experience.
Still, if charging frequently isn't something you think will concern you greatly, this is a clean, classy watch that does a great job of delivering the refreshed Wear OS 3.5 software.
Read our full Google Pixel Watch review.
Montblanc Summit 3
Price when reviewed: $1,290/£1,105 | Montblanc
Wareable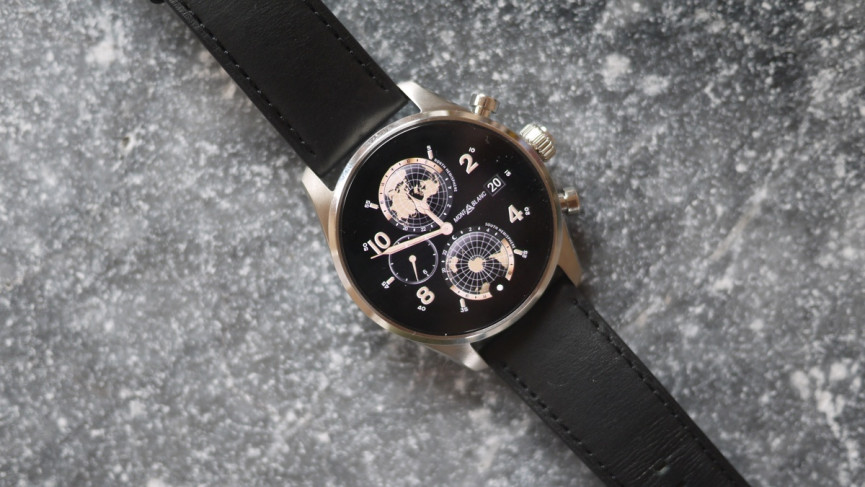 Montblanc Summit 3: specs and features
Display 1.28" full-circle AMOLED display
416 x 416 resolution
Wear OS 3.0 Processor
Qualcomm Snapdragon Wear 4100+
iOS and Android
1 GB RAM
8GB storage
---
The Montblanc Summit 3 is more than a Wear OS smartwatch with an eye-watering price tag - it's a Wear OS 3 smartwatch with an eye-watering price tag.
The question of whether you can justify paying $1,290/£1,105 for a smartwatch that runs the same software and boasts the same features as a $300 one has existed ever since Tag Heuer joined the fray in 2015.
That's a question for individuals, but the Summit 3 is an exquisitely designed Wear OS smartwatch, which offers both leather and silicone straps in the box.
A Qualcomm Snapdragon 4100+ processor runs the show, and Montblanc supplies a surprisingly strong suite of apps for fitness and sports tracking, which expand on the basic experience provided by Wear OS. However, many key metrics are only viewable on the watch itself.
And the company has also excelled at offering a series of watch faces that manage to match the class and style of the exterior.
There are issues here, however. Battery life is around a single day but sometimes expired earlier, which was hugely frustrating. And we experienced some laggy software, which surprised us given the hardware on offer.
There's no questioning that the Summit 3 is a fantastic-looking smartwatch, but at this price, we expect better performance.
Read our full Montblanc Summit 3 review.
Fossil Gen 6
Wareable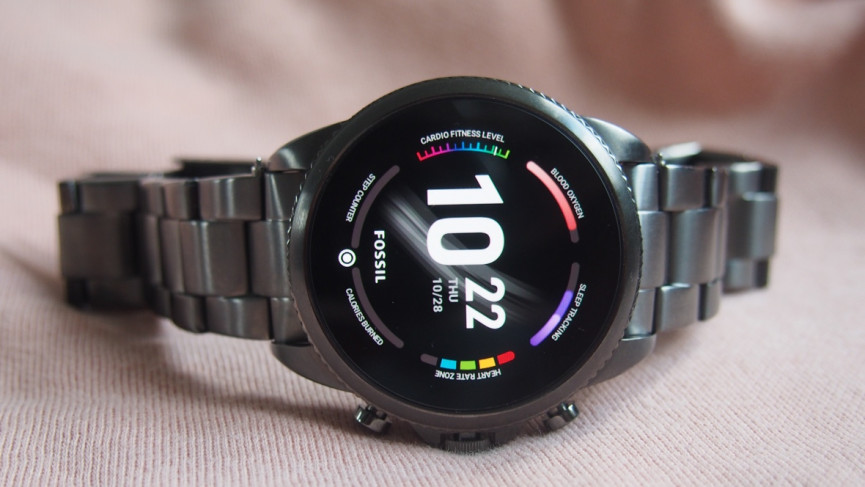 squirrel_12862488
Fossil Gen 6: specs and features
Works with Android and iOS
42mm and 44mm case size options
1.28-inch, always-on AMOLED screen

Runs on Wear OS – Wear 3.0 in 2022
Powered by Qualcomm Snapdragon Wear

4100+

processor
NFC for payments
GPS, heart rate monitor, SpO2 sensor
Speaker and microphone
3ATM water-resistant rating (safe for swimming)
---
The Fossil Gen 6 smartwatch was announced alongside a new generation of Michael Kors Access devices with both now able to access Wear OS 3 and above.
This new version of Wear OS is a big boost for Fossil, bringing new features, better usability, and longer battery life. At some point, as Fossil told Wareable exclusively, this may even include Fitbit integration.
It's equipped with Qualcomm's newest Snapdragon Wear 4100+ platform that keeps performance zippy, but it doesn't quite push battery life beyond a day or two max.
The Gen 6 comes in eight different looks for both men and women, including a new Wellness Edition, covering those who prefer a sportier look or something better suited to formal occasions. There's the option of 44mm and 42mm case sizes, as well, with both featuring stainless steel cases that measure 11.5mm thick.
Both host a 1.28-inch, AMOLED touchscreen display, and like previous Fossil smartwatches, feature a rotating crown and two programmable pusher buttons.
It brings adds a SpO2 sensor to monitor blood oxygen levels.
In terms of battery life, you can still only expect 24 hours, but fast charging means it will only take an hour to full battery. And 30 mins will get you 80%.
It's still a great look like previous Fossil smartwatches and improvements have been made with heart rate and sports tracking. It's now all down to that new Wear upgrade to see how it can make this good smartwatch an even better one.
Read our Fossil Gen 6 review.
Tag Heuer Connected Calibre E4
Price when reviewed: $1,800/£1,500 | Tag Heuer
Wareable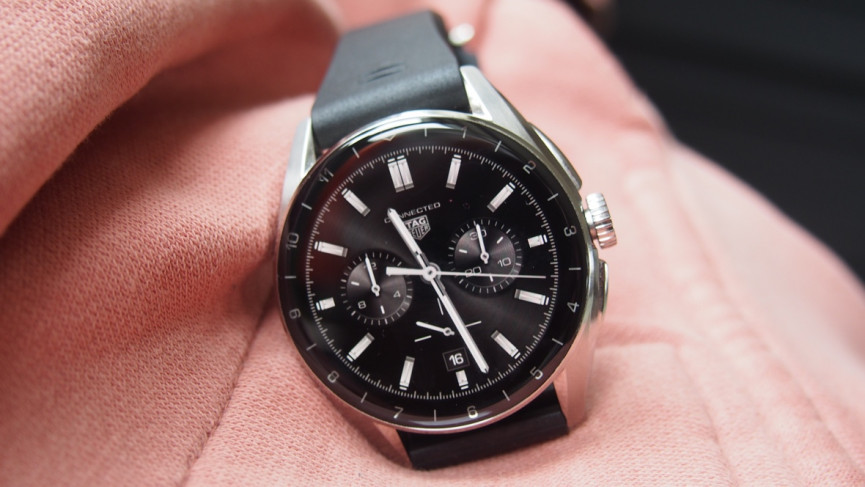 Credit: Wareable
Tag Heuer Connected Calibre E4: specs and features
Works Android and iOS
Google Wear OS
42mm and 45mm case
Interchangeable watch straps
Qualcomm Snapdragon 4100+ processor
Speaker and microphone
Google Pay
Built-in GPS
Heart rate monitor
Waterproof up to 50 meters in depth
Up to 24 hours of battery
---
The Tag Heuer Connected E4 is the smartwatch choice for anyone that wants the look and feel of a luxury watch and is willing to pay big for it.
The Swiss watchmaker offers its latest watch in 42mm and 45mm case sizes with stainless steel cases and ceramic bezels and the kind of heft that tells you you've got a high-grade watch on your wrist. You do also get the option of metal and gym-friendly silicone straps if you want to keep it on for exercise.
You might want to keep it on for that gym time as Tag goes big on sports tracking with its slick dedicated app and sensors like heart rate and GPS also included. There are new guided workouts available here too, though tracking in general isn't the best we've used.
Wear OS runs the show and with Qualcomm's Snapdragon 4100+ processor powering performance, it should be upgradeable to Wear 3.0. Right now, you've got a mixed software experience with some great Tag watches thrown in for good measure and overall slick performance that feels ready for that new Wear.
You're still getting a day out of the battery with the 45mm version creeping into another day to give you more time. It's an improvement on the last Tag smartwatch, but not a massive one.
If you want a beautiful-looking smartwatch with great watch faces and slick overall performance with the new Wear OS to come, then there's plenty to like about the Calibre E4.
Read our full Tag Heuer Connected Calibre E4 review.
Skagen Falster Gen 6
Wareable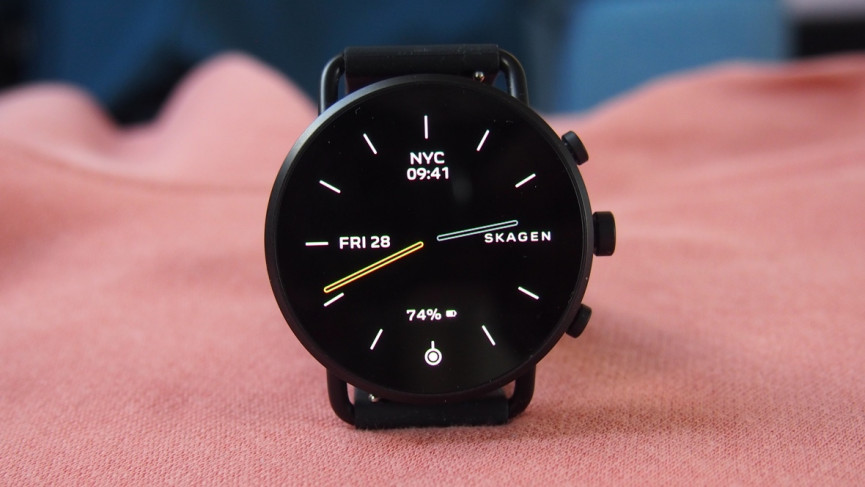 squirrel_12862976
Skagen Falster Gen 6: specs and features
Works Android and iOS
Google Wear OS
41mm case
20mm interchangeable watch straps
Qualcomm Snapdragon 4100+ processor
Speaker and microphone
Google Pay
Built-in GPS
Heart rate monitor
Waterproof design
Up to 24 hours of battery
---
Ever since the first Falster smartwatch, the range has been one of the leaders in terms of design. And the Falster Gen 6 is no different. At just 11.5mm thick and powered by the latest Snapdragon Wear 4100+ processor, it's great looking and has the right level of power to be fit for an upgrade to Wear OS 3.
The Falster Gen 6 also boasts microphones and speakers to make calls over Bluetooth and interact with Google Assistant with Amazon Alexa integration on the way.
There's a heart rate monitor and pulse oximeter sensor to measure blood oxygen and battery life remains at the 24-hour mark, with the capacity to push it further in a more restrictive battery-saver mode.
It has dropped in size to 41mm but retains its premium case with great-looking strap options to choose from. There's also a smaller 1.2-inch AMOLED screen compared to its predecessor but as a combination, it feels like a great fit for men and women.
The beauty of the Falster is still its slim form factor. There aren't many smartwatches that look and feel so sleek on the wrist.
Not so beautiful is the heart rate sensor, which isn't anywhere near good enough for those keen on workout data or health monitoring. However, the design and strap don't feel like something you want to get sweaty with, so this is well-suited for users looking for form over function.
Read our full Skagen Falster Gen 6 review.
Best smartwatches for Android (non-Wear OS)
If you're not sure that Wear OS is quite what you are looking for in a smartwatch, there are a host of different options you can consider instead that work well with Android smartphones and do it by offering a different software experience to Google's own.
Amazfit GTS 4
Wareable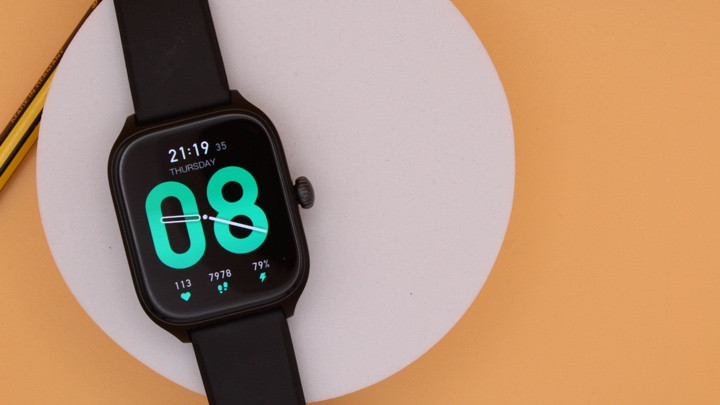 squirrel_12862606
Works Android and iOS
1.75-inch AMOLED display
GPS
8 days of battery life
Running analysis
Swim-proof 5ATM water resistance
The Amazfit GTS 4 (and GTR 4) launched at the back end of 2022, and still impresses in a crowded field of mid-range smartwatches.
Priced below Wear OS smartwatches and boasting an official 8 days of battery life (we got 4-5 in testing), there are plenty of reasons for the GTS 4 to turn heads.
The square AMOLED display turns heads with its 1.75-inch 390x450 resolution, and it's very unisex, bordering on the feminine.
Amazfit punches above its weight in terms of activity, health and sports tracking – all of which are displayed clearly in the excellent Zepp app. Beyond basic steps and heart rate, it will analyze Training Effect and there are running-based metrics such as VO2 Max, EPOC, stride length, and cadence.
With the ability to sync data to Strava, we wouldn't hesitate to recommend it to runners – that want more of an all-rounder smartwatch than a Forerunner 55.
The downsides are the price tag is now close to entry-level Garmins and even the Galaxy Watch 5 sits just above.
But with a superb battery and decent activity tracking offering the GTS 4 (and its round-faced masculine sibling the GTR 4) – the Amazfit duo is a strong choice.

Read our full Amazfit GTS 4 review.
Garmin Venu 2
Wareable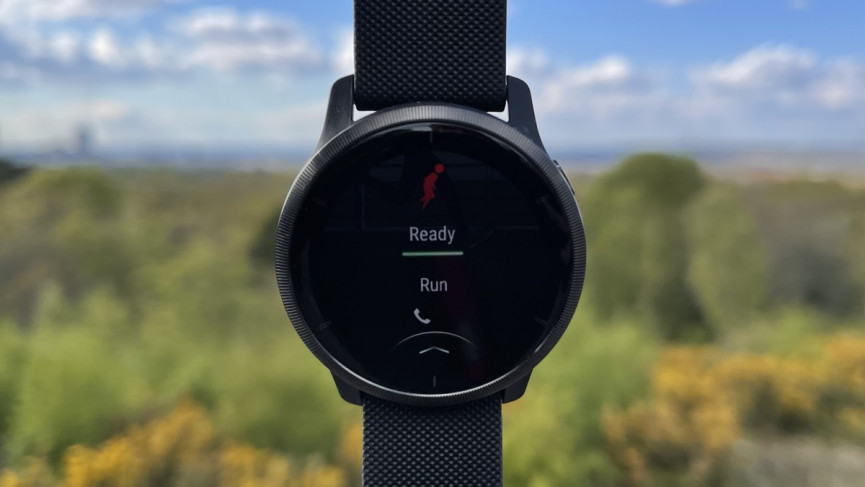 squirrel_12863216
Garmin Venu 2: specs and features
Works with Android and iOS
Runs on Garmin's software
40mm and 45mm models
Swimproof 5ATM water resistance
Built-in GPS
Built-in music player
Garmin Pay
SpO2
Stress tracking
Heart rate monitor
24/7 activity tracking
Up to 12 days of battery life
---
The Venu 2 sees Garmin push on with a sporty smartwatch option that remains the only relatively cheap watch in its collection to host an AMOLED color display.
With the latest Venu, Garmin has made that screen bigger and better, boosting battery life, and offering new features that make it a better fit for people that don't spend their lives on a bike or out running.
Crucially, it's made welcome changes to the interface, which we were critical of on the first Venu, and makes it a much nicer watch to use.
In typical Garmin fashion, it's comfortable tracking runs, rides, and pool swims and also has modes for golf and climbing. Garmin has now added dedicated modes for HIIT-style training, too, and new muscle maps for strength training to make sure you're working on all those key muscle groups.
Wareable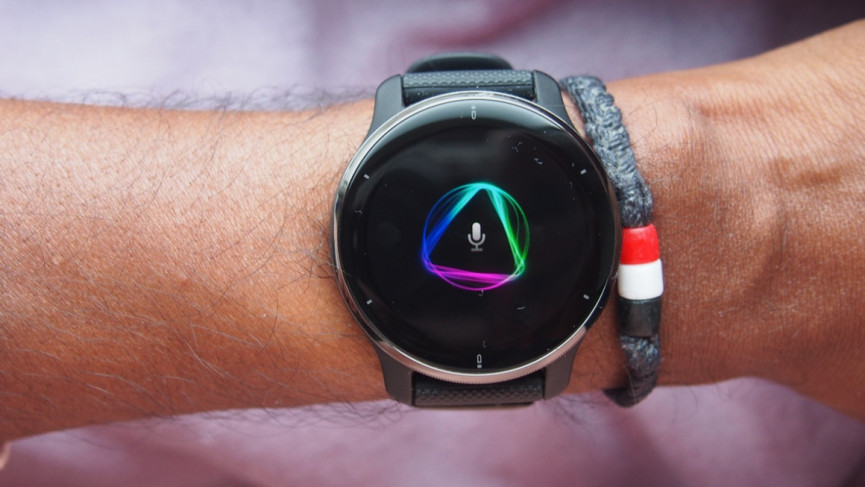 The Garmin Venu 2 Plus adds a microphone and speaker to offer smart assistant and call support
You're getting everything Garmin has to offer in smartwatch features including payments, a built-in music player with offline support, and now room for 2,000 songs. There are notifications for Android and iOS users, but still no sign of LTE here.
Battery life comes up a little short against Garmin's claims, though is still good for a week, with the always-on mode getting you an extra day compared to the original Venu. It's also more than what you'll get on Wear OS watches and Samsung watches, which is important to keep in mind.
If you want the Venu model that offers the most smartwatch features, there's the Garmin Venu 2 Plus, as well, which adds a microphone and speaker to allow you to make calls via Bluetooth and access your phone's smart assistant from your wrist.
Those extras on the Venu 2 Plus come at a big premium ($449/£399), so that's why we'd still opt for the Venu 2 unless you want those voice features. We think it's a great option without them with solid smartwatches and sports tracking skills on offer for less money.
Read our Garmin Venu 2 review and our Garmin Venu 2 Plus review
Huawei Watch GT 3
Wareable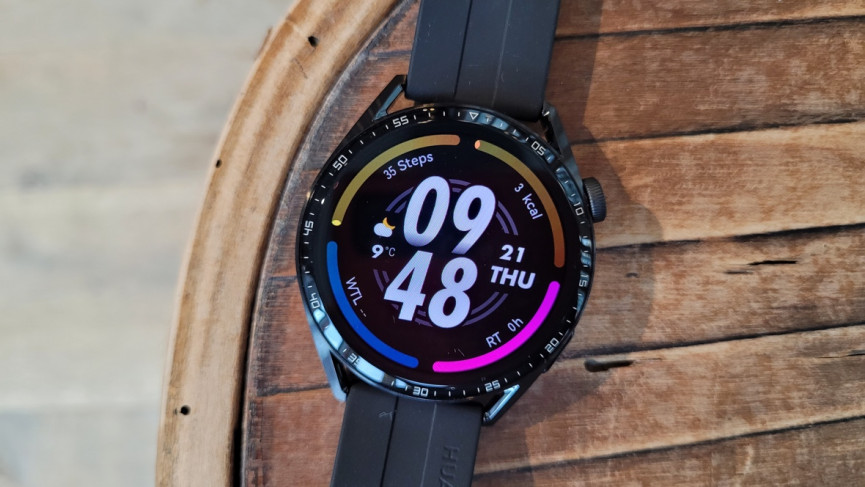 squirrel_12862573
Huawei Watch GT 3: specs and features
42mm and 46mm sizes
Runs on Harmony OS
Works with Android and iOS
Huawei TrueSeen 5.0 heart rate sensor
Dual-Band GNSS positioning for outdoor tracking
100+ workout modes
AI running coach
Up to 2 weeks battery life
5ATM waterproof rating
---
The Huawei Watch GT 3 is the successor to the GT 2 that launched in 2019, and sees Huawei's mid-range watch option brought closer to its flagship Huawei Watch 3.
It shares the same Harmony OS, which offers a small selection of apps – and also brings running-specific modes and metrics, a personalized AI running coach with a specific running index score, VO2 Max, and a new Healthy Living feature that reminds you to drink water and other essentials.
It comes in two size options, with bigger screens and improved resolution the headline enhancements are here. The GT 3 inherits the haptic crown from the Watch 3 and uses an upgraded version of Huawei's TruSeen optical heart rate sensor to improve accuracy.
Along with over 100 sports modes, Huawei has added the dual-band five-system GNSS technology it introduced on the Huawei Watch 3 Pro to improve outdoor tracking accuracy. There are basic navigation features here, as well, and new personalized training plans and an AI coach will give it a big appeal to runners.
Battery life lasts for weeks, as opposed to days, which is a great selling point, though it will drop closer to a week in heavy usage.
The Watch GT3 is a powerful smartwatch that takes many of the features of the flagship and a more appealing price – there's a lot to like here.
Read our full Huawei Watch GT 3 review.
Huawei Watch Fit 2
Wareable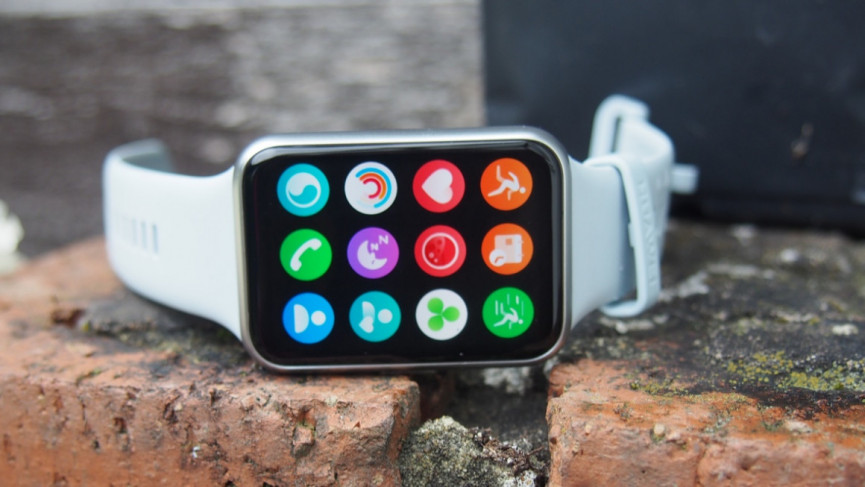 squirrel_12862580
Huawei Watch Fit 2: specs and features
Comes in Active, Elegant, and Classic versions
Works with Android and iOS
Runs on HarmonyOS
AppGallery app store access
Built-in GPS
View notifications
97 workout modes
Running training plans and insights
Route import and navigation
Up to 10-day battery life
Built-in music player
Step and sleep tracking
Heart rate, skin temperature, and SpO2 monitoring
5ATM water-resistant rating
---
The Huawei Watch Fit 2 might look like a fitness tracker, but it's every bit a smartwatch and manages to cram in a lot of the big features included in Huawei's GT series models.
It runs on Huawei's Harmony OS platform, which means access to Huawei's AppGallery, though it looks like a scaled-back version of the one on Huawei's bigger watches.
And it still gives you somewhere to view notifications, make calls over Bluetooth, pile music onto it, view weather forecasts, and pick from a rich collection of watch faces. It might be slim, but there's a vibrant, clear AMOLED screen for those features to live in.
Fit features in the device's name, and that's because you get plenty here to track your sporting and exercise pursuits. There's also are over 97 workout modes, including running, swimming, and cycling. Huawei has brought over all of the great training insights and features from its Huawei Watch GT3 and GT Runner watches and even gives you scope to import routes and use basic breadcrumb navigation to explore new areas.
While it doesn't offer the same 14-day battery life as Huawei's pricer watches, it's still fit to last a week even with power-intensive features in use.
It looks great, is packed with features that work well, and is priced well below many of the smartwatches on this list. If you don't want to spend big but still want top features, the Watch Fit 2 can certainly deliver on that front.
Read our full Huawei Watch Fit 2 review.
---
---