Wareable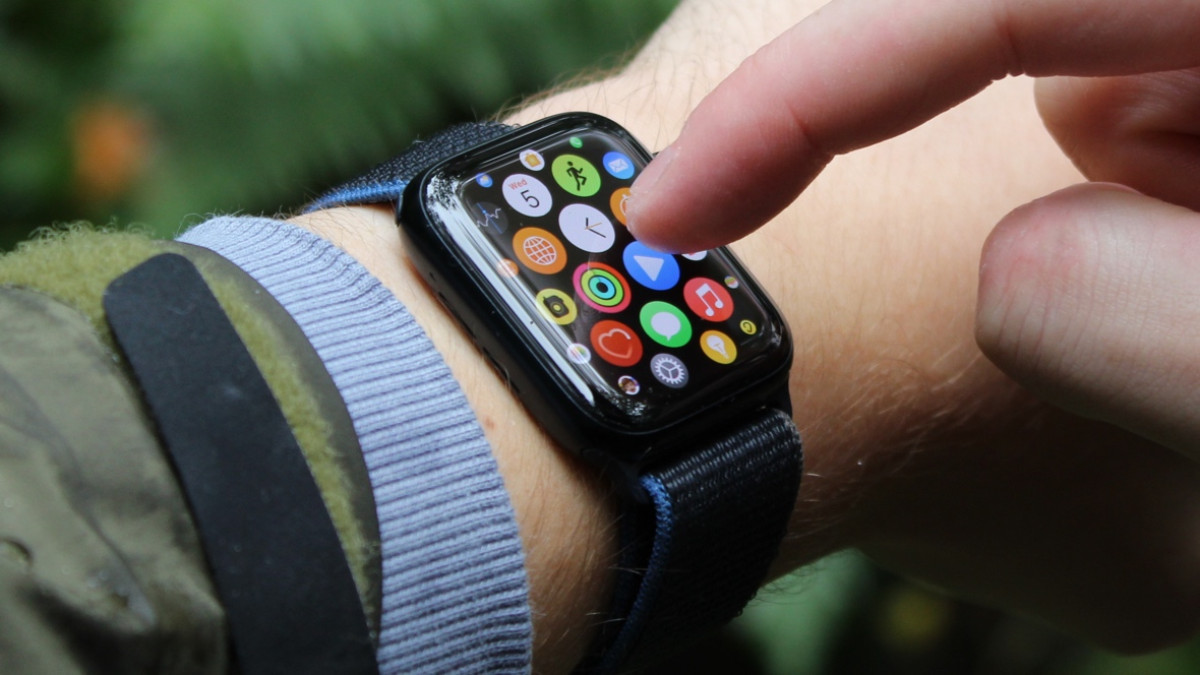 Wareable is reader-powered. If you click through using links on the site, we may earn an affiliate commission.
Learn more
The Apple Watch benefits from a bumper selection of third-party apps that extend its array of features beyond the standard experience.
From niche sports tracking to wrist-based extensions of your favorite travel, mapping, and productivity apps, the Apple Watch is the best smartwatch when it comes to third-party apps.
Apple makes the experience easier than most by virtue of offering the App Store on the Watch, letting you download straight to the wrist, and you can also use the Watch app on iPhone.
We've put together a comprehensive list of the best Apple Watch apps out there, and, for those short on time, also listed the 10 essential apps everyone should be downloading.
You'll find some handy instructions for downloading apps and managing them from the Apple Watch, too, so dive below for everything you need to know.
---
Note: This article was originally published back in 2014 and was updated in May 2023 with changes to the list of apps. We update it every few months with new favorites and remove any apps that are out of date.
Download these now
Not sure which apps to try first? Start with this selection and you can't go wrong.
1. Strava (free) - the champion of fitness apps, designed for serious runners/cyclists.
2. Autosleep ($3.99/£2.99) – our favorite sleep app that adds more to the core Apple Watch experience.
3. Carrot Weather ($4.99 + IAP) - weather with snark, smarts, and a boatload of complications.
4. BFT - Bear Focus Timer ($1.99) - this work/break timer will keep you productive throughout the day.
5. Citymapper (free) - the best way to get from place to place in an unfamiliar city.
6. Cheatsheet Notes (free + $4.99 IAP) - vitally important notes and codes, always available at a glance.
7. MultiTimer (free or $5.99) - the perfect app for when a single countdown timer just isn't enough.
8. WorkOutDoors ($5.99) - a hint of the future, putting advanced mapping right on your wrist.
9. Hole19 (free + IAP) - the golfer's friend, with routing, stats, and score logging.
10. Headspace (free + IAP) - take some time out with the well-known mindfulness app.
> watchOS 10: All the new features coming to Apple Watch
How to get apps on your Apple Watch
Wareable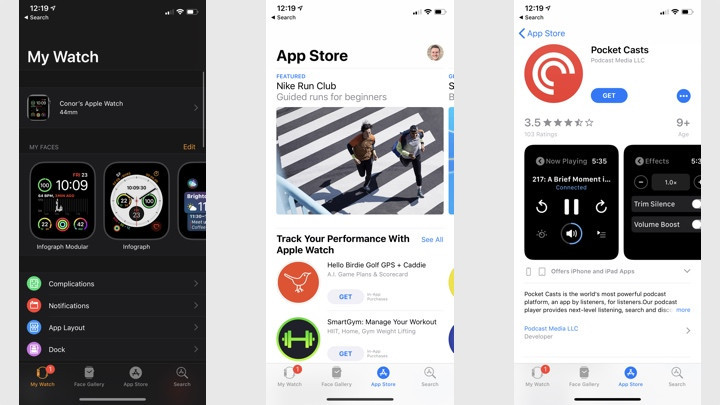 It's easy to get apps on and off of your Apple Watch once you know how.
There are thousands of apps you can add, but how do you get new apps onto your Apple Watch in the first place? And how do you keep track of and manage those you install?
Our tips show how to use your iPhone or just your Apple Watch to do so.
Using Apple Watch apps
To install new apps using only your Apple Watch:
1. Open the App Store app on your Apple Watch.
2. Select a featured app or use 'Search' to find something specific.
3. Tap the download icon (for apps you already own), 'Get' (for free apps), or the price.
4. For new apps, confirm/pay with a double-click of the side button.
To install new apps using your iPhone:
1. Open the Watch app.
2. Select the 'App Store' tab and then tap 'Discover Watch Apps on iPhone'.
3. Install apps on your iPhone as normal - they will then also appear on your Apple Watch.
How to manage Apple Watch apps
To remove apps using only your Apple Watch:
1. Click the Digital Crown to access the app view.
2. If using Grid View (honeycomb pattern), lightly tap-hold the screen until the icons wobble, and then tap an app's cross button to remove it. Confirm when asked.
3. In List View, swipe left across an app, tap the red delete button, and confirm when asked.
Note: to switch views, Force Touch (hard press) on the app view and select the alternate option.
Again, you can use your iPhone, instead, which is useful if you've lots of apps installed.
1. In the Watch app, select the 'My Watch' tab.
2. Scroll down to 'Available apps' and tap 'Install' next to any app you'd like to add.
3. Select any app in the 'Installed on Apple Watch' list, and untick 'Show App on Apple Watch' to remove it.
Best Apple Watch Ultra apps
Wareable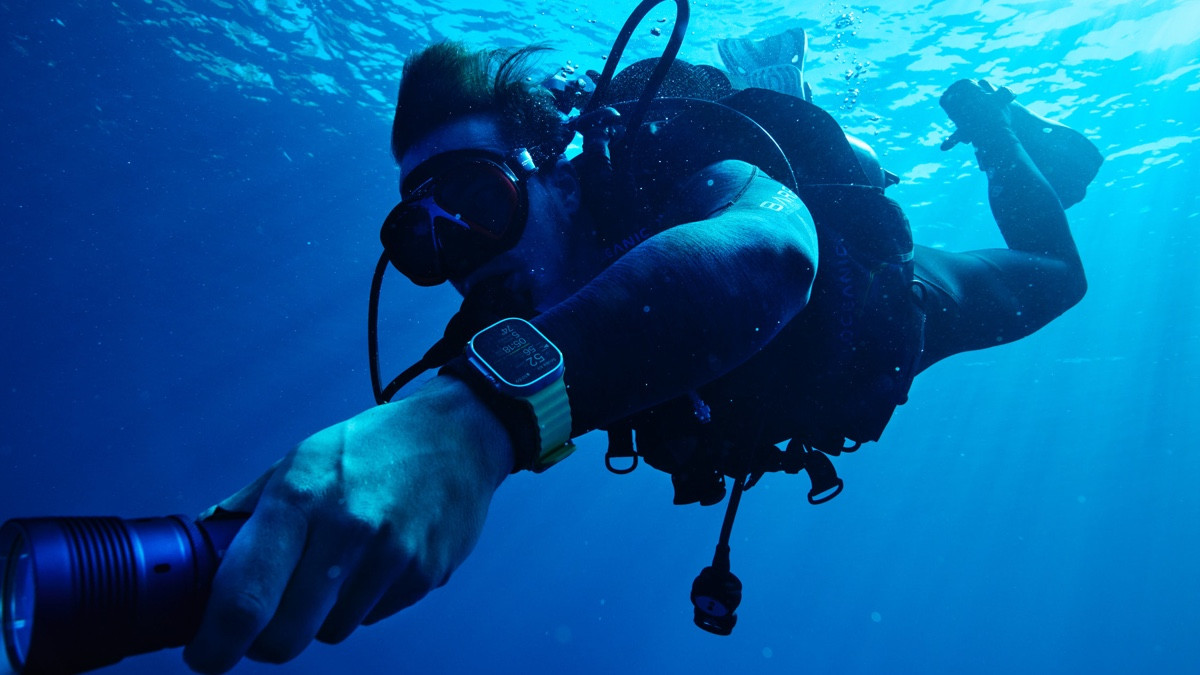 Oceanic+
$9.99pm, App Store
An official collaboration with Apple for the launch of the Ultra, Oceanic+ offers proper diving features. You can track the duration and location of dives, but it goes further with information on no-decompression time, advised time at certain depths, and other metrics. These more advanced features will require the $9.99 per month / $81.99 per year subscription.
WorkOutdoors
$6.99, App Store
The Ultra's hiking credentials are slightly undermined by poor navigation features, but WristRoutes plugs the gap. You can upload GPX files of your routes and follow breadcrumb routes, and it works untethered from your iPhone. The one-off price means there are no subscriptions either.
Slopes
7 pass bundle: £11.99, App Store
Slopes is a top pick for snow sports, with skiing and snowboarding tracked in detail. It will track speed, vertical, run times, and distance – and there are downloadable trail maps, as well as live conditions of over 200 resorts.
MySwimPro
Free with IAP for coaching, App Store
Make use of the 10ATM water resistance for some top-notch swim tracking. While the native Apple Watch swim features are excellent, MySwimPro is a good option for those who want to take things up a notch. There are guided swim workouts and coaching (paid for), with an onus on technique.
Best Apple Watch travel apps
Top Apple Watch apps for directions, flight information, translations, conversions, and finding local amenities.
Citymapper
Free, App Store
Wareable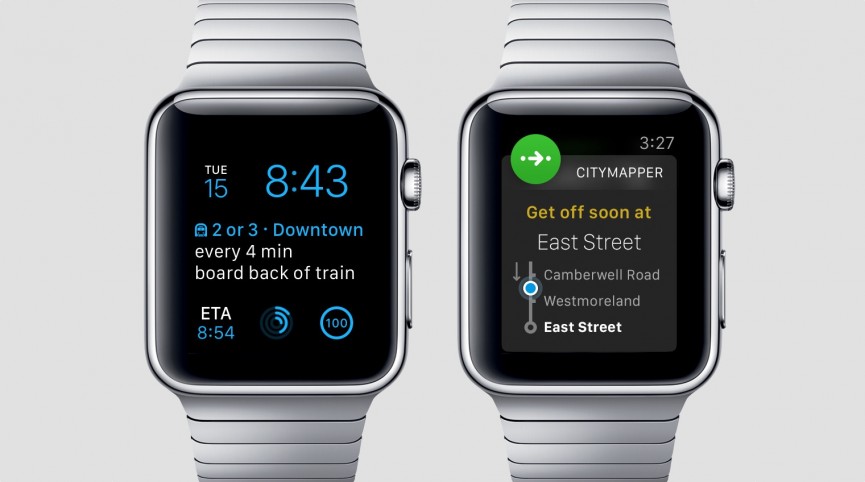 If you're in one of the supported cities (which include Paris, San Francisco Bay Area, New York, and London), Citymapper is a must. It zeroes in on public transport and provides clear, precise instructions on getting from place to place.
You're informed about times for upcoming buses, trains, or trams, and can access an outline of the stops to expect on your journey. Citymapper's complications can put your ETA and directions right on your watch face. There's now also better routing for scooters and kick-bikes if that's how you get around town.
The best part? It works with LTE, so if you left your phone back at the hotel you won't have any trouble finding your way around.
Mapless
$4.99 per year, App Store
Wareable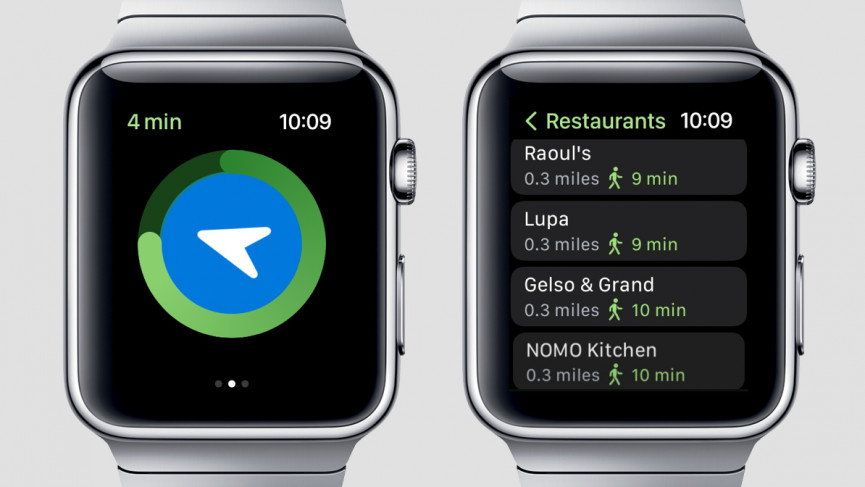 Turn-by-turn directions are ingrained to the point it's a wonder people can find their own kitchens without apps pointing the way. But if you want to be freed from hand-holding – yet don't fancy getting totally lost – Mapless turns your life into a game of Crazy Taxi.
Tell the app where you want to go and a huge on-screen arrow points toward your destination – and that's it. Naturally, such vagueness means you could end up on the wrong side of a wall; but at least you'll get the chance to look around and try new routes, rather than being a slave to efficiency.
ETA
$4.99 / £4.99, App Store
Wareable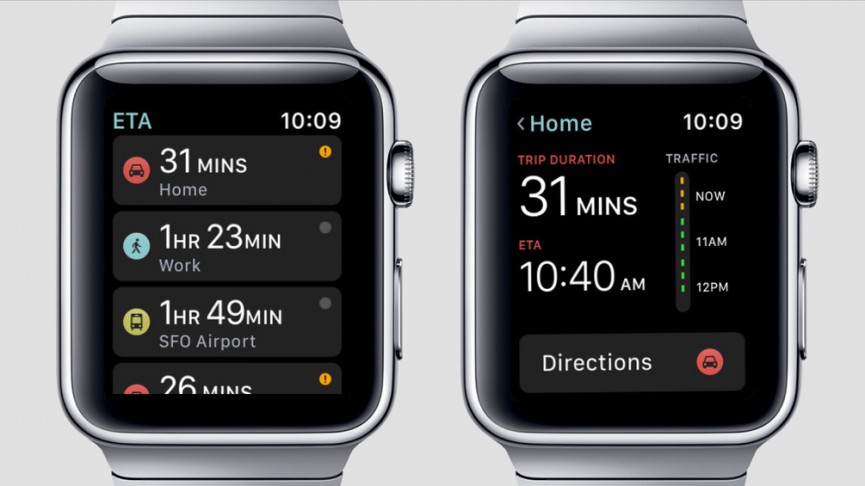 You already have your commute figured out, but you need to figure out how long it's going to take to get home so you know when to leave.
ETA does that, as the app always keeps you up to date on how long it'll take you to reach home from your current location. It'll also let you know whether there are any delays on your route, and it's got standalone functionality so if you don't have your phone it'll tap into LTE.
And oh, it's got an awesome Complication that lets you use Time Travel to see how long your commute home might take.
iTranslate Converse
Free, App Store
Wareable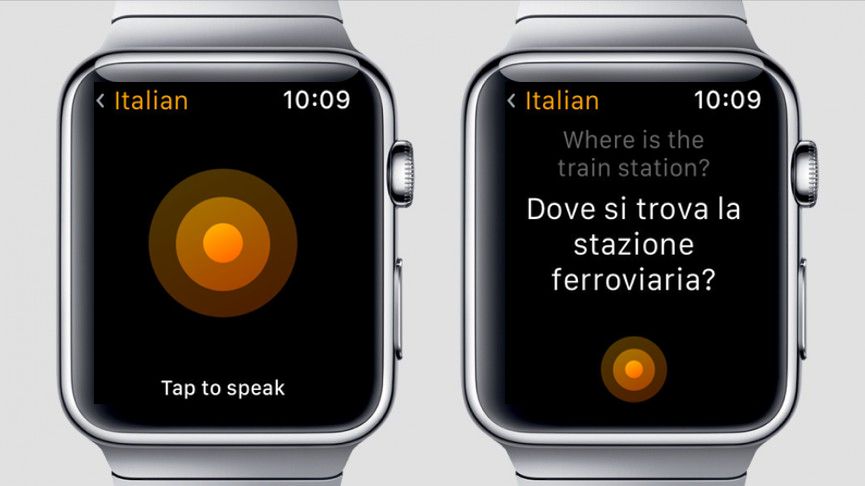 You're exploring the nooks and crannies of Rome and then realize you've left your phone at the Airbnb. Well, iTranslate Converse will make it easy for you to talk to the locals.
You choose the language you want to translate to and tap to begin speaking. The app will automatically pick up who is speaking what language and will translate. Be warned: The more complicated your sentences are, the longer they'll take.
Yelp
Free, App Store
Wareable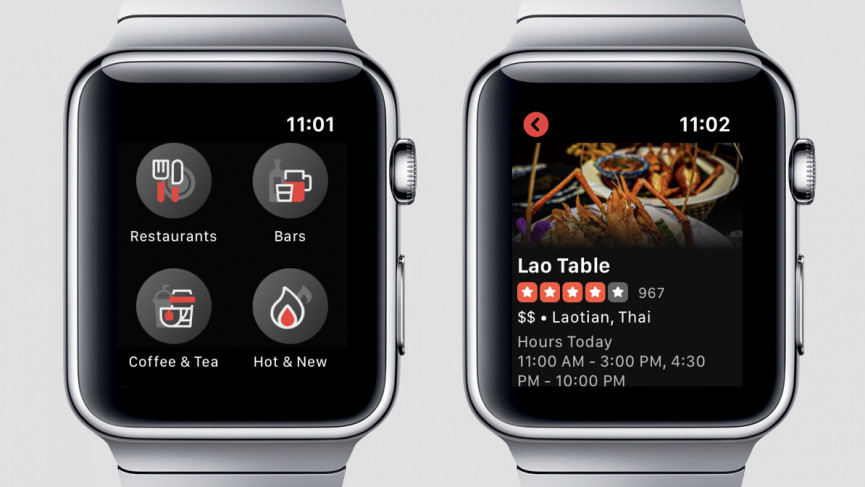 In a new area and need some help finding things to eat or drink? You'd normally turn to something like Yelp for that, and, with its Apple Watch app, you can now do that on your wrist. It's extremely simple.
All you do is boot up the app and choose the category you're looking for, and then you'll get a list of recommendations close to your location. All it's missing is some standalone LTE action, but, hopefully, that'll come along soon.
App in the Air
Free + in-app purchases, App Store
Wareable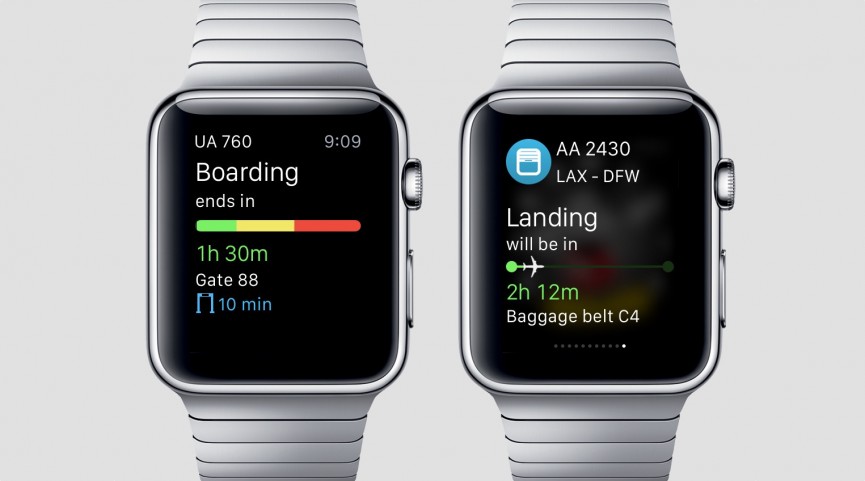 Self-described 'personal flying assistant' App in the Air now does an awful lot on your wrist. The Apple Watch app tracks your journey and gives you in-flight 'courses' to stop your neck from seizing up, and provides gate and security wait times.
Complications and Time Travel support, respectively, give you relevant and timely information on your watch face and enable you to zip through your journey virtually by way of the Digital Crown. The smart developer minds behind it have also been making improvements with the UI and offering support for more airlines too.
MiniWiki
Free, App Store
Wareable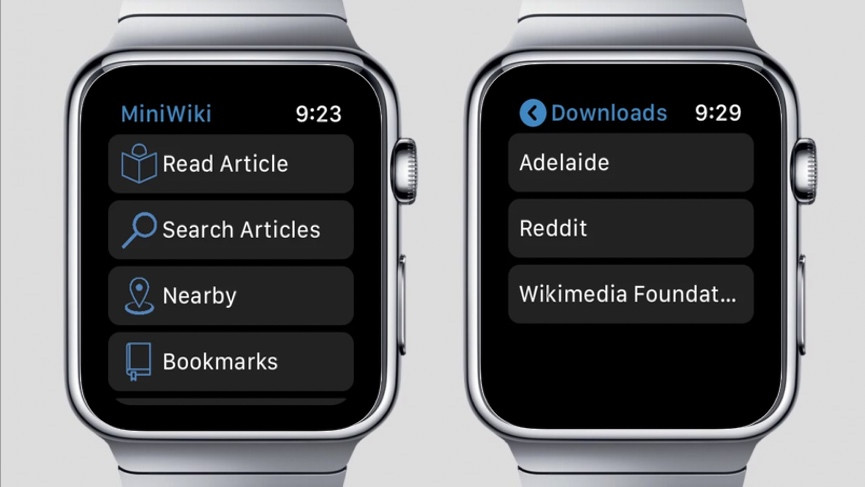 This Apple Watch app is exactly as it sounds. It's putting Wikipedia on your smartwatch and making it a good fit to get a hit of knowledge on your wrist.
You can quickly search for articles using voice, and it has a useful Nearby feature that will offer articles based on your current location.
It's an app that works without your iPhone as well if you have an LTE-enabled Watch and will also let you download articles if you want them to hand when a connection isn't available or you don't want to use up your data.
Elk
Free + $3.99 / £3.99 in-app purchases, App Store
Wareable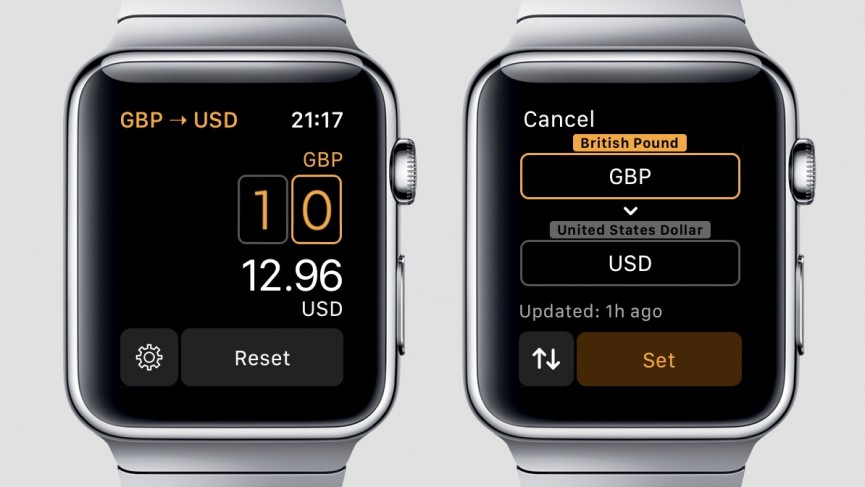 This currency conversion app has a very usable, human approach. It knows where you are and sets the currency for you. Upon picking what you want to convert to, the entire interface becomes a space for conversion. Swipe to the left and your base value increases by ten times. Swipe the other way and it reverts.
Each digit is an editable box. Tap it and twiddle the Digital Crown to update the number within. The conversion below will instantly update. Elk's smart, bold, and nicer to use than calculator-like conversion tools.
Currency
Free, App Store
Wareable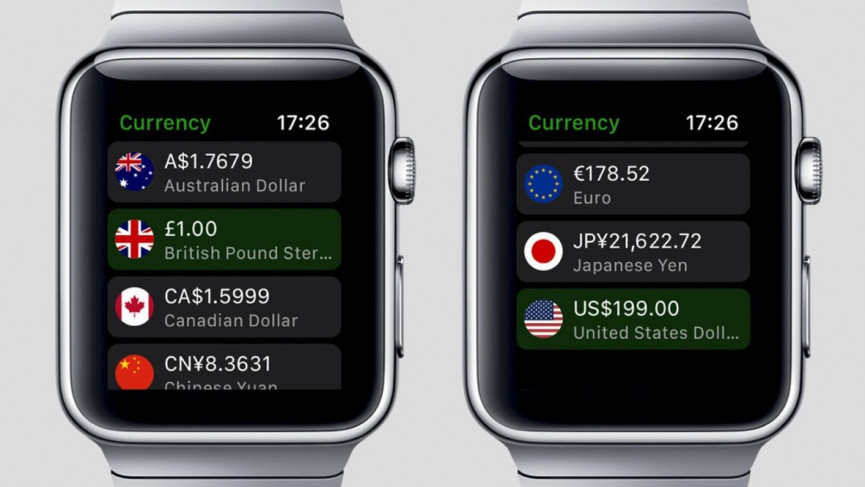 If you fancy something a bit more traditional than Elk, try Currency. The no-nonsense moniker is echoed in the app's design, which is straightforward – and extremely usable.
On adding your currencies, rates are clearly displayed. At any point, you can tap a currency and enter a bespoke value, to see how much that'd get you when converted to everything else in the list. Easy. It's also now added widgets you can add to your home screen too.
Best Apple Watch fitness apps
The best Apple Watch apps for helping you get fit, whether on your bike, on foot, or in the comfort of your own home.
Strava
Free, App Store
Wareable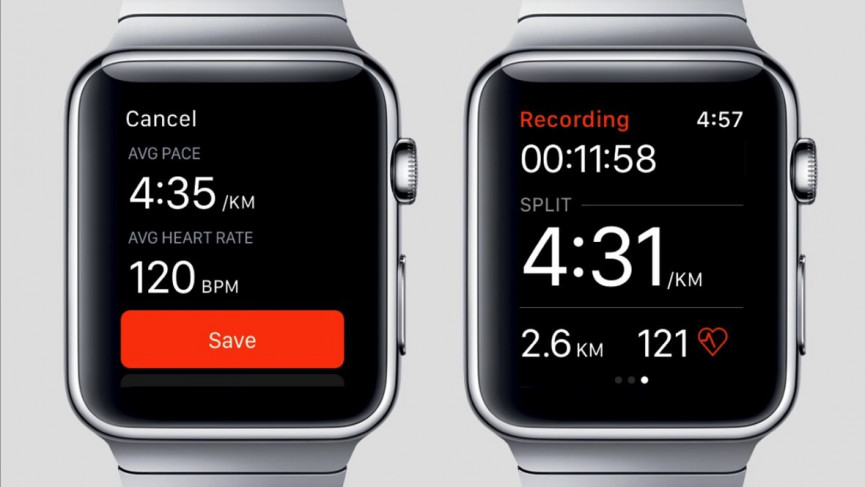 The champion of fitness apps has fully embraced GPS-tracked running and cycling on Apple Watch. It took a while to get here, but, after testing the app out on the road, the results are good: distances are nailed onto dedicated running watches and the experience was stable and reliable.
Live pacing has improved since it first launched, and now you can check Segment leaderboards. For serious runners and cyclists, though, it's the best on the App Store. It's also a standalone app, so don't be afraid to head out without your iPhone.
Peloton
Free to download, monthly subscription required ($12.99 / £12.99), App Store
Wareable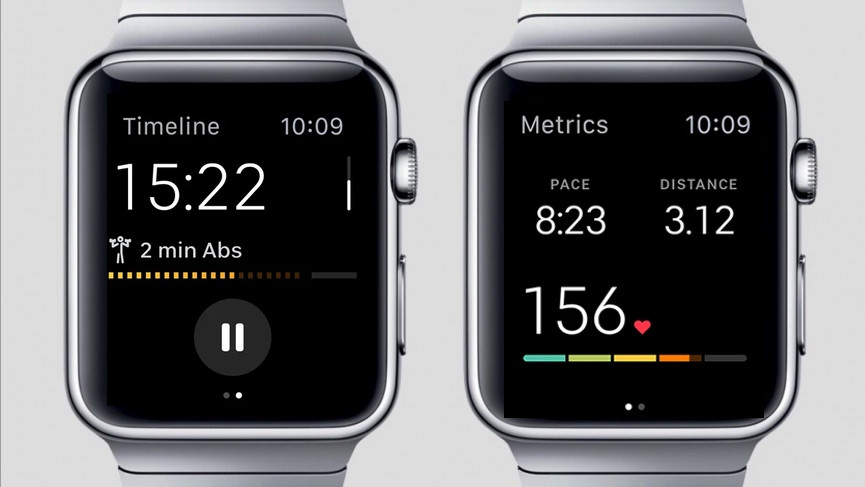 The makers of that hugely popular indoor exercise bike let you pair your Apple Watch to its connected kit and home workout app to make use of the onboard sensors.
Once you've signed up for the Peloton digital membership, you can strap that Watch on and track heart rate during workouts and it can be used to track pace and distance for treadmill runs too.
If you own a Peloton Bike+, too, you can also pair up an Apple Watch using GymKit to make it easier to sync over heart rate to your activity feed.
Runance
Free, App Store
Wareable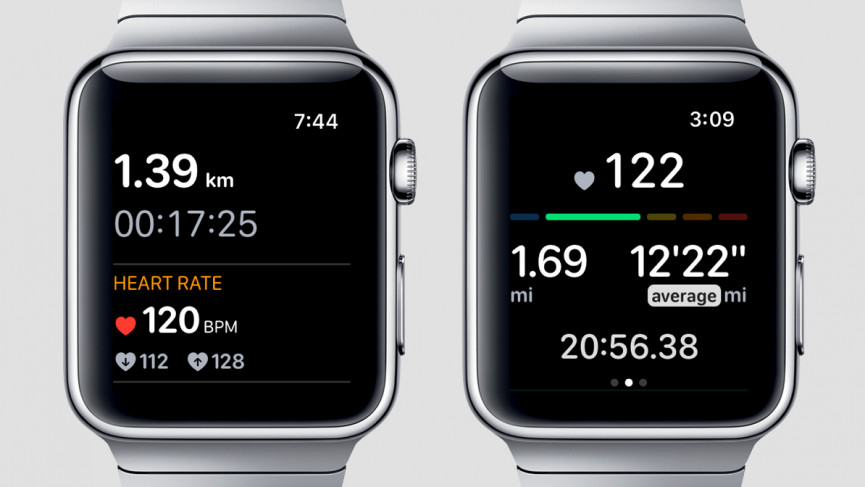 Increasingly, running apps are like tiny social networks, albeit ones based on hoofing it at speed and comparing stats, rather than flinging angry hashtagged soundbites at strangers.
Still, they hoover up data, which for some will be a no-no.
By contrast, Runance is all about you. You start a workout on your wrist and can check out live metrics as you go, switching between rolling and average metrics with a tap.
Back on your iPhone, you can view a map of where you went and explore stats, safe in the knowledge your data will only be shared with Apple Health and no third parties.
Pear
Free + subscription required, App Store
Wareable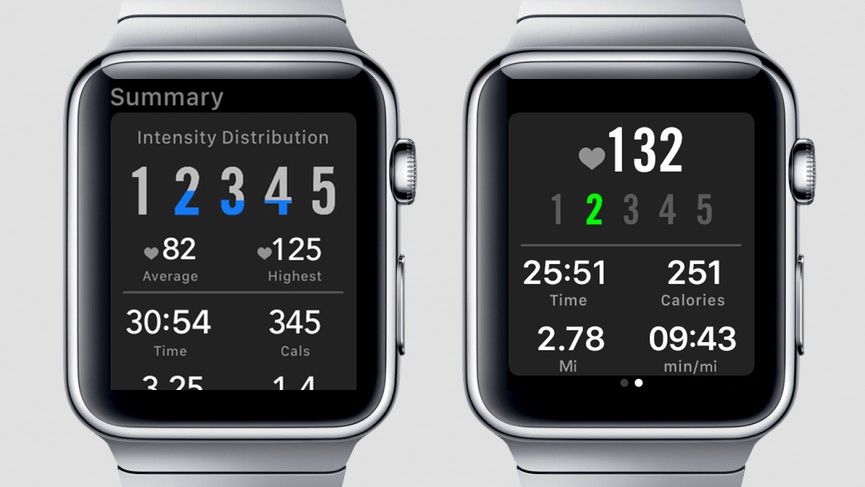 Pear is a personal fitness service – which you can use with or without your phone – that includes all kinds of workouts, from HIIT to yoga to spin and more. There are a variety of levels, too, so you can just take on something to lose some weight, or you can train for a marathon.
What makes Pear special is that you'll get interactive coaching from athletes while you're doing your workouts. So instead of a generic robot yelling in your ear, it'll be an Olympian who will use their personal stories to motivate you. Fresh.
ActivityTracker Pedometer
Free or $4.99, App Store
Wareable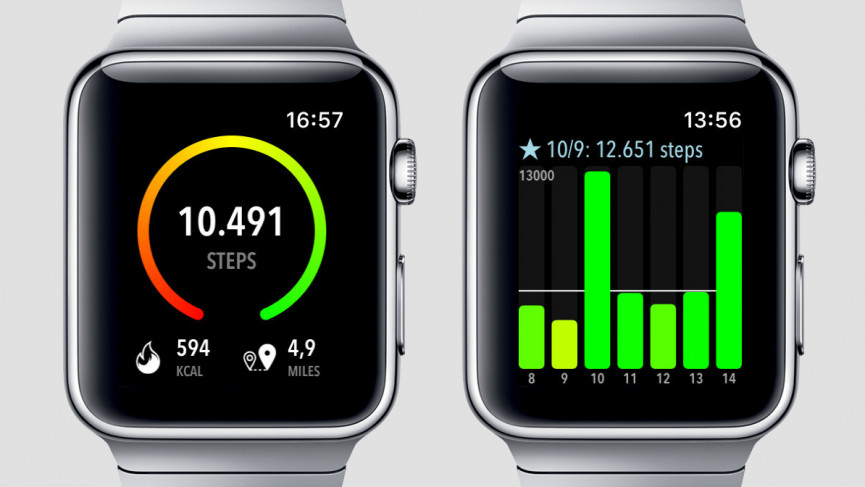 Apple does a good job in its own Activity app for breaking down all the workouts you've been doing. But if steps are your thing, ActivityTracker Pedometer zeros in on steps, calories burned and distance traveled.
Scroll down a bit and you can also peruse when during the day your steps occurred, and how today's efforts compare with those from the past week. Handy to ensure you don't rest on your laurels. It does not work as a standalone app, but you need to subscribe to sync with your iPhone and Apple Health.
WorkOutDoors
$5.99 / £5.99, App Store
Wareable
WorkOutDoors is one for runners, cyclists, and general outdoor lovers who like to go big on having plenty of stats to glance at and having the freedom to choose how that data is displayed on the Apple Watch.
You can customize screens with up to 300 real-time metrics and the vector-style mapping makes it much easier to view your terrain from the Watch, too. There's support for real-time breadcrumb trail navigation, the ability to store maps for offline use, and even the option to upload GPX route files.
You do have to pay for it, but, in return, you'll get one of the best Apple Watch apps available right now.
Swim.com
Free, App Store
Wareable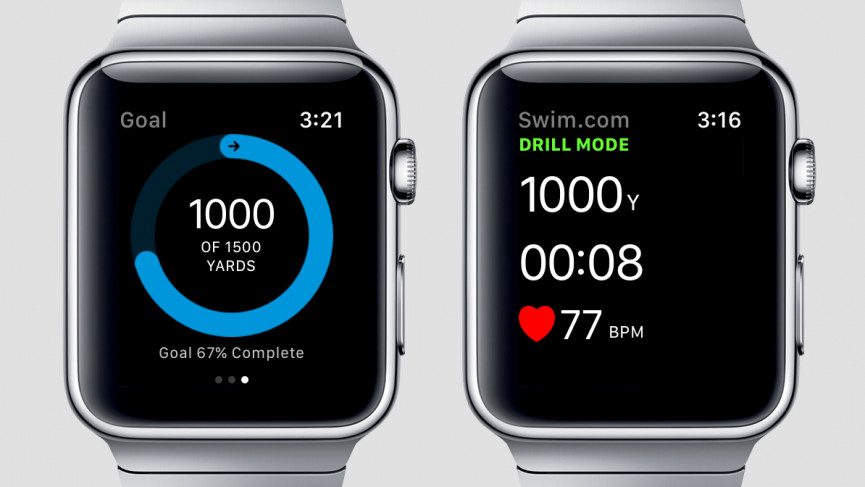 The Apple Watch's own swimming app is pretty impressive, but, if you're looking for a bit more post-swim analysis and want to have your pool workouts tracked in one place, Swim.com is your friend.
It can track stroke type and count and features drills and live feedback while you're in the pool – spitting data out into a dedicated iPhone app.
ViewRanger
Free + in-app purchases, App Store
Wareable
This is one you'll want to take on your hikes with your brand-new LTE-enabled Apple Watch Series 4. ViewRanger gives you live turn-by-turn navigation and trip stats for hundreds of hiking and cycling trails worldwide. You can also download and pay for additional topographic maps.
Streaks Workout
$3.99 / £3.99, App Store
Wareable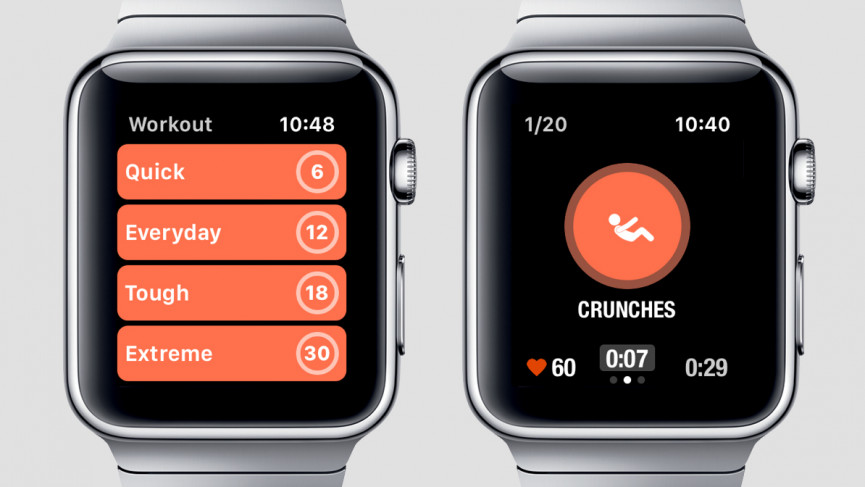 There's no messing about with Streaks Workout, a fitness app that leaves you with no excuses. Define on your iPhone which exercises you're happy to do, and then pick a duration on the Apple Watch.
Only got minutes to spare? Go for the six-minute 'Quick' option. A bit of a masochist? Try the half-hour 'Extreme' mode, which you'll find is aptly named as the app flings semi-randomized rep sets at you for 30 agonizing minutes.
Hole19
Free, App Store
Wareable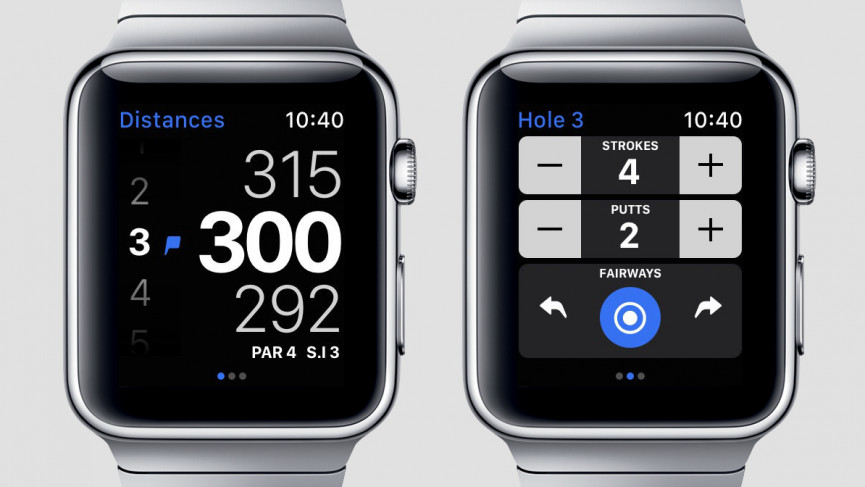 A comprehensive tool for golfers, Hole19 provides you with hole routing, course stats, and a simple interface for logging your score.
Once you've started a round on your iPhone, your Apple Watch hones the data down to what you need at any given moment: key distances; score input; and putt tracking.
If you pay up for the Pro subscription, you'll also now get to tap into the shot tracker for a hit of individual club stats.
Tempo - Run & Walk Workout Log
Free + in-app purchases ($9.99 / £9.99 a year), App Store
Wareable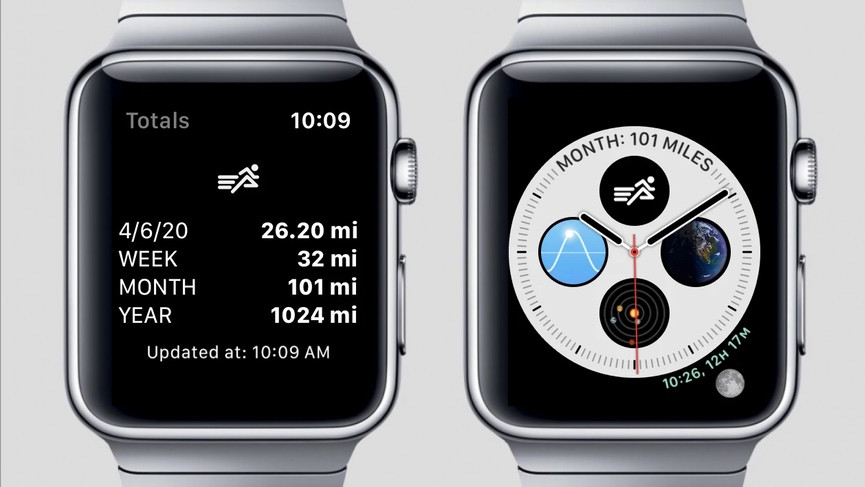 One for runners and walkers, Tempo is another app that's jam-packed with stats and insights displayed in graphs and screens that look great on the Apple Watch.
You'll need to pay for the annual subscription to be able to track workouts with data like pace, heart rate, elevation, and cadence all viewable from the app.
There are interactive maps, complication support, and even a dark mode option here too and it's one of the slickest ways to keep tabs on your exercise from your Apple Watch right now.
Carrot Fit
$4.99 / £4.99, App Store
Wareable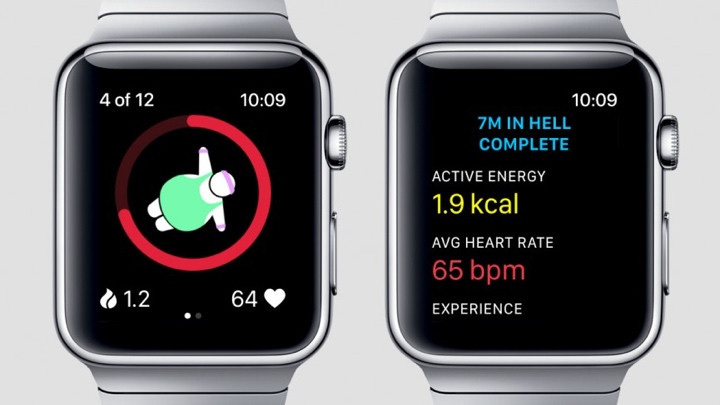 The Carrot series puts a new spin on tired app categories, and this one's all about the 7-minute workout. The malevolent Carrot AI puts you through your paces, doing 'Celebrity Face Punches' and 'Dragon Mating Dances'.
Start your workout and your Apple Watch can become a heads-up display, so you know what exercise you should be doing – or can pause things for a bit if your body's about to break.
Zones for Training with Exercise Intensity
Free, App Store
Wareable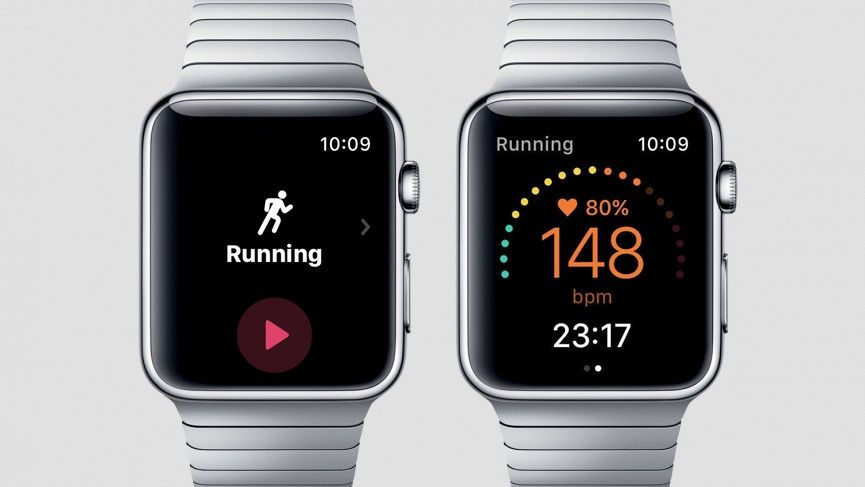 Getting full marks for both the length of the name and practicality, ZTEI (as it will now be known) is the perfect app for those who train by heart rate.
It has modes for walking, running, cycling, and gym workouts, and will display your live heart rate zones, as well as report the time spent in each zone, spitting the data out into the Health app.
You'll also be able to use it sans iPhone. It adds functionality that the Apple Watch has only got around to providing through watchOS 9, which is the beauty of a good third-party app.
Runkeeper
Free, App Store
Wareable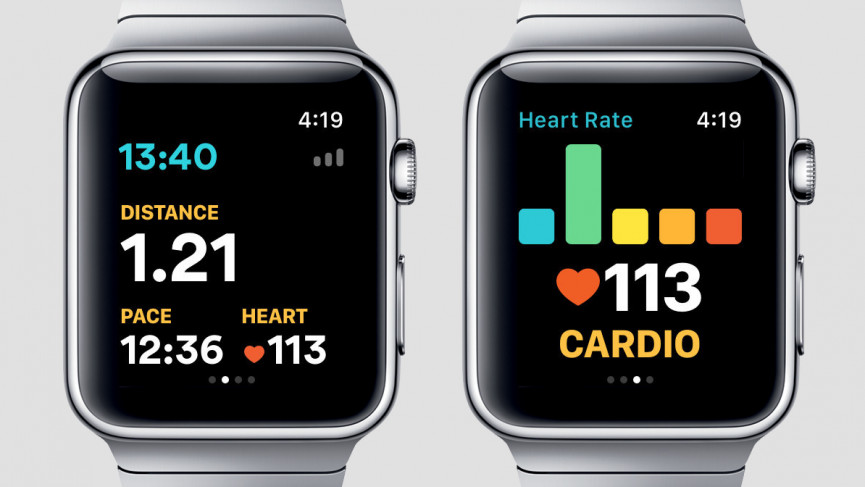 Runkeeper's a great iPhone app, but there's a lot going on. On the Apple Watch, it's focused on key info: you start an activity, swipe between screens that show stats, cardio info, and split times, and can have haptics give you a buzz when you hit set distances.
When home, open Runkeeper on your iPhone, and stats and a map (if have a Series 2 or newer) are pushed across.
Slopes
Free + in-app purchases, App Store
Wareable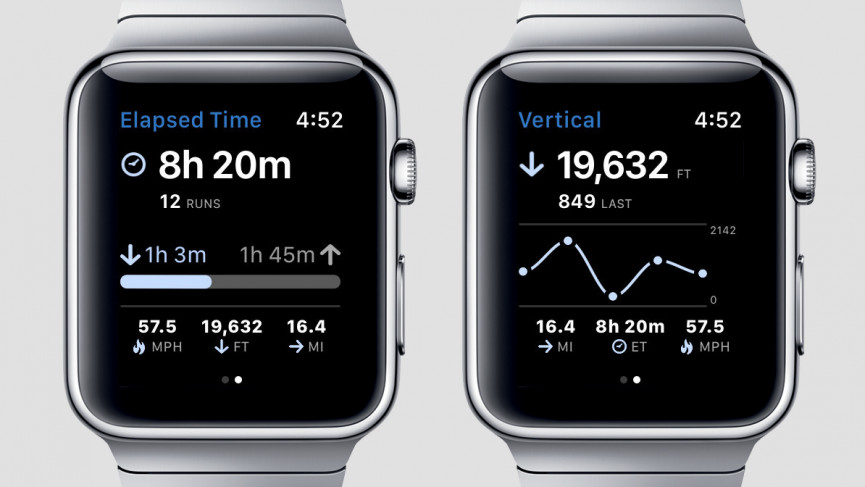 Having detailed speed, altitude, and distance stats to hand when careening down a mountain on skis or a snowboard is all very well, but an iPhone's not the best of devices to access during such occasions.
The Slopes app, therefore, enables you to start recording data right from your Apple Watch, giving you important stats on your wrist, such as how much time you've spent zooming along on snow compared to riding boring lifts, and how high up you happen to be at any given moment.
Best Apple Watch health and wellbeing apps
The best Apple Watch apps to keep you in good health, whether that means reminding you to take medication or get a good night of rest.
Air Matters
Free, App Store
Wareable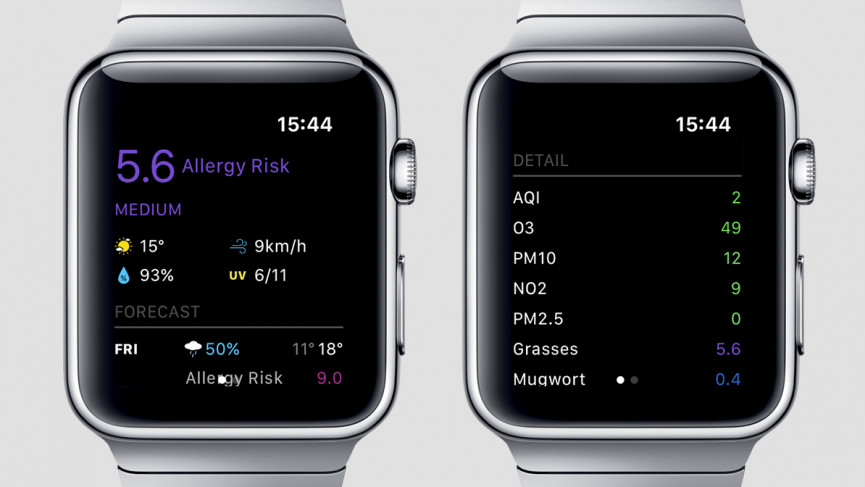 Plenty of Apple Watch weather apps have AQI readings, but Air Matters goes much further. Specific allergens can be tracked, and real-time updates for things like grasses are displayed in a complication.
Particulate matter levels are provided and color-coded by severity. There's basic weather forecasting, too, with key stats and a weekly outlook.
But even if you favor another weather app, Air Matters is essential for knowing if it's safe to venture out, or whether breathing in some fresh air will result in hours of endless sneezing.
Sleep Cycle
Free + in-app purchases, App Store
Wareable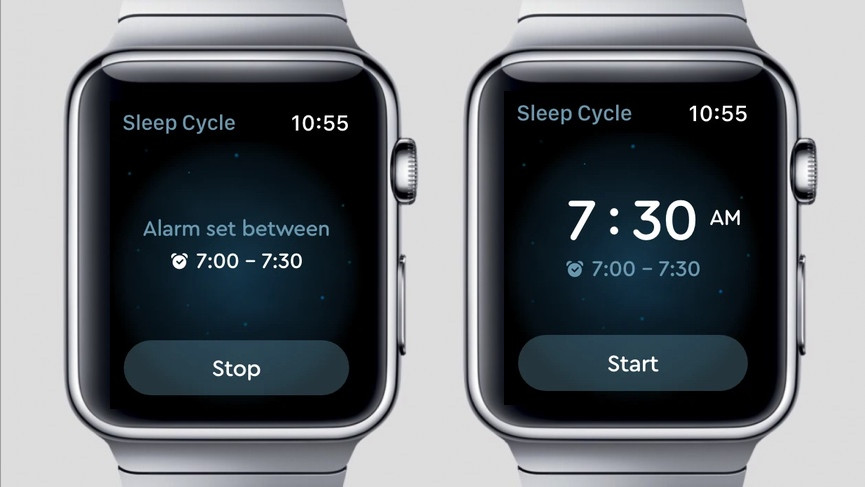 Apple does offer its own native sleep-tracking features now, but, if you're looking for a bit of a different Apple Watch sleep app, Sleep Cycle is one to try out instead.
The standalone app makes use of the Apple Watch's onboard accelerometer to track and analyze your bedtime and also includes smart alarms to gently wake you up in the morning. It works with Apple Health, too.
If you're willing to spend for the full Sleep Cycle experience, you'll also get to look deeper into your stats and get access to a library of guides and sleep sounds to help you get some shut-eye. It looks great and even without paying up, you'll still get a great Apple Watch sleep-tracking app.
NapBot
Free to download, monthly subscription required ($9.99 / £9.99), App Store
Wareable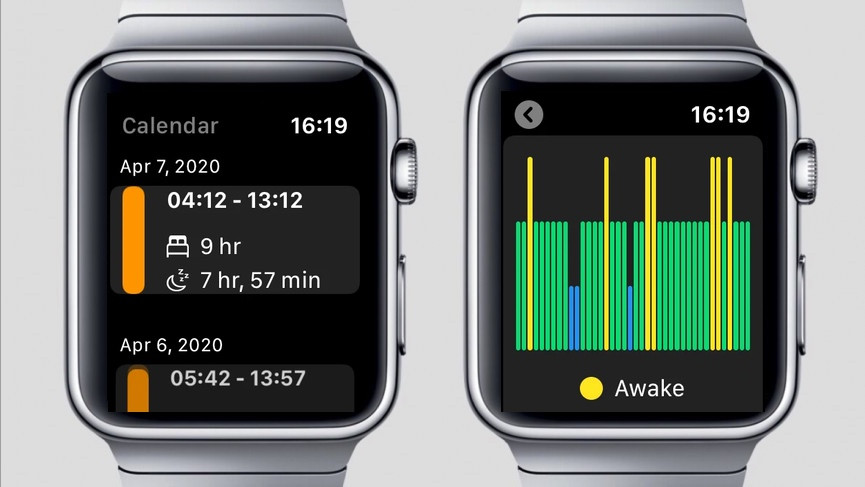 Another good option for sleep data fans looking for a richer experience might want to also check out NapBot.
The third-party sleep app made some useful changes recently, including letting you adjust sleep goals from the Watch and being able to view a calendar to look back at sleep data from your wrist.
There's the ability to see heart rate during sleep and it also supports notifications that will dish out a preview of sleep data, too.
Endel
Free trial then subscription, App Store
Wareable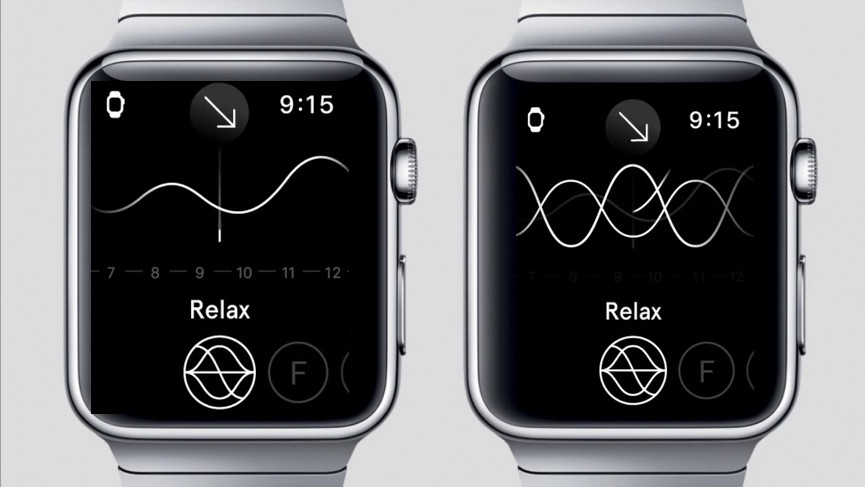 Endel was named Apple Watch app of the year in the company's 'App Store Best of 2020' list and is another one to look to if you're seeking out something to keep you calmer and to help de-stress.
It's all about soundscapes that are designed to reduce stress, help you focus, or get you into a sleepier state. Those soundscapes factor in your location, your heart rate, and even the weather to make it a more personal experience, and are fully integrated with Apple Health.
You can trial it for a week, but then you'll need to decide whether to pay up monthly, annually or for life. It's a beautifully designed app and a great one to check out if you've been looking for something you can turn to at home or on the move when you need to refocus, relax or get a good night's sleep.
Headspace
Free + in-app purchases, App Store
Wareable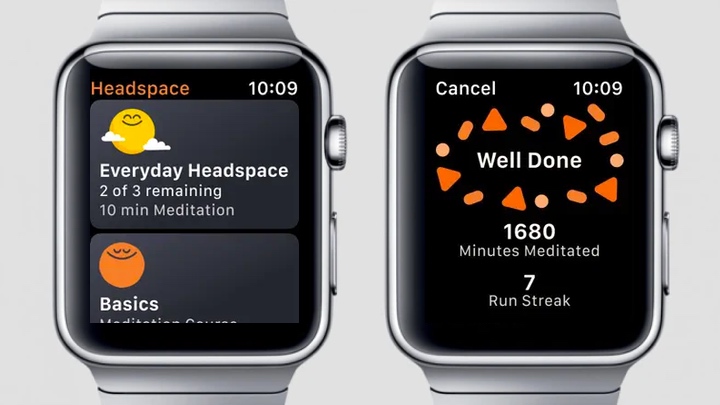 We've been fans of the Headspace app for years, and the Apple Watch app is a really handy supplement to the experience that largely runs on your phone or tablet.
It's a little more discreet, and the fact you can load up a session on your wrist also means you can avoid getting sucked into other notifications.
It will urge you to pick exercises each day, and some won't find these prompts all that relaxing, but we still think it's a must-have tool for those aiming to add a bit more mindfulness into their day.
There's even an SOS mode for calling for help from the app immediately, which is a neat feature.
The only real downside is the monthly subscription. Headspace costs around $12.99 / £9.99 per month, so we suggest digging out a free trial and then seeing if it's a good fit for your lifestyle - and your wrist.
Heart Analyzer
Free + in-app purchases, App Store
Wareable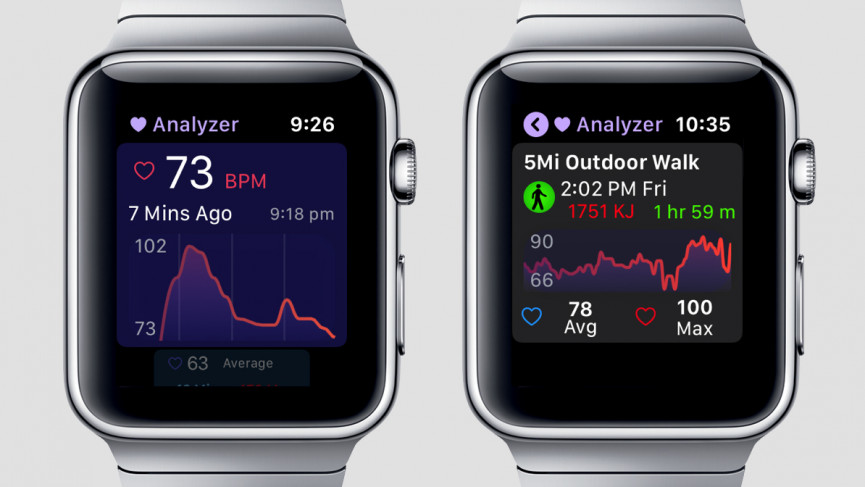 Fire up Apple's Heart Rate app and you can see how your ticker's doing, and how it performed during a recent bout of exercise.
Heart Analyzer ramps up the detail, drawing on your existing Health data and presenting it in a manner that lets you delve much deeper into your stats.
You get metrics of heart rates over the past week, and graphs of recent exercise sessions. Custom complications complete the picture, including a large live heart rate graph that's more immediately readable than Apple's equivalent.
It's also added support for newer Cardio Fitness and VO2 Max and will display ECG readings that are taken on new Apple Watch models.
Streaks
$4.99 / £4.99, App Store
Wareable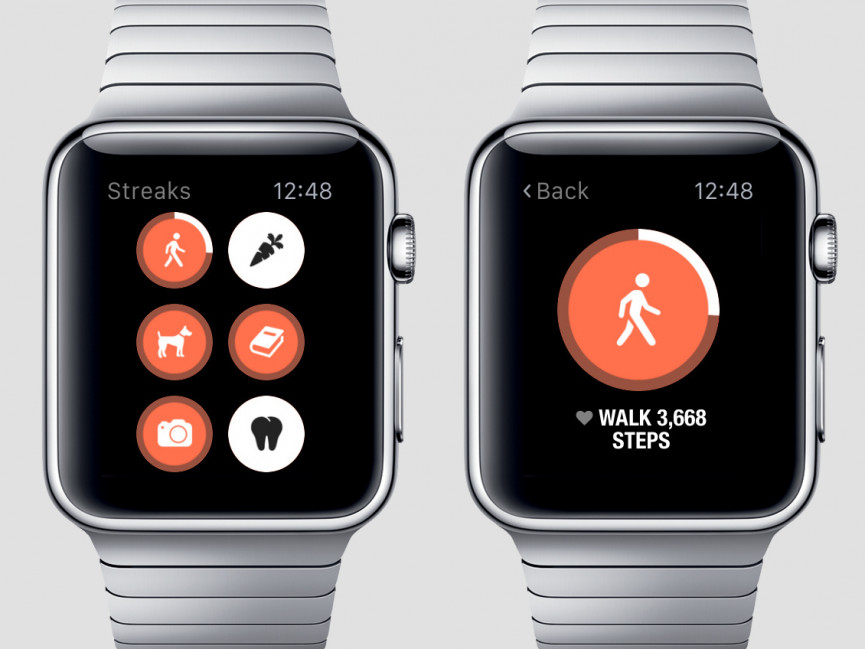 For forming habits - in a good way - there's nothing better than Streaks. On your iOS device, you define up to 12 habits (although the interface prefers six).
These can be one-off or timed tasks; each can be assigned to a specific day or to be completed a certain number of times per week or month.
It's all very flexible, and the Apple Watch app becomes a means to get a brain buzz as you track tasks, run timers, and mark everything complete.
Moodistory Mood Tracker
$4.99 / £4.99, App Store
Wareable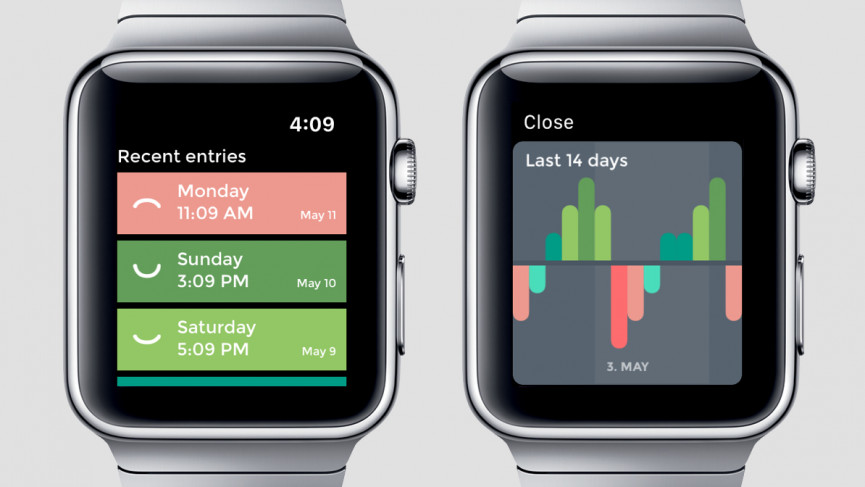 If you find your mood is often all over the place, this app provides a low-friction way of tracking it, and perhaps the means to find out what's going on.
Right on your Apple Watch, you can at any point log your mood, and create a brief journal entry. A mood calendar is gradually constructed, potentially enabling you to figure out trends.
Most of the analytics ultimately happens on your iPhone, but at-a-glance entries and simple ups and downs graphs can be perused on your wrist.
One Drop
Free, App Store
Wareable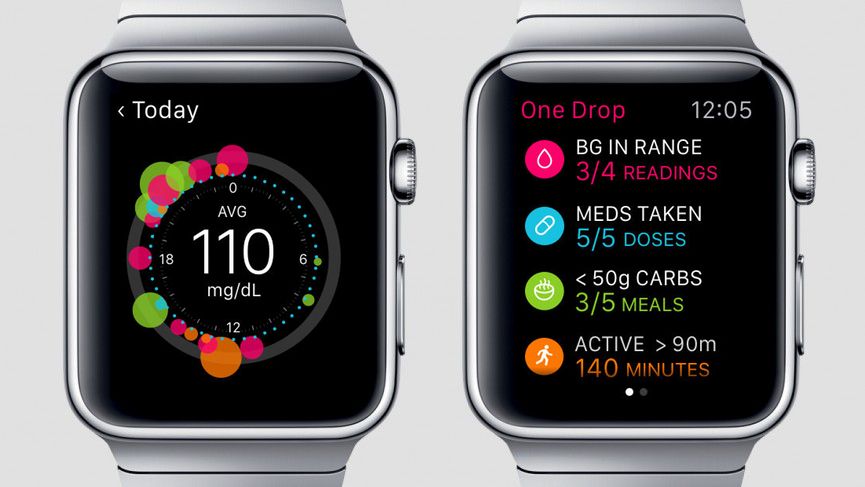 If you're diabetic, then keeping track of your glucose and everything around it can be difficult.
One Drop wants to make that easier, allowing you to log glucose, meds, food, and activity directly from your wrist. It can also integrate into HealthKit and now offers widget support to better keep track of the main watch screen.
All of this together will help you manage your diabetes better than ever before.
AutoSleep
$3.99 / £2.99, App Store
Wareable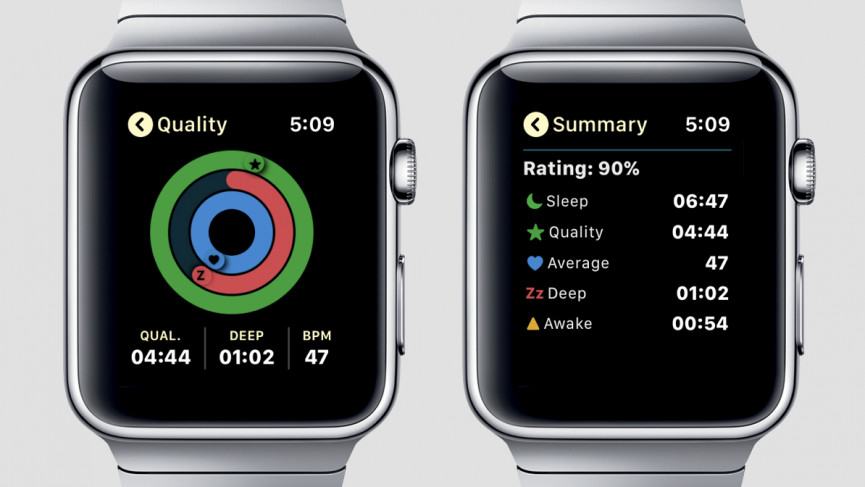 This one is true to its name. There's nothing you need to do with AutoSleep, just make sure the app is installed and you're wearing your Watch to bed. It'll automatically track your sleep. In the morning, it'll send you a notification with your sleep analysis, including how restless you were or how long you were in deep sleep.
There's even a mode for if you don't wear your Watch to bed, as long as you sleep right after you charge your Watch and put it on when you wake up. Although we'd argue that feature is a little pointless when you could just as easily hit a stopwatch.
Vekt
$1.99 / £1.99, App Store
Wareable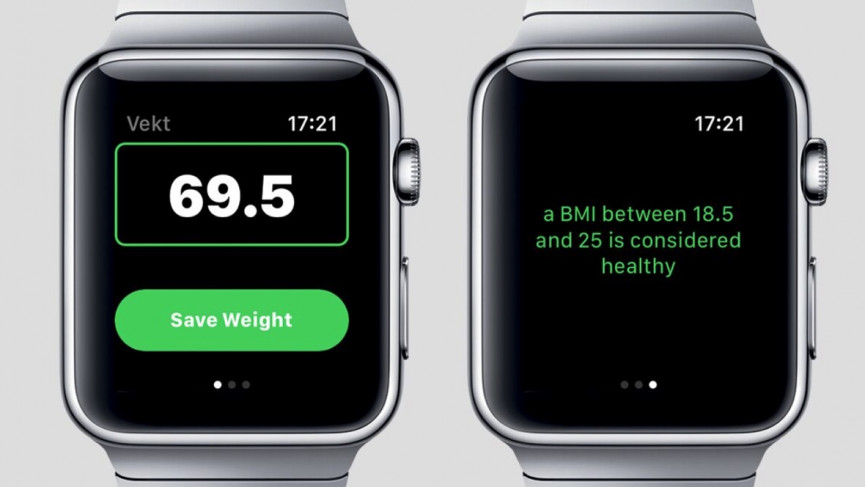 You can track weight using Apple's Health app on your iPhone, but Vekt makes inputting your details a mite easier. Launch the app, twiddle the Digital Crown, tap Save Weight, and you're done.
The app will outline how far you are from any target set in the iPhone app; and over on your phone, you can see how you're doing, checking out your recent progress by way of a wiggly graph.
Start With Yoga
$2.99 / £2.99, App Store
Wareable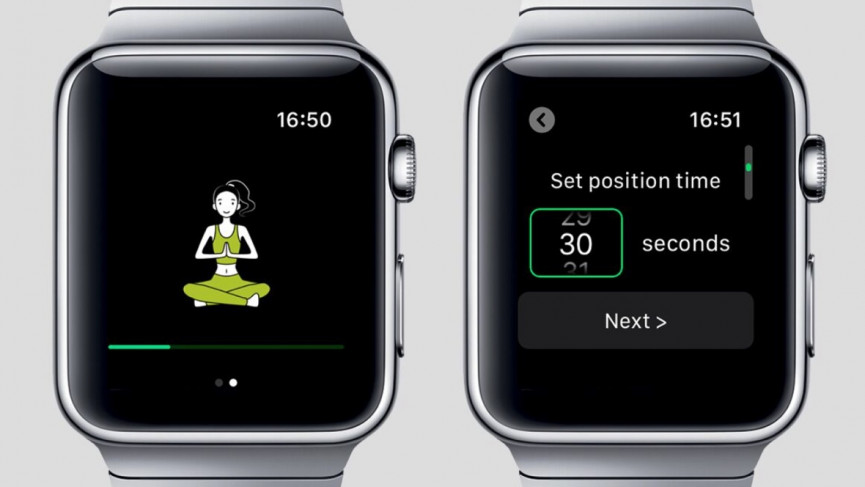 Often cited as a great way to relax and become more mindful, yoga can nonetheless be tricky to get started with. But this app removes distractions, presenting routines as a simple series of static images.
You can define how long each position should be held for – it's wise to add 30 seconds, though, since there's no pause between them. And if you want to concentrate on specific positions, you can define your own routines on your iPhone.
Best Apple Watch essentials apps
Those apps you can't do without - calendars, timers, money management, and Wikipedia on your wrist.
Barcodes
Free with in-app purchases, App Store
Wareable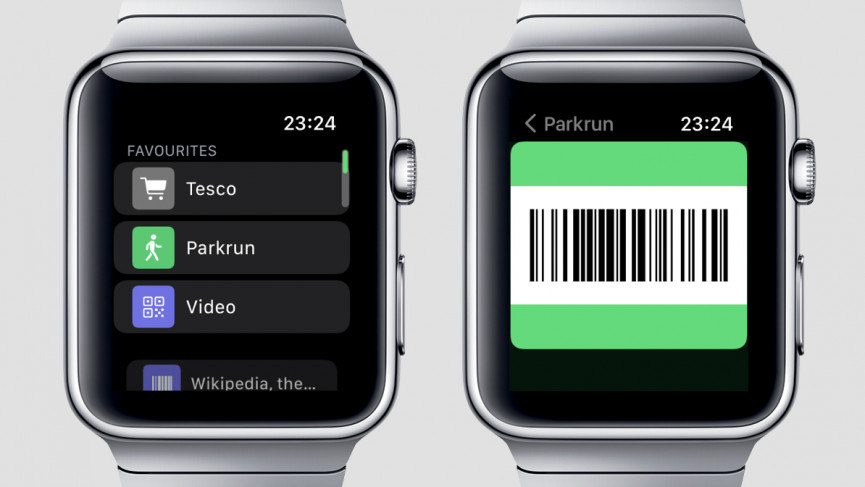 Store loyalty and membership cards bulk out your wallet, but not all cards have digital twins for Apple Wallet. Even if they did, you'd still need to fish out your phone to use them. With Barcodes, scans can be done right from your wrist.
You use the iPhone app to import cards using your camera or Photos. Each can have a name, icon, and color assigned. Then you later select the card on your Watch and hold it under a card reader until you hear the magic beep. Easy!
Barcodes stores ten items for free. Go unlimited with IAP, which also removes adverts and adds Apple Wallet sync for supported card types.
Solar Watch
Free, App Store
Wareable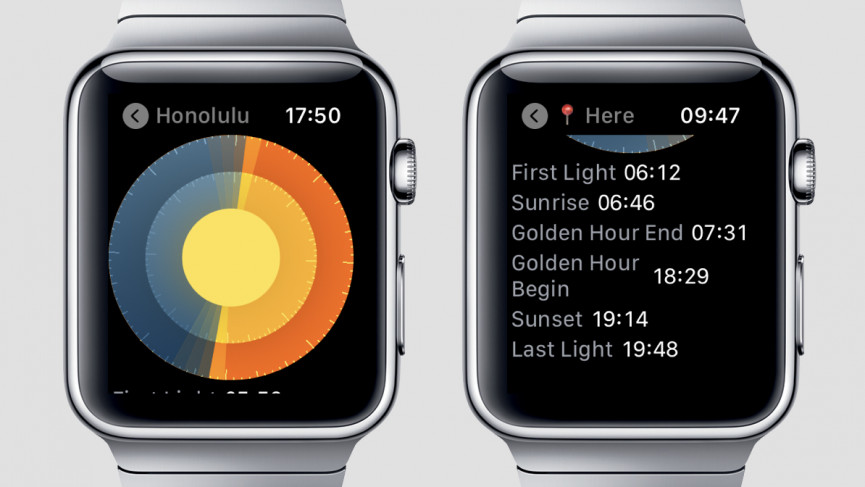 Most weather apps are concerned with whether you're going to get baked or drenched. Solar Watch is instead obsessed with light. On Apple Watch, you can browse locations defined on your iPhone.
Each is represented as a disc that outlines when sunset and sunrise are going to be - along with the all-important golden hour for top snaps.
Scroll down using the Digital Crown and you can peruse a list of times. The app works best as an at-a-glance complication, though, fitting into even the smallest circular spots.
PB: Lost Phone Alert for Watch
$4.99 / £4.99, App Store
Wareable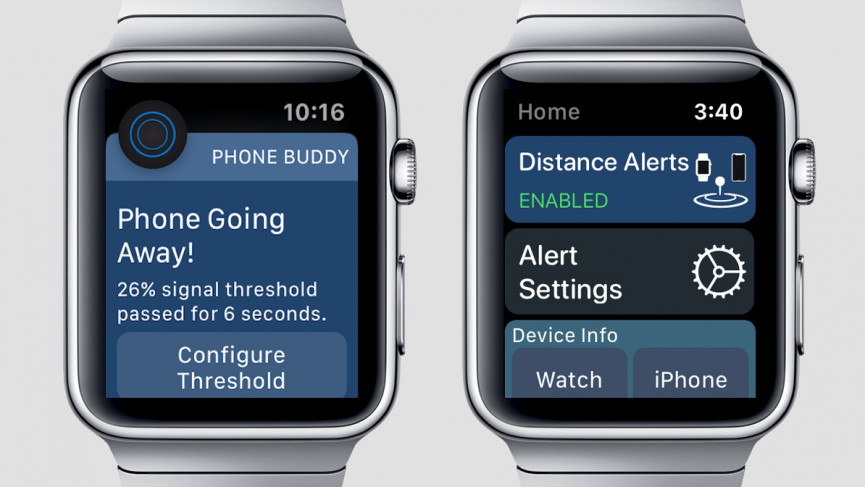 This app might have a name only its mother could love (PB apparently stands for 'Phone Buddy Notifier'), but it's an effective security system for the forgetful. In short, you set a distance threshold between your iPhone and Apple Watch, and should they be separated for too long, alarms start blaring.
It's effective. Forget your iPhone in a restaurant and alerts will very quickly put you on the path to set things right. But the app also has nuance, enabling you to adjust distance alerts and disable alarms on home Wi-Fi, so your iPhone doesn't deafen everyone when you leave a room without it.
ESPN: Live Sports & Scores
Free, App Store
Wareable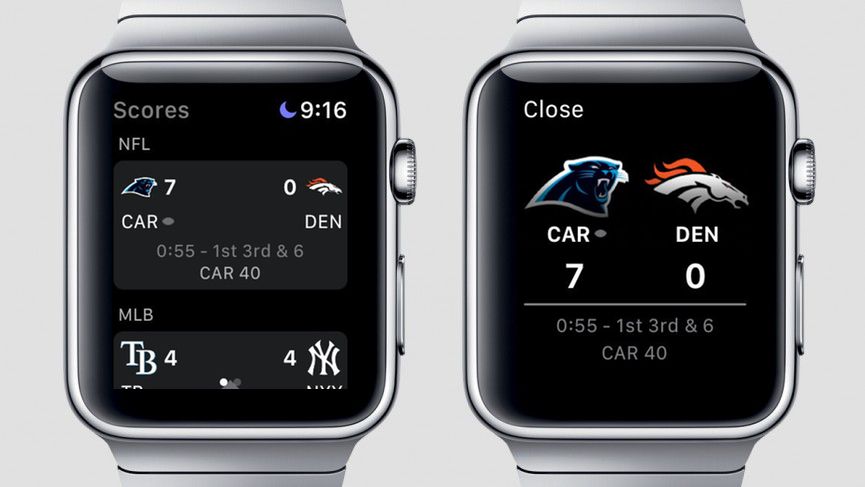 You're in the world's longest and most pointless business meeting with no idea about the progress of your favorite team's latest game.
Enter, the Worldwide Leader in Sports, ESPN, which will keep you updated on the scores from your chosen team in almost any sport. Add in a decent helping of breaking news alerts and complications that can keep you in the know at a glance, and there's no better solution for sports fans.
Just Press Record
$4.99 / £4.99, App Store
Wareable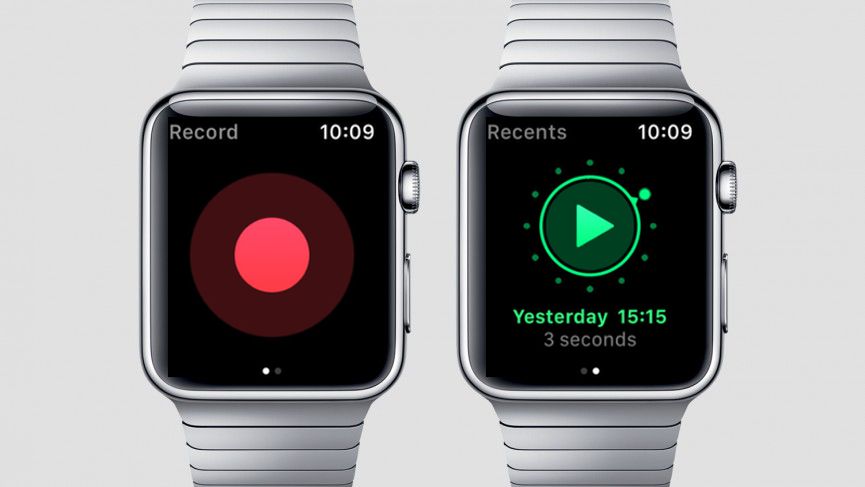 On iPhone, Just Press Record is a very efficient app for making quick recordings: tap the record button, capture some audio, stop the recording, and your audio then syncs to the cloud.
This is all now on your wrist too, and you can even record without your iPhone around. Your recordings will transfer into the cloud and there's even a complication that'll launch you into a recording automatically.
PCalc
$9.99 / £9.99, App Store
Wareable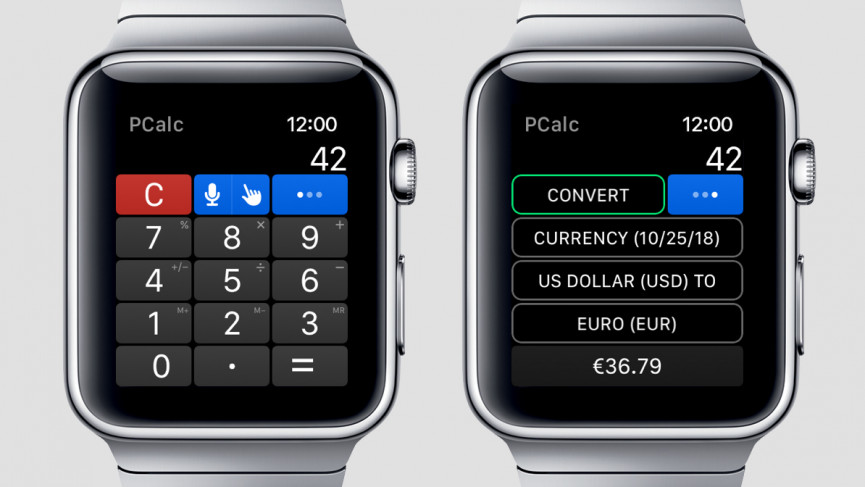 It's astonishing Apple omitted a calculator from Apple Watch until watchOS 6 (maybe Tim Cook hates Casio), but we're comforted by the fact that PCalc existed to heroically come to our aid.
In fact, it's still a solid alternative to Apple's own app, with an excellent interface and built-in conversions. Everything's super-responsive, and you can use the Digital Crown to adjust conversion values. (Generously, the free PCalc Lite version also includes an Apple Watch app.)
FlickType - Watch Keyboard
Free with in-app purchases, App Store
Wareable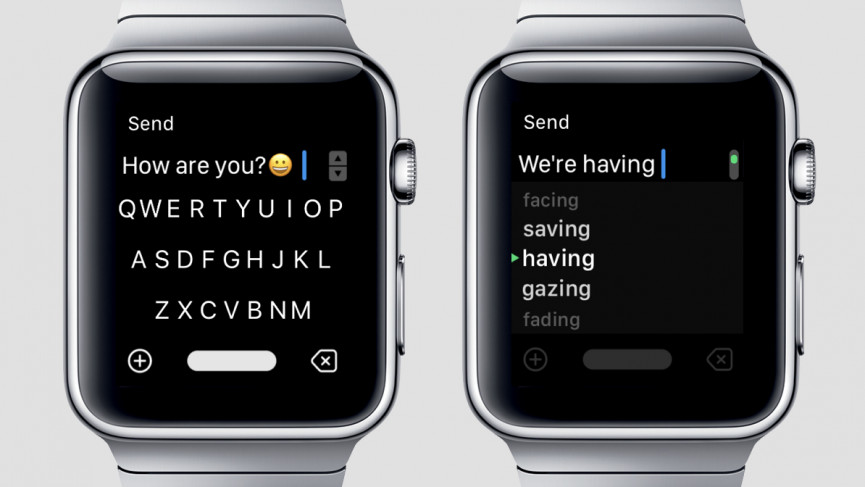 Apple reasons no one wants to type messages on an Apple Watch, instead having you dictate or use the gimmicky Scribble. FlickType Keyboard thinks otherwise, providing a full QWERTY keyboard on your wrist.
It's a touch fiddly, but once you're used to pecking at the tiny keys, or mastering the effective slide-to-type feature, it's faster than Apple's options.
The Digital Crown is smartly used, too, for changing words and moving the cursor. When you're done, a couple of taps send your missive on its way.
When Do - A Complication
Wareable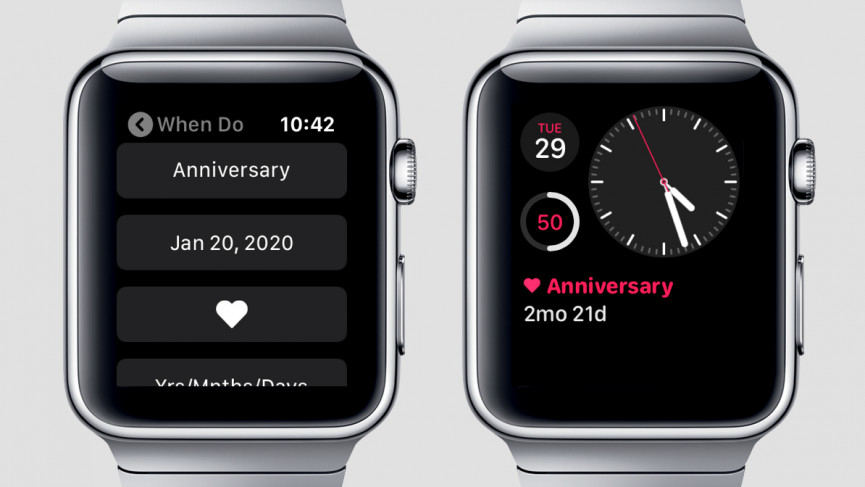 As evidenced elsewhere on this list, there's a lot of ambition for the Apple Watch, but the fact remains you primarily want to interact with it briefly. That means simple apps often appeal – and you don't get much simpler than When Do.
In effect, it's a little like Cheatsheet, but rather than offering a static reminder, this one gives you a countdown. Plug in the details of your important event, and it'll be right there on your home screen, ready to make you smile.
Mint
Free, App Store
Wareable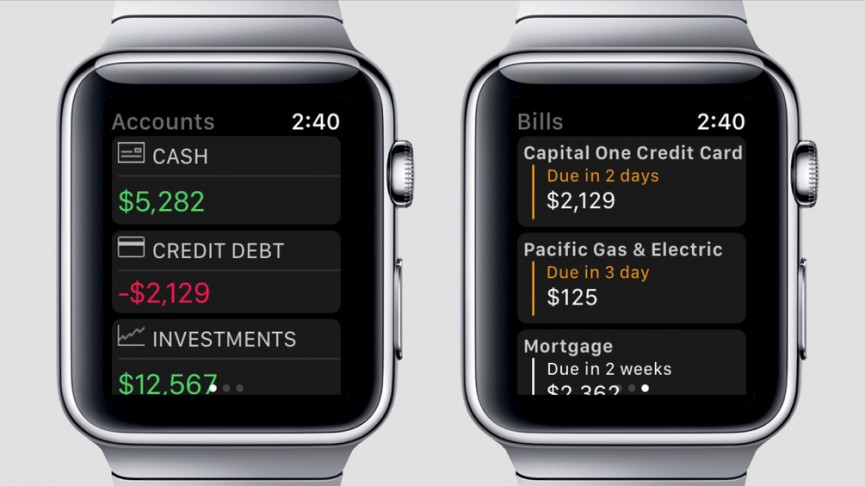 Our lives are dictated by bills, and there's no app better at helping you keep track of bills than Mint. The Apple Watch app, like its older iPhone brother, is a simple way to see which bills you've got to pay soon, how much money you have coming in and out of your accounts, and how good (or bad) your credit score is.
All of this essential financial information is huddled into three separate screens, so you can quickly slide between them to get everything you need at a glance. Best of all, everything is neat and color-coded, so you don't have to squint your eyes trying to figure out maths.
Fantastical
Free with in-app purchases, App Store
Wareable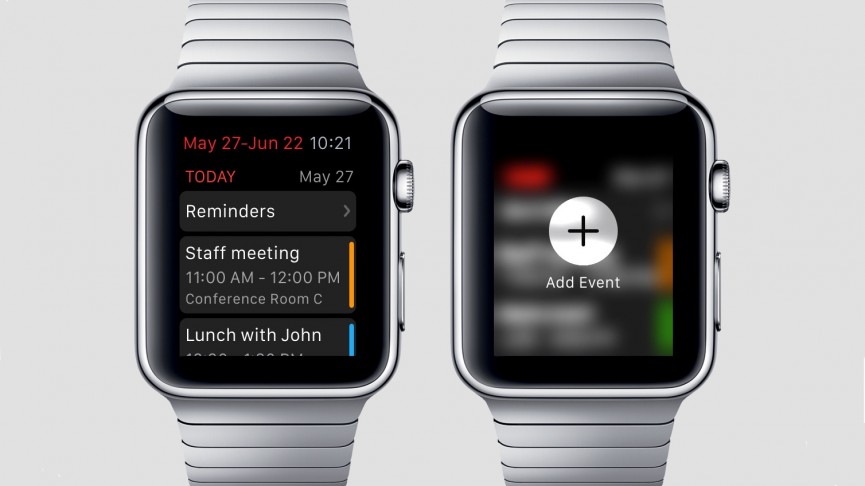 Apple's Calendar app is fine for reading appointments, but Fantastical saves you from fishing out your iPhone to add events.
Here, what you dictate hooks into Fantastical's natural-language input, and so it usually correctly interprets things like 'lunch on Friday at 2pm for an hour,' making you feel like you're living in the future. The stiff monthly outlay means it's not for everyone, but if you're already using Fantastical on a Mac or iPad, it makes sense to get it on your Apple Watch, as well.
WristControl for HomeKit
Free or $1.99 / £1.99 subscription, App Store
Wareable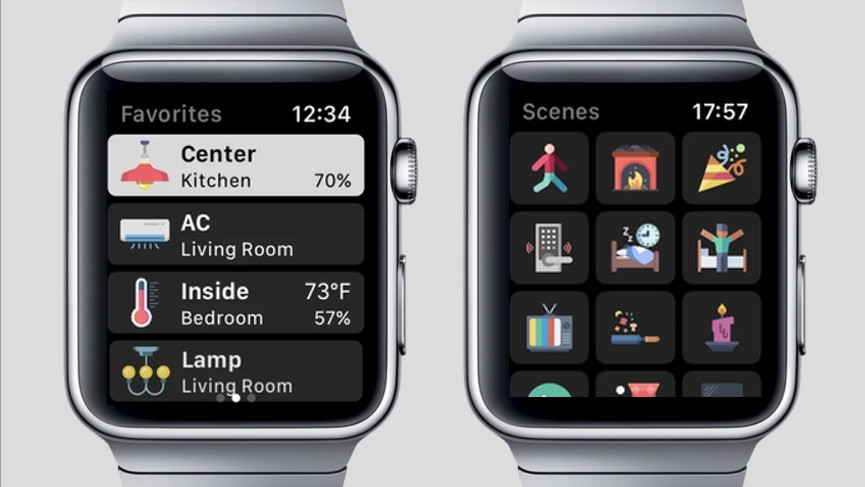 A Watch app for those fully immersed in Apple's smart home ecosystem, WristControl is a place to take charge of your connected kit from your Watch.
There's a dedicated screen to simply select your Scenes and you can also add complications to the watch face for every scene available to make it easier to take control.
It's a standalone app, too, so you don't need your iPhone within reach when you need to tinker with the lights or the heating.
MultiTimer
Free or $5.99 / £5.99, App Store
Wareable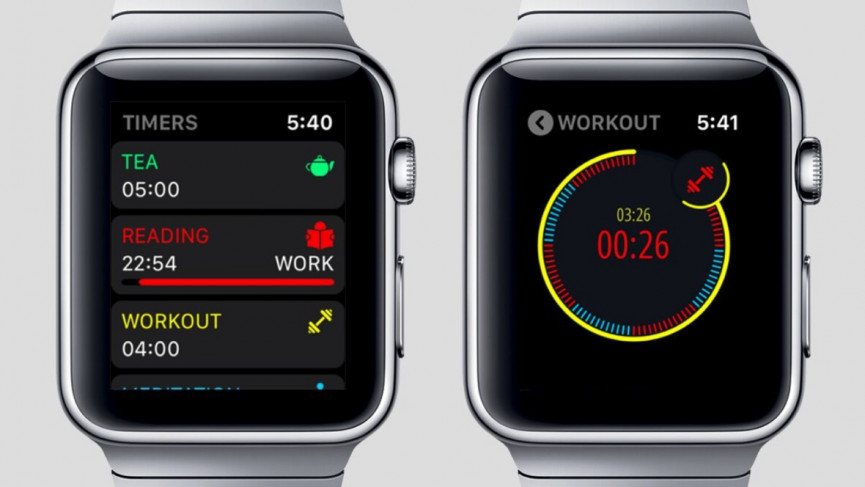 Apple's own Timer app is straightforward but limited to just one countdown timer. It's no good if you need to time several things simultaneously - unless you buy loads of Apple Watches and strap them to your arm, of course
MultiTimer is a far more sensible choice, and even in its free incarnation provides six timers. These are defined on iPhone (color, icon, default length) and show up in the Apple Watch app, where you can view a single timer or several at once. Pay for the in-app purchase and you can have unlimited timers – although you should perhaps ask yourself at that point if you're getting a bit obsessed.
Pay for the in-app purchase and you can have unlimited timers – although you should perhaps ask yourself at that point if you're getting a bit obsessed. App Store
Pennies
$3.99 / £3.99, App Store
Wareable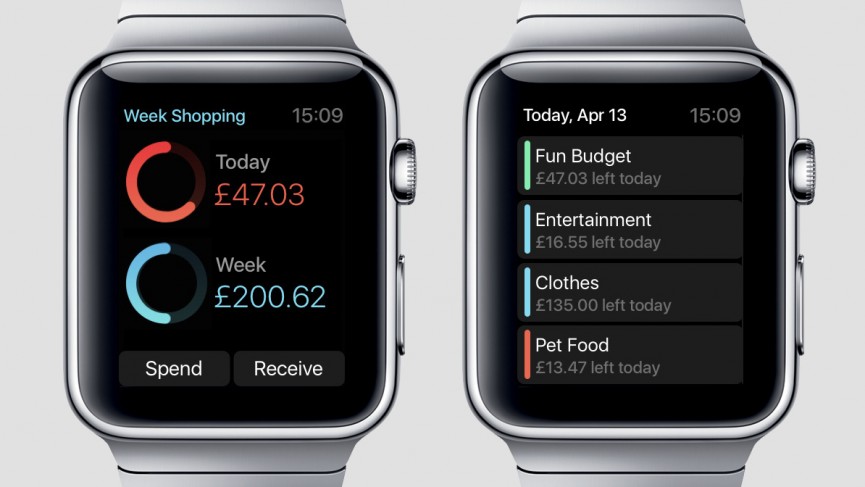 If you need to keep track of your money after blowing a huge amount of it on, say, a new Apple Watch, Pennies can help. The app enables you to set up multiple lists, to which you can add and remove funds as and when you need them.
On Apple Watch, the app's stripped back compared to its iPhone counterpart, but you can still discover what you have left to spend (even using a Complication as a constant reminder), and quickly deduct cash from your budget when you rashly splash out on a new Apple Watch strap you totally didn't need.
Deliveries
Free + in-app purchases, App Store
Wareable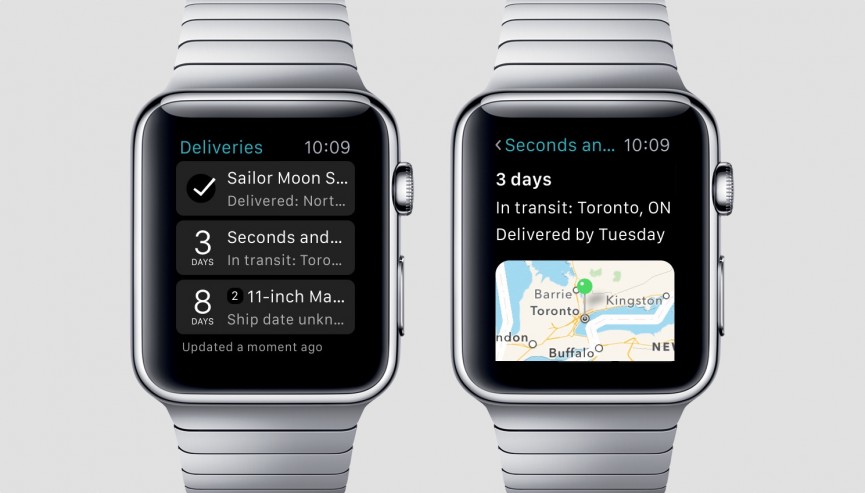 The Deliveries app is pretty great on every platform, tracking goodies that are winging their way to you, and ensuring you're not out when a courier is about to hurl that new laptop over your fence. On Apple Watch, you get the same list, location maps of where your things currently are, and handy notifications when a delivery is imminent.
Chirp for Twitter
Free + in-app purchases, App Store
Wareable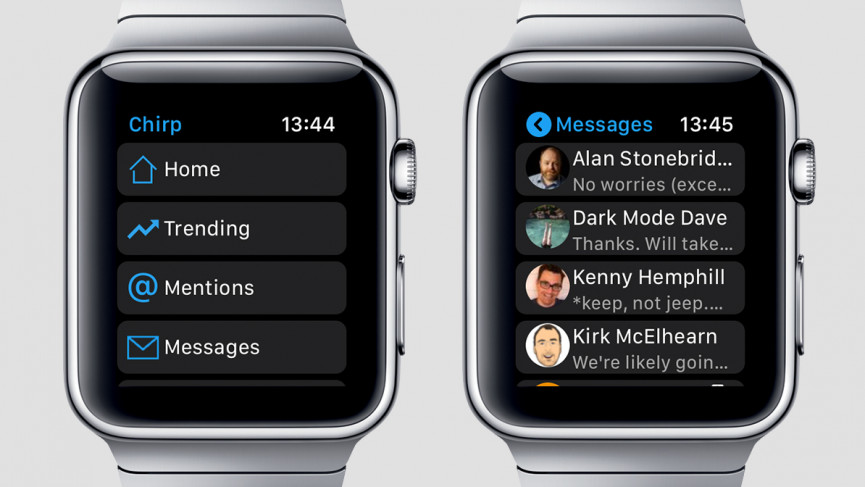 In all honesty, we question the need to have your entire Twitter timeline on your wrist; still, Chirp provides the means to dig into an endless stream of tiny messages on your tiny Apple device.
Its utility becomes clearer when you grab the in-app purchases and unlock the full feature set, enabling you to reply to tweets, delve into direct messages, perform quick searches, and keep track of news (or gossip) by browsing what's currently trending.
Things 3
$9.99 / £9.99, App Store
Wareable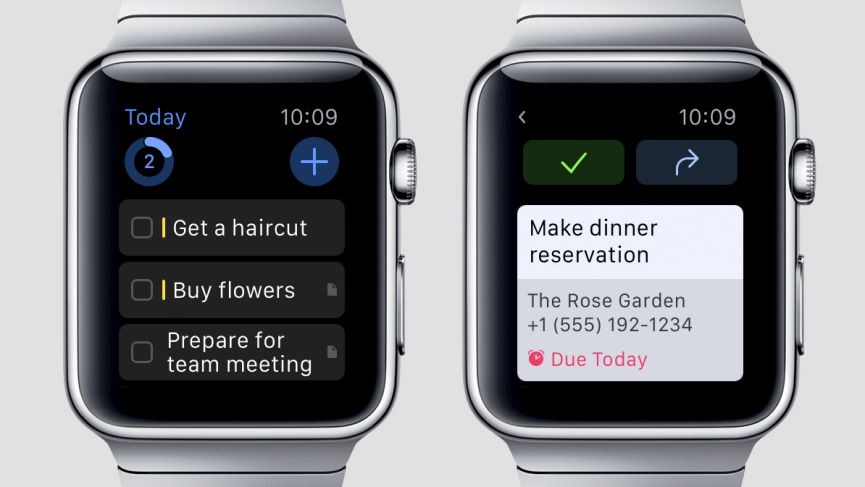 We're deep into GTD (Get Things Done) territory with Things, a to-do manager turned up to 11.
On iPhone, it fast becomes the hub for organizing your entire life, sorting items into Today, Upcoming, and Anytime views. The Apple Watch app is for properly focusing on your current tasks, which can be displayed as a complication, ticked off when complete, and added to when something urgent looms into view.
Twilio Authy
Free, App Store
Wareable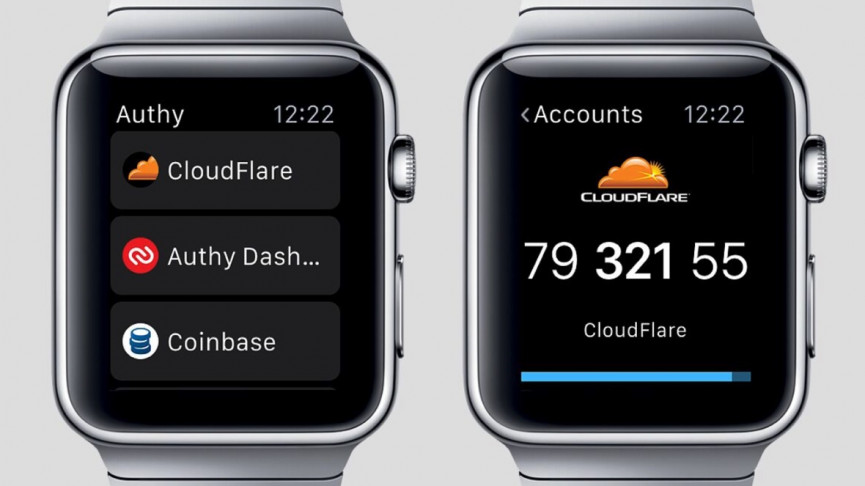 We assume you're using two-factor authentication - at least for your vitally important internet accounts. The snag with this level of security is friction – having to fish around for your iPhone authentication app in order to access the likes of Google or PayPal.
Not when you've got the Authy app on your Apple Watch, which gets you those magic digits by way of a couple of taps.
Carrot Weather
$4.99 / £4.99, App Store
Wareable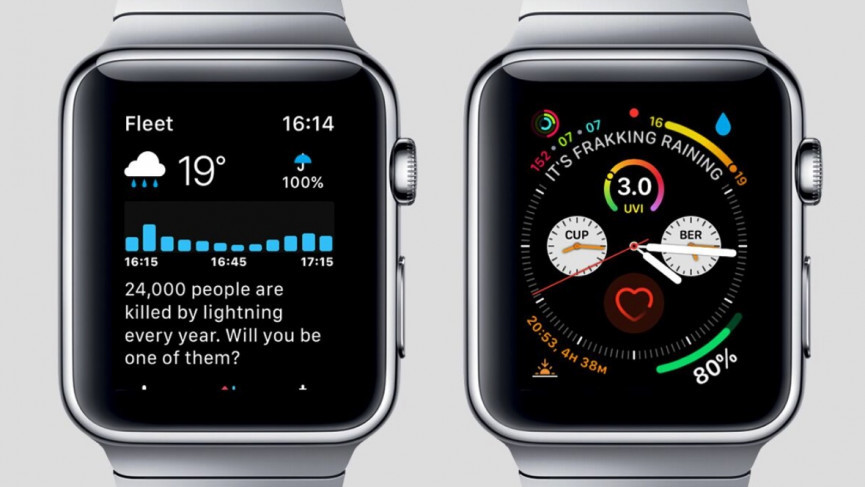 To help save you from White Walker attacks or being fried to a crisp by the sun, Carrot Weather dishes up a gorgeous, flexible Apple Watch app interface, packed with information and snark.
The app's 'AI' laughs at your misfortune when it's pouring down, but you can at least customize Complication slots to your liking (including an extra slot if you also own Carrot Fit) – assuming you subscribe to the app's premium in-app purchases. It's worth every penny.
Spotify
Free + monthly subscription required ($9.99 / £9.99), App Store
Wareable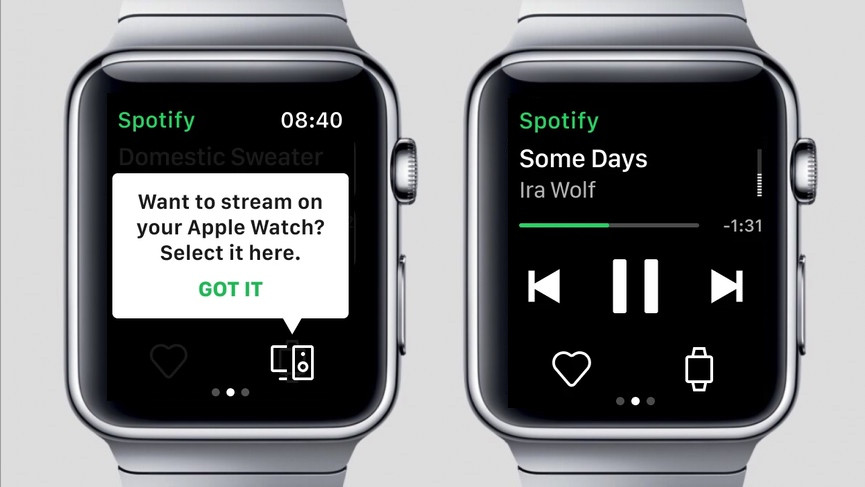 The Spotify Apple Watch app has been around for a while, and it's now a really rounded experience for those who subscribe to the streaming service. The best part? You can sync playlists and other audio ready for offline playback.
In addition to that, you can control music playing on speakers, add songs to your Spotify library from your Watch, stream music without using your iPhone, and use Siri to control playback, too.
Check out our guide on how to use Spotify on Apple Watch to make the most of it on Apple's smartwatch.
YouTube Music
Free + monthly subscription required ($12.99 / £12.99), App Store
Wareable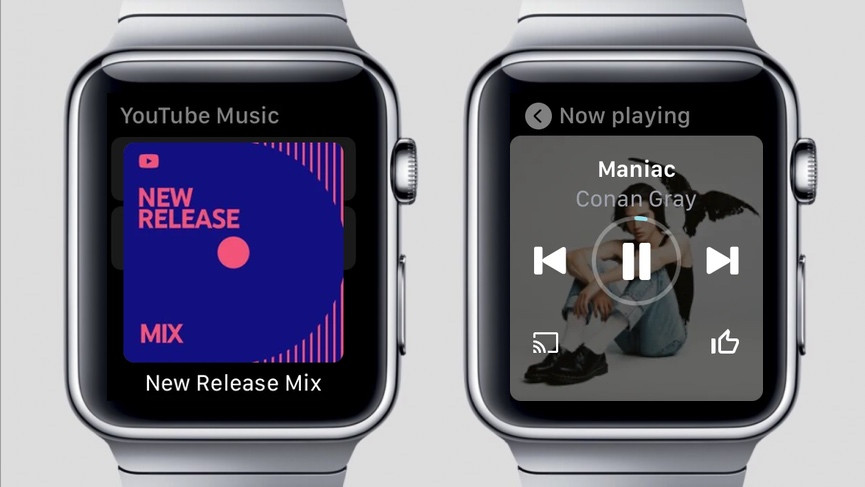 If you like the idea of using an alternative music streaming service to Apple Music, YouTube has made a dedicated Apple Watch app for its Music service that offers a pretty solid on-Watch experience, too.
We should state first that it doesn't offer offline playlist support. What it can do is browse collections and control playback, and there's a Watch complication you can drop onto your Watch face, as well, letting you control where music is being cast to.
If you've got an Apple Watch Series 3 or later and are already signed up for one of YouTube's Premium subs, then it's one you'll likely want to make use of.
Tidal
Free + monthly subscription required ($9.99 / £9.99), App Store
Wareable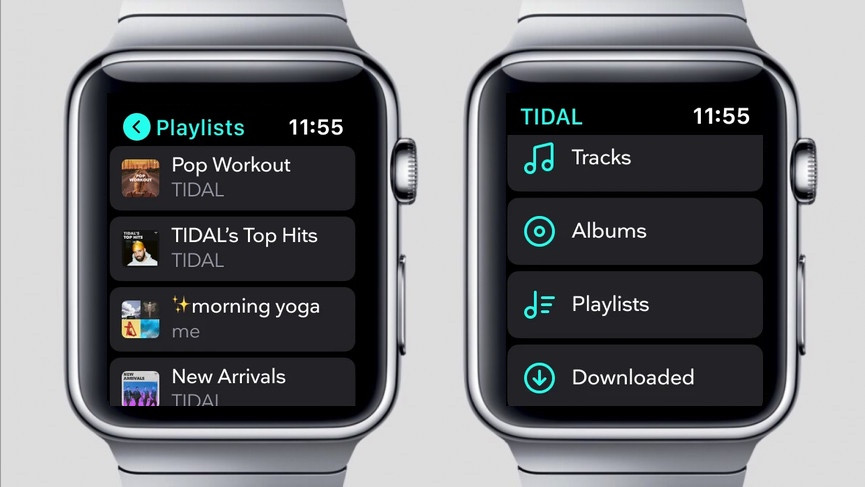 There's been a glut of streaming services that have decided to offer offline playback support from their Watch apps and that also includes Tidal.
That means you can pick from the 70+ million strong catalog and sync playlists and tracks to your Apple Watch. Like fellow music streaming services, you will need to subscribe to Tidal before you can start making the best use of these useful new Watch features.
Best Apple Watch productivity apps
Make your Apple Watch earn its keep by saving you time and helping you work with our pick of the best apps for productivity.
LookUp: English Dictionary
$5.99 / £5.99, App Store
Wareable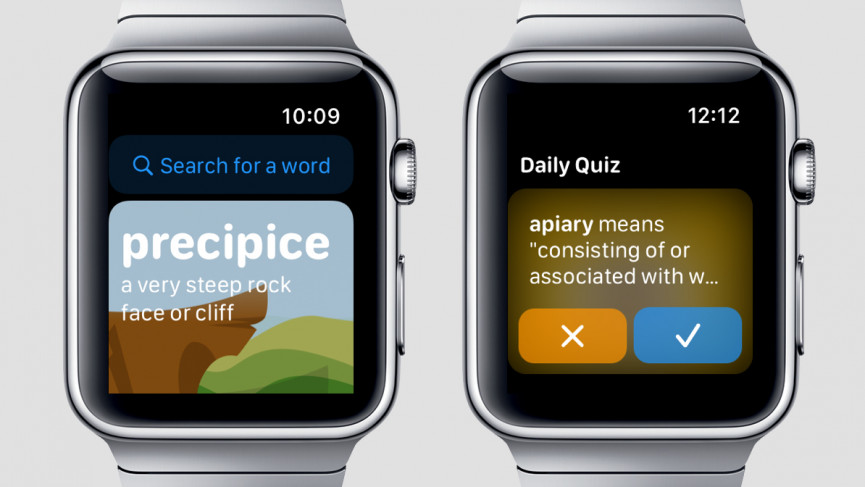 You're probably not going to splash out six bucks on a dictionary for your wrist — although it is admittedly pretty impressive that you can get at definitions for thousands of words right from your Apple Watch. Where LookUp excels on Apple's wearable is in providing you with a word of the day to enhance your vocabulary, and with short daily quizzes that let you discover whether recently learned words have been committed to memory.
Countdowns
Free, App Store
Wareable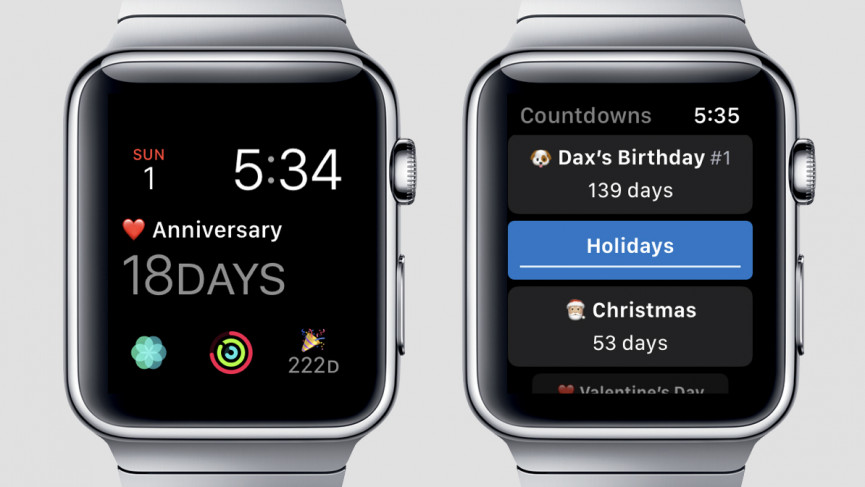 Elsewhere on this list, we recommend Cheatsheet Notes for glanceable vital nuggets of info. The Countdowns app is in similar territory but is used to remind you about specific dates.
The Apple Watch app is very basic, and you need to define everything on your iPhone. Once that's done, though, you'll be able to browse your list and set individual items (or the dynamic 'next upcoming') as complications. Ideal for never forgetting an important anniversary again.
BFT - Bear Focus Timer
$1.99 / £1.99, App Store
Wareable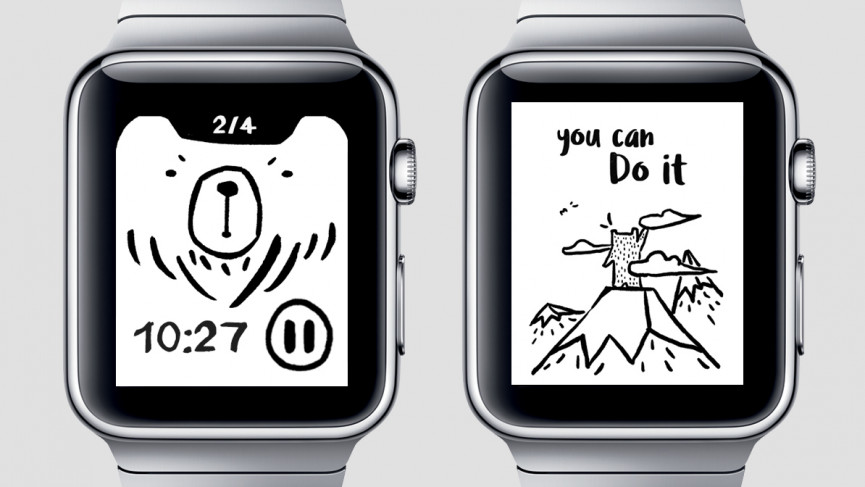 We elsewhere in this list mention Focus - a great option to track productivity, and later bask in the glow of wiggly lines and stats. BFT, though, is more immediate. For a start, it works entirely on your Apple Watch (although there is an equally impressive iPhone app).
Set durations for work and breaks, and your wrist will buzz when the timers are up. Motivational pictures starring cartoon bears further cement the app's good feeling as you try and stay on the straight and narrow.
Cheatsheet Notes
Free + $4.99 / £4.99 in-app purchases, App Store
Wareable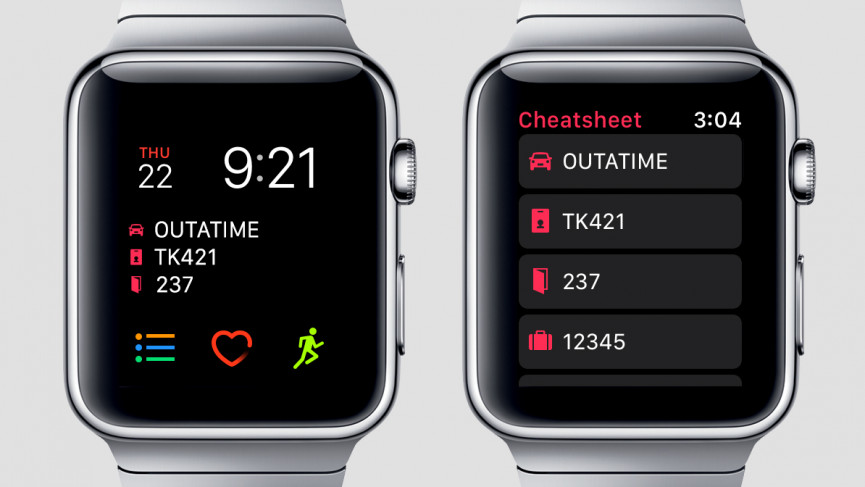 On the iPhone, Cheatsheet Notes shoves vital nuggets of info into the Today view. But it's a better fit for the Apple Watch – with Complications you can get at up to three vital digital scribbles with a flick of the wrist.
It's an excellent app for details you regularly need but might forget – the office's new Wi-Fi password; your boss's extension; your own name – and although your list can be created on iPhone, you can also dictate entries and assign icons on Apple Watch.
---
---