Wareable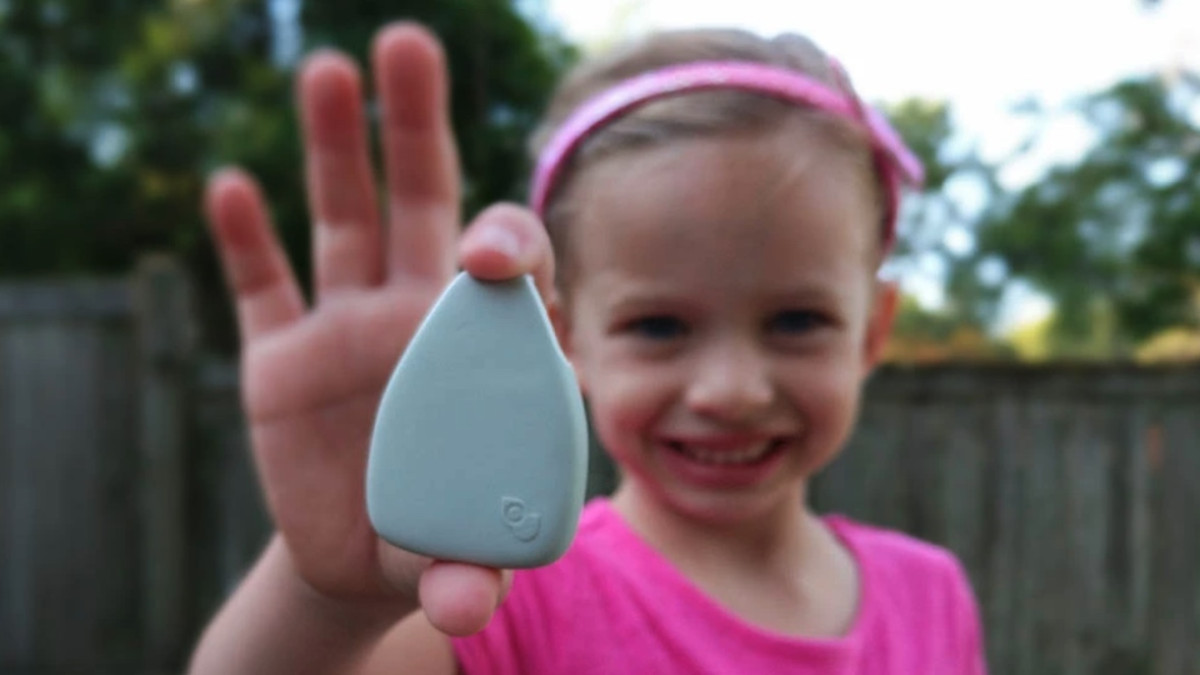 Wareable is reader-powered. If you click through using links on the site, we may earn an affiliate commission.
Learn more
The world of wearables isn't just for grown-ups. There's now a whole load of smartwatches and fitness trackers for kids that offer a bit of fun and parental peace of mind.
But trying to find the right device for your child can be a tricky task. If your kid is always wanting to play with your smartwatch, it's not as simple as getting them one of their own. You'll likely want something specifically geared toward younger users.
As with any burgeoning space in tech, plenty of devices over the past few years have gone bust or failed to launch at all. That's why we've created this guide.
Below, we'll break down the best smartwatches and trackers for kids you can buy right now.
Some of them also handle activity tracking or instead prioritize location tracking, but all of them provide something a little different to keep everyone happy.
Summary: Best watches and trackers for kids
Best GPS kids smartwatch: Xplora X5 Play
Best non-GPS kids smartwatch: Garmin Vivofit Jr. 3
Best Apple Watch for kids: Apple Watch SE
Best Fitbit for kids: Fitbit Ace 3
Best fitness tracker for kids: Garmin Vivofit Jr. 2
Best GPS tracker for kids: Jiobit
How we test watches and trackers for kids
Testing wearables designed for a range of children is a bit of a unique process, as you can imagine. As we do with every review, a member of the team will set up and play around with the device, putting it through its paces over the course of a couple of weeks.
This involves analyzing the design, safety features, activity tracking, and, naturally, the claims made by the manufacturer. However, unlike with other devices, we also give these devices to our kids and (try) get some meaningful feedback from their perspective. There's no use you buying something your child won't like, after all.
Incoming wearables for kids: Fitbit and Garmin
Wareable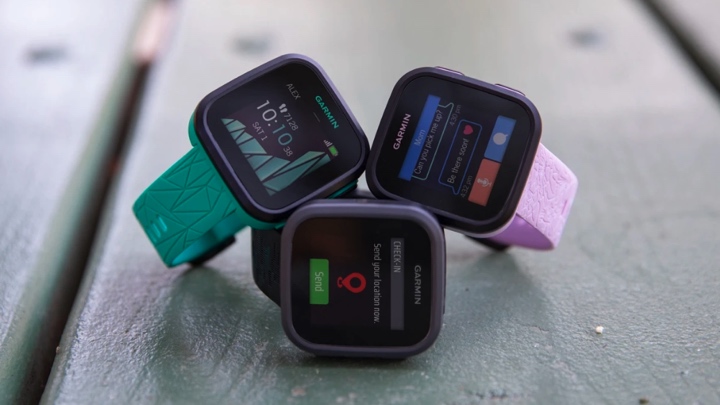 It's a busy time in the world of smartwatches for kids, with rumors emerging about some devices and others being confirmed already.
Below, we'll list the key incoming trackers and watches that you may want to hold on for.
Garmin Bounce - available now
Taking over from the Vivofit Jr line, which we've listed below, the Garmin Bounce is the company's most advanced and best-looking watch for kids we've seen.
It features LTE support for untethered communication and connectivity, GPS for location tracking and geofencing, and plenty of gamified fitness features for kids to enjoy.
We'll be testing out this just-announced watch for kids over the coming weeks, but, until then, you can read all the details about the Garmin Bounce.
Fitbit and Google smartwatch for kids - ETA 2024
We've heard plenty of rumors over the years regarding a Fitbit kids smartwatch, but this latest device - codenamed 'Project Eleven' - appears to be pretty credible.
The only issue is that work only appears to have just begun, with a release date reportedly penciled in for 2024. Until then, of course, there's Fitbit's Ace range to consider.
Details are naturally a bit scarce, but the original story highlighting Project Eleven indicates that it's "designed to help older kids form healthy relationships with their phones and social media," and is likely to include safety features for parents supported by location tracking and cellular functions.
Xplora X5 Play
Best GPS kids smartwatch
Wareable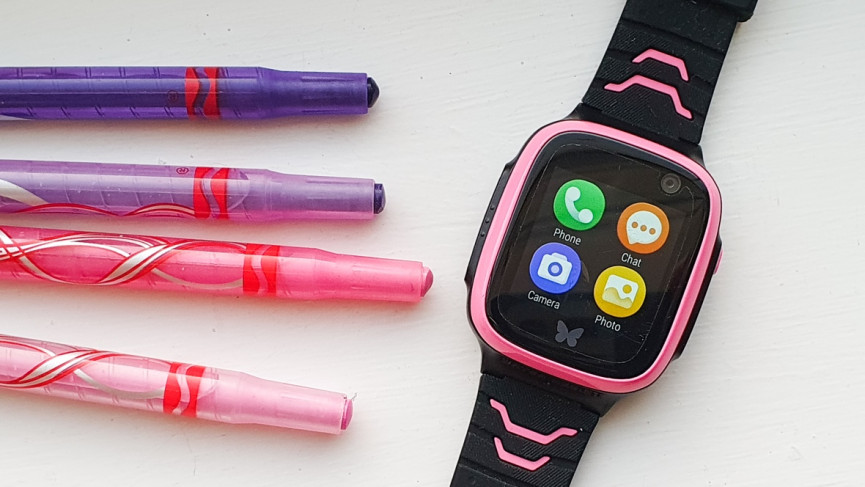 squirrel_12863276
Key specifications
Age range: 4 - 11 | Phone compatibility: iOS and Android | Case size: 48mm | GPS location tracking: Yes | Cellular connectivity: Yes | Plan costs: Yes | Weight: 54g | Battery life: 2 days
For
Comfortable design
S-Zones are easy to set up
GoPlay support is good fun
Against
The screen quality isn't amazing
S-Zone notifications could be more prominent
No music player
With the X5 Play, you're getting a relatively chunky and light square case - just like Xplora's other devices.
Front and center is a 1.4-inch, 240 x 240 resolution TFT touchscreen display that includes Gorilla Glass to offer some welcome extra screen protection. But note this isn't an always-on display, even though you can adjust screen brightness from the watch settings.
Perhaps the most important thing to know about here is the safety features. There's onboard GPS, cellular connectivity, and Wi-Fi to help pinpoint the wearer's location in real time, and this can be viewed by the parent from inside the companion app at any time.
There's also something called S-Zones. These are essentially areas you can create as safety zones or geo-fenced areas. When your child moves out of them, an alert will be sent to the phone the watch is paired to.
That safety zone radius must be a minimum of 500 meters from the pinpoint in the map, and you'll also get the option to name the safety zone and zoom into maps (powered by Google Maps) to create that area.
The 2-megapixel front-facing camera was an instant hit with our five-year-old tester and proved easy to use. Changing the watch faces was fun, too, and they got changed every day - including using a selfie as a watch face background.
While there are no real games to play on the watch itself, there is the opportunity to make use of Xplora's GoPlay platform.
Garmin Vivofit Jr. 3
Best non-GPS kids smartwatch
Wareable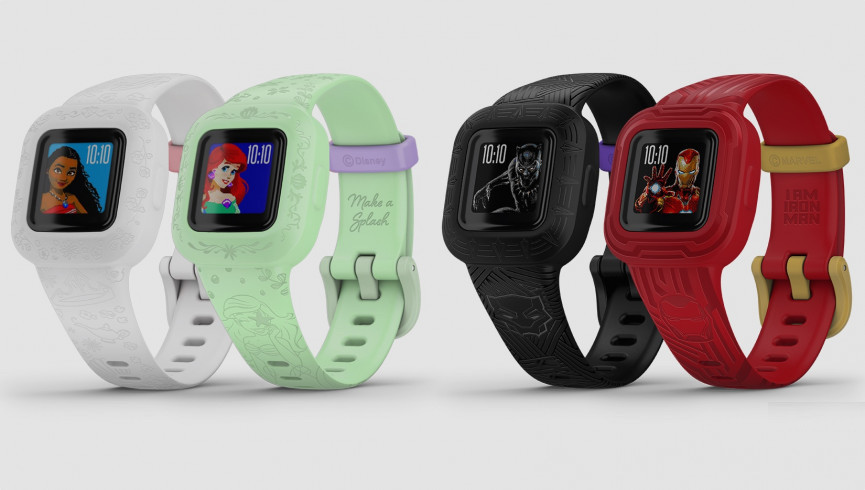 squirrel_12863277
Key specifications
Age range: 4 and up | Phone compatibility: iOS and Android | Screen size: 14mm x 14mm | GPS location tracking: No | Cellular connectivity: No | Plan costs: No | Weight: 25g | Battery life: 1 year
For
Very light design
Great Marvel, Star Wars and Disney collaborations
Keeps it simple
Against
The display quality isn't great
Relatively pricey
Might be too basic for older children
While Garmin's previous wearables for kids have been activity bands, the Vivofit jr. 3 takes the form of a watch with an emphasis on keeping your kids active.
In terms of features, it will work just like a watch, letting you set alarms and timers. There's also an accelerometer motion sensor to track your steps and enable automatic sleep monitoring.
Unlike the grown-up equivalents, there are also games where you unlock levels by meeting activity goals. There's even the ability to set up chores with rewards tied to completing them and taking on step challenges.
In terms of safety features, there's a dedicated ICE screen (In Case of Emergency) where you can store contact information, too.
The watch comes in a range of different Marvel, Star Wars and Disney-themed styles to make this one of the more fun-looking watches to live with.
And though the year-long battery life rounds out an impressive package, our main criticism is that the experience might be a bit too basic for some kids after a while.
Apple Watch SE (2nd generation)
Best Apple Watch for kids
Wareable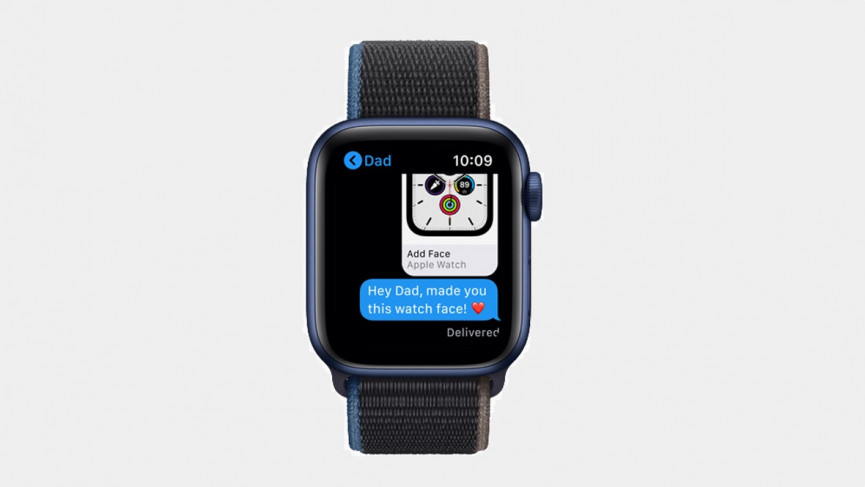 squirrel_12862562
Key specifications
Age range: 5 and up | Phone compatibility: iOS | Case size: 40mm or 44mm | GPS location tracking: Yes | Cellular connectivity: Yes | Plan costs: Yes | Weight: 26g / 33g | Battery life: 18 hours
For
Family Setup allows for great parental controls
Great fitness tracker
Feature-packed
Against
Not super durable
Very costly solution
Parental controls are a bit fiddly
Whether you have a teenager or a slightly older child, the Apple Watch SE is a really great starting point. And what used to be a bit of a risky choice was largely mitigated by the release of Family Setup in 2020.
Essentially, this allows the SE (or any cellular Apple Watch that can run watchOS 7 or later) to enter a mode that has its functionality stripped back in order to protect the wearer. Think of it as something that helps deliver the broad Apple Watch experience - like closing activity rings, asking Siri for weather reports and playing around with watch faces - but without the more serious features.
Family Setup isn't perfect, with control on a parent's iPhone remaining a bit unintuitive, and the SE is a very costly (and not that durable) solution compared to other trackers and watches on this list, but it's tough to deny that this is the most complete experience for kids wanting a 'proper' smartwatch.
To help bring that cost down, we'd also recommend looking at the first-gen Apple Watch SE (still available on Amazon) or an older Series watch.
Fitbit Ace 3
Best Fitbit for kids
Wareable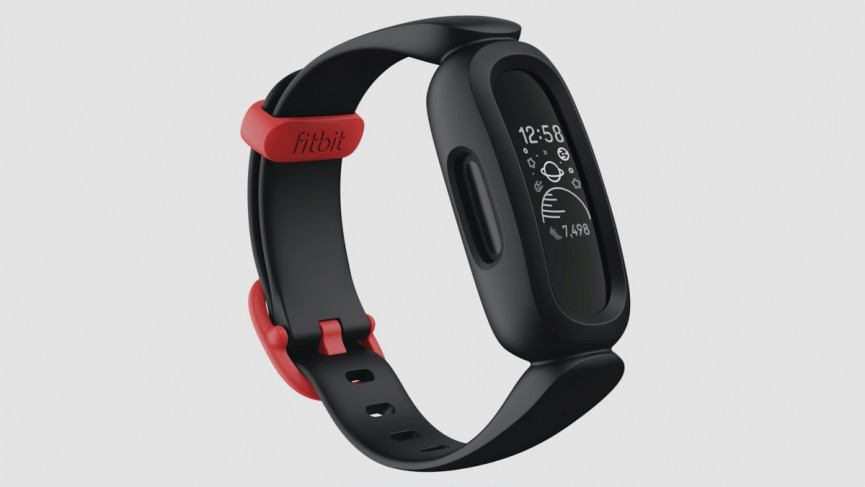 squirrel_12863278
Key specifications
Age range: 6 and up | Phone compatibility: iOS and Android | Display size: 1.47-inch | GPS location tracking: No | Cellular connectivity: No | Plan costs: No | Weight: 14g | Battery life: 8 days
For
Great Fitbit app support for parents
Quite affordable
Durable design
Against
No GPS tracking
Not the most sophisticated pick for older kids
Setup can be a little fiddly
The Fitbit Ace 3 tracks kid's active minutes, steps and sleep time, with all that information then thrown into their parent's Fitbit app for them to view.
The screen size has received a boost over the Ace 2, with the 1.47-inch monochrome display proving much bigger and 20% brighter than the Ace 2's 0.7-inch equivalent. It's also a touchscreen, so the extra real estate will mean more on-device features.
The main features, as we say, are still step tracking, sports monitoring and sleep insights. There's no heart rate monitor here, but it does boast swim-proof 5ATM water resistance.
There are also bedtime reminders and silent alarms to help instill a settled sleep schedule, with timers and 'race the stopwatch' features built into the watch, too.
The larger tracker means a boost in battery life, as well, and it will now last around eight days between charging - up from 6 days on the previous generation.
Fitbit says that the device complies with regulations in place that apply to kids' trackers, and, within the companion app, you'll be able to take full control of what data is shared or viewable by other approved Fitbit friends and family members.
Garmin Vivofit Jr. 2
Best fitness band for kids
Wareable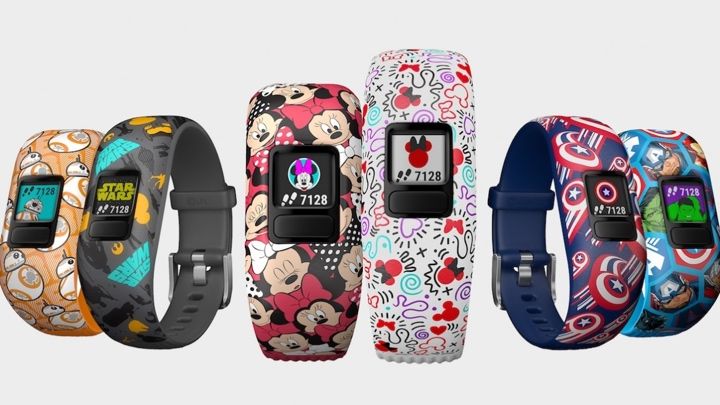 squirrel_12863279
Key specifications
Age range: 4 - 9 | Phone compatibility: iOS and Android | Display size: 11mm x 11mm | GPS location tracking: No | Cellular connectivity: No | Plan costs: No | Weight: 17.5g | Battery life: 1 year
For
Cute designs
Nice and simple tracking
Won't break easily
Against
No GPS tracking
Limited age range
Screen is pitiful
If you prefer a band-style fitness tracker, you can still look at the second-generation Vivofit Jr. 2 as well. You're still getting those movie tie-ins to make counting steps and hitting goals more fun, after all.
But how does it actually make hitting fitness goals fun? Well, when kids hit their goal of 60 minutes of daily activity, they advance in a larger game they're taking part in, which varies depending on which Disney or Marvel IP you go with.
Parents can also log into the app to keep track of each kid's steps, sleep and activity level. If you want to set reminders for chores, the bands will ring and vibrate and remind the kid what they need to do (for example, a paper and pen signify homework time). Completing these tasks can earn virtual coins, which can then be redeemed with the adults for agreed-upon rewards.
There are two sizes to choose from here, a stretchy band intended for children aged four to seven, and an adjustable, buckled equivalent intended for six-year-olds and above. You can choose from five designs, based on Disney, Star Wars and Marvel characters, each coming in two variations.
You also don't need to worry about charging every night, either, with the replaceable battery lasting up to a year.
Jiobit
Best GPS location tracker for kids
Wareable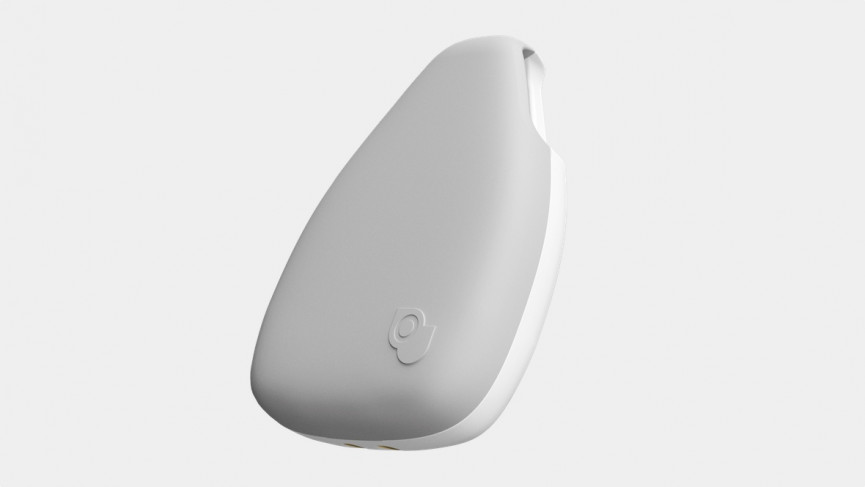 squirrel_12863280
Key specifications
Age range: Any | Phone compatibility: iOS and Android | Size: 37mm x 50mm x 12mm | GPS location tracking: Yes | Cellular connectivity: Yes | Plan costs: Yes | Weight: 18g | Battery life: 1 week
For
Small and discreet
Waterproof design
Superb GPS monitoring features
Against
No calling
Battery life isn't great
Not as fun for kids as a smartwatch or fitness band
The Jiobit location tracker offers a rich array of features and is a device that can be worn discreetly.
Used alongside a monthly subscription data plan to unlock its key location tracking skills, the Jiobit packs in accelerometer and temperature sensors along with GPS/GLONASS receivers to help share your whereabouts.
The Android and iOS-friendly device offers real-time tracking, a timeline to see where they've been, Bluetooth alerts and an Alert Me feature making it easier for kids to raise an alarm with parents.
It's a COPPA-certified device to put you at ease that data is well protected and the water and kid-resistant design mean it's also built to last and can cope with even the most active little ones.
Our main concern is that the battery life isn't as solid as advertised. In our experience, it lasts around a day or two, which means nightly charging for peace of mind. It's also not the most fun form factor for kids to wear, so it's better suited to much smaller children, naturally.
---
---