Wareable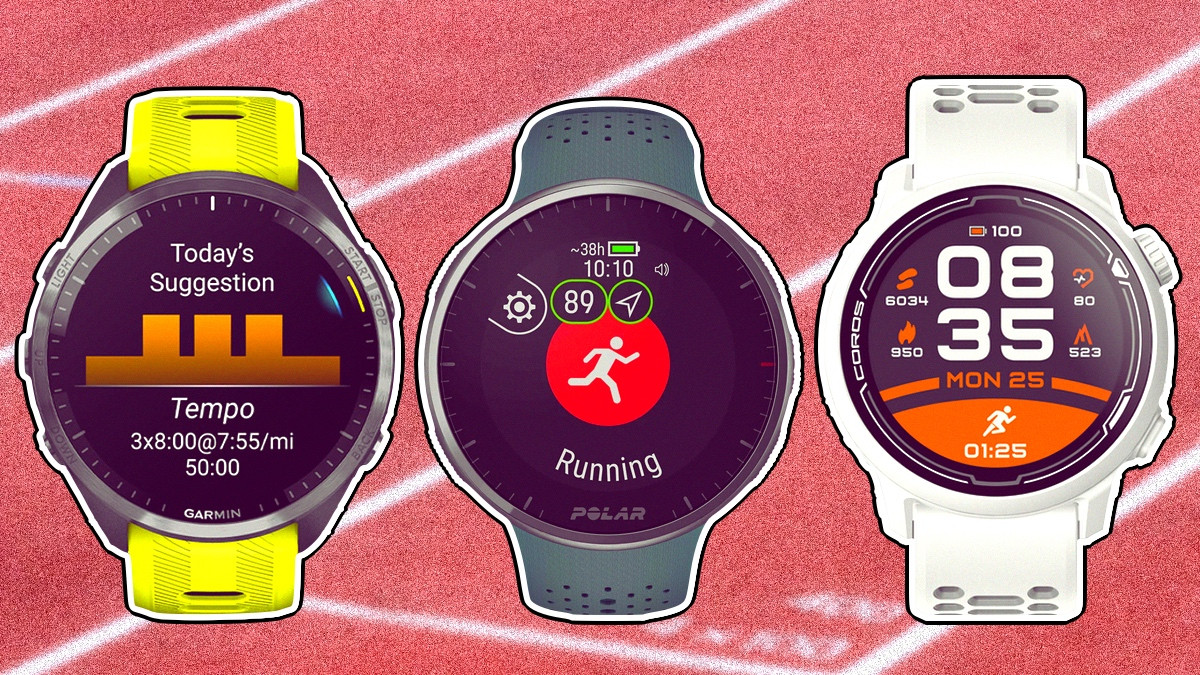 Wareable is reader-powered. If you click through using links on the site, we may earn an affiliate commission.
Learn more
Whether you're a beginner tackling your first 5k or a veteran prepping for a marathon, buying a running watch can help you hit your goals.
Top running watches are more than just about tracking pace and distance; they're now designed to tell you how to train and when to rest, as well.
Luckily for you, we've reviewed all of the best running watches on the market - from cheap options to feature-packed alternatives for athletes – and compiled a roundup of our favorite picks.
Below, you'll find both our quick recommendations, advice on how to buy the right running watch, and more in-depth details about the latest and greatest releases from the likes of Garmin, Polar, and Coros.
Quick picks
Best for beginners: Garmin Forerunner 55
The Garmin Forerunner 55 is slim, lightweight, and simple to use, and it doesn't complicate things with too many bells and whistles. It hooks up to Strava, has a strong suite of sleep and wellness tracking, and comes highly recommended for those just starting out.
Best value running watch: Coros Pace 2
The AI Trainer, advanced metrics, and top battery life make the Coros Pace 2 excellent value, with its sub-$200/£200 price tag. For runners that are starting to train for longer events and building speed, it's a savvy purchase.
Best for performance athletes: Garmin Forerunner 265
For those who want a powerful running watch to power their training and recovery - and one that also branches out to other disciplines - the 265 is the best choice. It may be a mid-range device in the grand scheme of Garmin's offerings, but it has more than enough features to warrant the loftier price tag - and it looks superb, too.
Key considerations
Battery life
The first consideration when buying a running watch should be battery life. How far do you run – and what kind of distances would you like to run in the future?
Some smartwatches with running watch features will struggle to last 5 hours while tracking GPS, thus might not last a full marathon.
Likewise, many of the most expensive running watches offer 100 hours of continuous tracking, which is overkill for people that just do a weekend 5K. Consider what you need.
More than just running
So you like running – but do you want your watch to track other workouts too? Most running watches will track swimming and cycling too – but what about things like golf or HIIT? For swimming, check the waterproof rating (5ATM should be the minimum) and ensure that pool metrics are up to scratch.
Training plans
Many running watches will have guided training plans built in, which is useful if you're looking to structure your session – or have a specific goal in mind.
Deep insights
More advanced running watches can tap into your body to reveal things like VO2 Max (the purest score of your fitness), recovery advice, readiness, fuelling, and even nutrition.
Music storage
There are plenty of running watches that can store music, so you can run to the beat and leave your smartphone at home. Check out our special guide to sports watches with music playback.
Garmin Forerunner 265
Wareable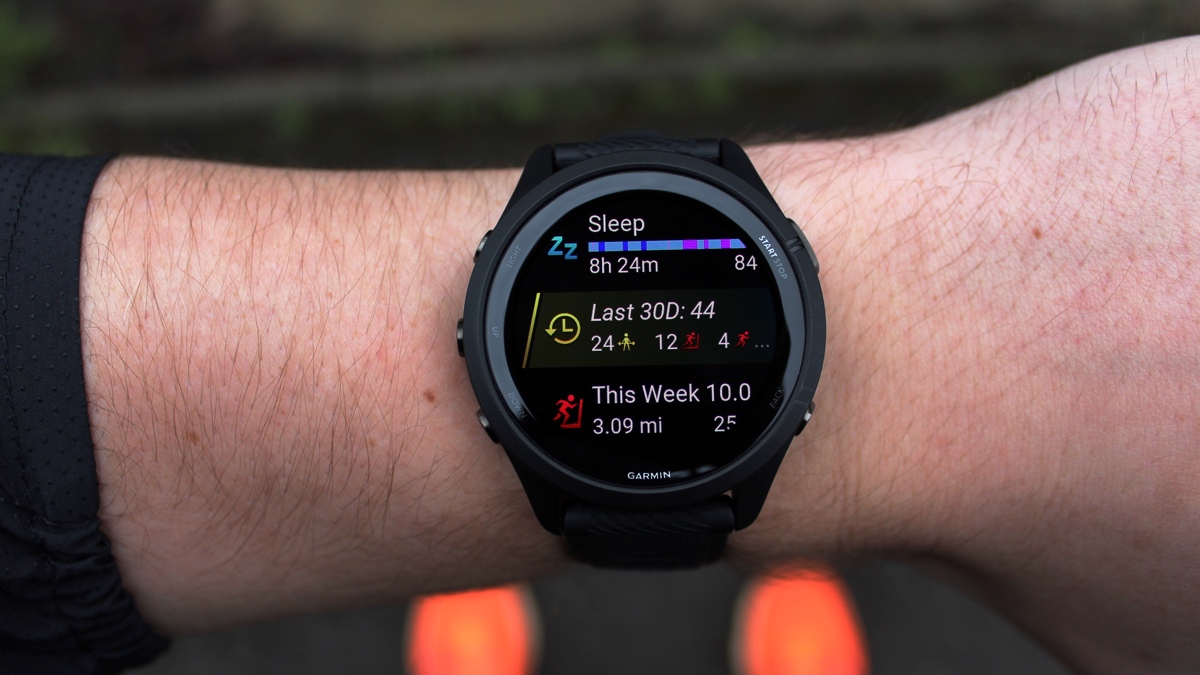 Check price: Buy Garmin Forerunner 265
Key considerations:
Available in 42mm or 46mm
4 days of typical, always-on battery life / 20-25 hours of GPS tracking
In-depth sports profiles for running, cycling, swimming, and triathlon
Dual-frequency / Multi-Band GPS tracking
Running features: Training Status, Running Dynamics, Garmin Coach, Suggested Workouts
The Forerunner 265 is one of the best running watches we've ever tested, combining accurate tracking, superb insights, and a very attractive design.
Its predecessor, the Forerunner 255 - only released in 2022 - offers essentially all the same features, but the big upgrade offered through the 265 is the AMOLED display.
Once reserved for Garmin's mega-expensive models, the technology has now trickled down to the company's mid-range Forerunner - and it's a real difference maker.

Battery life has taken a bit of a hit compared to the 255 because of it, but you'll still be able to receive around four days of heavy use with the always-on display turned on. We think the trade-off is absolutely worth it - especially since you can always tweak settings and extend the battery life to closer to 7-10 days.
The rest of the experience, as we say, is similar to the last generation. There are still two case sizes to choose between, Garmin's Multi-Band GPS is again on board, and music streaming from the likes of Spotify is still an option.
On the run tracking front, Garmin's Race Day mode is also carried over - something that helps you count down to your next big race, with Suggested Workouts, Garmin Coach plans also there to help you make it to the starting line in prime condition. Even wrist-based Running Dynamics - which delivers metrics like vertical oscillation and ground contact time - is on board.
If you want a running watch where you want more data, useful training, and analysis feature wrapped up in a light design, the 265 ticks the key boxes and more. And if you want to save a little bit of cash, the 255 is still a great alternative.
Read our full Garmin Forerunner 265 review
Pros
In-depth tracking and insights
Incredible display
Superb HR and GPS accuracy
Cons
Battery life is not as impressive as 965
Price increased from the previous generation
Very basic smart features
Coros Pace 2
Wareable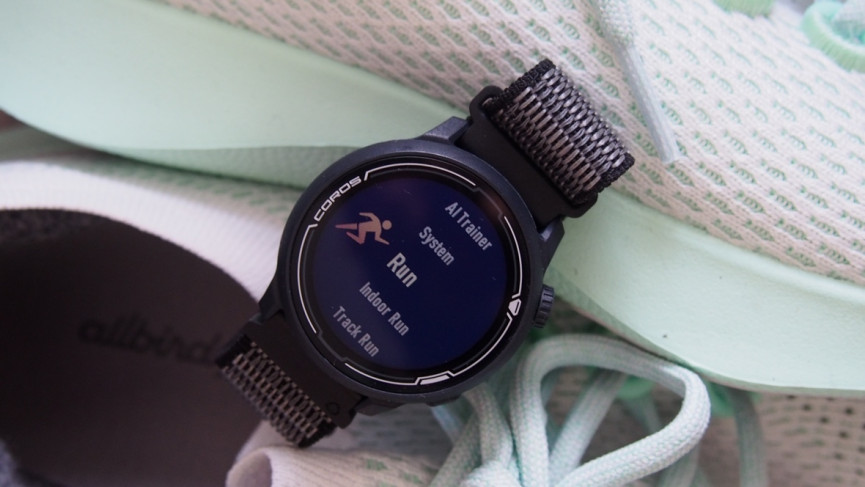 squirrel_12862656
Key considerations:
20 days smartwatch/30 hours in full GPS
Run, swim, bike, gym
Strength training programs
AI Trainer and Evolab stamina and recovery metrics
Coros is a relative newcomer to the GPS running watch world, but it's quickly made a name for itself – and that's best represented by the Coros Pace 2.
It has all the tools to make it a formidable running watch without having to pay a premium. The screen isn't world-beating, but the 1.2-inch, 240 x 240, 64-color LCD puts it in line with Garmin devices.
All the key sensors and running profiles are on-board, plus will let you pair additional sensors like Stryd's foot pod and external heart rate monitors.
Using the built-in heart rate sensor the Pace 2 can tap into its recovery metrics courtesy of its AI Trainer. This shows you a Stamina percentage and aerobic/anaerobic training effect to show how recovered you are. Coros EvoLab also offers the kind of training insights and a race predictor for runners that you'd expect to find on pricier watches.
Coros has now also added strength training features that will count reps, let you build workouts, and will show you whether you're focusing as much on your legs are you are bulking up your upper body.
It works with third-party apps including Strava and then there's battery life. It pretty much wipes the floor with equivalently priced Garmin and Polar watches for GPS battery life numbers.
Pros
Great sports tracking
Plenty of metrics
Big battery life
Cons
Screen brightness could be better
Still has quite a bland design
Garmin Forerunner 965
Wareable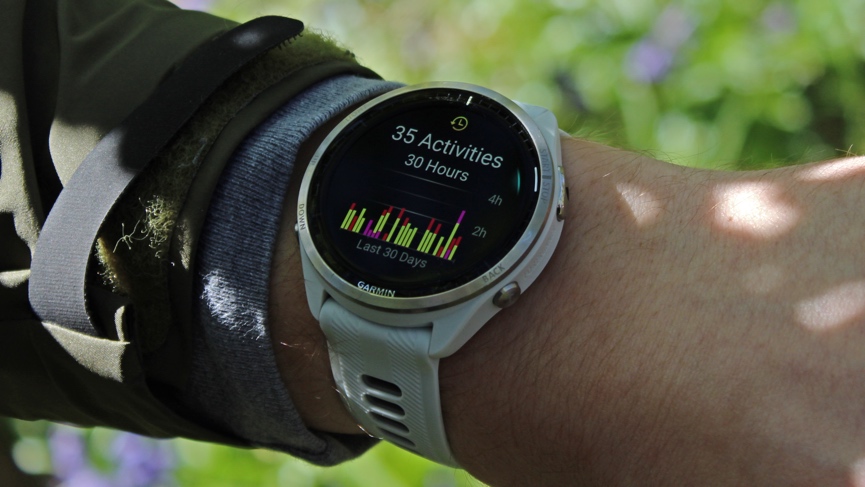 Key considerations:
1.4-inch AMOLED display
Full-color touchscreen mapping

Dual-frequency/Multi-Band GPS tracking



7 days of typical, always-on battery life / 25-30 hours of GPS battery life
If you want a running watch that goes big on tracking, training, and analysis features - and wraps that all up in a compact and premium design - then cast your eyes on the 965.
We still believe the 2022 Forerunner 955 is an excellent running watch, and those looking to save a bit of cash should absolutely consider it, but the improvement to the display means the new 965 is our clear favorite.
The new UI it enables is modern and sharp, and the extra detail available when using offline mapping is invaluable. Though it offers pretty much all the same features as last year's model, the AMOLED screen means this feels like a totally new way to track your training efforts.
There's really no better watch to track them from, either. Features that debuted through the 955 are all still here - such as Training Readiness, HRV Status, and Morning Report - and are now bolstered by native Running Dynamics and Running Power.
All the usual training-specific features, such as Training Status, Race Predictor, and Garmin Coach plans, are backed up by much-improved sleep tracking and smart features like offline music streaming, as well.
Considering the move to AMOLED screen tech, the battery life also remains exceptional. It's not quite as long-lasting as its predecessor, but, from our testing, we've found it can consistently track a full week of outdoor workouts with the always-on display turned on. And if you want it to last longer, there are plenty of settings you can tweak, too.
Our only real issue with the 965 is the durability. The design is premium and lightweight, which is ideal for training, but it's not especially durable.
We've experienced a number of scratches on the titanium bezel and display without really partaking in any rigorous outdoor exercise, so those requiring something rugged and hard-wearing are still better off with the Fenix/Epix watches.
Pros
Very accurate GPS and HR tracking
In-depth run tracking and insights
Mapping and other extras
Cons
Same feature set as 955
Not as durable as Garmin Fenix/Epix watches
Smart features are very limited
Garmin Forerunner 55
Wareable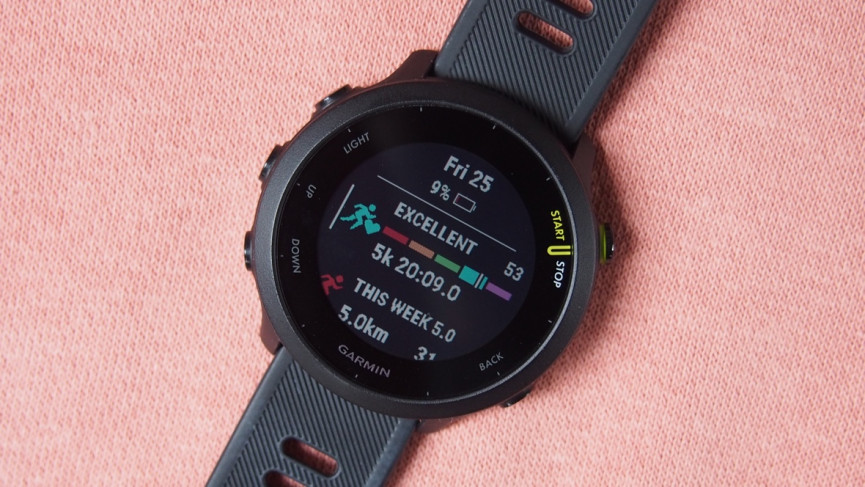 squirrel_12862581
Key considerations:
2 weeks smartwatch/20 hours of GPS tracking
Run, swim, bike, gym
Adaptive training plans
VO2 Max
The Garmin Forerunner 55 is the natural successor to the Garmin Forerunner 45, but this entry-level running watch steps things up.
The Forerunner 55 boasts a low-profile and minimal design, and it's brought on board some of the more insightful training and analysis features usually reserved for pricier Garmin watches.
The watch case itself measures just 42mm, which creeps up slightly in thickness coming in at 11.6mm thick compared to the 11.4mm sized body on the 42mm Forerunner 45.
Front and center is a 1.04-inch, 208 x 208 transflective, always-on display, which offers strong visibility in all conditions, and is a lot kinder on battery life.
The Forerunner 55 promises up to 7 days in smartwatch mode and 20 hours of GPS battery life and that's what we experienced in our testing. That's more than good enough for those embarking on half and full-marathon training programs.
When it comes to racing, a key addition is PacePro, which helps you target race pace with gradients taken into account, VO2 Max estimation, and race predictor data on finishing times based on your fitness.
It now supports Garmin Coach and suggested workouts, so it can be more of an active participant in your training.
There's Garmin's Elevate optical heart rate monitor to track heart rate continuously, during exercise and unlock features like Garmin's Body Battery Energy monitor and the improved recovery advisor.
You do also have the option to pair up external heart rate monitors to improve accuracy in measuring effort levels during runs.
The Garmin Forerunner 55 is an improved running companion thanks to new software features that seek to help you run your best. It balances a fantastic set of features that offers way more than the basics, in a sleek and light package. We love it.
Pros
Small, light design
PacePro and suggested workouts
Full Connect IQ support
Cons
Basic metrics compared to Coros
Low res screen
Polar Pacer Pro
Wareable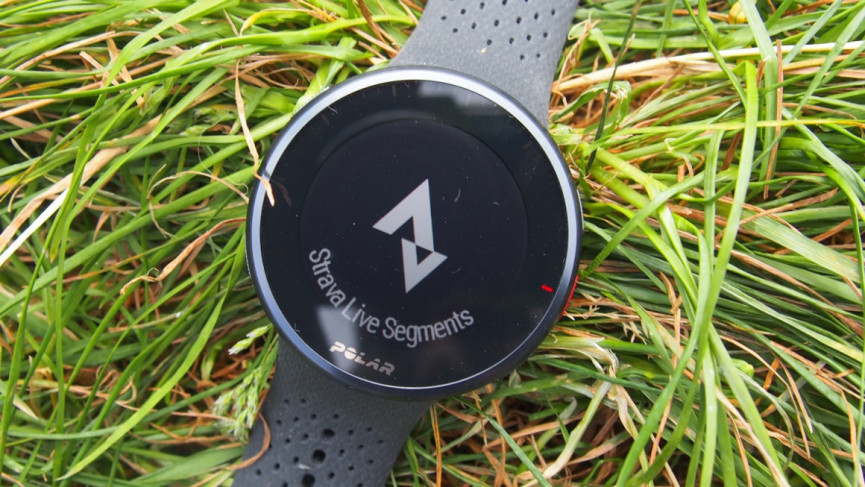 squirrel_12862653
Key considerations:
7-day smartwatch/40 hours GPS battery life
FuelWise fuelling recommendations, HillSplitter analytics
Breadcrumb navigation and upload routes via Komoot
FitSpark workouts/Performance & recovery tests
Running power, sleep, and recovery insights
The Vantage V2 is technically Polar's top-end watch, but when you consider how many of its features are crammed into the Pacer Pro for significantly less money, it's the Polar watch runners should opt for in our eyes.
It's also a better performer than the slightly underwhelming Polar Ignite 3.
Runners are well catered for with a full range of stats – and there's a focus here on running power, for those interested in pacing based on effort rather than speed.
Polar has included the Hill Splitter and FuelWise features from its Grit X sports watch, with the latter enabling you to plan your adventure's food intake and remind you to refuel. We found it worked well, but the reminders were a little easy to miss.
There are simple breadcrumb-style navigation features and the ability to upload routes, though that has to be done via the third-party app Komoot, which you will eventually need to pay for.
Recovery is a big part of the Pacer Pro too, including Polar's great Training Load Pro insights and a level of sleep tracking that is both accurate and also pays close attention to measurements like HRV to offer better tips on your recovery needs.
Polar includes its Precision Prime optical heart rate sensor tech that offers strong accuracy but still has its odd flaky moments at high intensity and even on some low-intensity workouts.
If you like Polar's software and want the watch in its collection that offers the best value for money experience, the Pacer Pro is the one you want.
Pros
Get the best of Vantage V2 features for less
Light design
Rich training and analysis
Cons
Ugly black bezel
No big new features
Sleep tracking drains the battery
Apple Watch Series 8 / SE
Wareable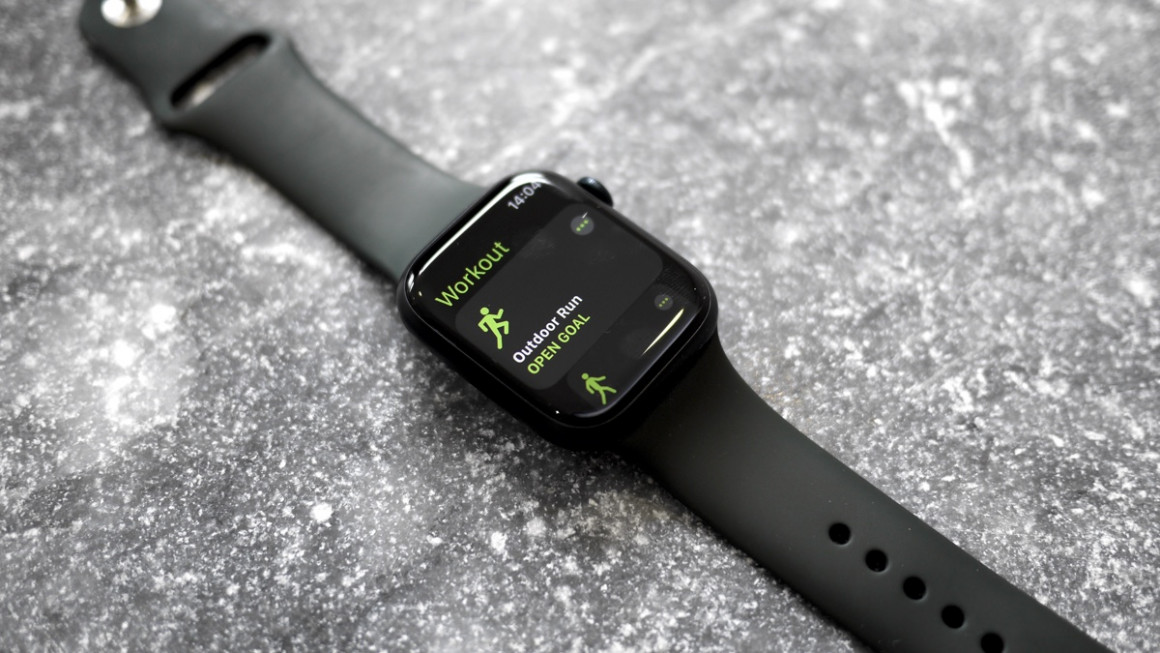 squirrel_12862647
Back when the Apple Watch first arrived, we'd have struggled to recommend it as a running watch. Fast forward to today, and, for casual runners, the Apple Watch Series 8 (And Apple Watch SE) are two of the best options out there.
With GPS on board, it's well set up for the tracking of outdoor runs, and there are treadmill workout options for those that enjoy the gym.
The onboard heart rate sensor is up there with the best we've used on any device, and Apple is adept at using it to produce meaningful data. You'll see data like VO2 Max and Cardio Fitness levels within the Fitness and Apple Health iPhone apps.
And the large, AMOLED screen is well-suited for showing off mid-run metrics, and the Workout app is well-designed and easy to use.
But what really sets it apart is the App Store. We prefer to use the Strava app for Apple Watch as it's our preferred service, but if you like Nike Run Club or MapMyRun, all these are available too.
And then there's the music aspect. With Apple Music, Spotify, and Amazon Music apps, it's one of the slickest devices for taking your tunes on the go.
There are downsides. Battery life with GPS tracking is around 7 hours – and in reality, can be less if music or LTE are involved. If you're planning on doing a marathon, we'd probably look for something more specialized.
And the reason we use Strava is that we don't feel that the Fitness app provides the detail, analysis, and motivation we crave as runners. There aren't monthly progression targets, PB tracking, workout suggestions, or details on readiness. And this is where Garmin still holds plenty of cards.
Apple Watch Ultra
Wareable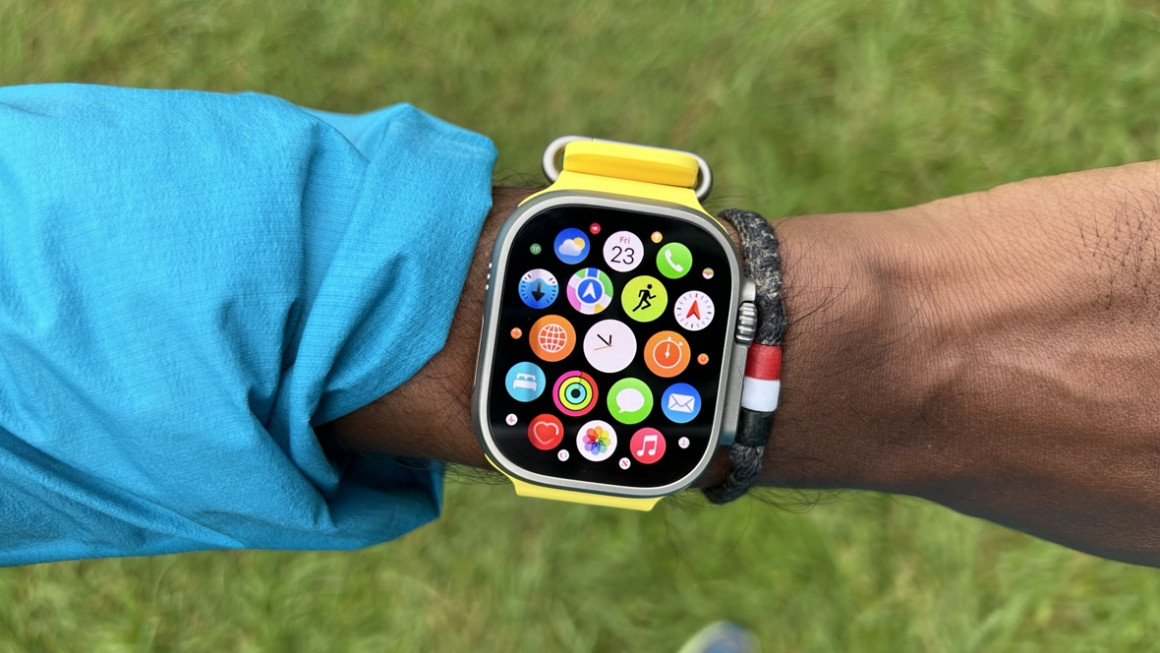 squirrel_12863061
The idea of the Apple Watch is to be a better companion to those that love outdoor adventures – and it solves many of the pain points of the Series 8/SE.
It's a huge design overhaul, with a bigger, brighter display and toughened 49mm case. It's kind of garish, but it does look like a proper adventure watch that packs bags of personality.
For road runners, the key improvements are boosted battery life and multi-band GPS, which has enabled the Apple Watch Ultra to compete with dedicated running watches.
Battery life is upped to 12 hours of multiband tracking. That's significantly less than the 40+ hours touted by most flagship GPS watches, but good for most normal people's running efforts.
We put the Apple Watch Ultra up against the Garmin Epix at Chicago Marathon and found its accuracy was superior around the challenging course of skyscrapers that can destroy most running watches. So, if you can live with the battery life, there is a good payoff.
For off-road runners, there are some modest navigation features on board, and you can program waypoints in the compass app, and use trackback to find your way home.
As ever, there are third-party apps that can do this better – and like the Series 8 – this is the Ultra's strength. The native analysis of runs is still lacking, but with battery life and accuracy boosted, there's a lot to like.
But you do pay for the extras. With a price tag that eclipses the Garmin Fenix 7, it's really about the Apple Watch Ultra as a desirable watch, and the advantages it brings on a daily basis, that make it worth the money.
Pros
Superb personality
Excellent, intuitive running tracking
Very complete experience outside of running
Cons
Heavy to run with compared to other Apple Watch models
Data not as in-depth as other brands
Battery life can't compete with other watches
Coros Apex 2
Wareable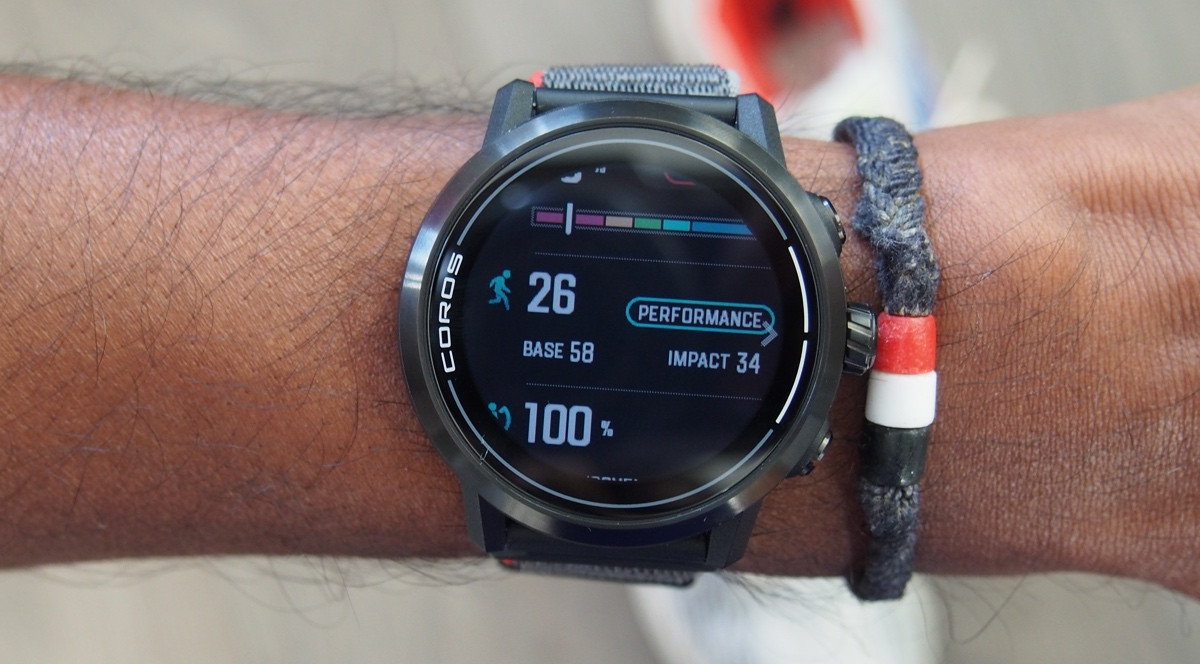 squirrel_12862658
Key considerations:
17-day battery / 30 hours full GPS
Mapping and navigation
Effort Pace guidance
ECG sensor for HRV recovery assessment
The new Coros Apex 2 is a good pick for advanced runners, looking for a good value watch that shoots for big fitness insights.
It's closer to the Garmin Forerunner 955, with navigation added to the mix.
There's a focus on more advanced insights, with stride length, running power, elevation, and training effect insights all on board.
And then there's Effort Pace, which is a new take on running power, designed to be more user-friendly. There's some development to be done here, and this new feature needs to evolve a little more to be a true tool.
The Apex 2 offers downloadable global landscape maps and topographical regional maps. You can also use the touchscreen support to navigate around them.
And there's also an ECG sensor on board, which is used to power an HRV test, that will access your recovery after big workouts. We're fans of that application of ECG, however, the fact that this is done manually makes it less effective than similar features on Garmin and Whoop. However, accuracy via ECG should be better.
If you want more advanced multiband GPS tracking then you'll need to opt for the more expensive Coros Apex 2 Pro.
Pros
Super running tracking
Improved battery life
Light and comfortable to run with
Cons
No music support
Smart features are poor
Sleep tracking drains the battery
Garmin Fenix 7X
Wareable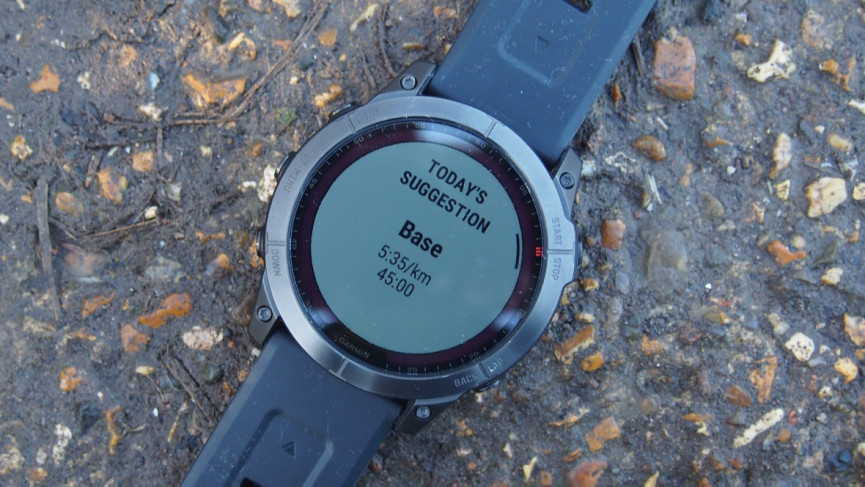 squirrel_12862597
Key considerations:
37 days smartwatch/89-hour GPS battery (with Solar)
Full-color mapping
Visual race predictor, real-time stamina
Multi-band mode
Flashlight mode
The Fenix 7X is an outdoor watch first, but it's every bit a great running watch and if you want proper mapping, big battery life, and like the idea of having a nice big bezel on your wrist, then this is one for you.
The 7X is the priciest of the Fenix 7 series watches and comes in solar and sapphire solar editions, with the latter pushing the price up above $1,000/£1,000 for the more durable design and preloaded maps.
That does mean you can follow full TOPO maps on this watch and there's now a touchscreen to improve your navigation time. Garmin's added its great multi-band mode to noticeably improve outdoor tracking accuracy and features like a visual race predictor, which pays close attention to your tracking history to predict those times.
One feature you get on the 7X that you don't get on other Fenix or Forerunner watches is a flashlight mode, which adds an LED light at the top of the watch case. You can pick from white or white LED colors and there are cadence or blitz lighting modes to pick from here too.
Garmin includes its real-time Stamina mode to help make sure you don't empty your tank at the beginning of your run, using your past workout data to estimate how far you should be able to run. It sounds great as a concept but we found it a bit of a complex one to get on board with.
Then there's the battery life. Garmin went big with its Enduro watch and then with the Fenix 7X, it went bigger. We're talking about getting through a month of tracking with regular GPS use. GPS battery is a massive 122 hours (with solar) and Expedition mode will give you anywhere from 62-139 days.
If you want a running watch with huge battery life, great mapping, and the best of Garmin's running features, that's what you get from the Fenix 7X.
Pros
Big battery life
Improved mapping features
Great core sports tracking
Cons
Big case design won't be for everyone
Heart rate accuracy during high intensity
The price
Read our full Garmin Fenix 7X review.
Huawei Watch GT Runner
Wareable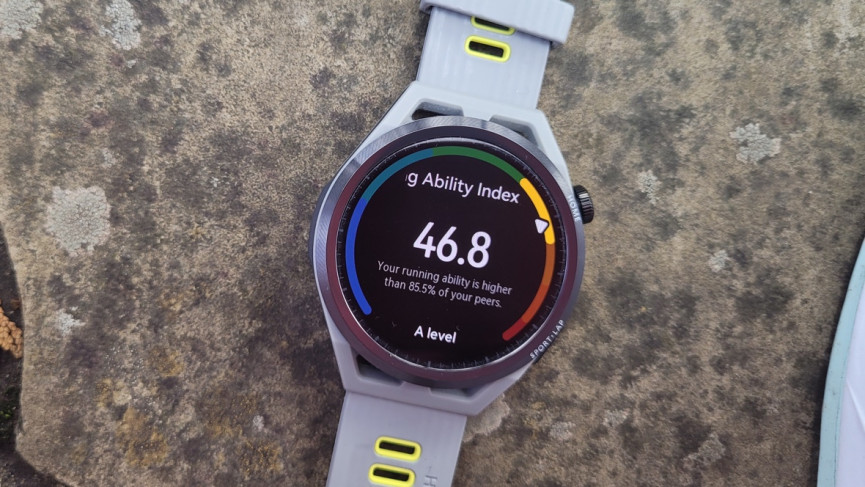 squirrel_12863376
Key considerations:
14 days smartwatch battery life/15 hours GPS (from testing)
100+ sports modes
AI Running Coach
Running Ability Index, VO2 Max, training load, lactic acid data
Of course, the Apple Watch only works with iPhones – so if you have an Android smartphone, the Huawei Watch GT Runner is a top smartwatch option.
It's a repackaging of the Huawei Watch GT 3, which is also excellent for running workouts. But the GT Runner has got a more sporty design and lightweight build.
Core running features include excellent training plans and coaching, based on your performance as a runner, and you can do everything from the watch itself.
There's also a host of VO2 Max and training effect data on the watch – including the Huawei Running Ability Index, which measures your performance and suggests finishing times for key race distances. And these were spot on in our testing.
GPS has supposedly been boosted with a new floating antenna, although we saw no real evidence of improvement in our testing and we did find some small tracking issues in built-up areas.
Heart rate tracking performance was also quite average, with up to 10 bpm variations from a chest strap, which is slightly more than we'd expect to see from rival Garmin/Fitbit/Apple devices. Thankfully, you can pair it up with an external heart rate monitor to improve that data.
Pretty much all Huawei Watch GT Runner features can be found on the cheaper GT3, but the design will appeal to runners. However, for Android users looking for a smartwatch, the positives outweigh the negatives.
Pros
Nice, light design for running
Useful running software features
Good for a week's worth of heavy training
Cons
GPS accuracy lacking at times despite new antennae
Lacking third-party support
Average smartwatch experience
Garmin Venu 2
Wareable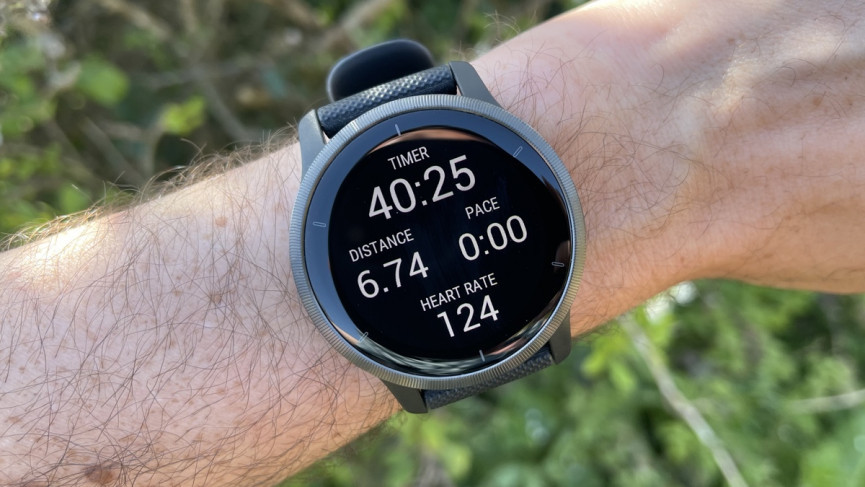 squirrel_12863216
Key considerations:
11 days smartwatch battery life/22 hours GPS
Run/Swim/Cycle/Golf
Garmin Coach
VO2 max
The Venu has emerged as Garmin's answer to the Apple Watch. With the Venu 2, you're still getting a color screen, the best smartwatch features Garmin has to offer, and those tracking staples that make it a great fit for running.
The latest Venu now comes in two size options the Venu 2 (45mm) and the smaller Venu 2S (40mm). The Venu 2 will give you the bigger, higher resolution color AMOLED touchscreen display, but both include Garmin's latest Elevate optical heart rate sensor that promises to deliver more accurate data.
You'll get built-in GPS of course and core running metrics along with additional ones like running VO2 Max found inside Garmin's companion Connect app.
As a smartwatch, it's something that works with Android and iPhones and gives you notifications, a music player with room for 2,000 songs, and support for streaming services like Spotify.
There are also payments and access to Connect IQ Store to add more apps, watch faces, and data fields. if you want some voice-enabled features, the new Venu 2 Plus offers a built-in microphone and speaker to let you access your smartphone assistant from your watch.
We found tracking accuracy reliable and the bigger screen and improved UI make it a nicer watch to run with too. We didn't see improvements in heart rate accuracy for running, despite the inclusion of that new sensor. You can pair up an external sensor at least.
The quoted 12 days battery life came up short for us and is better suited to just over a week. If you factor in using it with the screen set to always-on, that's going to drop to closer to 4-5 days. The 22 hours of GPS battery should be fit to get you a week's worth of tracking too.
If you want more battery than an Apple Watch and great run tracking, the Venu 2 is one to look at instead.
Pros
Good health features
Great sports tracking
Cons
Wrist raise is not great
Clunky in places
Pricey
Garmin Epix (Gen 2)
Wareable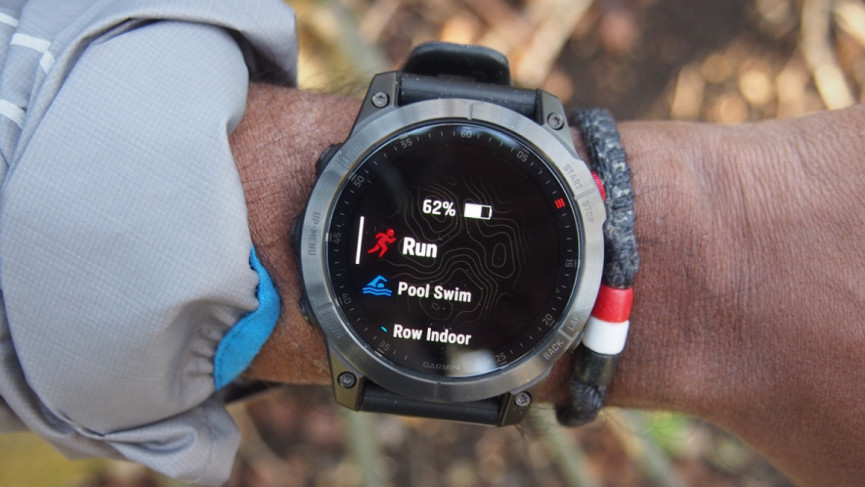 squirrel_12862598
Key considerations:
1.3-inch AMOLED touchscreen display
Full-color mapping
Visual race predictor, Training Readiness, suggested workouts
Multi-band mode
16 days battery in smartwatch mode / 42 hours GPS battery life
The Garmin Epix is what you get when you take the AMOLED screen from Garmin's Venu watch and match it up with the features of a Fenix 7. If that sounds like the recipe for a great running watch, then you'd be right.
Packed into a 47mm case that comes in stainless steel or titanium, the Epix features a 1.3-inch, 416 x 416-pixel resolution, matching the screen size and resolution included on Garmin's cheaper Venu 2 series.
It's a touchscreen too, which is smooth and responsive and brings a whole new dimension to viewing the full mapping it supports. It also makes scrolling through menu screens and using music controls a much slicker experience.
All of the running features are included on the Fenix 7 cut. There's the multi-band mode, which does knock the battery more than normal GPS mode but does deliver supreme outdoor tracking accuracy.
The heart rate monitor performs well for steady-paced runs and handles the high-intensity stuff well too in general.
You've also got the much-improved race predictor and questionably useful addition in real-time stamina metrics. You can upload routes, and access Garmin Coach and there are daily suggested workouts here as well.
With that AMOLED screen in place, that does mean battery life isn't quite on par with the Fenix 7, but it's still good enough to get you through a solid week of tracking and potentially two weeks based on usage.
It's the kind of compromise you can make based on the difference that color screen makes living with the Epix day-to-day compared to the Fenix. It's a great running watch and if you've wanted a great running watch with a color screen, this is the best one out there.
Pros
Great AMOLED screen
Solid run tracking
Great screen for viewing maps
Cons
Connect app still feels busy
Big price tag
No solar power
---
---