Wareable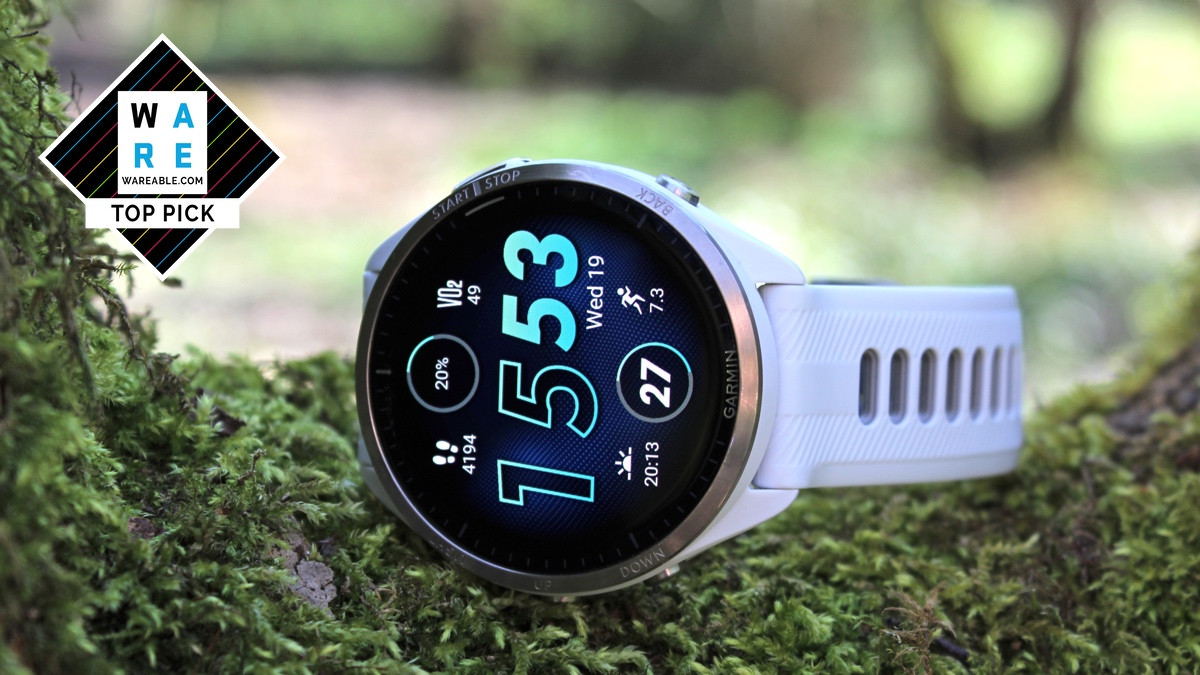 Wareable is reader-powered. If you click through using links on the site, we may earn an affiliate commission.
Learn more
The most premium Forerunner watch ever released unsurprisingly also happens to be the best-looking and most feature-packed option we've tested from the line. The AMOLED and UI facelift improves the experience dramatically, and with the battery, mapping, and tracking accuracy performing strongly, it becomes an undeniably excellent sports watch. We're a little concerned with the lack of durability, and many will be better off saving money and opting for the Forerunner 265, but this represents the perfect midpoint between the Fenix/Epix models and cheaper Forerunner watches.
---
Hit
Display and UI are much improved
Battery life remains outstanding
Tracking accuracy is hard to beat
Miss
Prone to bumps and scratches
Not hugely different to the FR265
Smart features are extremely basic
The 965 represents the new pinnacle of Garmin's ever-growing Forerunner lineup.
Despite once being the company's certified triathlete watch, though, the flagship Forerunner is a bit of a different proposition these days.
It still very much centers around boosting your training in the three core disciplines, but it's now no longer the only Forerunner to do so.
With the cheaper and also new Forerunner 265 being an equally excellent sports watch for runners, cyclists, and swimmers, the flagship 965 is now defined by the pair's slight separations.
After putting the Forerunner 965 through its paces over the last few weeks, though, these subtleties do help it settle into its own unique sweet spot.
It's now not just the company's go-to triathlete watch, but also arguably its best golf watch, the cheapest way to access mapping on an AMOLED display, and offers a premium design that's easy to train in.
All this, as well, at a much more affordable rate than the Fenix 7, Epix (Gen 2), or MARQ (Gen 2) watches.
It's certainly not our top recommendation for the masses, but it is perfect for a select few - and one of the most complete sports watches we've ever tested.
Price and competition
Wareable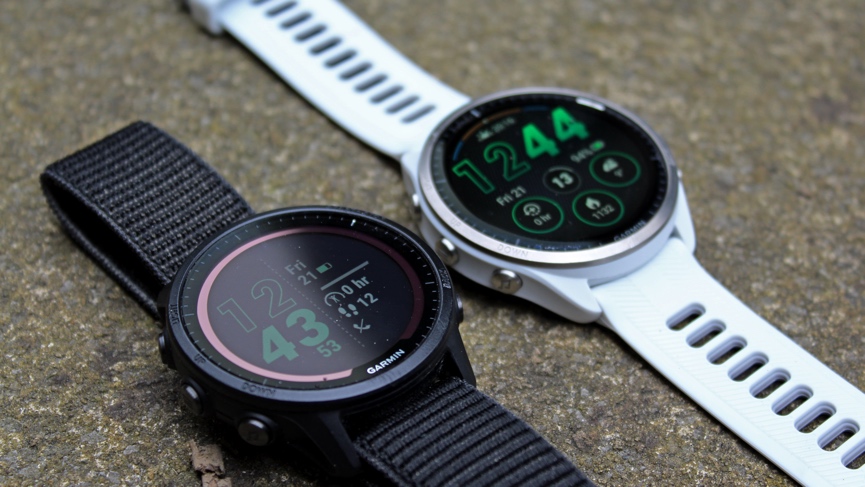 The Garmin Forerunner 955 Solar (left) vs. Garmin Forerunner 965 (right)
Garmin surprised everybody when it announced the arrival of the FR965. With the Forerunner 955 only arriving in May 2022, the company has deviated quite dramatically from the launch cycle we've seen between previous other generations.
The tighter nature of these releases also means there are fewer benefits on offer in the newer FR965, and, as a result, the FR955 is its closest competition in terms of pure training features.
As we've covered in our extended breakdown of the differences between the Garmin Forerunner 965 and Forerunner 955, the new AMOLED display is the key one to focus on here, with the feature set almost remaining identical (more on that below).
Depending on which FR955 you may consider, you'll be paying $50 / £50 or $100 / £120 for the AMOLED premium.
Wareable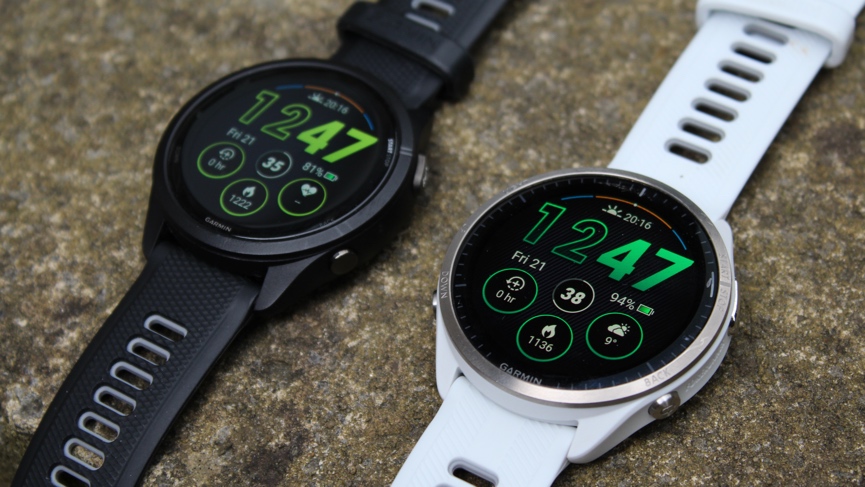 The Garmin Forerunner 265 (left) vs. Garmin Forerunner 965 (right)
The last generation model isn't the only competition the FR965 faces, either, with the mid-range Forerunner 265 offering a roughly identical design and set of training features.
Again, depending on which version you pick, the difference between this device and the FR965 is around $150 / £170, which is actually pretty considerable.
As we alluded to up top, we think most people trying to pick between the FR965 and FR265 are better off with the latter.
However, if money is no object, the more expensive option does naturally offer a few benefits. We'll be diving into these properly below.
If you're also willing to look outside of Garmin's offerings, we think there are a couple of other options around this same price range.
For those who want more of a smartwatch, and one that's still relatively powerful and versatile when it comes to tracking sports and workouts, the Apple Watch Ultra is certainly one to consider.
And if you're looking for a more comparable sports watch, consider checking out the Coros Apex 2 Pro. It can't compete with the FR965's display or mapping, but it's an excellent watch to help guide your training.
Design and display
Wareable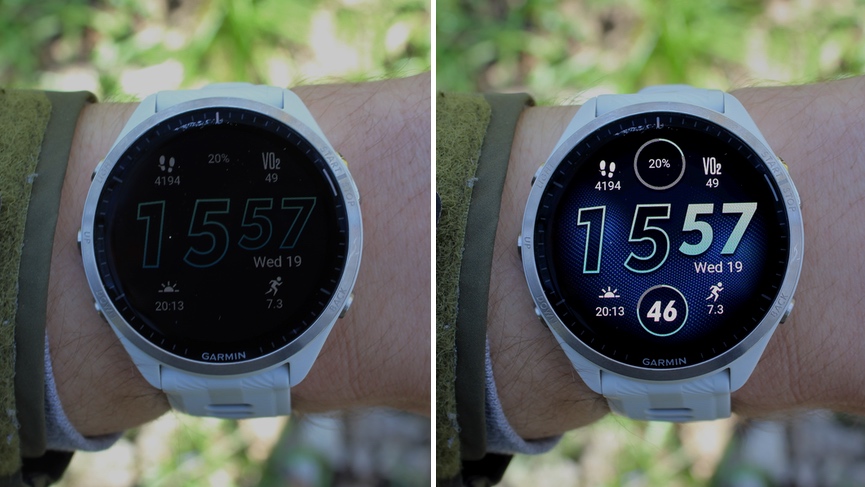 The Forerunner 965's always-on mode is turned off by default
As with the FR265, the biggest change between the last generation and this one is the newly installed AMOLED display.
The old-school memory-in-pixel (MIP) screen has been dropped for the more modern and colorful alternative here, after first debuting through the Garmin Epix 2 and then the ultra-premium Garmin Marq 2.
We love it, and, despite years of wearing Garmin's MIP sports watches, it's pretty tough to imagine ever going back.
Even when compared to the last-gen FR955, which boasts all the same features, you could easily be fooled into thinking the watches launched nine years apart, not nine months.
We do acknowledge there's a pocket of Garmin fans out there that are skeptical about the company's shift to AMOLED, with it potentially conflicting with the desire to keep their wrist from feeling like a smartphone extension, but we feel pretty confident that most would prefer it after trying it out.
Wareable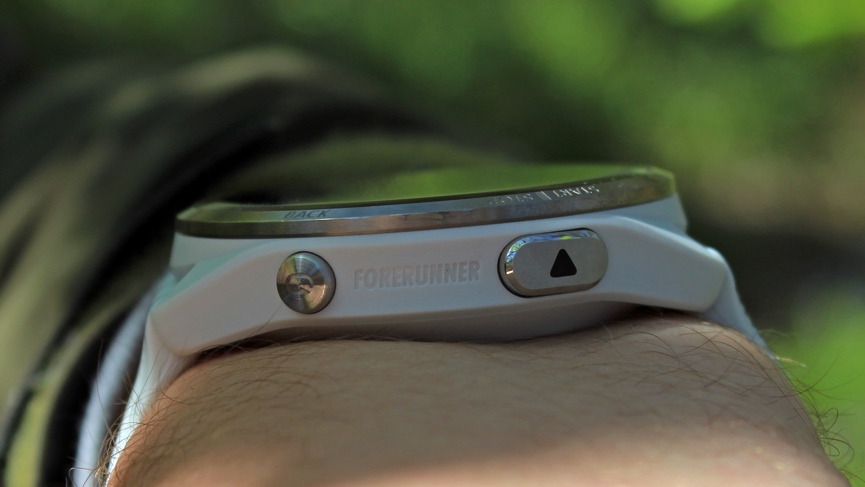 Garmin has redesigned the 'Start/Stop' button for the Forerunner 965
It's not just the sheer vibrancy of the display that makes a difference, after all.
With the increase from a 1.3-inch panel to a 1.4-inch one, it now appears much more edge-to-edge than its predecessor, with the new UI performing much more smoothly, too. Of course, the solar-powered outer ring has also contributed to this display change.
The eagle-eyed will also spot the titanium bezel, another new touch of premium styling, and the redesigned 'Start/Stop' button. We don't have any particularly strong feelings about the bigger button, but the titanium outer edge does look pretty sharp.
The only problem with it is its durability. Our white, 47mm review unit is already full of minor scratches and wear.
Wareable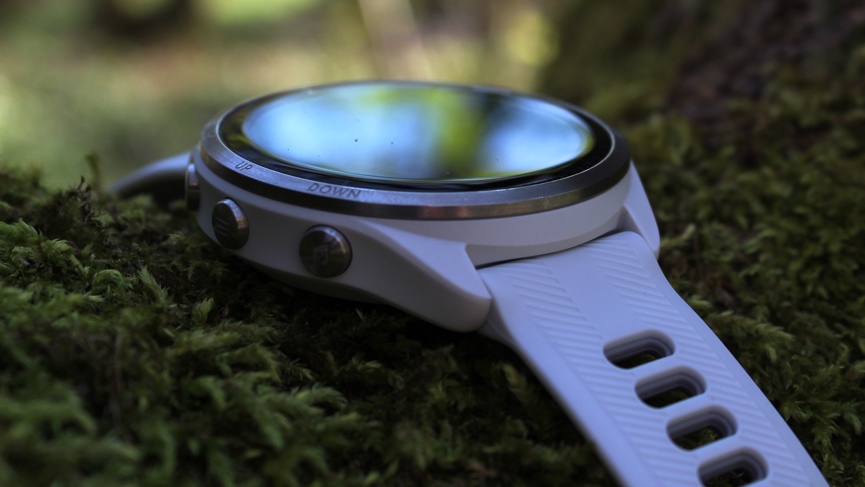 This also extends to the display itself, disappointingly. As you'll no doubt spot in our images throughout, we've picked up a fairly sizeable graze on the Corning Gorilla Glass 3 DX display.
And while we'd usually take responsibility for being pretty clumsy, this was actually the result very slight, innocuous scrape against a metal pulley during a set of cable crossovers at the gym. We dread to think what a more substantial bit of contact would create.
It's a shame, as well, because it does harm the FR965's potential as a Fenix or Epix replacement.
These more rugged models aren't without their own frailties, as a quick look through forums or the Garmin subreddit will prove, but they do at least come with sapphire display editions to mitigate scratches. Our only advice, really, is to slap a screen protector on and hope for the best.
Battery life
Wareable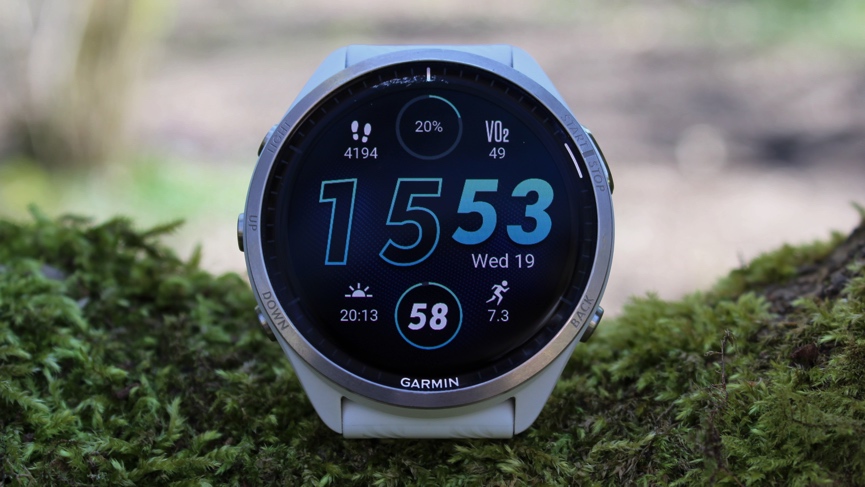 In and of itself, producing a sports watch with an AMOLED display isn't that exciting. However, producing a sports watch with an AMOLED display and long battery life very much is.
And as we've seen over the past 18 months or so, nobody is really coming close to matching the battery efficiency Garmin is managing with its AMOLED watches. It's again present in the FR965.
For our test, we mostly had the watch set up with the always-on display on, default brightness, blood oxygen monitoring turned during sleep tracking, and the screen turned off between 22:00 - 07:00.
On average, we also used the SatIQ GPS for around 30-90 minutes each day and often logged two hours of total workout time with the screen brightness maxed out. We also consistently streamed music from Spotify, which is traditionally a bit of a battery drainer.
Using these quite specific settings - which are fairly typical of the ones we set up on other watches - we found that the battery drained around 15% per day. Our first full charge cycle saw the FR965 last seven days, the next saw it reach eight, and a particularly heavy week of outdoor exercise saw it muster six days.
As another reference, our hour-long, GPS-tracked runs would typically see the battery drain by around 3-4%, with the hit being around 8-10% if we streamed via Spotify.
Considering our comparable tests saw the FR955 average around 7-10 days between charges, it's pretty remarkable Garmin has managed to get so close with the AMOLED variant.
And when you throw in the fact that the FR965's competition would struggle to manage three full days under the same conditions, it becomes all the more impressive.
You also have options to play around with if the week of battery isn't enough. When we turned the always-on display off, the battery essentially doubled, and there were some slight battery differences when we turned the brightness down on certain days.
Training features
Wareable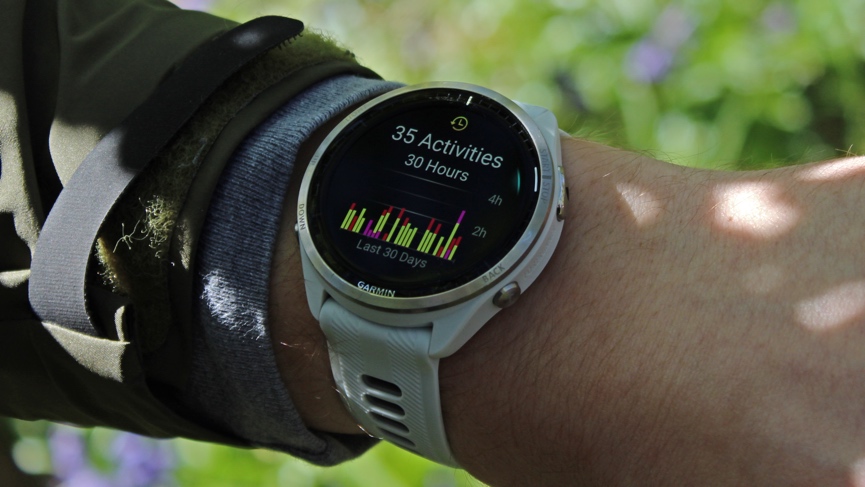 As we've already mentioned a couple of times, there's really not much new here in terms of new training features.
The ones that did debut through the FR955 - Morning Report, Training Readiness, and HRV Status - are all still available here and work well, with only the company's Training Load being tweaked (something we expect to also come to other models over the course of 2023).
Garmin's Running Dynamics has also been added, which we'll talk through below, though an update has now seen this come to the FR955 and other models.
The fact the additions are minimal isn't a knock on the FR965, we should note. There's a wealth of metrics, options, and analysis to dive into on Garmin's more premium watches nowadays - much of which you'll still be discovering months into using the watch, or perhaps will never truly tap into at all.
Let's walk through a couple of the newer bits you can find.
Training Load
Wareable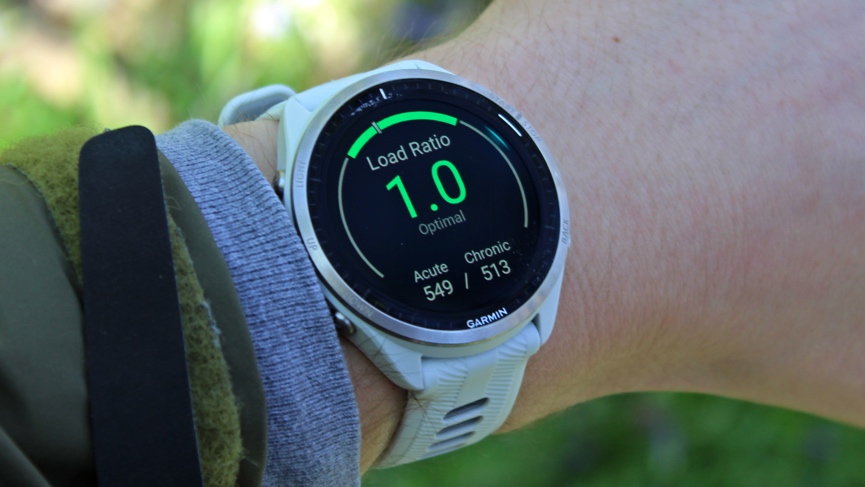 Training Load Ratio debuts on the Forerunner 965
While Garmin's own Training Load and Acute Load are nothing new, the way these metrics are interpreted has received a small change in the FR965.
Instead of Garmin throwing its relatively arbitrary numbers at you, the new Chronic Load and Training Load Ratio screens add some much-needed context.
Chronic Load essentially takes the company's Acute Load metric and stretches it out over weeks instead of the last seven days, giving you a much better idea of your recent strain. We've found this particularly helpful in allaying any fears of declining fitness in de-load weeks.
Training Load Ratio also combines the two and gives you a very digestible way to understand whether you're overreaching (or detraining) in the short-term, long-term, or both.
The aim here, according to Garmin and Firstbeat, is to match up your Acute Load and Chronic Load in the green zone in order to try and avoid injury, and we've been using it pretty religiously over the past few weeks.
It feels much more intuitive than trying to work this out from previous metrics living inside Training Status.
Running Dynamics
Wareable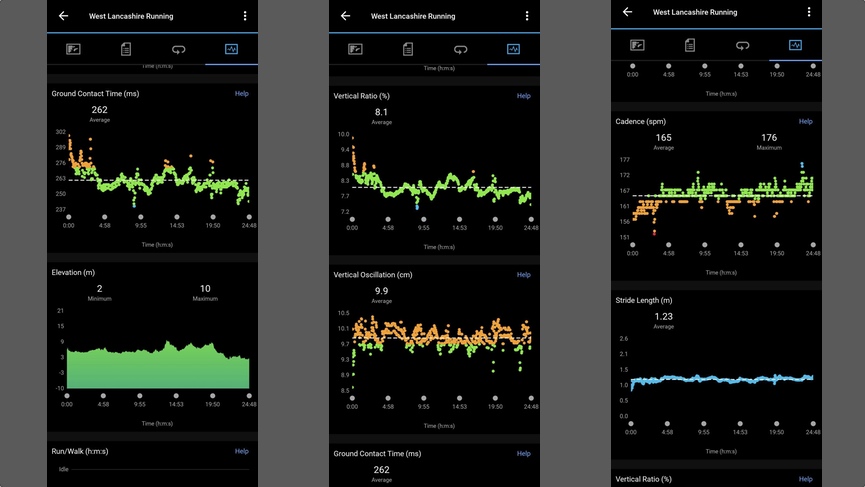 Native Garmin Running Dynamics is available on the Forerunner 965
Previously only available if you owned an external sensor like the Garmin Running Dynamics Pod or one of the company's chest straps, Running Dynamics debuts on the wrist in the FR965.
It means insights such as stride length, ground contact time, vertical ratio, and vertical oscillation are much more accessible, joining the likes of native Running Power, cadence, and others that were already available.
We like the fact that Garmin has included this here - possibly as a result of Apple adding similar native metrics through watchOS 9 - and we also think the true running nerds (which we count ourselves among, obviously) will enjoy having access to this stuff.
Just how useful these metrics are as ones to train by is up for debate, though, and, if they're all new to you, you'll naturally need to dive into the 'Help' explainer sections in the post-exercise Garmin Connect screens to really get to grips with it.
Heart rate accuracy
Wareable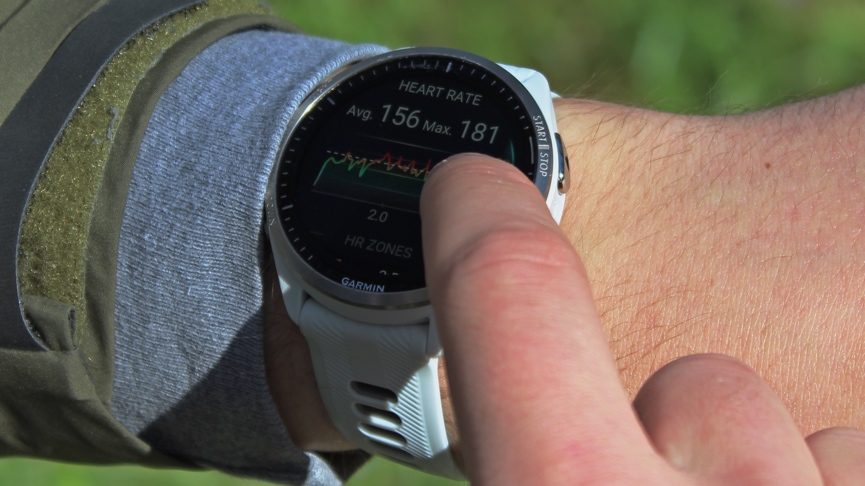 Since the Garmin Elevate 4.0 optical heart rate monitor arrived a couple of years ago, we've graded it as one of the best and most accurate options out there. It's no surprise, then, to see the FR965 deal well with pretty much every workout we could throw at it.
Steady-paced workouts, like the one below, are where the FR965 truly shines.
We performed plenty of these kinds of workouts with it, and the average BPM and maximum BPM were always a couple of beats on either side of our Wahoo Tickr X chest strap.
Wareable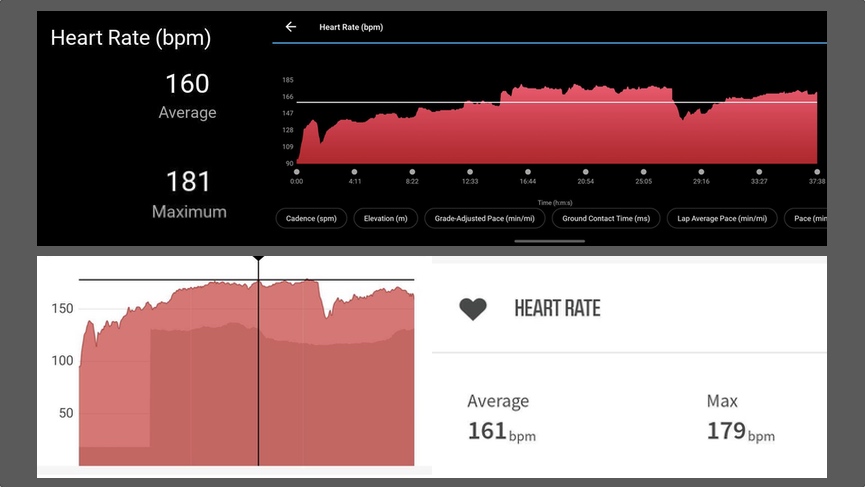 Garmin Forerunner 965 (top) vs. Wahoo Tickr X (bottom)
For its success in logging consistent-paced workouts, though, it does suffer from the same real-time lag as other Elevate 4.0-packing Garmin devices.
Compared to a chest strap, or even the Apple Watch or Whoop 4.0 we also tested the FR965 against, the heart rate reading was always late to react to things like sets in the gym or high-intensity intervals when running.
As we also noted in our FR265 review, this slight lag rarely has an effect on post-workout averages, but it is still a bit jarring to glance down and see such a huge disparity between devices.
On our interval workout below, for example, we found that the Garmin was still showing our BPM in the 170s around 30 seconds after finishing a 1-minute repeat.
Wareable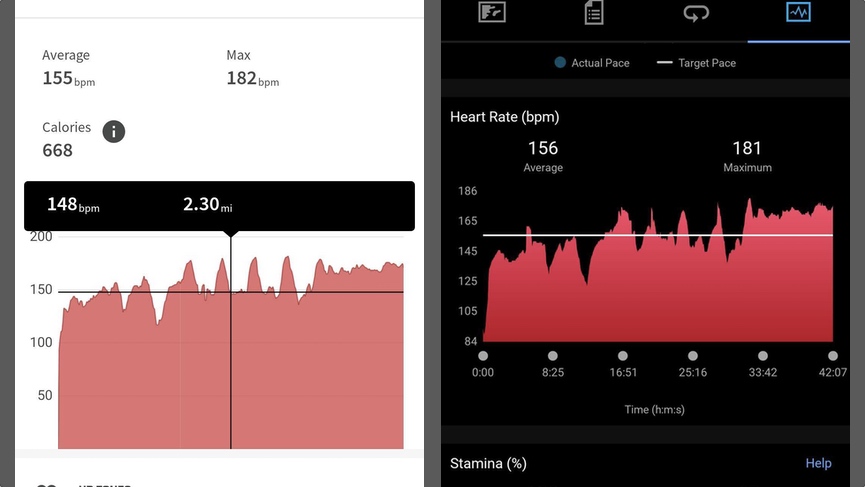 Garmin Forerunner 965 (right) vs. Wahoo Tickr X (left)
On the Whoop and Wahoo, things had stabilized into the 160s or 150s - and this felt directly aligned with what we'd have guessed from our breathing and general 'feel'.
The averages work out almost identically, as we say, so it's not really an issue, but it is still a quirk to be aware of.
GPS accuracy
Wareable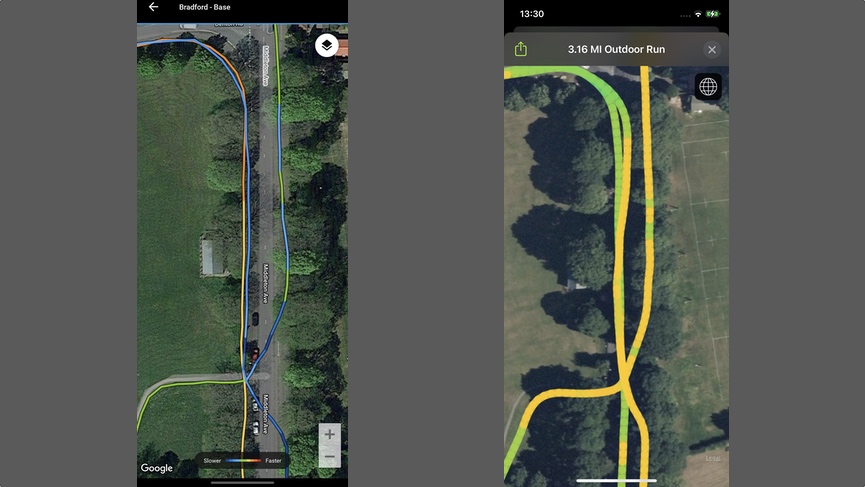 GPS comparison: Garmin Forerunner 965 (left) vs. Apple Watch SE 2 (right)
Since Garmin debuted the Multi-Band/dual-frequency GPS system through the Epix 2, we've been impressed by its ability to accurately report distances and routes. And, as we've seen with other Garmin watches packing this technology, the FR965 performed very stably in our workouts.
We should note that Garmin's tech was bested by the Apple Watch Ultra in our Chicago Marathon test last November, but it does still continue to prove very reliable in more routine, non-skyscraper-laden tests involving shaded paths and street pavements. We'll be looking to put it to more of a proper test in city environments over the coming months.
When running, we found that it reported distances almost identically to the Apple Watch, as shown above, with the pair often around 0.01-0.03 miles apart every three miles recorded. We'd say that's pretty good going.
Wareable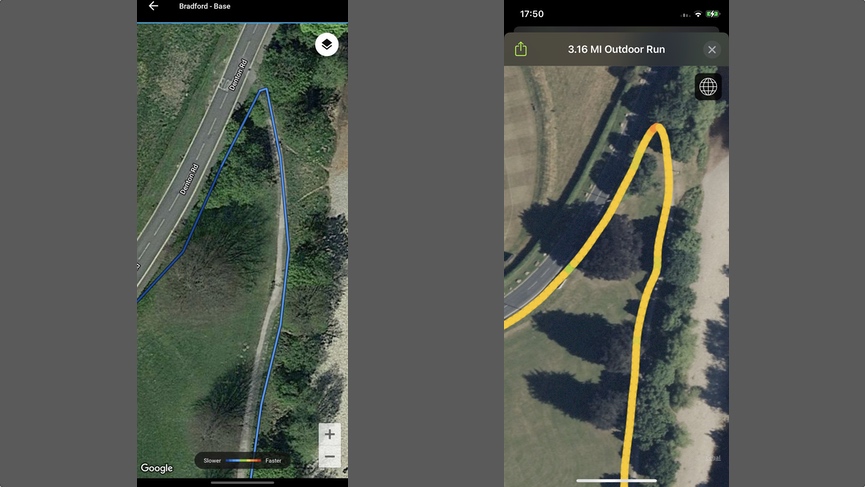 GPS comparison: Garmin Forerunner 965 (left) vs. Apple Watch SE 2 (right)
When we went back and viewed the post-run location tracking worm, as well, it always managed to pick up the little changes of direction on a path - even when shaded by a forest or potentially blocked by built-up areas.
As we've mentioned before, Garmin's SatIQ feature is also a really underrated aspect of its GPS tracking.
Not only does it mean you can avoid the minefield of guessing which GPS is best for the terrain, but it also means the watch remains battery efficient. The FR965 will only dip into Multi-Band and All Systems GPS when it really needs to.
It all adds up to a tracking experience that's pretty hard not to have faith in; we've tracked countless outdoor workouts with SatIQ and Multi-Band and have never experienced a disaster, which is more than we can say of most watch's GPS accuracy.
Mapping and navigation
Wareable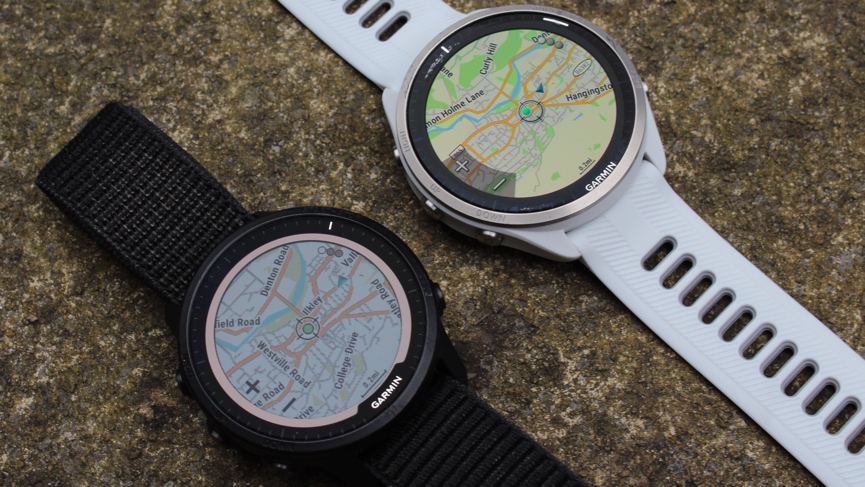 Mapping: Garmin Forerunner 955 Solar (left) vs. Garmin Forerunner 965 (right)
Garmin added offline mapping and navigation through the FR955, but things have been taken to the next level here because of the detail afforded by the AMOLED display.
It's not a feature we really used much in the last generation, in truth. The detail wasn't great on the MIP display when zoomed in close, the UI felt a little clunky, and the screen just felt a little too small to our eye.
It's a completely different experience now, though, and one we actually enjoyed testing out on a couple of trail runs - and to help us navigate to and from the start of them using the on-watch Points of Interest feature.
Thanks to the display, it means the FR965 performs very similarly to the Epix 2 and Marq 2 for those looking to hike, trail run, or cycle.
We should note that you can use it in tons of the watch's sports profiles, but, as ever, the map will only appear as a data screen by default in certain ones, like 'Hiking'. We added it to the standard 'Run' profile, for instance.
Loading courses and routes can prove a bit of a time-consuming chore if you're not doing it via computer, but the ability to create and pull them in from Garmin Connect, Strava, or Komoot is also really handy.
Wareable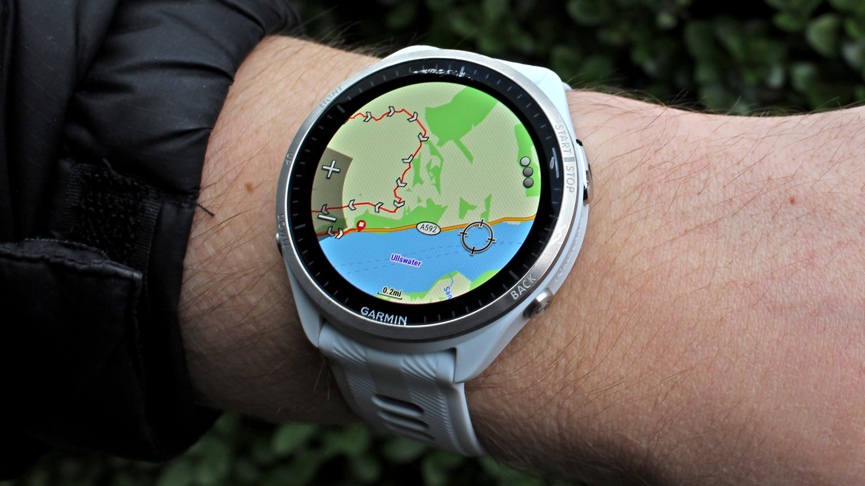 And using it is pretty straightforward, too, thanks to the touchscreen. You'll get prompts for each turn, and the FR965 supports Garmin's Next Fork (which shows the distance to the next change in direction on a trail) even when you're not following a specific route.
There's a lot to dive into here, and it all means the FR965 is capable of achieving the same colorful, detailed, and easy-to-use offline mapping as the more expensive Epix 2 and Marq 2 for a much lower price.
We think that'll prove tantalizing for anybody who requires mapping and navigation, but it's important to consider the durability issues we mentioned earlier, as well.
Sleep and health tracking
Wareable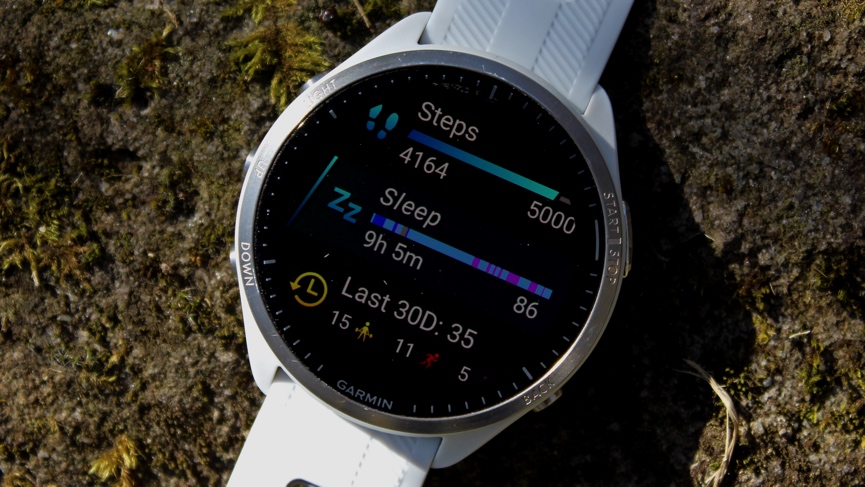 For all the might given to the FR965 from a sports tracking perspective, it's also a pretty solid sleep and health tracker - and this is increasingly important, given that features like Training Readiness rely on accurate sleep and stress tracking.
Like the FR265, it's a little disappointing that Garmin didn't include the necessary hardware for ECG readings here. That's still an honor held only by the Garmin Venu 2 Plus.
The rest of the picture is pretty complete, however. The FR965 can measure heart rate variability, respiratory rate, resting heart rate, and blood oxygen saturation estimates, with its proprietary methods for interpreting things like energy levels or sleep performance (like Body Battery and Sleep Score, respectively) continuing to prove pretty useful and intuitive.
We won't get too worked up about any in particular, as they all existed within our typical ranges and were comparable with our Whoop and Oura data. Resting heart rate data, as an example, was always within our typical range of 48-53bpm.
Wareable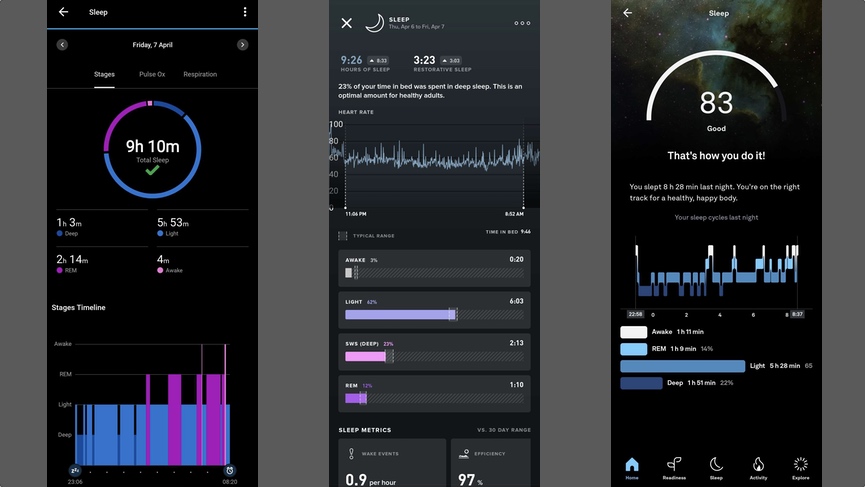 Garmin Forerunner 965 (left) vs. Whoop 4.0 (middle) vs. Oura Ring Gen 3 (right)
The most noticeable change between generations is also one we found true when testing the FR265, and that was the sleep-tracking accuracy.
It's an area we've been pretty critical of Garmin in the past - like in our Garmin Marq (Gen 2) review from January - with devices consistently logging incorrect time in bed, and little to no awake time or deep sleep.
We're not sure what's changed in the algorithm, but it's resulted in sleep data matching up much more favorably to the likes of Whoop and Oura, which we rank among the best. That's not something we've been able to say until recently.
As mentioned, this also means metrics that rely on sleep data are now much more useful, so this recent uptick is notable even if you're not necessarily interested in checking your specific amount of REM sleep from the previous evening.
Smart features
Wareable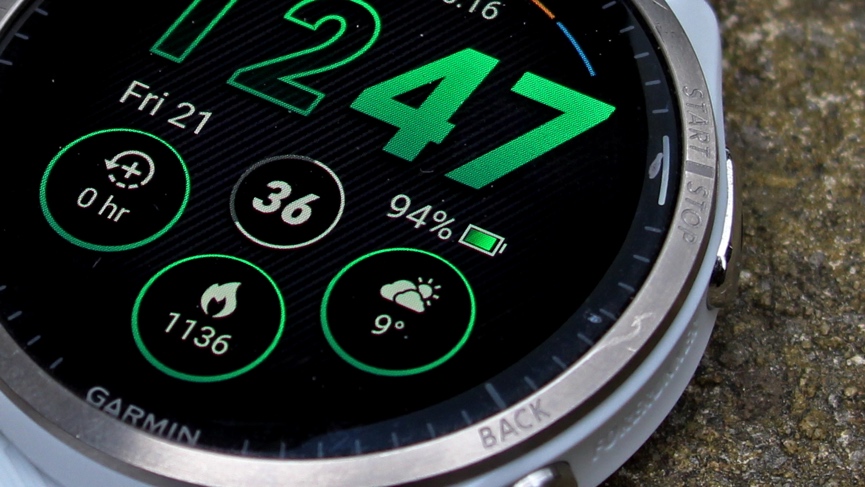 Though the FR965 is technically classed by Garmin as a 'running smartwatch', we're not really ready to agree with that assessment. This is still very much a barebones smart experience, even if that fancy new UI and display can match up well with the top smartwatches.
The basics are here, though. Notifications are customizable and now much more readable, and you can easily add things like the weather to your My Day screen. There's also handy offline music integration with the likes of Spotify, which is bolstered by the FR965's mammoth 32GB internal storage.
We always find it easy to add Spotify playlists and update them, but the experience is still pretty basic, and the oft-complained issue of the music stopping when skipping tracks or switching between playlists continues to be a consistent one for us.
This lack of polish is fairly typical of the apps available on the Garmin Connect IQ store, and things like the weak support for Garmin Pay (at least here in the UK) compound the wider problem.
The lack of smart features isn't really a huge reason to avoid the FR965 - this is still just a sports watch, after all - but these are still definite caveats to be aware of before you buy.
---
---