Wareable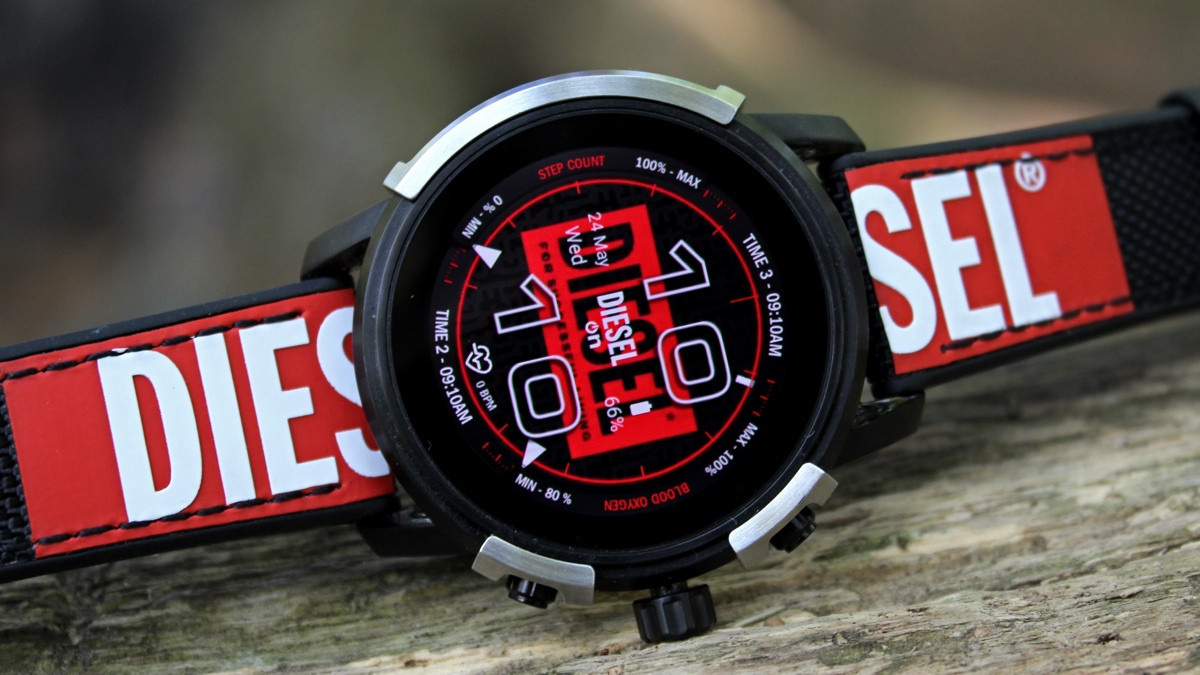 Wareable is reader-powered. If you click through using links on the site, we may earn an affiliate commission.
Learn more
In a growing pack of smartwatches capable of running Wear OS 3, the Diesel Griffed does stand out and give potential buyers something a little bolder to consider. While this eye-catching look is one of its key strengths, though, the design is actually a pretty poor fit for most kinds of tracking. And with plenty of versatile and stylish watches to pick from at this price, it becomes pretty difficult to recommend the Griffed.
---
Hit
Design offers some personality
Wear OS 3 is very capable
Fast charging is a handy feature
Miss
Better watches available at this price
Not a hugely versatile design
Battery life is atrocious
The protracted nature of the Wear OS 3 rollout has meant it's been a while since Diesel graced us with its usual brand of daring looks. A few years on from the Gen 5 Axial, though, we now have the Diesel On Griffed Gen 6.
The years of absence haven't changed what Diesel brings to the party, either. The design of the Griffed is just as bold as its predecessors, and that means this is once again much more of a statement smartwatch than a practical one.
For a select few turned off by the generic vibe of Wear OS watches like Mobvoi's TicWatch Pro 5 or even Fossil's own Gen 6 offerings, the Diesel range has always provided a decent blend between brash and ugly-on-purpose.
And in this Gen 6 edition, Wear OS 3 also means it's a much more palatable experience on the wrist. But there are still some issues to get around here - and we've explored them below after wearing the Griffed for a couple of weeks.
Design and comfort
Wareable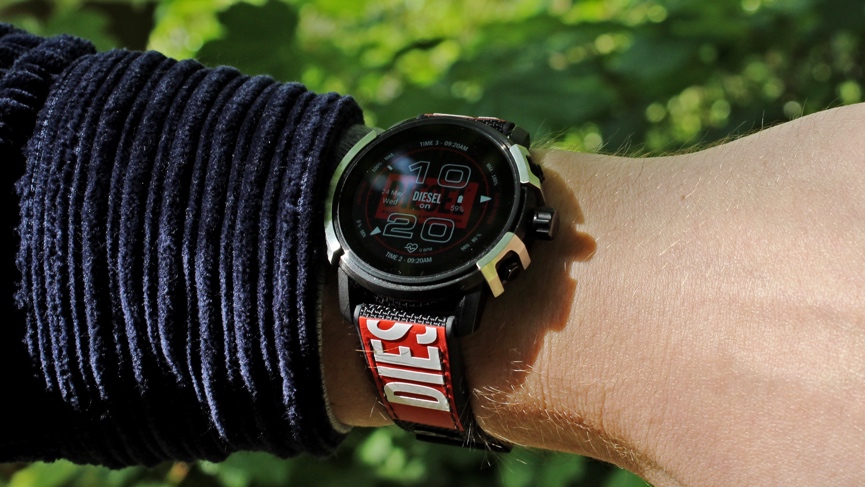 The Griffed is a little smaller than most previous Diesel On smartwatches we've been treated to.
The 45.5mm case here is smaller than the hulking Gen 4 Full Guard 2.5 and the 48mm of the fifth-gen Axial, though it is still larger than the Diesel Fadelight that arrived at the start of 2020.
We think that it sits around the sweet spot for these unapologetically masculine watches, but we should also note that it feels a bit bigger than this because of the chunky, stainless steel button guards, lugs, and borderline-offensive crown size.
The Griffed measures in at 13.6mm, too, which means it's also not the thinnest Android watch out there.
As we alluded to up top, then, it just isn't the most practical design for tracking.
Our review unit featured the band made from leather and woven nylon, which, while very durable and well made, is pretty uncomfortable to wear 24/7.
Wareable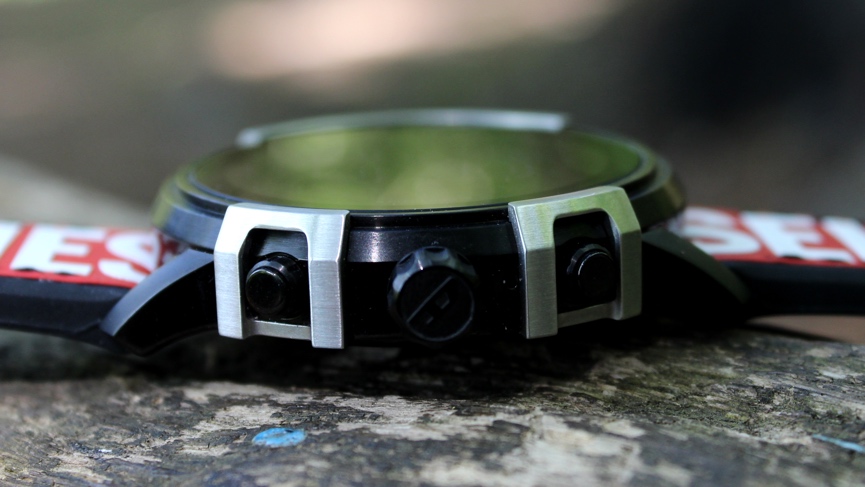 We're also not too surprised Diesel doesn't disclose the Griffed's weight, because our own scales put it around 90g. This, as you would expect, meant it felt very sluggish to carry around during general wear, let alone during outdoor tracking.
You're not getting anything special with the display to offset this, either. The Griffed literally pales in comparison to an AMOLED screen from Garmin or the super-bright OLED display on the Apple Watch.
Ultimately, the equation is still the same here as it always has been - if you actively enjoy big and brash watches, you'll like the Diesel Griffed.
And while it does lack versatility for anything other than general wear, it does have plenty of personality - and that's definitely a rarity in smartwatches these days.
Features and Wear OS 3
Wareable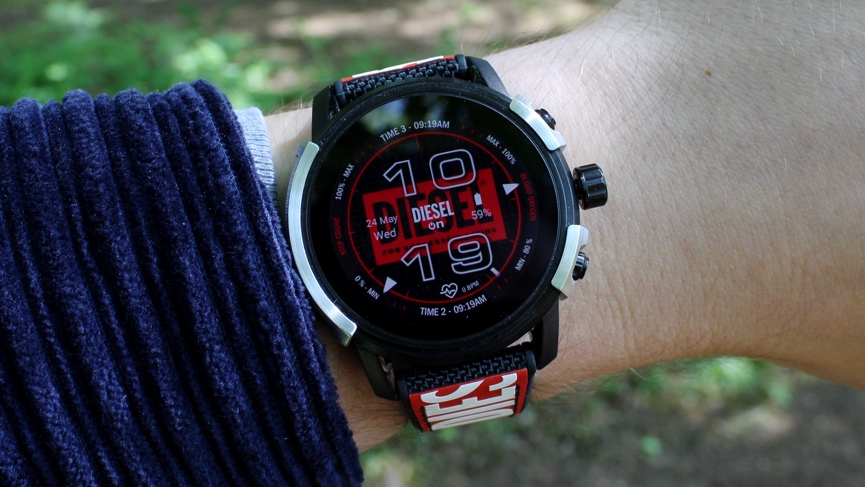 With the design very much pointing you towards light use, it's a good job that Google's Wear OS is now in a much better place than when Diesel last released a smartwatch.
It's not clear whether the Griffed will make the jump to Wear OS 4 once it arrives later this year, but the good news is that Wear OS 3 is more than smart enough to provide a rich experience.
Apps are now easy to download directly from the watch's own Play Store, and we've not experienced any significant bugginess during use - even with new apps like WhatsApp for Wear OS.
The Snapdragon 4100+ processor also holds its own here. Performance isn't perfect, with the odd hiccup in menus or between Tiles still jarring, but it's a far cry from the button delay and lagged touchscreen swipes we experienced on previous Diesel watches.
Wareable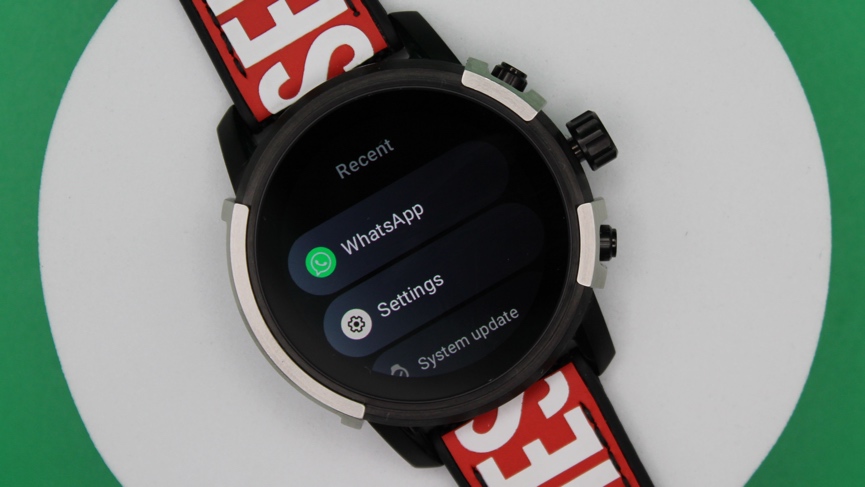 The new-gen Snapdragon W5+ will likely land on the next Diesel smartwatch, but we wouldn't anticipate this landing until later this year at the very earliest, given it's only just debuted on the TicWatch Pro 5.
All of Google's own services also run very smoothly. Maps, Home, and Wallet are notable improvements over the past couple of years since Wear OS 3 began rolling out, and they're equally impressive here as on comparable Wear watches.
The Griffed, like others, does have the curious omission of Google Assistant, however. The good news is that Amazon's Alexa steps up to the plate in its absence, but it does feel odd for such an overwhelmingly Google-driven experience. And it also requires additional setup and pairing, despite a solid performance.
Our only real gripe with the Wear OS 3 integration here is how certain apps still don't feature crown-scroll functionality, which feels at odds with the latest Wear OS app guidelines from Google that are trying to bring more uniformity to the experience. It's not a huge deal, obviously, but it does take some of the polish away.
Diesel extras on Wear OS
Wareable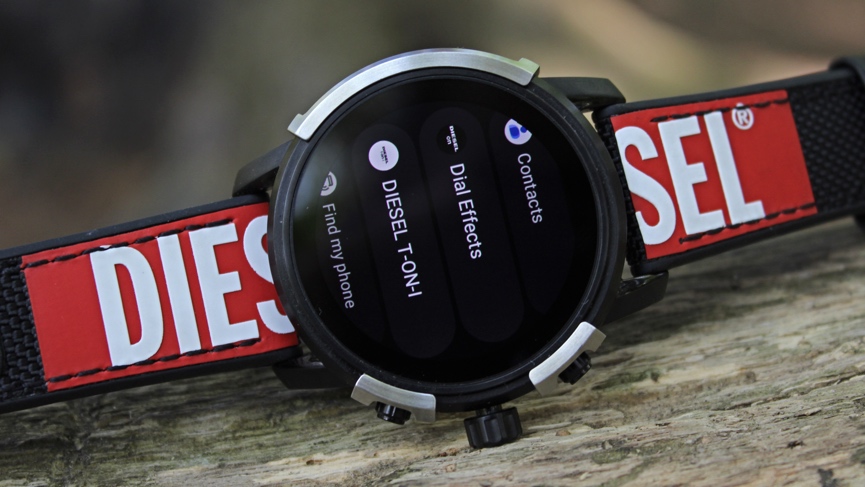 We should also note the fact that the Griffed offers iPhone support, as well, which can't be said for the popular Google Pixel Watch or Samsung Galaxy Watch 5 series.
We tested the Android version of the redesigned Diesel On app, which now looks exactly the same as all of the Fossil Group's brands' apps, and, really, there's nothing to get worked up about either way here.
It's very basic and simply serves as a way for you to tinker with settings a bit more easily.
There are also a couple of exclusive mini-apps that make their way onto Wear OS 3.
These absolutely aren't new, reasons to buy or even get excited, but they do at least add a touch of personality to the software experience.
One is the 'Diesel T-ON-I' app, a kind of daily rundown of your day in the form of a few digestible screens. It works fine, we think, but it's crying out to be used as a Tile instead of being hidden away in an app.
The other is 'Diesel Dial Effects', which are essentially three skins that cover your watch face. Again, we're not sure this needs to be a separate app, but it is an added extra to be aware of.
Tracking accuracy
Wareable
As we've mentioned throughout here, the Griffed is not particularly designed for outdoor excursions. Encouragingly, though, most of what it does track is pretty accurate.
It can't compete with what Garmin and Apple are producing when it comes to GPS or HR accuracy, but it is enough of a reference for those who don't really care about the fine margins.
Let's dive into the core tracking of the Griffed with a few representative examples below.
HR accuracy comparison
Wareable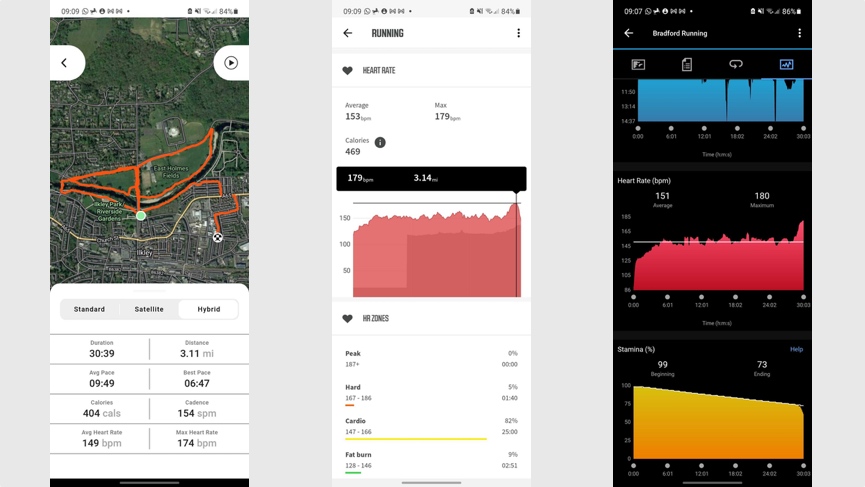 HR comparison: Diesel Griffed Gen 6 (left) vs. Wahoo Tickr X (middle) vs. Garmin Forerunner 965 (right)
Our 30-minute recovery run above is a pretty representative example of what we've found with the batch of Gen 6 watches over the last couple of years.
The heart rate performance is decent when intensity is steady and low, but struggles to adapt to changes quickly and in more intense heart rate zones.
Generally speaking, this skews the post-workout averages so the Diesel would always underreport figures when compared to a chest strap and more accurate watch.
As we say, it's accurate enough to give you a rough idea of your effort, though there are much, much better options at this price.
GPS accuracy comparison
Wareable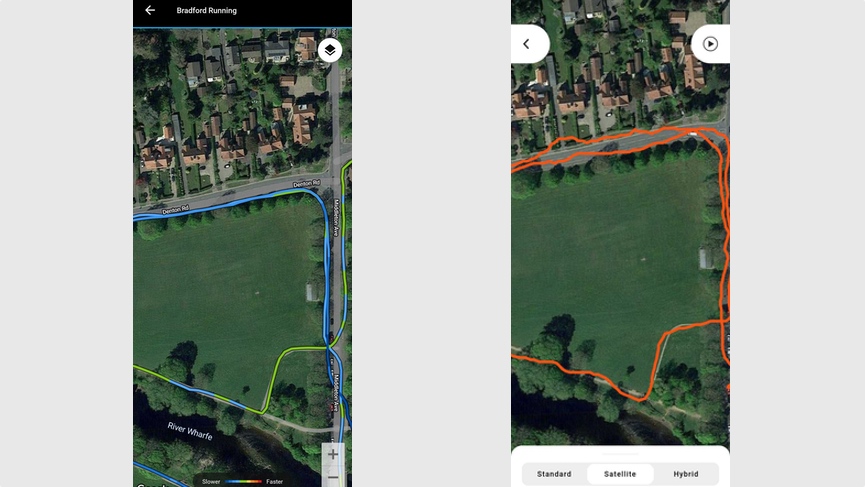 GPS comparison: Garmin Forerunner 965 (left) vs. Diesel Griffed Gen 6 (right)
On each recorded outdoor exercise, the Griffed's GPS tracking would stray from our actual location. Unfortunately, this means distances are always slightly overreported.
Each route is different, of course, but we'd estimate that the Griffed generally adds around 0.1 miles / 0.16km onto every 3.1 miles / 5km. In one run, it also tacked on an extra 0.5 miles to our 6.2 mile / 10km route.
We think this kind of performance is probably fine for those who aren't super concerned with the pinpoint route tracking you'd get from Garmin or Apple, but it is something to keep in mind if you're aiming for specific distances.
Sleep tracking
Wareable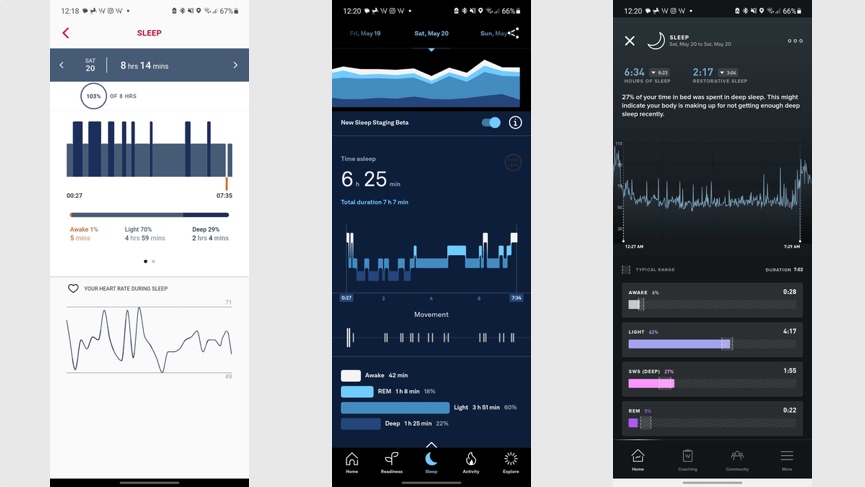 Sleep tracking: Diesel Griffed Gen 6 (left) vs. Oura Ring Gen 3 (middle) vs. Whoop Strap 4.0 (right)
Sleep performance was a little bit more hit and miss - often registering time asleep when we were simply sat at our desk working - with reports also offering very little detail.
The Griffed doesn't concern itself with distinguishing between REM and Deep, which, given the nature of wrist-based sleep stage accuracy, we can forgive, but we found awake times were often slim-to-nil.
Compared to the more accurate-feeling devices we've established baselines with, this was consistently way off. However, light and deep figures, as well as registering when we fell asleep and woke up, were usually pretty decent.
Again, it follows the same theme as the rest of the Diesel's tracking: pretty average, but probably enough for the unfussy to gain some general insights.
Battery life and charging
Wareable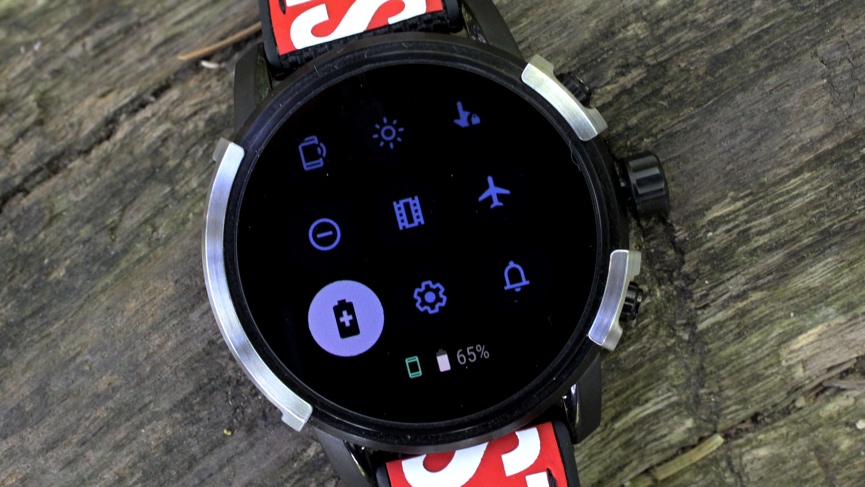 Where Wear OS 3 giveth, it also takes away. And as we've found with other smartwatches running the software, the battery life is a huge sufferer here.
Using the Griffed's always-on display and 'Daily Mode', which we expect most users would have on by default, we found that making it through a full 24-hour period is nigh-on impossible.
Even with scarce interactions with the watch itself - perhaps a couple of Google Wallet payments and regular wrist-raises when notifications come through - will see you struggle to make it through a full day.
As we've noted in other recent Wear OS reviews, it's a really poor showing - especially when these aren't exactly cheap smartwatches.
Wear OS 3 does include an 'Extended Mode', too, and it obviously helps, but even this won't do much to offset the fact your charger will always need to be close by.
Luckily, Diesel has at least included fast charging support here, which genuinely saves this from becoming completely impossible to recommend.
With it, you can go from 0-80% in just over 30 minutes, and we consistently found ourselves topping it up on our office desk to help it limp to the end of the day.
---
---