Wareable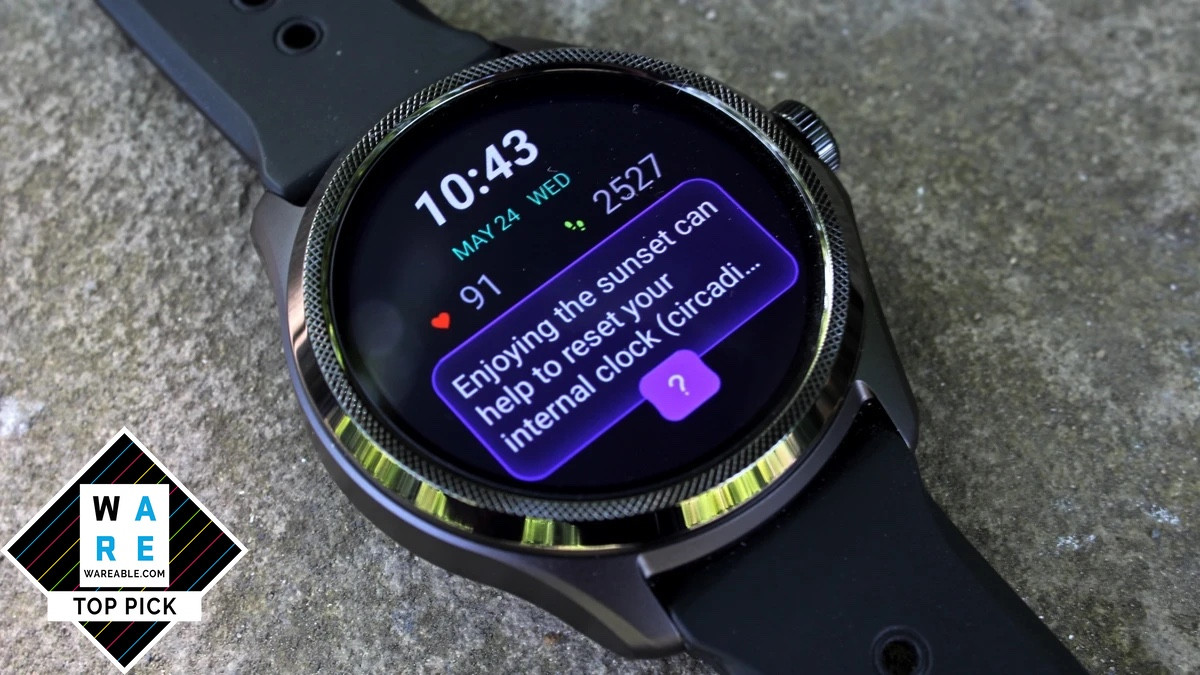 Wareable is reader-powered. If you click through using links on the site, we may earn an affiliate commission.
Learn more
With its superb dual display, true multi-day battery life, and consistent accuracy across the board, it's hard to deny the fact that Mobvoi has delivered one of the best watches of 2023 with the Pro 5. But while minor foibles such as the wild amount of preloaded apps and lack of Google Assistant don't spoil the party, this still isn't a straightforward recommendation. The upcoming Wear OS 4 update and incoming next-gen watches from rivals mean the Pro 5's time at the top could be very short-lived, so proceed with caution if you're hunting down an Android-capable smartwatch.
---
Hit
Display tech is ingenious
Multi-day battery life
Activity and health tracking accuracy
Miss
Likely to be outdated soon
Tons of bloatware
No smart assistant
The TicWatch Pro 5 has been a long time coming. And after an exhausting trail of teasers and leaks dating back to last summer, the latest Mobvoi smartwatch is finally here.
What's more, it's actually proven to be worth the wait. The long battery life, ingenious dual-display tech, and zippy performance propel the Pro 5 to become the best watch for Android owners to own right now.
All hail the new king of Wear watches, then? Well, not exactly.
While this may be the top option to consider in the current market - a world where Qualcomm's Snapdragon W5+ and Wear OS 3 is the ultimate combination - the wildly late arrival has complicated the Pro 5's coronation.
Not only was Wear OS 4 announced just before its eventual launch, with no current timeframe known regarding rollouts, but the impending Samsung Galaxy Watch 6 and Google Pixel Watch 2 announcements loom large here, too.
That doesn't take anything away from the Pro 5's showing here, but it does mean its time atop the throne will likely be short-lived.
Design and display
Wareable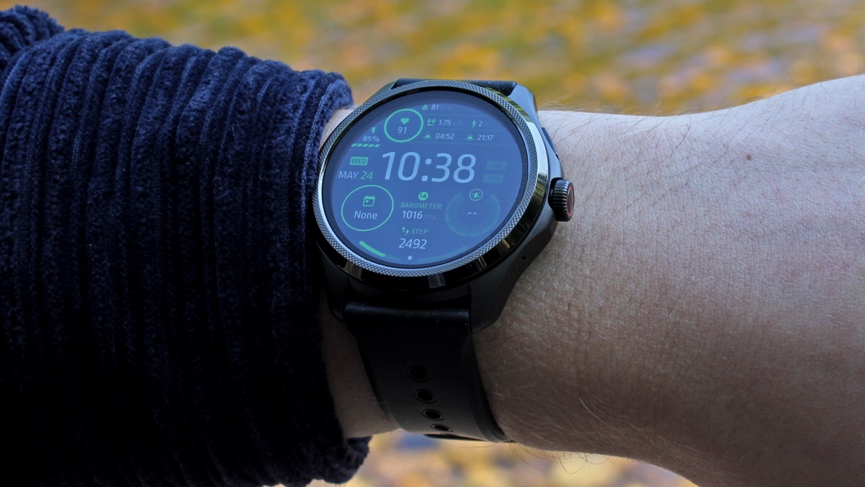 Mobvoi has always kept things pretty simple with the look of the TicWatch Pro line, and it's the same story with the Pro 5.
This means it's difficult to get too excited about the look on the wrist, but, at the same time, we see that there's definite value in a smartwatch with a design this broad.
And while we wouldn't necessarily credit it as being one of the most unisex options out there, it's certainly generic enough to wear for both formal occasions and your daily exercise.
It's also very comfortable on the wrist, despite the spec sheet suggesting the 50.15 x 48 x 12.2mm case would be pretty substantial.
Wareable
A lot of that, we suspect, is due to the case material being aluminum and not stainless steel. Throughout our time with it, the Pro 5 has proved light enough to wear around the clock and also remain free from any bumps and grazes.
While the outer shell lacks some personality, then, Mobvoi has done a good job to add and upgrade some of its design features.
One improvement is the button layout. While the previous generation had a fairly pointy two-pusher array positioned at 2 o'clock and 5 o'clock, Mobvoi has instead opted for a rotating crown and streamlined button above for the Pro 5.
The rotating crown is a revelation, allowing you to speed through menus and notifications streams, and it doesn't suffer from the same lag we've found with other Wear OS watches with the same design feature.
Then there's the trademark TicWatch dual-display technology. We loved the company's innovative, power-saving approach to offering an always-on display in the previous generation, and it works even better here thanks to a couple of upgrades.
Wareable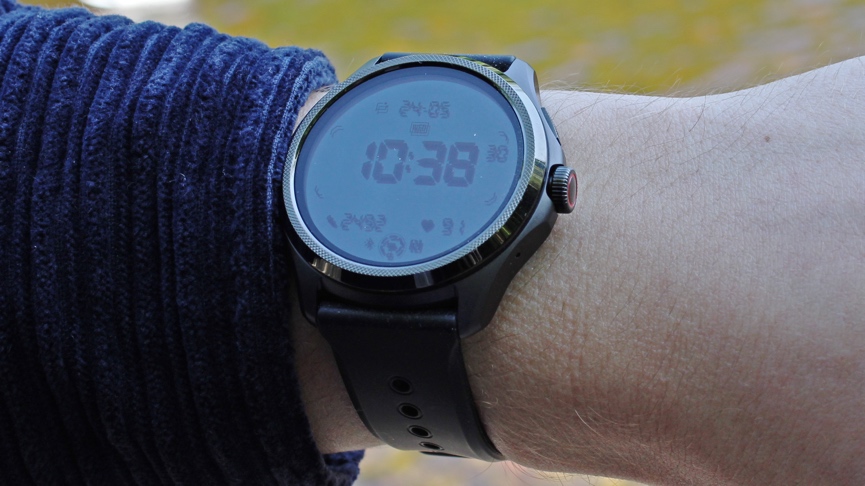 This Ultra Low Power (ULP) display now works with the rotating crown to display different tiles to users, meaning you can easily cycle through calorie burn, heart rate, and blood oxygen data without waking the OLED display up.
The main always-on screen still includes the time, step counts, day and date, battery level, and connectivity status, too, as shown above.
During exercise, it also has a really neat trick up its sleeve, switching the colors of the backlight to give you an at-a-glance view of which HR zone you're in.
Overall, we love the direction Mobvoi has taken here. It doesn't feel like the most premium or outlandish smartwatch available at this price, but it's incredibly intuitive, fun, and easy to wear.
Wear OS 3 and Snapdragon W5+
Wareable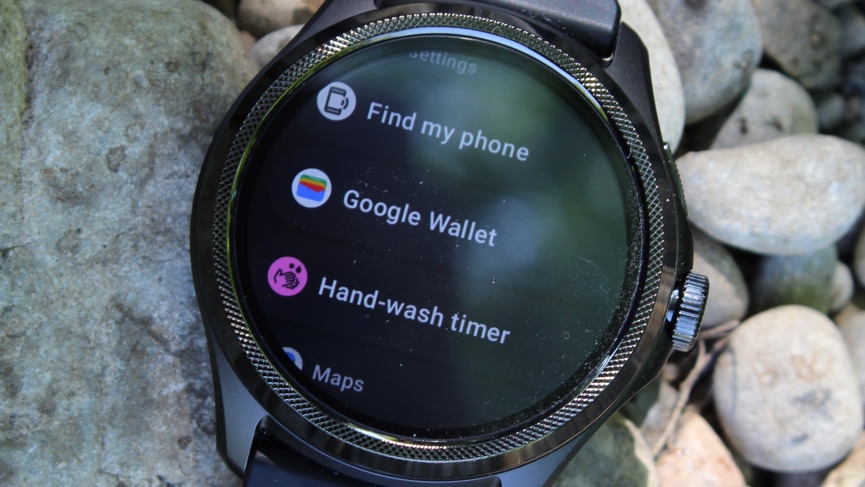 While the design changes are certainly notable, it's the upgrades to the processor and software that are the Pro 5's most promising assets.
Performance is a considerable upgrade on the previous-gen Snapdragon 4100 platform - or, at least, is a much better fit for Wear OS 3.
We've not used an Android watch as quick to snap between menus as the Pro 5; it's finally like using an Apple Watch, where every touch results in an instant response.
There's no lagging when scrolling through notifications, apps open within 1-2 seconds, and details load without any real delay.
We've never found significant issues on TicWatch models that ran Wear OS 2, to be fair, but we have used Wear OS 3 devices with the old-gen Qualcomm processor that feel quite a distance behind this.
Wareable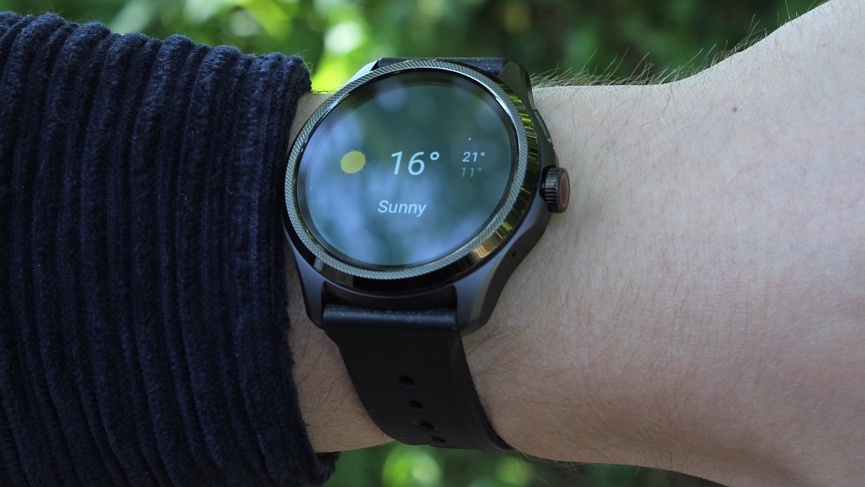 The upgrade to internals and software means the Pro 5 is now roughly in line with top-tier devices Samsung Galaxy Watch 5 or Google Pixel Watch, and Wear OS 3 itself continues to get better all the time.
We now have an app ecosystem that includes seamless Spotify and WhatsApp integration, with Google's own suite of apps - like Maps and Wallet - now infinitely more useful and easy to use than when we last tested a TicWatch.
The only omission here is the lack of Google Assistant - or, indeed, any other smart assistant alternative - which is a shame.
We're also semi-concerned about when the Pro 5 will receive the Wear OS 4 update coming later this year, given how long Mobvoi has taken to get up to speed with Wear OS 3, but the early signs suggest that this is a highly competent smartwatch regardless.
As we alluded to up top, there are also upcoming smartwatches from Samsung and Google to be aware of.
Activity tracking and health features
Wareable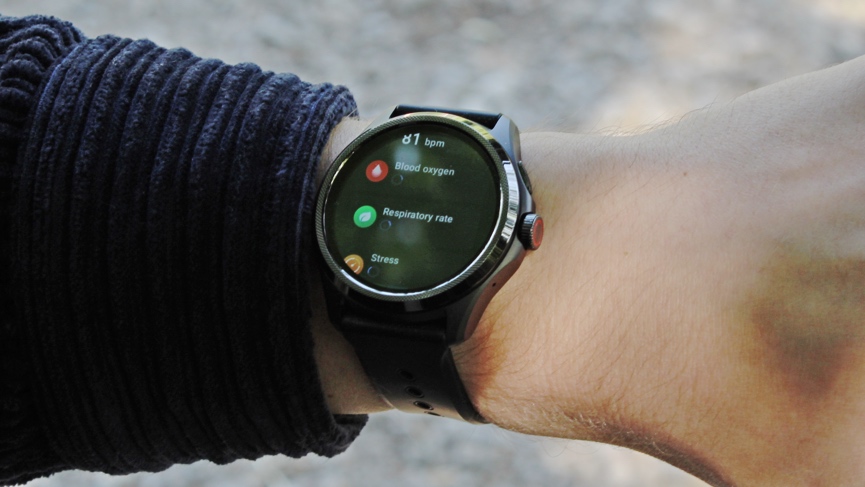 There are an absolute ton of new health and tracking features included on the Pro 5.
Mobvoi has added recovery time estimates, VO2 Max predictions, Multi-GNSS, a compass, and a barometer for those who were hoping for a bump in workout tracking performance, while both open water swimming and trail running profiles have been added to a list that includes over 100 different activities.
A 'One-tap measurement' app also gives users a snapshot view of their heart rate, respiratory rate, stress levels, and blood oxygen, with sleep tracking also adding skin temperature and an array of sleep reports.
These are all welcome additions, though there's also a considerable amount of bloatware included here.
Wareable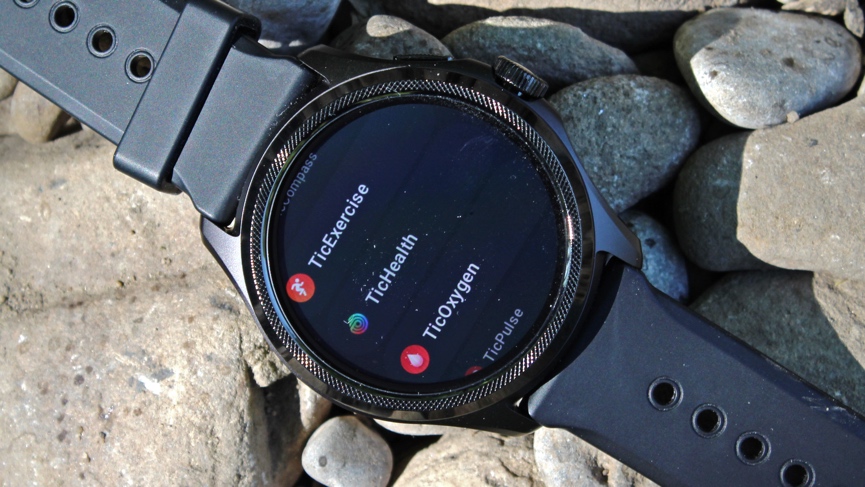 We're not sure we've ever tested a watch with so many proprietary apps.
We respect the fact that some people want to view everything from the wrist, but Mobvoi's inability to group a few of these together is odd.
Trying to just set up a simple outdoor run with TicExercise, as a result, can mean wading through and trying to pick it out of a list that also includes TicBarometer, TicBreathe, TicCare, TicCompass, TicHealth, TicOxygen, TicPulse, TicSleep, and TicZen.
Still, at least the data collected is pretty accurate. Blood oxygen readings, GPS accuracy and VO2 Max estimates were always living within healthy ranges we've come to expect - as were HR monitoring and sleep tracking, shown below.
Heart rate monitoring
Wareable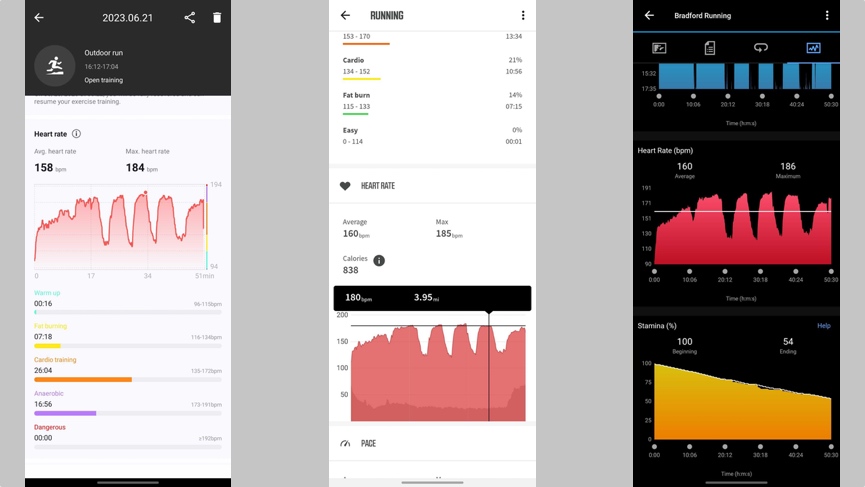 HR comparison: TicWatch Pro 5 (left), Wahoo Tickr X (middle), Garmin Epix 2 Pro (right)
We've put the Pro 5 through the wringer with plenty of interval sessions, recovery plods, and strength sessions over the last month, and, generally speaking, the accuracy is very solid.
We don't think it's quite as consistent as Apple or Garmin's devices - or a chest strap - but the figures are right where you'd expect them on most occasions.
It didn't particularly struggle in real-time to catch up to our own 'feels-like' HR, or the figures being reported on our other wearables, and averages were only a few beats off at the end of a workout.
We will say that it consistently leaned more on the conservative side in our maximum HR zone, which means averages tended to be slightly less than on our Garmin and chest strap, but this performance is hard to really condemn.
We've got multiple examples akin to the one shown above, in which all three devices were right in a neat range of each other.
No complaints here, then, and a heart rate accuracy showing that's probably as good as we've ever seen in a Wear OS watch.
Sleep tracking
Wareable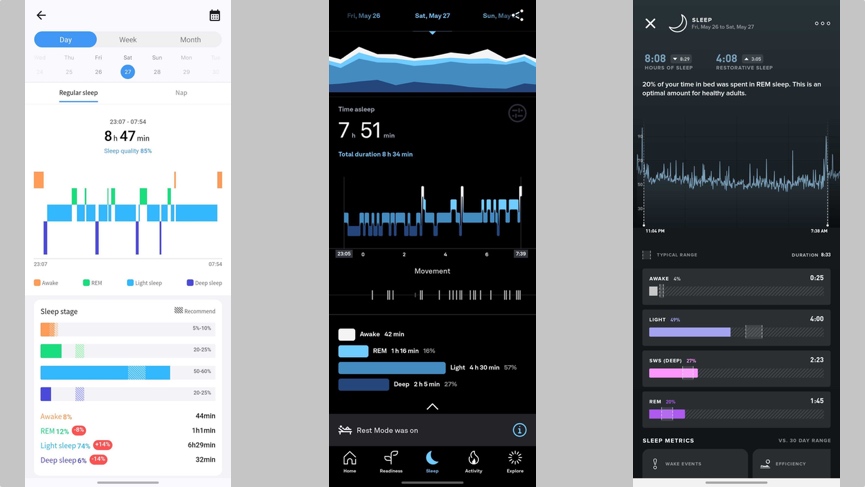 Sleep comparison: TicWatch Pro 5 (left), Oura Gen 3 (middle), Whoop 4.0 (right)
We wouldn't rank the Pro 5 as one of the best sleep trackers on the market in terms of accuracy, with stages data deviating a bit from what we see from Oura and Whoop, but the overall insights are good.
Among your nightly sleep report will be blood oxygen averages, respiratory rate info, skin temperature fluctuations, and graphs that show how your rest compared to previous days.
With the time in bed almost always in the right area, and no false naps being tracked, those slightly elevated light sleep figures can be forgiven.
We only wish there was more in the way of recovery insights to dive into, but these only really exist after you've logged exercise.
Battery life and charging
Wareable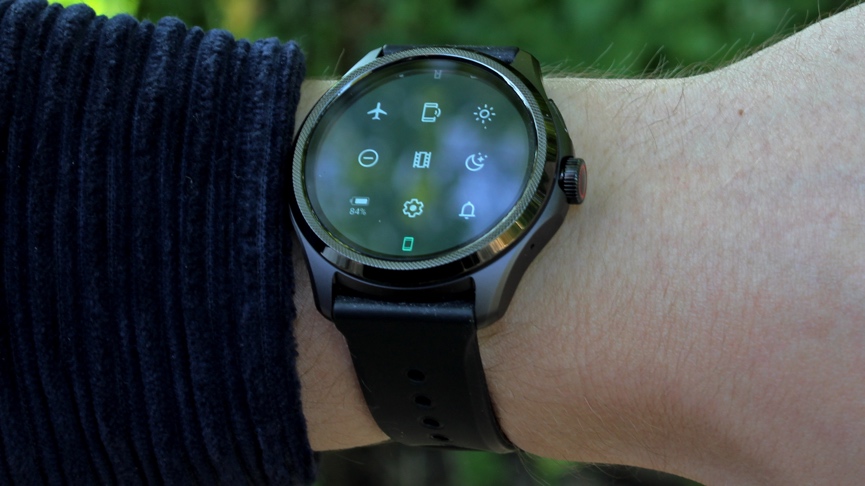 Sleep comparison: TicWatch Pro 5 (left), Oura Gen 3 (middle), Whoop 4.0 (right)
The TicWatch Pro line has always been one of the better performers when it comes to battery life, and the move to Snapdragon's latest platform appears to have yielded even more positives in this area.
Far removed from some of its Wear OS rivals that struggle to make it through 24 hours, the Pro 5 is easily the longest-lasting Android watch we've ever tested.
With default settings and moderate use, the daily drop-off has so far proven to be around 20-30%, which would see it far outlast both the Pro 3 Ultra model and more recent watches from Samsung and Fossil.
Charging is also breezy, with Mobvoi's claimed 65% bump from 30 minutes proving about right. It means you can allay any battery anxiety by quickly gaining enough juice to head out for an hour of running while listening to Spotify, so we're pleased with this one.
Naturally, this longevity takes a big hit if you tweak the always-on display settings, but, even then, you're still able to eke out around 2-3 days.
It makes the Pro 5 the new standard setter when it comes to Wear OS battery life, and it's perhaps the biggest hurdle Samsung and Google have in supplanting the Mobvoi smartwatch at the top.
---
---