Wareable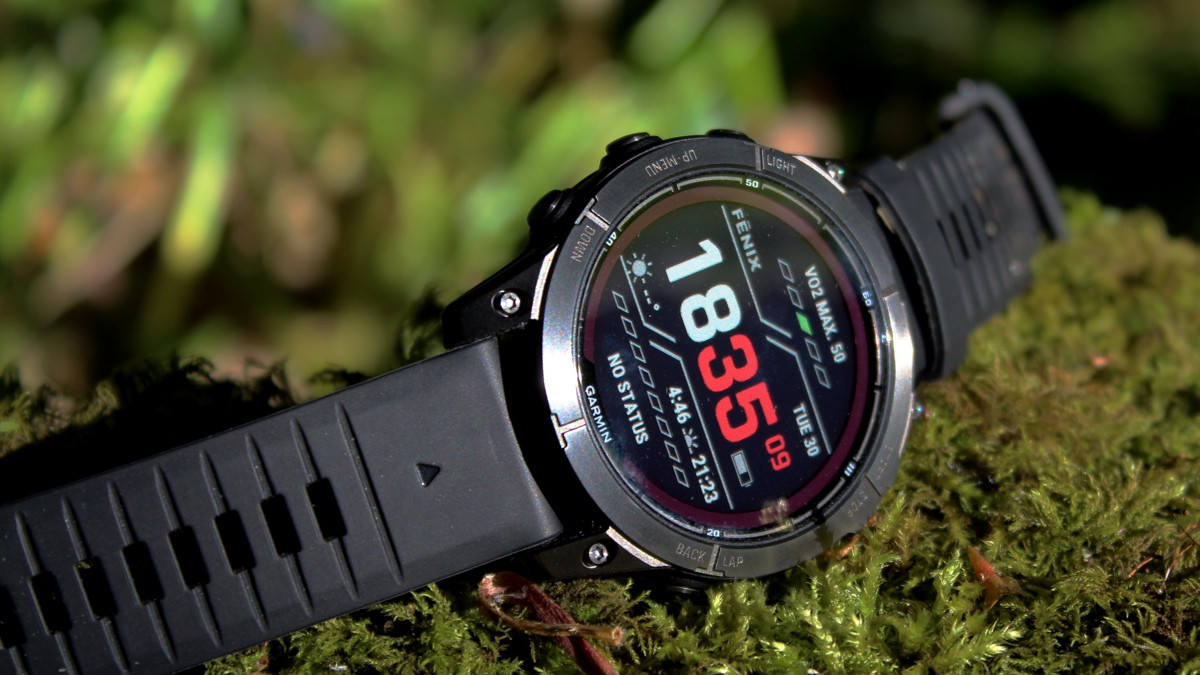 Wareable is reader-powered. If you click through using links on the site, we may earn an affiliate commission.
Learn more
While mid-cycle updates like the Fenix 7 Pro aren't ever as exciting as true new-gen releases, Garmin has sneakily refined a couple of core aspects of its well-known outdoor watch range.
The flashlight feature that debuted through the Fenix 7X is now available on all sizes of the Pro edition, while a handful of new software features ensure Garmin's insights remain unparalleled.
The big change, however, is the inclusion of an all-new new 'optimized' heart rate sensor array. Garmin isn't branding this as the next generation of its Elevate technology, but it does suggest accuracy will be improved.
The trusty memory-in-pixel (MIP) display has also been upgraded, the company says, though the more vibrant AMOLED panel is still reserved for the Epix (Gen 2) and new Epix Pro (Gen 2).
We've only had the Fenix 7 Pro on our wrists for a few days, and still have plenty to test before we form our final verdict, but initial wear suggests performance is typically brilliant.
That's not to say the Pro upgrade is recommended without caution, though, as we'll explore below.
Quick look features:
Sport-specific optimized HR sensor
Endurance score
Hill Score
Flashlight on all models
42/47/51mm versions
Early verdict
Though we're yet to fully flesh out our testing, initial tests show that Fenix 7 Pro is a minor but worthwhile update.
The all-new optical heart rate monitor setup appears to yield more accurate results, while broader flashlight support and a couple of new software insights are definite nice-to-haves.
The biggest issue with the Fenix 7 Pro isn't really anything to do with the performance, but the increasingly crowded nature of Garmin's top-end lineup.
The Fenix 7 Pro is sandwiched by the Forerunner 965 and Epix Pro (Gen 2), both of which feature much better displays, and it means the lineup is now much harder to recommend than previous generations.
When you consider the standard Fenix 7 range and Epix (Gen 2) are now much cheaper, too, we think the number of potential 7 Pro owners shrinks even further.
Design and display changes
Wareable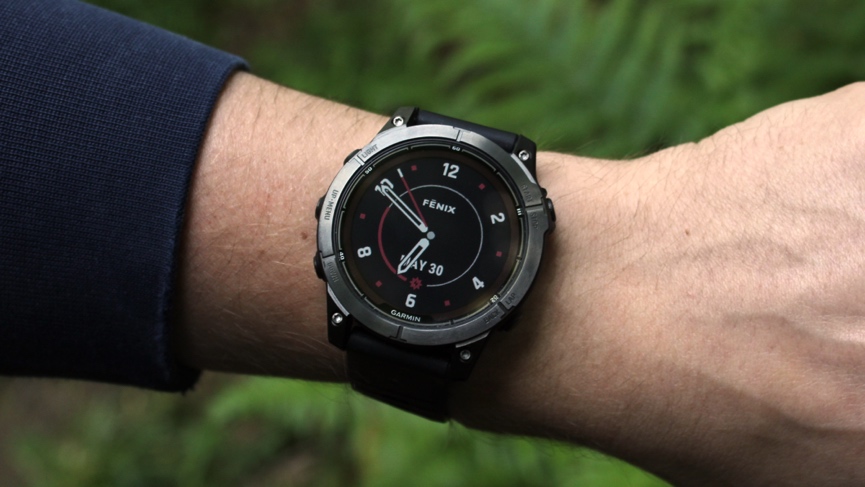 As you would expect, the Fenix 7 Pro looks almost identical next to the standard Fenix 7.
Considering we never really see big design shifts with these mid-cycle updates, however, Garmin has actually changed quite a bit - at least on paper.
Not only is there a more ubiquitous flashlight, which we'll come onto below, but the solar charging feature is now standard across all models, too.
We're still not totally convinced it makes any kind of meaningful difference to battery longevity, but we do think it's a solid move to make it available as standard, rather than something you have to pay extra for (as with the Fenix 7 range).
Wareable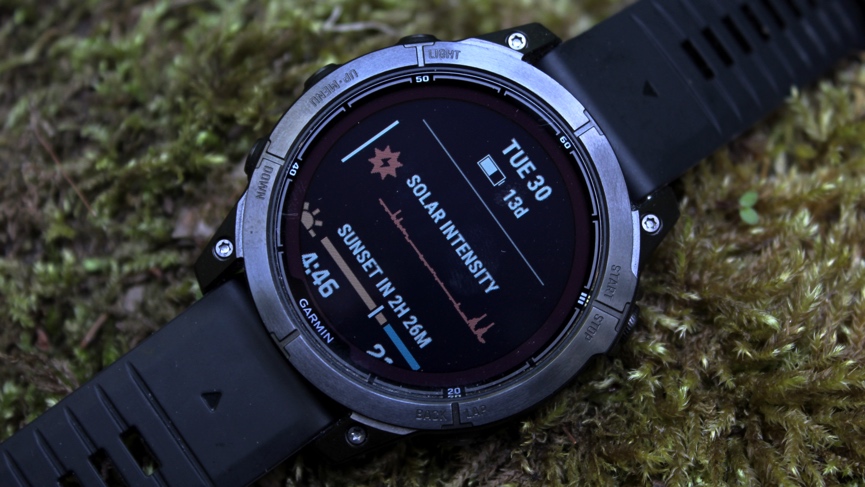 The improved (MIP) display has also been slightly tweaked here.
Garmin has redesigned the pixels and backlight here to try and improve readability - all while keeping the 7 Pro just as power efficient. And while it does achieve this, we think you'd also be hard-pressed to really spot the differences between this and the Fenix 7's screen.
The fact remains that MIP sorely lags behind an AMOLED equivalent in readability in bright or low light conditions, and the battery life gains you gain from having this more power-efficient technology just aren't really significant enough to matter, we don't think.
We still feel the rest of the 7 Pro's design is elite, offering a superb blend of comfort and durability in three different case sizes, but it feels like a poor relation when next to an Epix Pro (Gen 2).
Unless you can't abide by brighter displays, this difference immediately makes the 7 Pro (and, by extension, the standard Fenix 7) harder to recommend - especially with the Forerunner 965 available for less.
Heart rate monitor testing
Wareable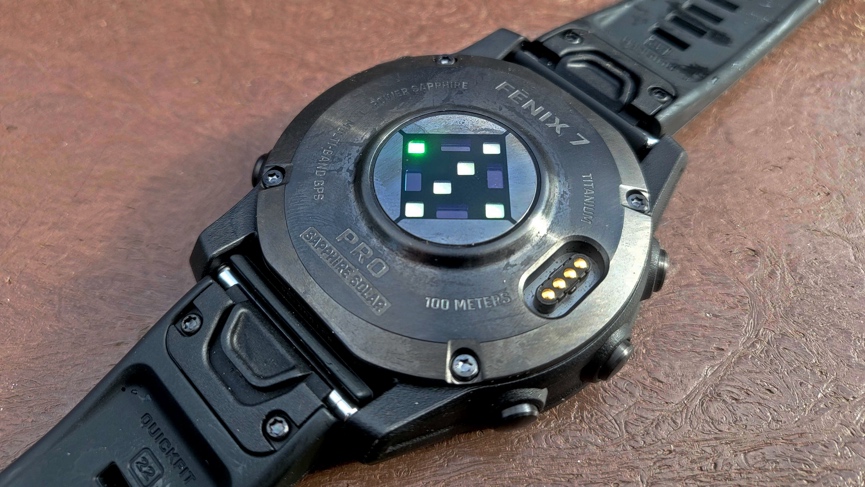 We've only managed to take the 7 Pro for a few spins so far, but it's already proven it can remain tighter to a chest strap than the Elevate V4 sensor that appears on the Fenix 7 range, and new models such as the Forerunner 265.
In fact, in an interval session that featured 10 sets of 30-second sprints followed by 60 seconds of walking, it delivered identical final averages to the Wahoo Tickr X.
The Forerunner 965 on our opposing wrist, meanwhile, suffered from a slight hiccup on one set that skewed its overall averages.
Wareable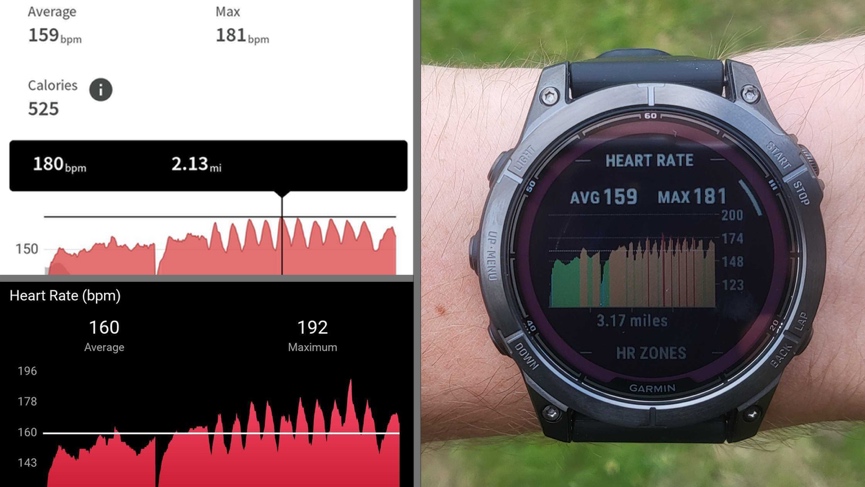 It's early days here, but the updated layout also appears to result in the 7 Pro responding to changes quicker than Elevate V4, as well - something which has been our only real gripe with the sensor previously.
When we finished an interval set on a run or in the gym, it was a few seconds quicker to respond to our beats per minute lowering (roughly in line with the chest strap) - and was also quick to spot increases midway through a set.
We're interested to see if this remains consistent after more testing, as well as whether performance varies in different sports profiles, as Garmin suggests it will. Initial signs are encouraging, though.
New software features
Wareable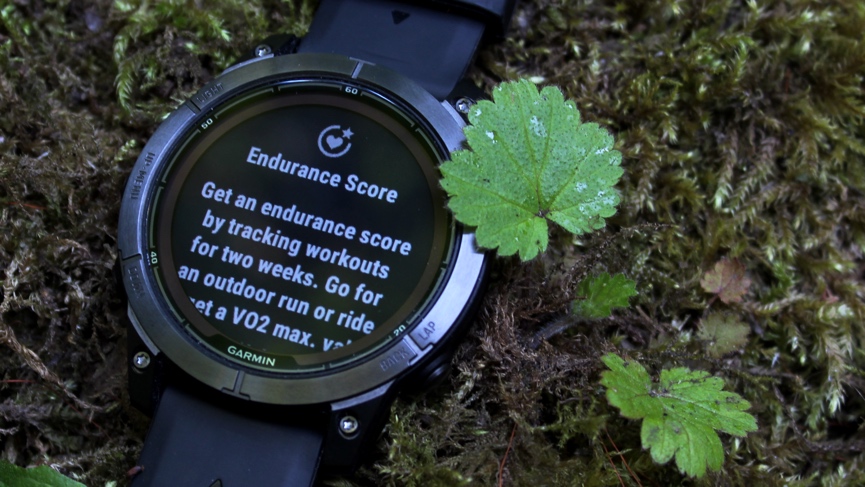 The 7 Pro is the beneficiary of a couple of new Garmin features - Endurance Score and Hill Score - though these both require two weeks of full-time wear in order to appear, which means we're yet to see how useful they can be.
Endurance Score can be used to measure how easy it is to sustain prolonged efforts, with this personalized by taking a user's VO2 Max, Acute Load, and Chronic Load into account, while Hill Score is a simple gauge of how well you're able to run uphill.
Wareable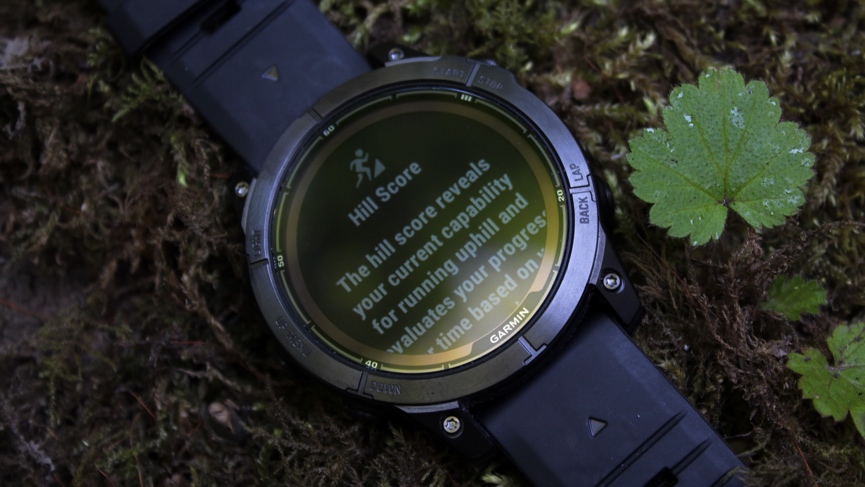 The 7 Pro assesses your running power on steep climbs and running endurance during long ascents, with this again crossed with VO2 Max data and training history.
For those who require mapping and navigation smarts for their outdoor exercise pursuits, new weather map overlays ensure easier viewing of upcoming conditions, while relief shading makes it easier to digest topographic maps.
We'll be testing these out in proper use over the coming weeks, with Garmin's Up Ahead also being added for the 7 Pro.
Flashlight delight
Wareable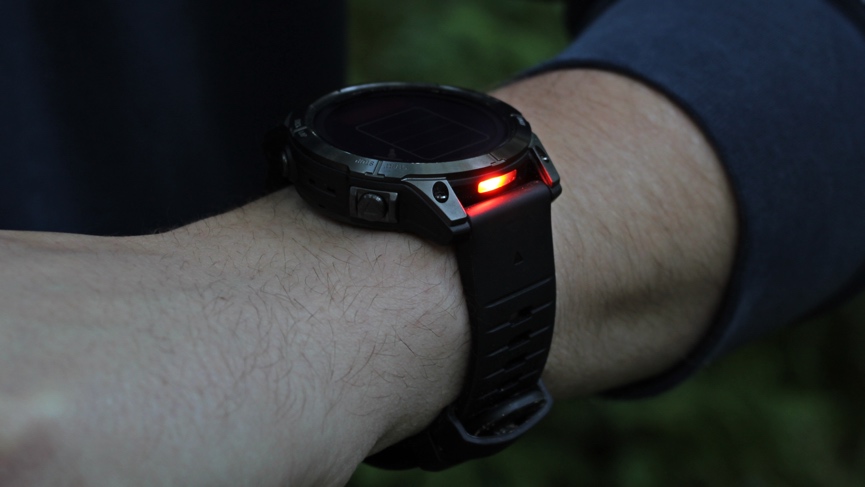 Once a Fenix 7X exclusive, the built-in torch is now available on every Fenix 7 Pro and Epix Pro 2 model.
It's a really welcome addition, too, meaning that you don't have to own the biggest and heaviest Fenix in order to take advantage of the safety function.
It still works as before, meaning it can be quickly accessed via a double-tap of the 'Light' button, with it also incorporated into workout tracking.
We've not had the chance to test it out during nighttime exercise just yet, but we will say that it comes in handy much more than we initially imagined it would - even if it's just for menial tasks like taking the bin out at midnight.
Our only real concern with the flashlight is the potential to accidentally turn it on, as we found when testing the Instinct 2X.
You can configure it nicely to work with different sports profiles, and you get plenty of choice over how it works here, but the same level of control in how it's initiated in general use would also be helpful.
---
---