Wareable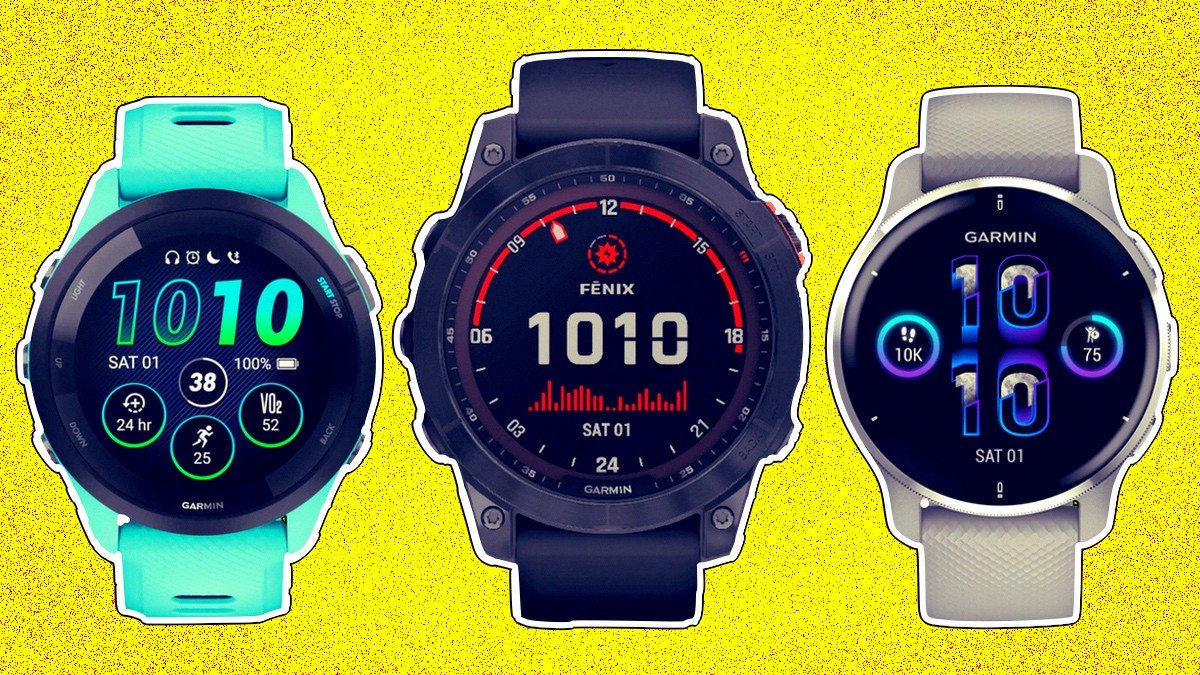 Wareable is reader-powered. If you click through using links on the site, we may earn an affiliate commission.
Learn more
The number of Garmin running and fitness watches continues to grow all the time, making the task of choosing a suitable device for your needs a difficult one.
The good news is the line-up is so crowded, there's a Garmin for every person, and every price point. But the issue is picking apart the range and understanding the increasingly subtle differences.
Our recommended Garmin GPS watch for new runners is the Forerunner 55, while intermediates will be best served with either the Forerunner 265 or Forerunner 965.
The Garmin Fenix 7 and Epix (Gen 2) series are the best multisport watches, and they come in a range of case sizes, but the price tag means they won't suit everyone – and the Instinct 2 (and 2X) make brilliant alternatives.
And if you're looking for the best Garmin smartwatch, we'd plump for the brilliant Garmin Venu 2, as well.
The breadth of Garmin's range means there's something for everyone, regardless of your budget. Below, we've tried our best to explain each of Garmin's running, outdoor, and multi-sport watches.
Quick look: Our top picks compared
Best for beginner runners: Garmin Forerunner 55
We love the simplicity of the Forerunner 55 and the size. It's so thin and light – even more so if you choose the smaller version. And there's still plenty for newbie runners to progress into, with VO2 Max tracked in the Garmin Connect app. If you're looking for comfort and simplicity – this is the device for you.
Best for PB hunters: Garmin Forerunner 265
The Forerunner 265 will suit most people and is now a great alternative to the Apple Watch with a beautifully crisp AMOLED display, decent battery life, and a wide range of features - including in-depth training analysis and adaptive training plans - keen runners, cyclists, and swimmers are well catered for with this one.
Best Garmin smartwatch: Garmin Venu 2 Plus
The Venu 2 offers a jack-of-all-trades Garmin sports tracking experience, with a slick AMOLED display that should satisfy those lusting over an Apple Watch or Samsung Galaxy Watch. Its many health features and strong sports tracking line-up, and the Venu 2 Plus has been bolstered by the inclusion of an FDA-certified ECG sensor.
Best multisport watch: Garmin Fenix 7
The king of multisport watches, the Fenix 7 range is almost untouchable. It offers the best of all Garmin sports watches in one and is supercharged for runners, triathletes, and golfers. The Fenix 7S also offers the experience in a much more comfortable package – and the Epix brings an AMOLED display.
Just in: Garmin Fenix 7 Pro and Epix Pro
Wareable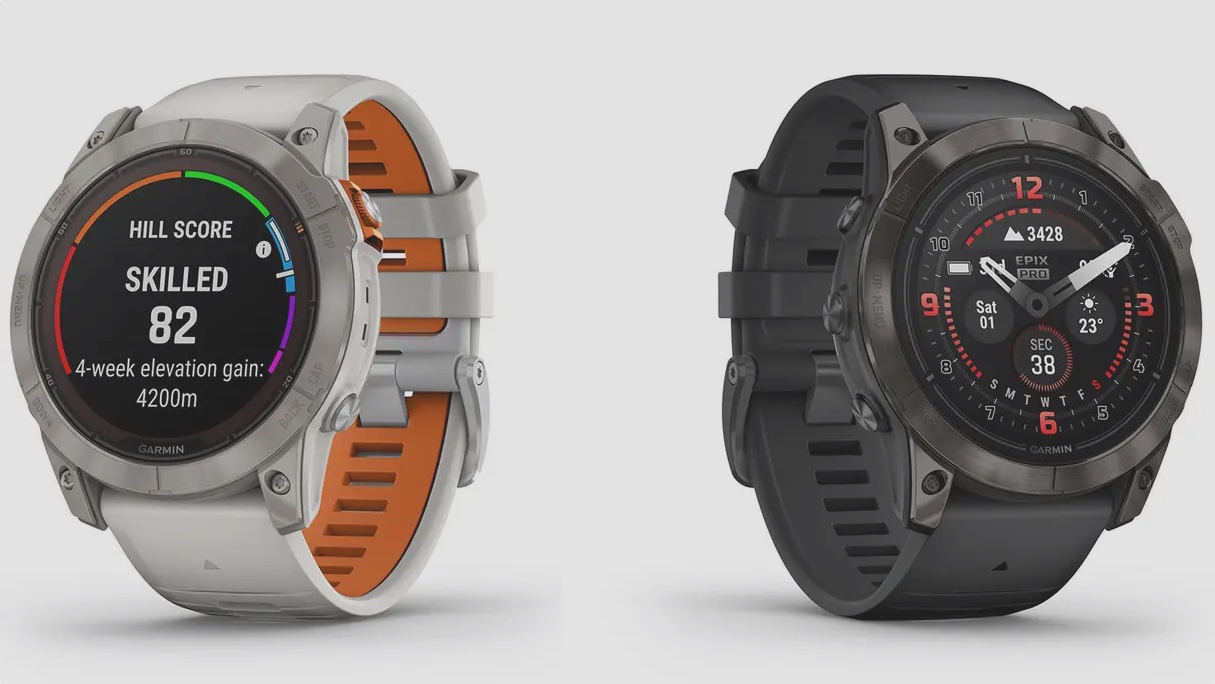 Sport-specific optimized HR sensor
Endurance score
Hill Score
Flashlight on all models
Solar on all models
42/47/51mm versions
Garmin has just announced the Garmin Fenix 7 Pro (starting at $799/£749) and Epix Pro (from $899/£829) – offering an even more powerful smartwatch at the top of its range.
Both the Fenix 7 Pro and Epix Pro add a new heart rate sensing module (but not Elevate 5) for improved performance, and the flashlight/solar is present across all models and sizes.
And the Epix Pro is available in three sizes (51/47/42mm) where the standard version only came in 47mm.
There are new metrics on board too, with new Endurance Score and Hill Score analysis of running performance – but it's worth noting that Garmin has confirmed these will roll out to the existing Fenix 7 models.
So who are these for? Those coveting an Epix/Fenix but wanting the flashlight or better heart rate performance, and are willing to pay a $100/£150+ premium on the standard models. That's a small subset we'd imagine.
We're currently finalizing our battery and advanced testing.
Best Garmin running watches
Garmin's running watches aren't just about running. Most will track other kinds of sports too, including cycling, and pool swimming, and offer a general cardio mode to cover other activities. All the company's fitness watches are now water resistant, too.
Put simply, the Forerunner range is huge. The more expensive the watch generally means the greater the battery life, more advanced analytics based on heart rate, and the ability to store/listen to music. Here are our picks.
---
Garmin Forerunner 265
Wareable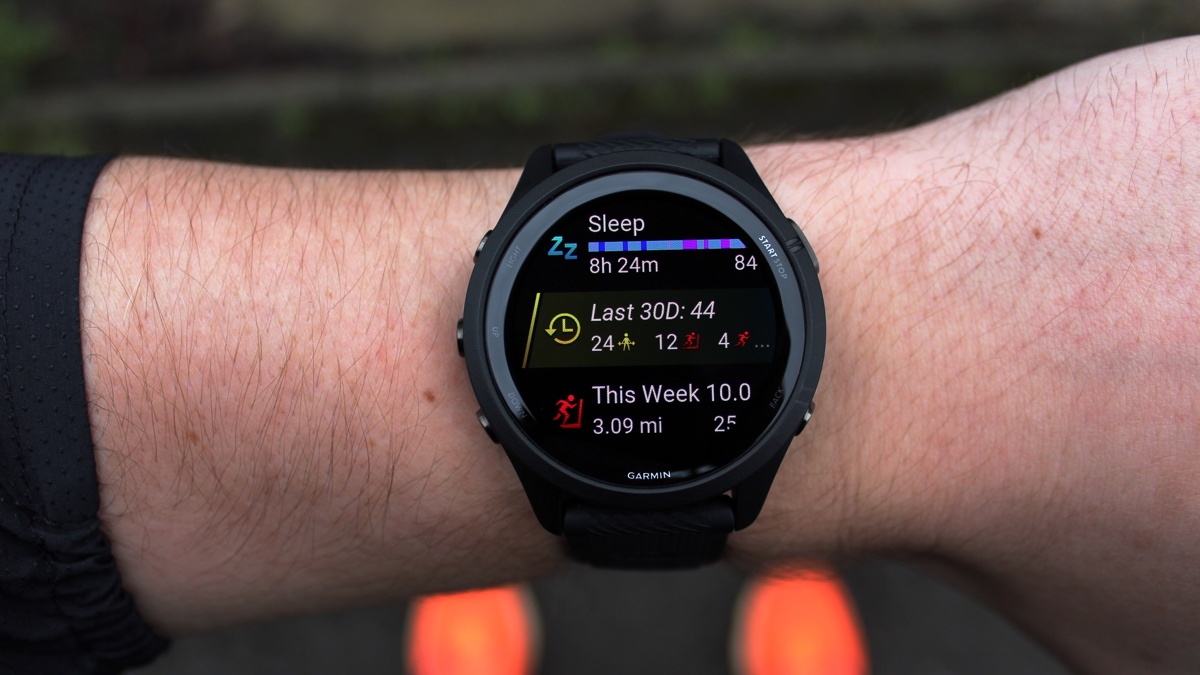 squirrel_12891315
Check price: Buy Garmin Forerunner 265
The Forerunner 265 acts as a superb mid-point in the Garmin sports watch range, making it a great fit for intermediate and advanced exercisers looking for something to help boost their training. It comes in a 46mm case size as standard, with the 41mm 265S variant a more unisex option and a great fit for females.
Not much has changed from the last generation, which is to be expected with just a nine-month gap between releases, but the key change - the introduction of an AMOLED display - is glorious.
It completely changes the on-watch experience, with the new UI making tracking training and interacting with features like Morning Report, Training Readiness, Training Status, and Race Calendar an even bigger joy than they were in the last generation.
In our testing, Garmin's Multi-Band GPS/GNSS performed typically well - even in built-up areas - and the heart rate performance continues to compare very well to a chest strap.
The battery life has taken a bit of a hit with the move to AMOLED - now offering around four days of heavy usage between charges, as opposed to 10-12 with the Forerunner 255 - but Garmin is still well ahead of the pack in this regard.
And there's also plenty of opportunity to eke out even more if you turn the always-on display off. Those who don't care about that fancy new screen can always save some cash and pick up the Forerunner 255, as well.
This isn't necessarily the worst idea, either, with the Forerunner 265 launching at a higher price than its predecessor.
We love…
The AMOLED display
The value is hard to beat
Superb accuracy in our testing
We don't love…
Not too different from the 255/255S
Battery life much less than predecessor
Smart features are minimal
Read our in-depth Garmin Forerunner 265 review
---
Garmin Forerunner 965
Wareable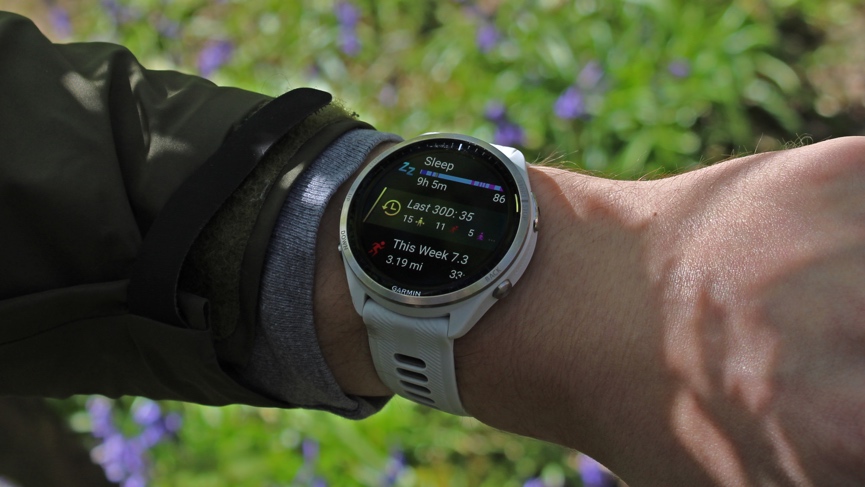 squirrel_12891316
The 965 is the most advanced Forerunner in Garmin's lineup - and is now even more premium with the move over to AMOLED.
It's not too dissimilar to the cheaper Forerunner 265 (above), but there are some subtle differences that make it a great fit for those put off by the price of the Fenix/Epix range - or those who just want something lighter and easier to run, cycle or swim with.
In terms of features, it's a very similar experience to what you'll find with the last-gen Forerunner 955, with that display being the biggest difference between the two.
The bright and punchy screen does mean battery life has dipped slightly, but Garmin has still done very well here; the Forerunner 965 is able to power around 6-8 days of relatively heavy training in its always-on mode, which blows the competition out of the water.
It's as feature-packed as it gets, too. Garmin's full gamut of extras - including beautifully crisp offline mapping and access to pre-loaded golf courses - joins the list of focused and detailed running, cycling, and swimming insights.
It's also incredibly accurate. In our extensive test, we found the GPS accuracy, heart rate monitoring, sleep tracking, and plenty more line up with our expected baselines from some of the most accurate wearables on the market.
It all combines to make the Forerunner 965 a great pick for those who want something just a little extra to the 265. And for those who aren't overly fussed about the display upgrade, you can take advantage of slightly better battery life and the cheaper price of the Forerunner 955.
We do have some slight concerns about the durability of the display and titanium bezel, so think carefully if you're choosing this one over a Fenix/Epix, but know the rest of this package is hard to beat.
We love…
The AMOLED display
Battery life performance
Unrivaled tracking accuracy across the board
We don't love…
Prone to bumps and scratches
Not too different from the 265
Smart features are quite basic
Read our in-depth Garmin Forerunner 965 review
---
Garmin Forerunner 55
Wareable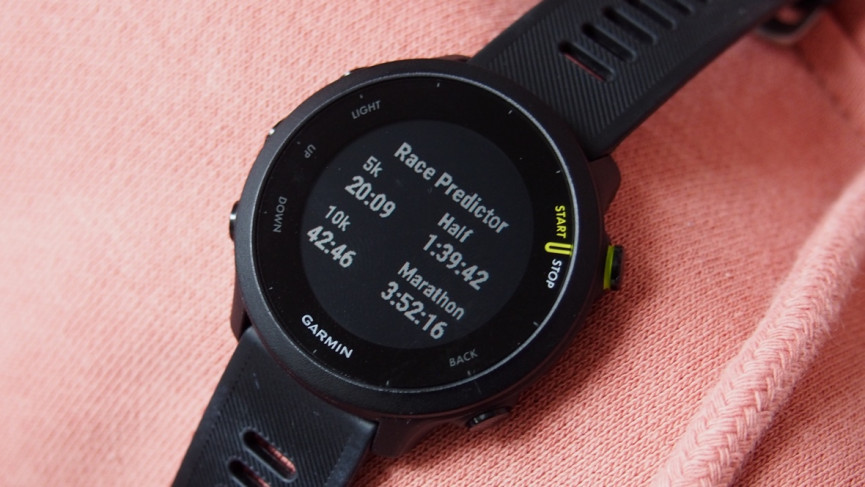 squirrel_12862581
The successor to Wareable favorite the Forerunner 45, the new Forerunner 55 takes the same small and comfortable running watch and adds a load more advanced features for runners, making it an even better all-around running companion.
In addition to tracking core metrics like pace, time, and distance – there are also metrics for cadence. What's more, there's also a cadence alert, which will notify you if your steps per minute land outside of your desired target.
Garmin has included support for Garmin Coach, which means you can do guided run workouts from the wrist for distances like 5k and half marathon distance.
It's now inherited Garmin's PacePro pacing strategies feature, which has previously needed mapping support to put it to use. While the Forerunner 55 lacks those mapping features, it is still able to make use of PacePro to help tackle races.
There's a renewed focus on recovery, and the Forerunner 55 will advise you on how long to rest after a session. It also offers daily suggested workouts based on logged sessions, the useful race predictor and unlike the 45, has full Connect IQ Store access.
It's a much more advanced feature set than the Forerunner 45. Although we loved the simplicity of its predecessor, there's a lot more for runners here than before.
In-depth: Read our full Garmin Forerunner 55 review
---
Garmin Forerunner 35
Wareable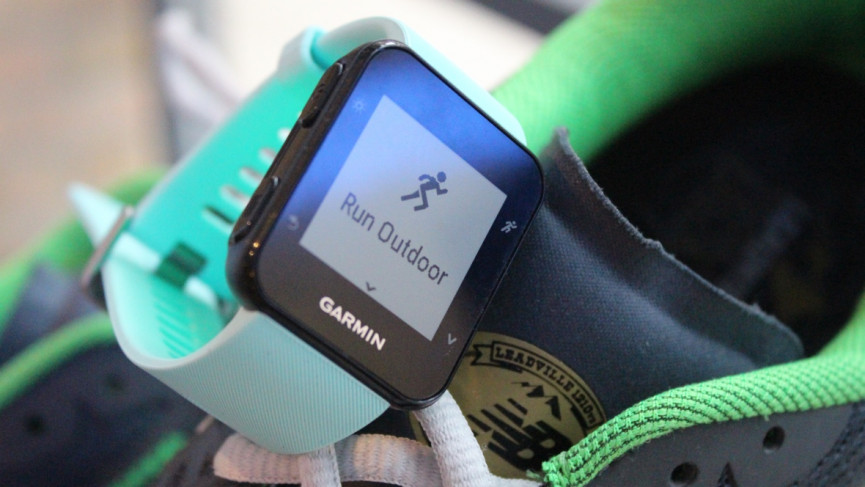 squirrel_12862582
The Forerunner 35 has been upgraded in the shape of the Forerunner 45 and 55, and a quick look on Amazon shows minimal price differences between the two. However, if you spot a deal, we can see the appeal.
Ideal for beginners, couch to 5k-ers, and those who want a little more info on their regular runs without being overwhelmed by data, it also has activity tracking, bridging the divide between an inexpensive tracker and a serious sports watch.
It packs in all the bare essentials for runners: distance, pace, time, calories, splits and an optical heart rate monitor. Plus, it also delivers smartphone notifications to your wrist.
That's everything you need if you're a recreational runner who just wants to keep tabs on how far and fast you've gone. And it even does smartwatch notifications and better-than-basic fitness tracking, including tracking resting heart rate.
So what don't you get? There's not a wide range of other sports – just running, swimming, and biking – and the data is simple. You won't get insights into the training load, the effect of sessions, or recovery. Also, things like cadence are out as well.
But, if you're thinking about moving beyond tracking runs on your phone, this is the next step up.
We love…
We don't love…
Ugly as sin
Light on features
In-depth: Read our full Garmin Forerunner 35 review
---
Best Garmin multi-sport and triathlon watches
Whether you're a seasoned Ironman (or Ironwoman), dabbling in triathlon, or you just hate to be pigeonholed into one sport, these are the Garmin watches you need.
---
Garmin Fenix 7 (and 7S / 7X)
Wareable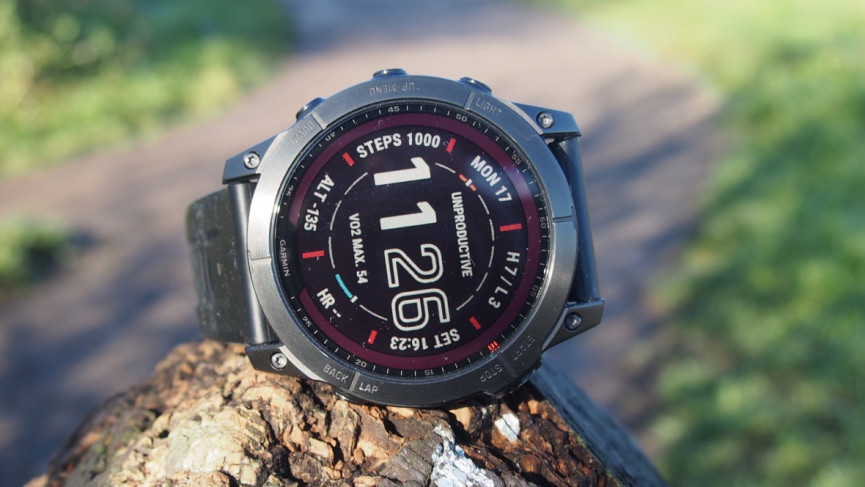 squirrel_12862597
The Garmin Fenix 7 range has dropped in three sizes – the Fenix 7, 7S, and 7X.
Most features are the same across the three devices – but there are some subtle differences other than case size.
The core features are unchanged over Fenix 6. Long battery life is now even longer, and there are still 30+ sports modes (advanced running, skiing, golf, and cycling modes), in-depth analysis of recovery, training load, and VO2 Max, as well as wellness features, pulse ox, and Body Battery.
The Fenix 7 range has introduced a touchscreen, although the displays themselves are still the low-res transflective panels found on the Fenix 6. But there is now a full AMOLED option in the Garmin Epix (see below).
The Fenix 7 range has also added GNSS support and uses an extra frequency for improved GPS tracking – which was noticeably better in built-up areas than on the Fenix 6 in side-by-side testing.
Elsewhere, there are improved solar editions that extend battery life even further, and there are Sapphire editions, that use titanium and hardened glass to save weight and ward off bumps and scratches.
The Fenix 7 also introduces better TopoActive mapping with UpAhead user-defined waypoints, ably assisted by the touchscreen that improves the experience.
And the Fenix 7 series also improves training insights, with new tracking of stamina which is designed to help you pace long runs (some more work is needed from our testing and experience) and a visual race predictor that shows progress and improvement over time.
The standard Fenix 7 is 47mm, and still a chunky watch – so if that sounds too much for your wrist, the 42mm Fenix 7S will do the job better. The only downside is battery life, reduced to 11 days/37 hours GPS from 18 days/57 hours on the standard, non-solar Fenix versions.
The Fenix 7X comes in at a whopping 52mm – making it bulky by anyone's standards. However, its best unique feature, other than a monster battery life of 122 hours of GPS, is the flashlight feature, which will flash in time with your cadence as a night-running safety feature.
We've only in-depth tested the Fenix 7X for now – but most of the testing applies to the features of all three.
We love…
New mapping and touchscreen
Improved GPS
We don't love…
So expensive
Epix AMOLED display does steal the show
In-depth Garmin Fenix 7 review
---
Garmin Epix (Gen 2)
Wareable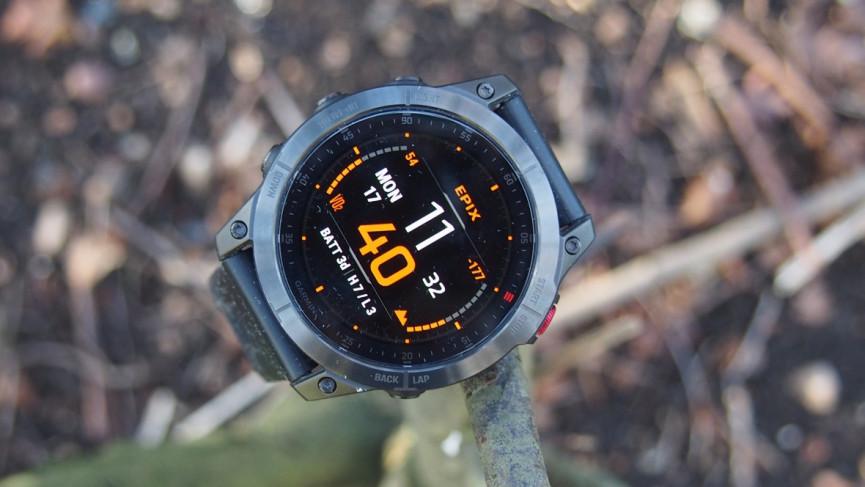 squirrel_12862598
Eagle-eyed readers will be aware that an Epix launched back in 2015 – but that's been erased from history as the new Epix returns in 2022 with a fresh purpose.
Essentially a Fenix 7 with an AMOLED display, the Garmin Epix brings all of the top features of the flagship, without compromise. It packs a glorious 1.3-inch, 454 x 454-pixel resolution, color AMOLED touchscreen that creates a powerful sports watch with a smartwatch feel.
But the Epix doesn't shirk the mapping, advanced performance analytics, new stamina mode, improved GNSS tracking, health sensors, and sports modes of the Fenix.
However, there's no solar option, and it only comes in the rather large 47mm case size.
Battery life is diminished with the use of the AMOLED display – but not as much as you'd think. You still get 16 days of battery life and 42 hours of GPS (without the always-on display enabled), compared to 18 days/57 hours on the standard Fenix 7.
We love...
AMOLED touchscreen
Advanced analytics
We don't love...
Only the 47mm option
Epic price tag
Read our full Garmin Epix review
---
Garmin Forerunner 745
Wareable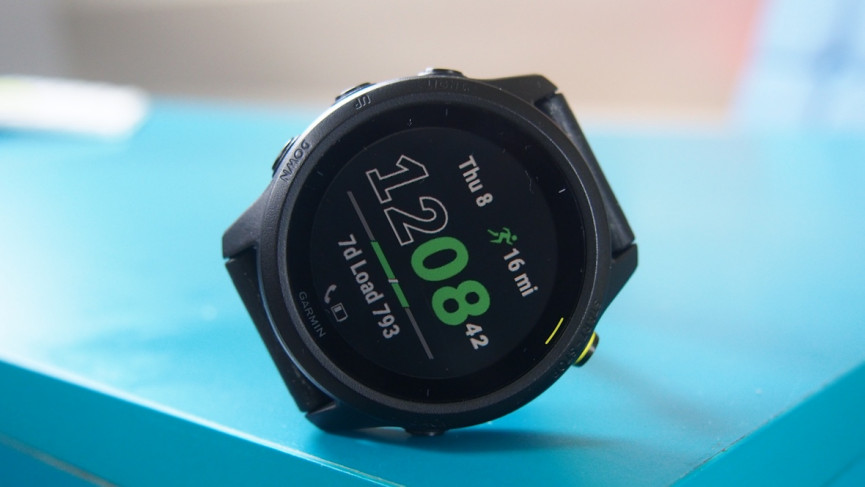 squirrel_12862595
The Garmin Forerunner 745 delivers rich sports tracking and the new training insights are useful as long as you make a chest strap your training partner.
Garmin sticks to the transflective display technology that has served it well on other watches to help give you good battery life and strong visibility in bright light.
It's the same 1.2-inch size and 240 x 240 resolution you'll find on the cheaper Forerunner 245.
It boasts 5ATM water resistance which means it's safe to swim with up to 50 meters, and it's suitable to take in the shower. As this is a watch aimed at triathletes, you do have open water and pool swim tracking support covered.
It covers running including a new track mode, which has also rolled out to other watches and serves big metrics for cycling and swimming too.
You also have profiles for other outdoor pursuits like skiing, hiking, rowing, and kayaking. These bring point-to-point navigation with the ability to upload routes and follow breadcrumb trails in real-time.
You do have a triathlon mode of course, which works similarly to how it does the 955. And you can hit the back button (bottom right) to transition to different sports in brick sessions, customize the legs of your event or training, follow course navigation and access your training schedule and workouts.
The Forerunner 745 promises up to seven days in smartwatch mode, up to six hours with GPS and music in use, 16 hours in GPS mode and there's an UltraTrac mode giving you up to 21 hours.
We love…
Small, light design
Useful recovery advisor feature
Solid sports tracking
We don't love…
Battery life isn't great
Iffy sleep tracking
Feels too expensive
Check out our Forerunner 745 in-depth review.
Best Garmin smartwatch
A slightly confusing concept, as even the most basic watches are capable of tracking more than one type of activity, Garmin's multi-sport watches tend to include more than just running, cycling, and pool swimming.
We've also classified its three "smartwatches" here. Essentially, look into this list if running is just one part of your weekly fitness schedule.
---
Top choice: Garmin Venu 2 Plus
Wareable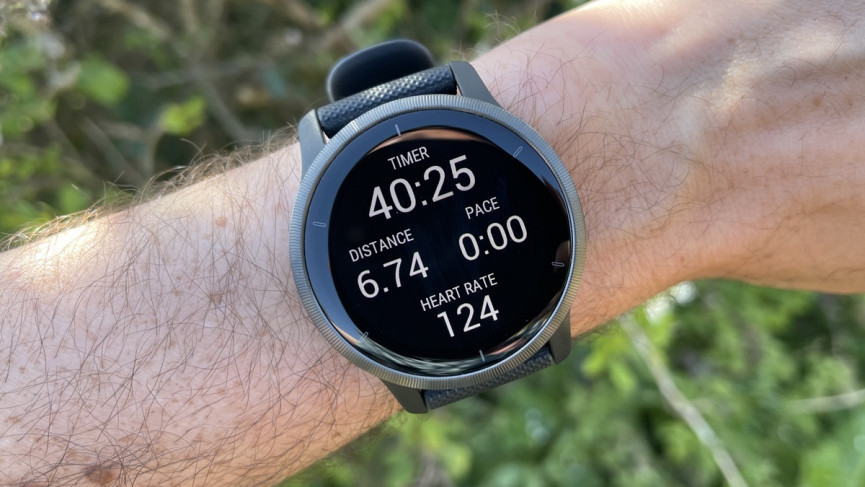 squirrel_12862589
If you want a Garmin watch with a screen to rival what Apple, Samsung, and Fitbit can offer, then enter the Venu 2 Plus.
The Venu 2 comes in two size options, 40mm (Venu 2S) and 45mm (Venu 2) with the larger model giving you a screen size that matches what you'll get on the Vivoactive 4.
The 43mm Venu 2 Plus, which is 2mm smaller and adds voice calling and assistant features – albeit at a beefy $449/£399 price.
And Garmin recently added ECG, via an update after the feature was ratified by the FDA, which makes it a true Apple Watch Series 8 competitor.
It packs a higher resolution AMOLED screen that makes it much nicer to view stats and notifications. Garmin has also updated the interface to make it easier to use than its predecessor and make better use of the touchscreen display.
In terms of sports and health tracking, you get the same as the Vivoactive 4. Running (indoor, outdoor, treadmill), cycling (indoor/outdoor), swimming (pool only thanks to 5ATM water resistance), golf, strength, cardio, elliptical, indoor rowing, yoga, and more.
Garmin has added more tracking modes for HIIT workouts like setting up Tabata times and will now display muscle heat maps to compliment the automatic rep counting. It's also added new Health snapshots and Fitness Age insights to let you know how fit and healthy you are.
It's got all of the same smartwatch features as the Vivoactive 4 but does up the storage capacity for the music player giving you room for up to 2,000 songs.
It offers some nice improvements on the original Venu and crucially offers a boost in battery life even with always-on display mode in use. It's capable of going beyond a week, and around 4 days with the screen on 24/7.
There's now also a rapid charging feature to give you a day's play or 1 hour of GPS tracking off a 10-minute charge.
Check out our Garmin Venu 2 v Venu v Vivoactive 4 comparison.
We love…
The screen
The sports tracking
Music and Spotify
We don't love…
Pricier than first Venu
No improvement in HR accuracy
Read all about it: Full Garmin Venu 2 review and Garmin Venu 2 Plus review
---
Garmin Lily
Wareable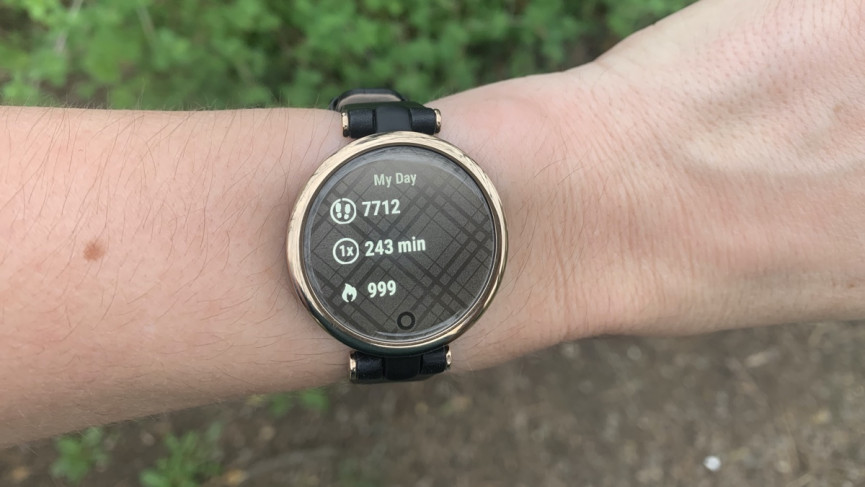 squirrel_12862587
Garmin has released its smallest smartwatch to date – aimed at women. It features a diminutive 34mm case and 14mm strap, making it the smallest mainstream smartwatch on the market.
The screen is a low-res LCD affair, but when the screen dims it leaves a patterned design on the screen, so you won't be carrying a dead display around on the wrist.
It's hardly a fitness powerhouse. There's no GPS, although you can borrow your smartphone if you take it along for a run or ride. However, there are plenty of health and wellness features, with SpO2, heart rate, Body Battery (energy level metric), and advanced sleep tracking all supported.
And as you might imagine, it supports Garmin's cycle tracking (that's menstrual, not two-wheels) and the all-new pregnancy mode that helps the watch make sense of your rapidly changing biometrics.
It's not the perfect sports watch for runners (look at the Fenix 6S or Forerunner 45S for that), but for more casual users looking for something slender, this has plenty of potential.
Garmin estimates up to five days of battery life, with an average amount of activity and interaction and the pulse ox mode switched off. We found a life of close to four days with the pulse ox on, with a drop of around 10% overnight.
Read our full Garmin Lily review.
We love…
Patterned glass
Slim build and 14mm strap
Good health and daily activity features
We don't love…
No GPS built-in
Simplistic fitness features
---
Garmin Venu Sq 2
Wareable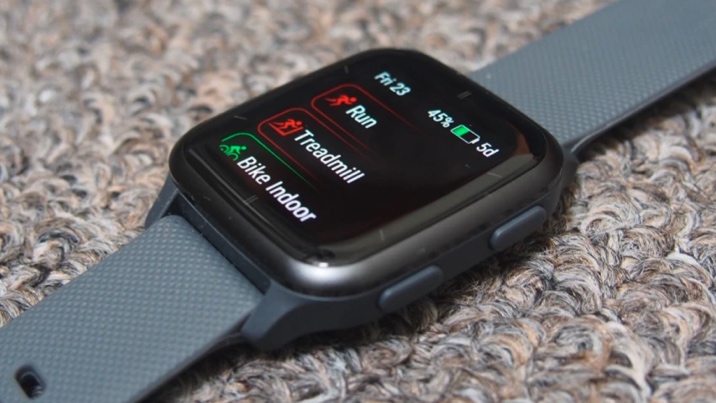 squirrel_12862590
The Venu Sq 2 is the latest addition to the company's smartwatch range, offering a less refined package that enables Garmin to provide the same features as the Venu and Vivoactive 4 for less.
You get the same massive array of tracked sports, including running, cycling, swimming, gym, yoga, walking, pilates, and snow sports to name a few. And there's even breathwork, too.
You get GPS built-in, as well, and there's a SpO2 sensor that does spot checks. If you opt-in, there's also night and daytime blood oxygen monitoring.
It will track stress, and we love the Body Battery feature that studies your readiness for exercise and can guide you as to when to have a rest (or go hard on a session).
All the sports tracking metrics are pretty basic, so you won't get many of the VO2 Max and deep insights you'll find on the likes of the Forerunner 255.
The watch itself also lags behind the Vivoactive 4 and Venu and Venu 2 in terms of build quality. It's a plastic build with, a boxy design.
It blends a touchscreen and two physical buttons, and the interface that was once a bit fiddly is now much-improved. With a better screen this time around, too, it's a much better experience on the wrist - though the price has also been hiked a bit.
There's also a music version at $249/£229, which means offline Spotify/Pandora playlists on the wrist. But for us, that takes it to a price point too far.
The new software UI is excellent
We don't love…
More expensive than the first-gen model
Bit of a bland design
Read our full Garmin Venu Sq 2 review
---
Garmin Vivoactive 4
Wareable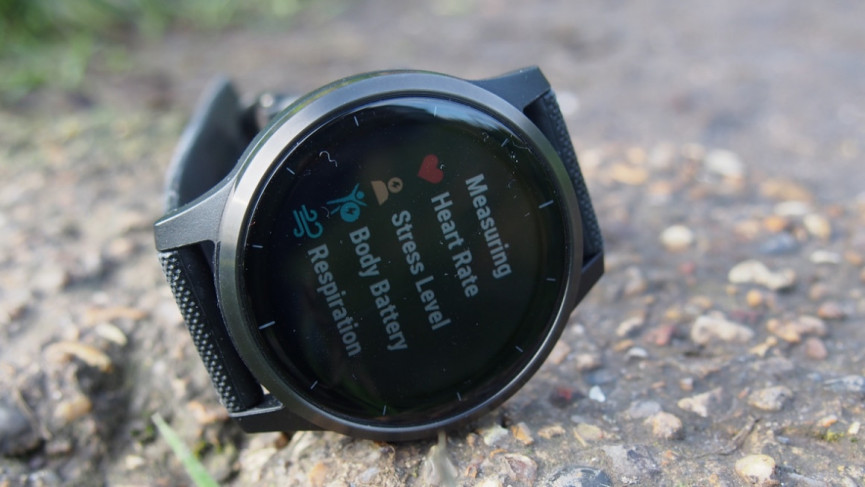 squirrel_12862583
The Vivoactive 4 is Garmin's sport-focused smartwatch, designed to offer the benefits of notifications and smart features with a jack-of-all-trades sports tracking that supports up to 20 activities.
Like its main rivals, the Apple Watch SE and Samsung Galaxy Watch 4, this is a watch that's aiming to bring more than just fitness smarts to your wrist. An upgrade to the Vivoactive 3, it still boasts a relatively low-resolution transflective display, but this time it's been given a glossy screen that makes the whole package a lot more stylish.
It still has Garmin Pay and support for Spotify, as you'd expect, and you can install apps via Connect IQ, which also makes a roaring trade in watch faces and widgets, too.
In terms of sports tracking, it's pretty comprehensive – you get running (indoor, outdoor, treadmill), cycling (indoor and outdoor), swimming (pool only), golf, strength, cardio, elliptical, indoor rowing, yoga, and more. Is that enough for you? And, yes, you guessed it, 5ATM water resistance is on board.
None are tracked with the insane level of detail used by the specialist Forerunner or Fenix devices though, so you'll miss out on stuff like recovery, training load, training status, VO2 Max, and the like.
You will get decent fitness tracking, and sleep is aided by the pulse ox sensor that will deliver advanced sleep stages and information on your respiration as you sleep. Hardcore stuff.
And when you think that the Apple Watch SE will only last a single day and won't get you through a marathon unless you turn off the heart rate monitor, the fact that this will give you a week in smartwatch mode with 13 hours of GPS is pretty excellent.
We love…
Loads of tracked sports
Shiny new display
Crammed with features
Music and Spotify
We don't love…
Lack of VO2 Max
Light on data
Full test: Garmin Vivoactive 4 review
---
Best Garmin outdoor watch
If you're looking for a true outdoors watch then you have two main options in the Garmin range. The pinnacle is the Fenix 6, which we've named a top pick above. But its price tag is outrageous – which is why Garmin has launched cheaper alternatives that don't skimp on the stuff trekkers need.
---
Top choice: Garmin Instinct 2/2X
Wareable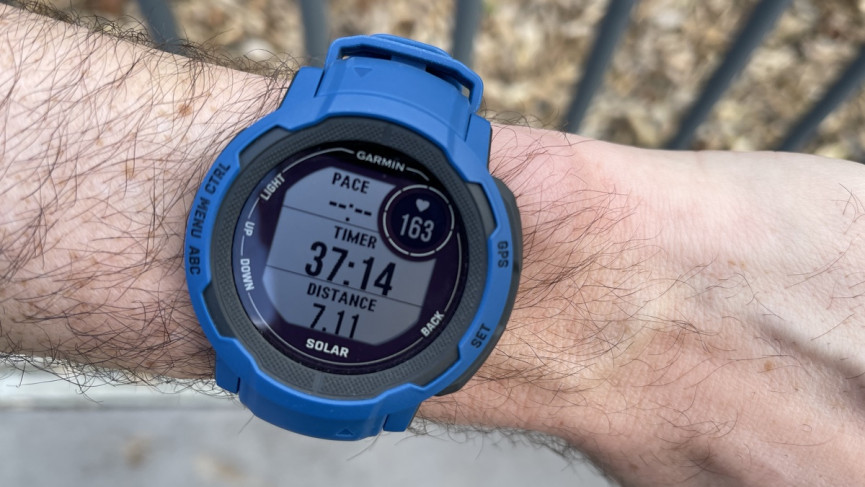 squirrel_12862599
No longer just an outdoor watch, the Instinct range is a fun, all-action multi-sport watch. It's essentially a cut-price Fenix, with a plastic case and low-res screen, with a big dose of Casio style added to the mix. We love it – and it's an unsung hero of the Garmin range.
The Instinct 2 delivers big battery life, with up to 30 hours of GPS tracking, and even more, if you choose Solar versions.
The Instinct 2 has broken free of being a simple lower-cost outdoor watch. There are profiles for track running, hiking, cycling, swimming, climbing, and even skiing, boating, and other types of outdoor pursuits. There's now golf mode too – and it means the Instinct sits closer to the Fenix than most people realize.
Garmin has brought over running and training analysis features from its Forerunner watches like visual race predictions, VO2 Max estimates, training effect, and status insights. There are daily suggested workouts and a recovery advisor on board too.
You can upload routes, real-time breadcrumb navigation, and TrackBack – but mapping doesn't make the cut.
The new Instinct 2X comes with a bigger 50mm case, solar power as standard, a flashlight (great for nighttime running safety and finding your way to the toilet while camping), and multi-band GPS for better accuracy. It also adds tons of Fenix advanced analytics – and is very much a smart alternative for those looking to save some cash.
We love…
More workout stats than previous Instinct
Noticeably improved battery life
Versatile sports tracking
We don't love…
Design is not for everyone
Improved screen resolution not huge
Questionable sleep tracking
Read more: Garmin Instinct 2 review | Garmin Instinct 2X
---
Garmin Enduro 2
Wareable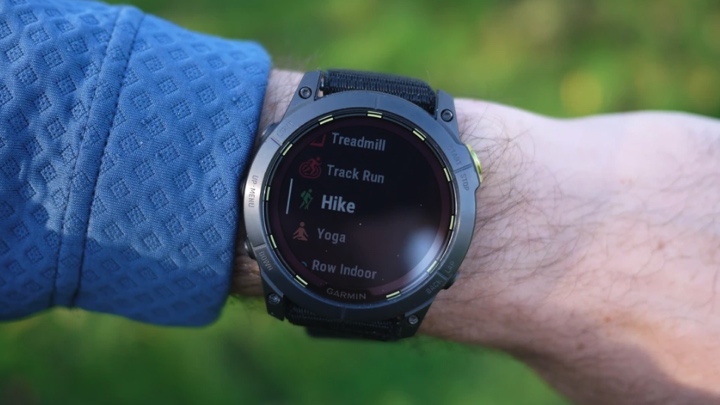 squirrel_12863045
The Garmin Enduro is the company's latest specialist variation of the Fenix 7X Solar, and one built specifically for ultrarunners. Most people won't need the absurd 110 hours of GPS battery life and 254 hours in a max power mode. And that rises to an incredible 150 hours of GPS tracking and 714 hours if the Power Glass solar display is exposed to constant light.
To put the Enduro 2's battery life into context, we've found using the right power modes to track your efforts will see it happily survive most week-long and multi-day endurance challenges. It also has enough gas in the tank to cover a month-long streak for anyone running, riding, or swimming for an hour a day, as well.
Physically, however, it's a beast of a watch, and the 51mm case will be too much for most people. It's certainly not unisex. The new titanium-only build is more manageable than the stainless steel from the original – but we found it uncomfortable to wear.
There are profiles for running, treadmill running, indoor track running, trail running, ultra running, and virtual running – MTB cycling and swimming are also well supported.
The ultra run mode has a clever rest timer, splits out how long you spend at aid stations, and the trail VO2 Max estimate takes slower off-road runs into account and adjusts your reading accordingly.
Garmin's excellent ClimbPro feature also includes descents as well as ascents, so you get a full picture of the quad-burning that awaits you on your preloaded courses. That includes real-time information on the current and upcoming climbs and descents with gradient, distance, and elevation gain/loss.
Our only real criticism of the Enduro 2 is the lack of an AMOLED display. It certainly makes sense, given this device's focus on massive battery life, but, with the price also increasing massively in this generation, it does sting a little.
We love…
Insane battery life
Improved navigation with TOPO maps
Offline music playback
We don't love…
Huge price tag
Only comes in one size
More expensive than the last-gen model
Read our full Garmin Enduro 2 review.
Garmin swimming watches
---
Garmin Swim 2
Wareable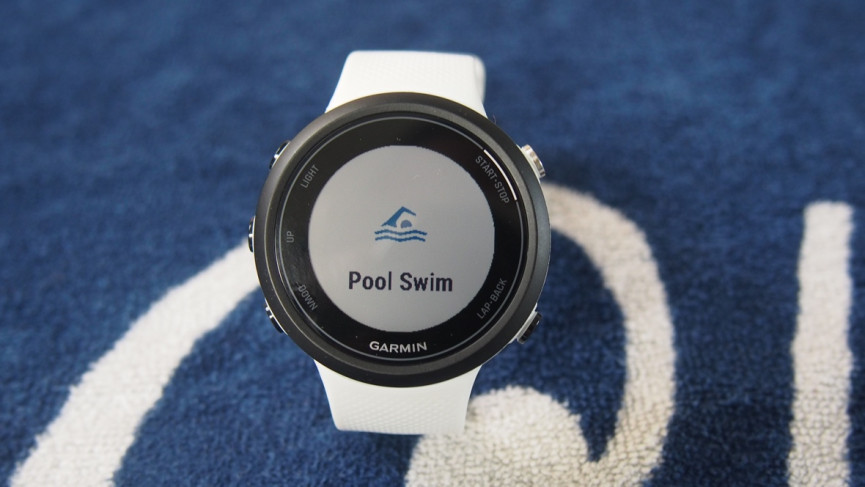 squirrel_12862947
The Garmin Swim 2 is in no uncertain terms a massive upgrade on the first Swim as far as what it's capable of when you're in the water.
It's the cheapest Garmin you can buy to get open water and pool swimming features though it would be even more attractive at a slightly lower price.
If you can't stomach paying for a top-end Forerunner or Fenix, this is the swimming-focused Garmin watch to go for instead.
There are more metrics, settings to play with, and of course, a smattering of smartwatch features to make it useful when you're not swimming. The Swim 2 will track lengths, distance, pace, stroke count, and SWOLF.
It can also detect stroke type, offer pace alerts, critical swim speed insights, and a handy auto rest feature.
Many of these can be viewed in real-time on the watch, but you'll get a better overview in the Garmin Connect app. Like most Garmin watches, it'll also play nice with Strava.
We love…
Easy to use
Plenty of swim metrics
Accurate tracking
We don't love…
Basic smartwatch features
Doesn't have full Connect IQ support
Screen a bit on the small side
Check out our Garmin Swim 2 review.
Garmin hybrid watches
---
Garmin Vivomove series
Wareable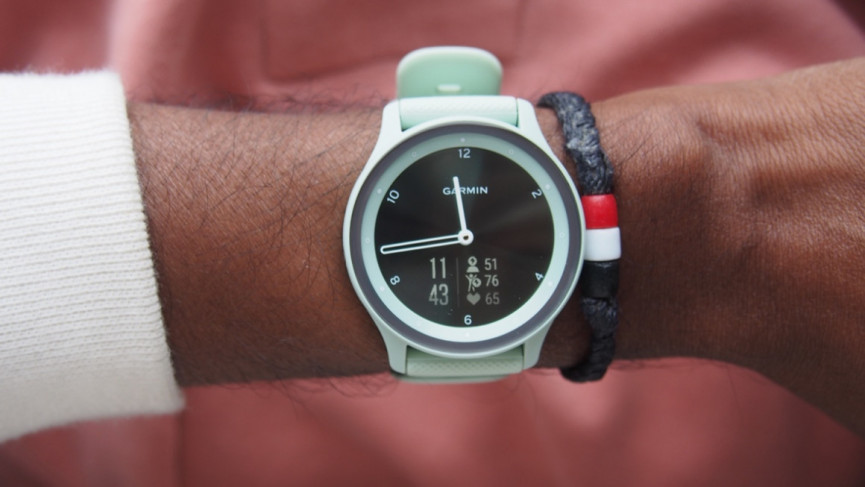 squirrel_12862964
Garmin's Vivomove series combines analog and smartwatch looks and if you don't want to go all in with the level of sports tracking available on a Forerunner or Fenix and still want a stylish watch, this is the option for you.
The Sport is the latest addition to the Vivomove family, offering the same screen setup, albeit with a lower-quality display and polymer case look.
Like the Vivomove 3 or the Luxe, the Sport uses that digital display to show off information like heart rate, stress, daily fitness tracking, and notifications and can be used for music controls too.
There's no GPS, so those who want accurate run or cycle track will have to do so with their phone, but you do get a healthy array of overall tracking. Long-pressing the screen will bring up the option to select activities, at which point you can cycle between runs, cycles, walks, gym workouts, and more.
It's susceptible to the odd software hiccup, but generally, the hidden screen technology responds extremely well and is home to a wide array of features.
Promised battery life is up to 5 days and that's exactly what we got. Think of it more in fitness tracker terms than sports watch terms as far as how well that battery shapes up.
We wouldn't recommend serious sporty types pick up one of the Vivomove devices – they should turn to the rest of Garmin's range – but it's a more than capable fitness tracker for regular users.
We love…
Stylish design
Software works beautifully
Gamut of features
We don't love…
Just the 5 days of battery
Screen visibility on the cheaper Sport
Style and Luxe models are pricey
In-depth reviews: Garmin Vivomove Sport review | Garmin Vivomove 3 review
---
This article was first published in July 2015. However, we update it frequently to reflect the newest Garmin devices, making sure that we've tested the latest and greatest devices available to buy.
---
---