Wareable
Wareable is reader-powered. If you click through using links on the site, we may earn an affiliate commission.
Learn more
Garmin Instinct 2X review
The Instinct range is undervalued as a Fenix alternative, and the Instinct 2X is a feature-rich sports watch that's a top performer in its own right. The larger 50mm case brings the flashlight and Multi-Band GPS, plus more top-of-the-range features from the Fenix range while being wearable, fun, and powerful. Battery life is excellent, even if we don't think it quite hits the heights of Garmin's estimates, and it's more than enough for most people's needs. The only real consideration here is whether the Instinct 2X is worth the extra money over a stock, non-solar Instinct 2. 
---
Hit
High-end Garmin features
We love the flashlight
Solid performer
Miss
Battery estimates don't quite stack up
Easy to accidentally press buttons
Poor screen by modern standards
Garmin has added to its Instinct outdoor watch brand with the Instinct 2X – a super-sized and super-charged version.
The Instinct brand is a slightly odd fit within the Garmin range. It started life as the more affordable hiking and outdoor-focused downgrade from the Fenix range, but it's now a fun Fenix alternative – a less premium all-rounder, with more personality, aimed at anyone from runners to CrossFitters and gym-goers.
It's still a top running watch and boasts most of Garmin's best biometric and recovery insights, as well as basic golf tracking.
Be mindful that there are no TOPO maps here, though, so to class it as an outdoor watch is an increasing miscategorization - and could put off those it suits best.
Either way, we've been putting it to the test to see how it performs, and whether it's worth the extra cash.
Garmin Instinct 2X – what's new?
1.1-inch display (up from 0.9-inch on Instinct 2)
50mm case (up from 45mm)
50% improvement in solar performance
Improved battery life
Multiband GPS/GNSS
Flashlight
Training Readiness
Price and competition
Wareable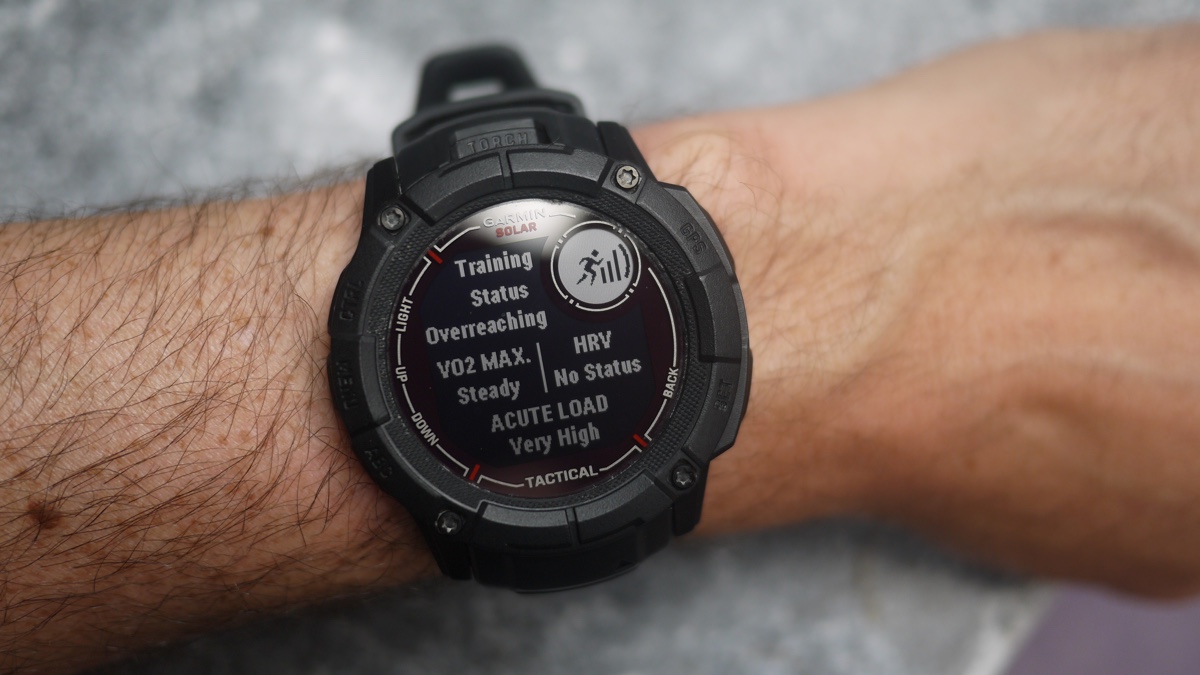 The best part of the Instinct 2X is the price. At $449 / £399, it's $50 more than the Instinct 2 Solar and represents a big saving over the Fenix 7 and Fenix 7X, which have similar feature sets.
The standard non-Solar Instinct 2 is an attractive £249 – but you do miss out on quite a bit over the 2X, including multiband GNSS, Training Readiness, advanced analytics, the torch, solar power, and hours of battery life.
The price puts the 2X alongside the likes of the Forerunner 265 – and firmly part of Garmin's mid-range.
If you look around competitors, there's not too much in its wheelhouse. It's a fraction of the price of the Coros Vertix 2, and around the same as a Polar Grit X – and we'd say it's better than both of those two, with the breadth of sports tracking, and the addition of advanced Firstbeat analytics.
If you're looking for cheaper still, the Amazfit T-Rex Pro is a decent option, but again, falls short of the Instinct range.
Design and display
Wareable
The Garmin Instinct 2X retains the essence of the Instinct brand, simply delivering it in a bigger case this time around.
It still uses the polymer build, which is a lightweight plastic. It still feels good quality and makes the large, oversized 50mm case far more manageable, than the Garmin Enduro.
The build adds to that fun, G-SHOCK-esque build – and we did have a couple of admiring comments about whether it was indeed a Casio.
The 5mm case size difference from the regular Instinct 2, and also yields a bump from a 0.9-inch to a 1.1-inch display. It's still the old-style monochrome MIP, too, which offers very basic visuals but good power efficiency. It's also easily viewable in direct sunlight.
The larger case means that the torch feature comes over from the Garmin Fenix 7X.
It might sound mental to have a torch on a sports watch, but it could help you see your way if unexpectedly trekking in the dark, or heading to the toilet while camping (we did this, it was great).
It's also good for runners, and you can opt to have the torch strobe which makes for an excellent visibility feature for night-time runs in the winter.
The key design inclusion, really, is the return of the lovely inset secondary display, which has been well-used by Garmin to add contextual data, iconography, and menu navigation. We're glad it remains here, and in fine fettle too.
With more information on the larger main screen, as well, the secondary inset screen is better than ever.
Overall, this is an oversized sports watch that's mainly aimed at men. It's comfortable, and the torch is no gimmick. But most of the justification for the extra price comes with its feature set.
Fitness features
Wareable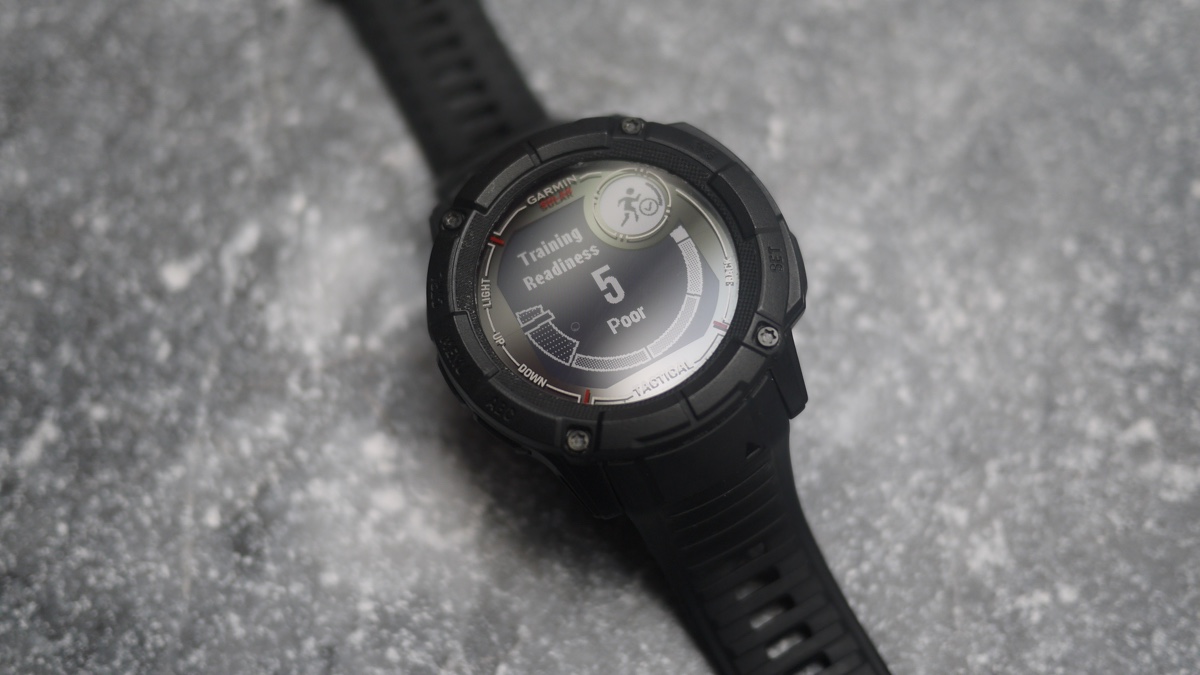 In terms of sports and fitness tracking – there's not too much difference from the standard Instinct 2.
Garmin has added obstacle course racing, boxing, and MMA profiles – which is great news for a very specific type of user. It probably speaks more to the positioning of the Instinct 2, which, as we mentioned earlier, is now more of a fun, all-action version of the Fenix series.
But outside of that, we have running, biking, hiking, swimming, golf, and winter sports. It's pretty much a fully-fledged Fenix in terms of tracked sports.
The in-run experience is also extremely similar, with the standard pace/time/distance metrics joined by heart rate, heart rate zone, and running power, for those that use it.
However, you don't get PacePro or ClimbPro, which you'll find on the Fenix and Forerunner range, so it doesn't quite offer every running feature out there.
Likewise, mapping is also omitted, so you can't get the improved TOPO maps you'll get on the Fenix/Epix. However, you can follow GPX breadcrumb routes still, and get the turn-by-turn directions from the inset display.
Workouts are all tracked within Garmin Connect, which remains one of the best fitness platforms out there.
It's also water-resistant to 100m (100 ATM) so it's good for open water swimming both in the pool and sea and surfing – although it's not diving-rated.
It's a top set of fitness features that serve 90% of people – no matter how active they are.
Yes, some of the bells and whistles of the Fenix 7 are left out, but this is a dwindling list that gets ever smaller with each generation of the Instinct. For all the addition the Fenix gets for being Garmin's flagship, the Instinct deserves so much more attention.
Health features
Wareable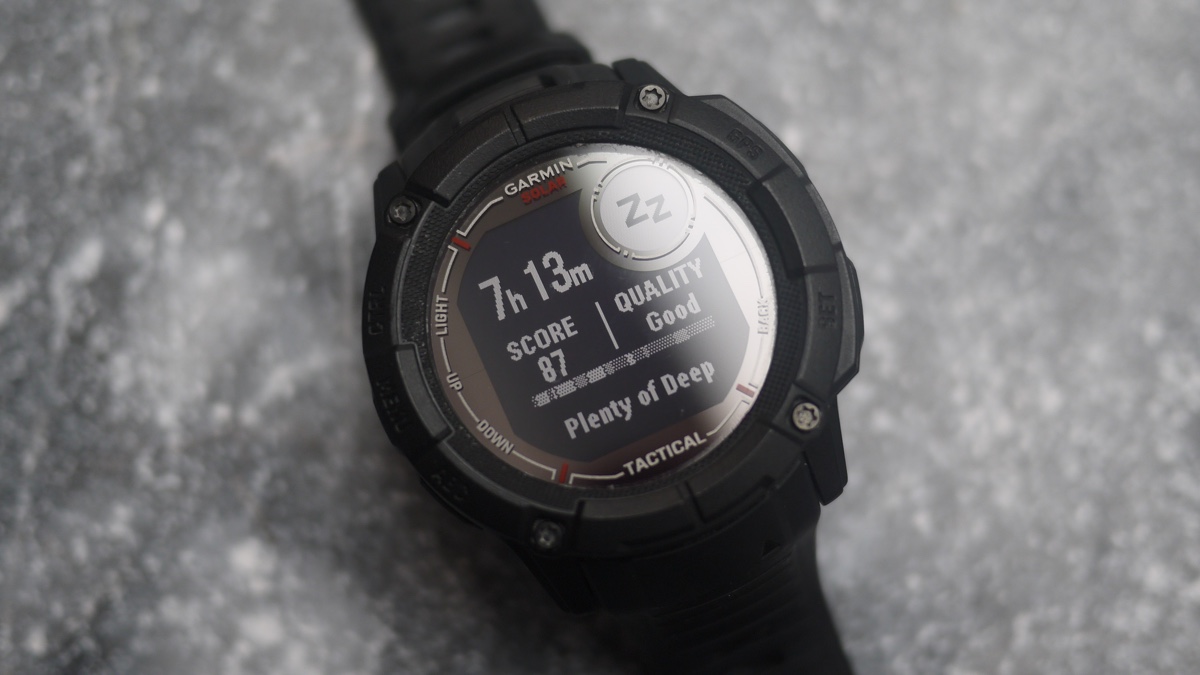 This section gets a little tedious to write, because all Garmin's now offer the same suite of health features, from heart rate tracking, Body Battery, stress monitoring, and sleep tracking.
We've included a breakdown below, with some of our experiences in using these features over a number of years, not just on the Instinct 2X:
Heart rate monitoring: Continuous heart rate monitoring using the optical heart rate sensor.
It will also track heart rate variability, which is the basis for the new HRV Status and Training Readiness. These are top end Garmin features that advise when you're rested and recovered to train, or when to take a break and rest, based on heart rate variability data and sleep. It's essnetially the same as what Whoop offers, and does a good job of making this data actionable and useful.
Heart rate accuracy generally stood up well, and it uses the same Elevate sensor as the current generation of Fenix and Forerunners. If you want the best accuracy, use a chest strap, but the 2X optical data is suitable for zone training and generating decent VO2 Max scores.
Sleep tracking: Garmin watches can track your sleep stages (light, deep, REM, awake), provide insights about your sleep quality, and measure respiration during sleep.
We found an over-estimation of sleep compared to Whoop 4.0, and it's less sensitive to wake-up times so you will get a rosier picture of your rest.
However, the 2X sleep tracking is consistent and more useful for training with the Training Readiness data.
Stress tracking: Using heart rate variability data the Instinct 2X can gauge your stress levels throughout the day and suggest relaxation reminders or breathing exercises when high stress is detected. We still don't feel the data cuts through, nor is actionable enough.
Pulse Ox: Some Garmin watches come with a Pulse Ox sensor that estimates the oxygen level in your blood. The Instinct 2X tracks respiration rate throughout the day, during sleep, and during specific breathwork and yoga activities.
Body Battery: This metric across Garmin watches aims to estimate your energy levels throughout the day. It uses data from stress, heart rate variability (HRV), sleep, and activity to gauge your energy reserves. It's an interesting data point, but not particularly useful or actionable.
Women's health tracking: Women can track their menstrual cycle or pregnancy, log symptoms, and receive exercise and nutritional advice. However, this isn't done biometrically (like Apple Watch or Galaxy Watch 5) and is the same kind of calendar input used by most existing period tracking apps.
Fitness Age and VO2 Max: The Instinct 2X will estimate your fitness age based on your profile information and VO2 Max, a measure of cardiovascular fitness and aerobic performance capacity from GPS workouts. Our VO2 Max was in the right ballpark, based on lab tests we've done in the past.
Battery life testing
Wareable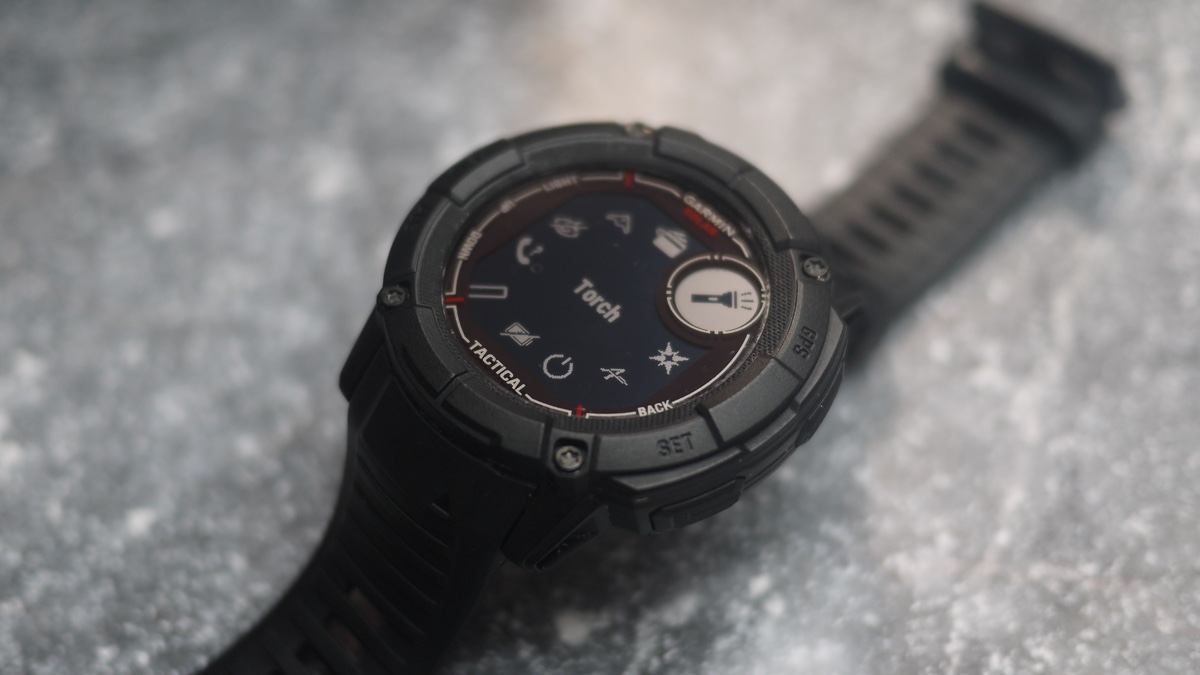 One of the big pulls for Garmin watches, and especially the likes of the Instinct 2X and Fenix, is battery life. And this is still one area that Garmin excels over the likes of Apple.
The Instinct 2X is rated for 40 days as a smartwatch – and can reach unlimited battery life if it gets 3 hours of sunshine per day on those solar panels.
We do feel, however, that with all the bells and whistles turned on, you will struggle to quite get 40 days from the battery.
We took it on holiday, and we were still getting some battery drain despite getting plenty of sunshine exposure per day.
Sadly, our test came to an abrupt halt when the battery drained from 9 days remaining to zero in a few hours. We think that the torch was toggled on accidentally, and we have suffered from accidental button presses since then.
The incident also points to the drain that using the torch for extended periods will have on the Instinct.
In terms of workout tracking, 'All Systems + Multiband GNSS' will offer 27 hours of tracking. In our test an hour run drained it 6%, which works out to around 15 hours. It's not the perfect test, but we feel it would struggle to get to 27 hours with everything turned on.
According to Garmin, the default 'All Systems GPS' will net you 40 hours (65 hours with Solar) and you can opt for standard GPS with 60 hours (and a staggering 140 hours with Solar). So if you need longevity, the Instinct should provide it.
As we mentioned, the Garmin Instinct 2X uses All Systems (GPS/Galileo/Baidu/GLONASS) by default, but not Multi-Band (Garmin's coinage for dual-frequency tracking).
So, you'll need to head to the settings to change this if you want the more accurate Multi-Band powers. We feel like this is a different process on every Garmin watch, so here you need to head to Systems > Satellites > and change the mode.
Who should buy it?
The burning question of the Instinct 2X: who should buy it?
The answer is easy - everyone. If your wrist is big enough to handle a 50mm watch, it's a fantastic buy and a superb all-rounder.
We're huge fans of the standard Instinct 2 and its excellent price point, but there are significant added features here.
The addition of the flashlight is a great safety feature, and way more useful than you'd expect.
The full gamut of Garmin/Firstbeat analytics is fantastic, as ever, and you get the Training Readiness scores now, too.
What's more, the Instinct's lightweight case, fun styling, and inset screen make it so likable. And the price is pretty fair, too.
---
---