Wareable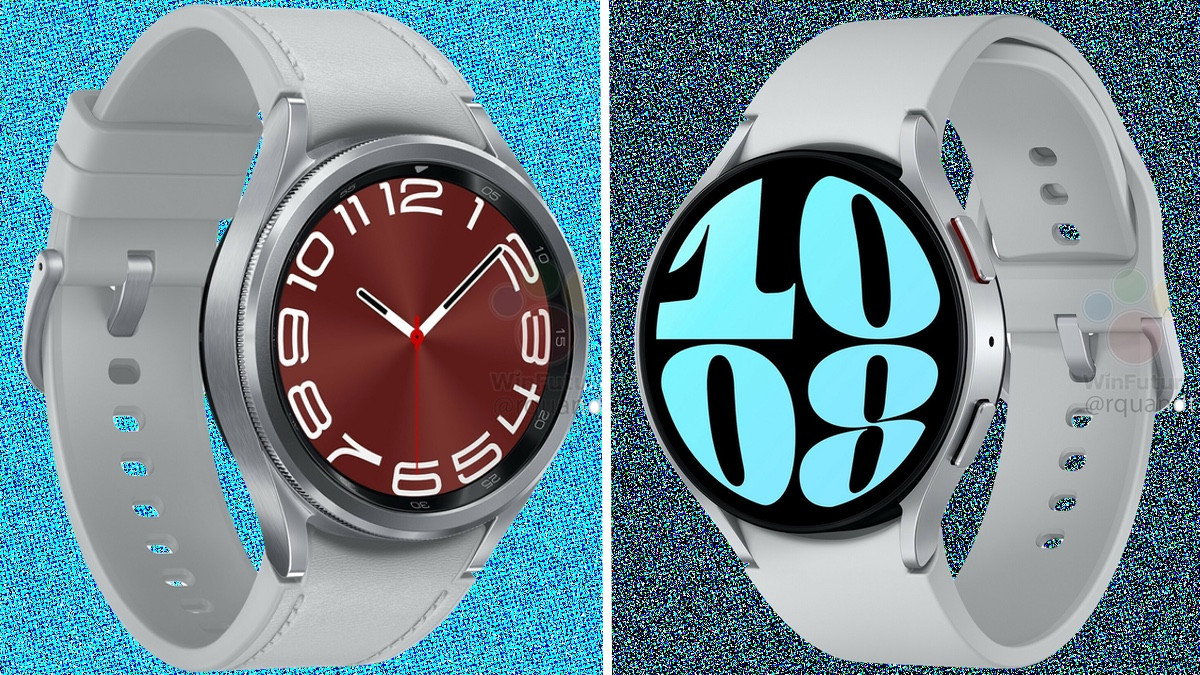 Wareable is reader-powered. If you click through using links on the site, we may earn an affiliate commission.
Learn more
The Samsung Galaxy Watch 6 (and Watch 6 Classic) is one of the most anticipated smartwatches of the year - and there may not be long to wait now until an announcement.
In terms of the Galaxy Watch 6 release date, we're expecting it to be launched at a Samsung Unpacked event taking place at the end of July.
Every generation of the Samsung Galaxy Watch is beset by leaks, so by the release date, we will know pretty much everything.
We've already seen full pictures leak (above) – and now the price of the Galaxy Watch 6 and Watch 6 Classic. Read on for everything you need to know.
Galaxy Watch 6 price
WinFuture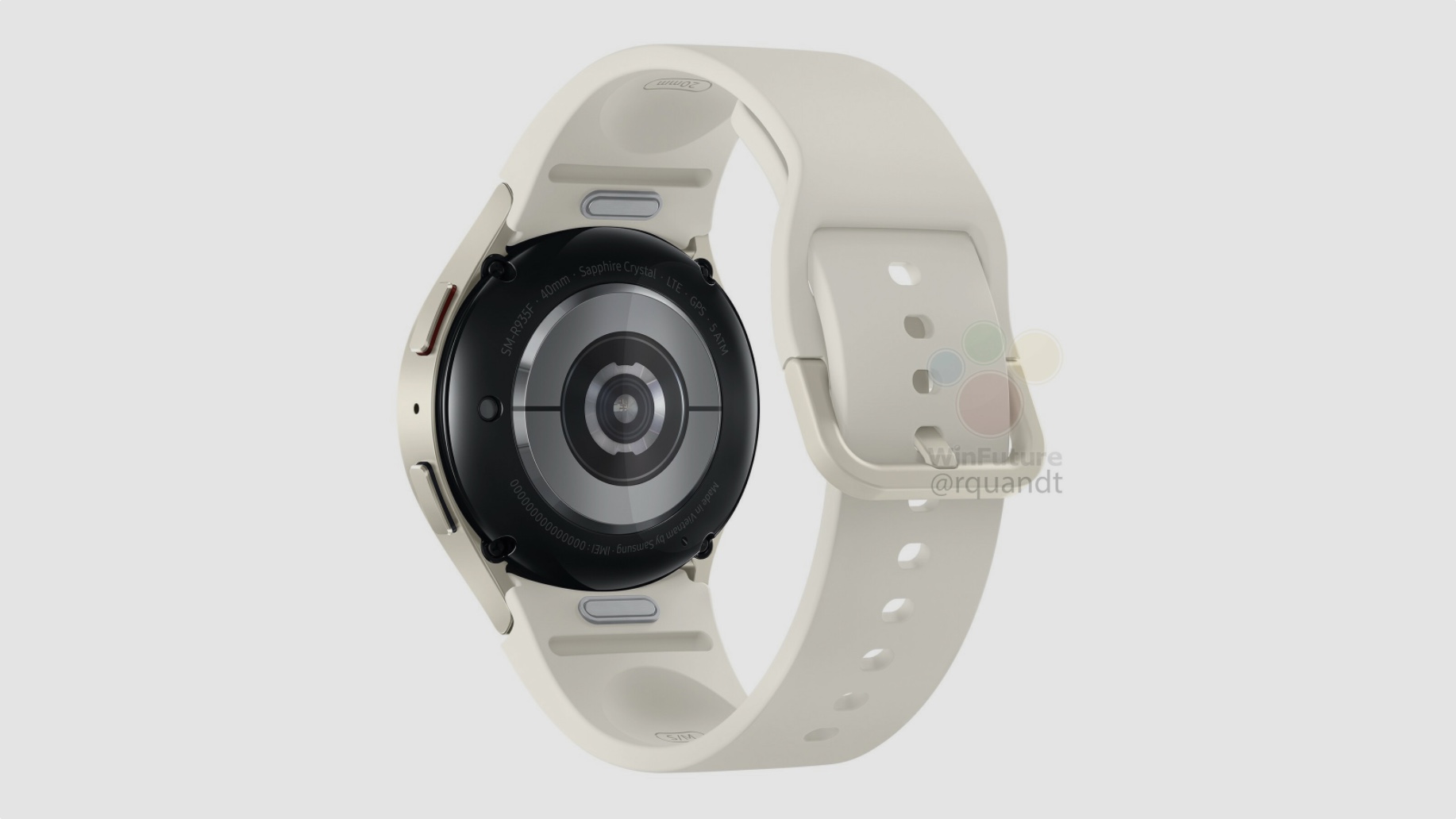 Leaked image with new sensor array
A new leak has supposedly revealed the pricing for the Galaxy Watch 6 and Galaxy Watch 6 Classic.
According to reliable leaker Billbil_kun the pricing will be as follows:
Galaxy Watch 6 40 mm: From €319 (LTE: €369)
Galaxy Watch 6 44 mm: From €349 (LTE - €399)
Galaxy Watch 6 Classic 43 mm: From €419 (LTE - €469)
Galaxy Watch 6 Classic 47 mm: From €449 (LTE - €499)
So each model of the standard Galaxy Watch 6 will cost around €30 more than the last generation. But the Classic will be the same, or less, than the Watch 5 Pro, depending on the size you choose.
For reference, below are the prices that the current-gen Galaxy Watch 5 models arrived at:
Galaxy Watch 5 (40mm) - from $279 / £269
Galaxy Watch 5 (44mm) - from $309 / £294
Galaxy Watch 5 Pro - from $449 / £429
The 2021 Galaxy Watch 4 models initially retailed at the following prices, meanwhile:
Galaxy Watch 4 (40mm) - from $249 / £249
Galaxy Watch 4 (44mm) - from $279 / £269
Galaxy Watch 4 Classic (42mm) - from $349 / £349
Galaxy Watch 4 Classic (46mm) - from $379 / £369
Samsung Galaxy Watch 6 release date
WinFuture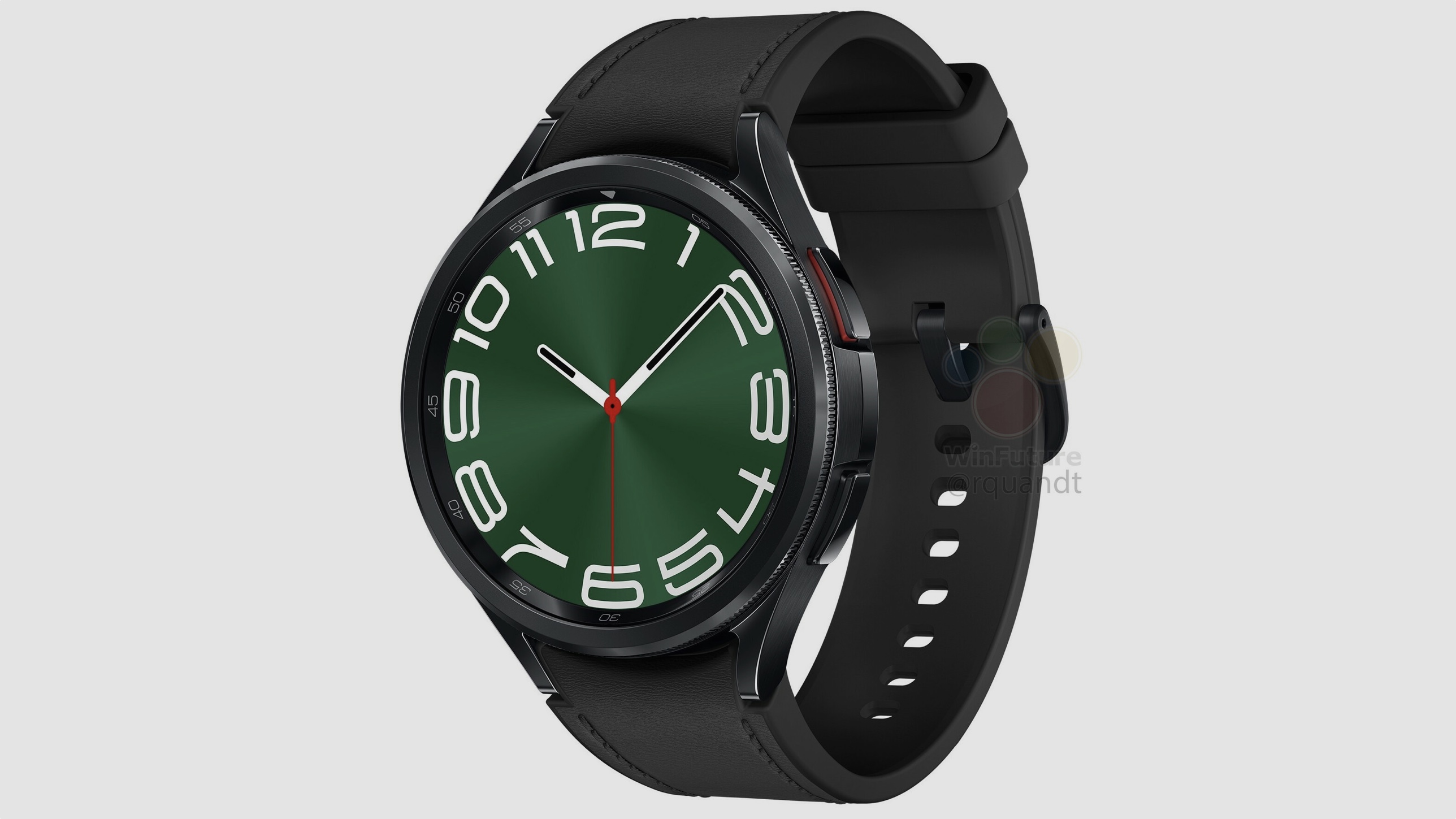 The new Watch 6 Classic leaked image shows the rotating bezel
There's no official word of when the Galaxy Watch 6 will be announced. But it's an almost dead cert we will see it at Samsung Unpacked, which is slated for the end of July.
In past years there has been a short wait for availability, so expect it to be on wrists by the middle of August.
Historic release dates are as follows:
Samsung Galaxy Watch 5
Announcement date: Wednesday, 10 August 2022
Release date: Friday, 26 August 2022
Samsung Galaxy Watch 4
Announcement date: Wednesday, 11 August 2021
Release date: Friday, 27 August 2021
Samsung Galaxy Watch 3
Announcement date: Wednesday, 5 August 2020
Release date: Wednesday, 5 August 2020
Leaked pictures
WinFuture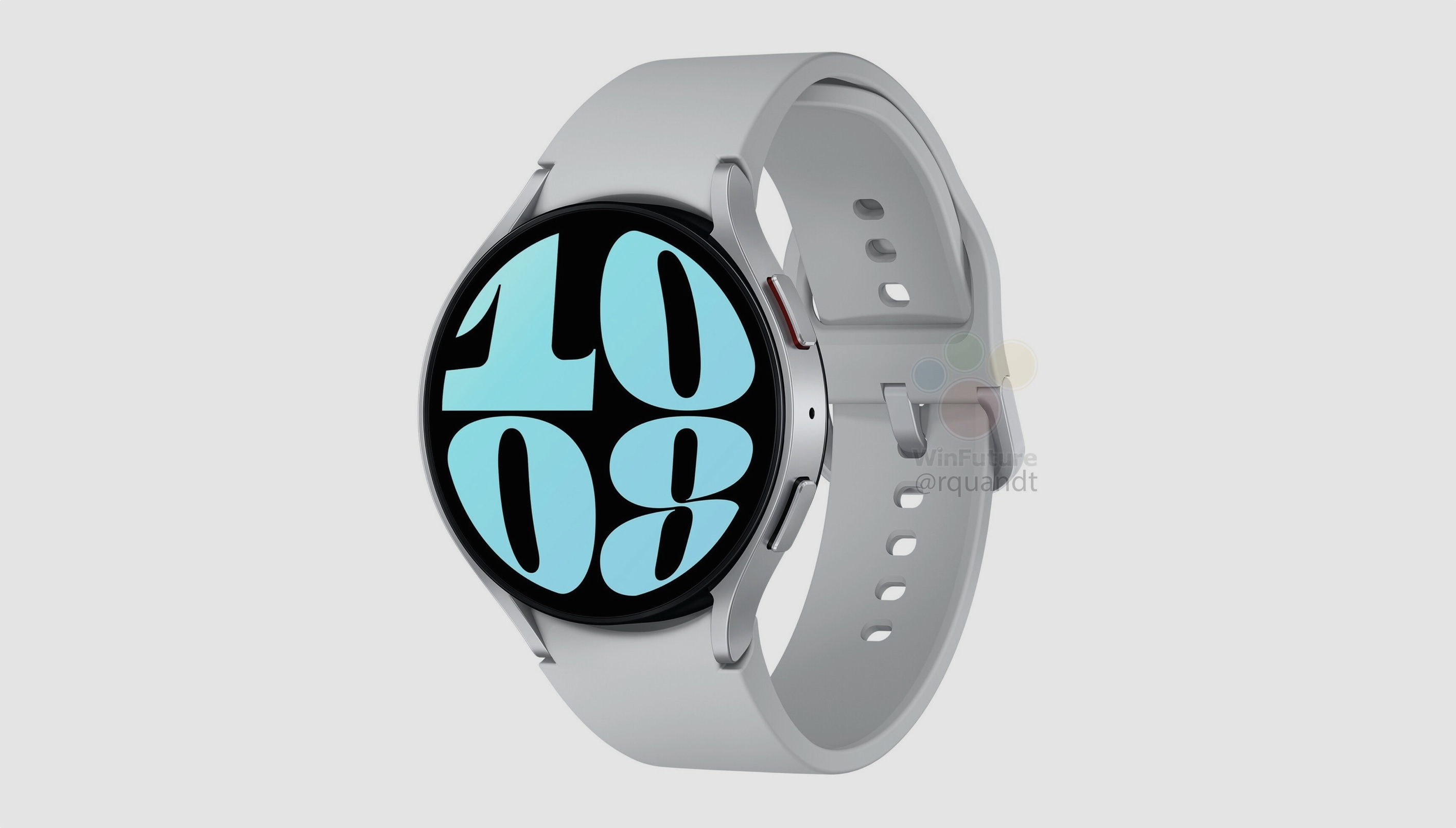 The Galaxy Watch 6 standard edition isn't a big change in design
The Samsung Galaxy Watch 6 has been revealed via leaked images, courtesy of WinFuture, showing a similar design to its predecessor, the Watch 5.
The Watch 6 (above) will ship in 40mm and 44mm case sizes, but the Watch 6 Classic (below) will offer 43mm and 47mm versions, retaining the rotating bezel control system.
All models will feature an improved screen-to-body ratio for larger AMOLED displays. The design includes a slightly altered sensor array and new quick-release straps.
The Watch 6 will likely incorporate the updated Exynos W930 chipset, promising faster speed without enhanced efficiency. Although battery size may increase, significant boosts in battery life aren't expected.
WinFuture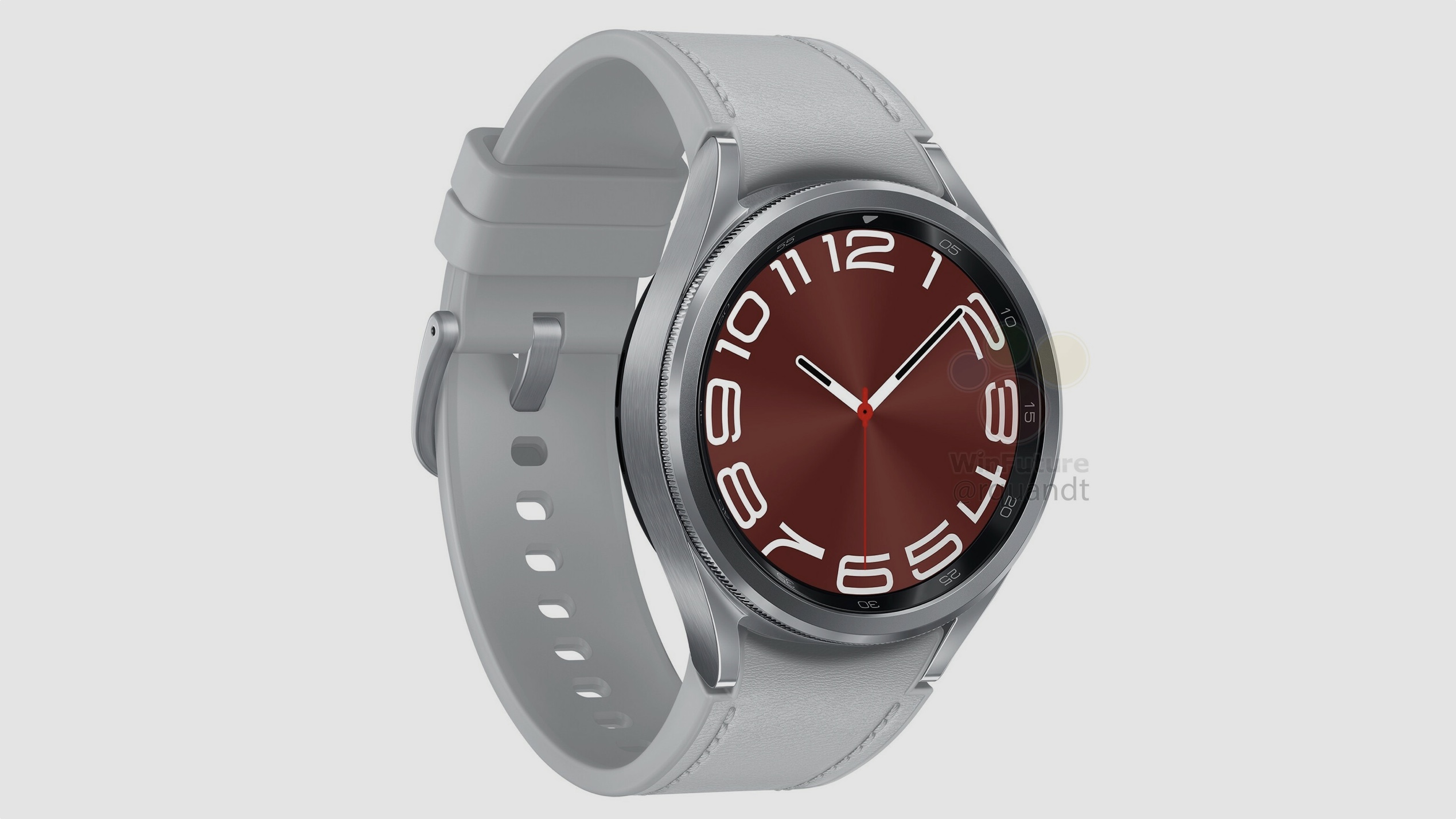 The new Watch 6 Classic leaked image
Battery details
Eagled-eyed tech spotters have noticed Samsung receive certification for EB-BR935ABY and EB-BR945ABY batteries, which look to be heading to the Galaxy Watch 6 40mm and 44mm models.
This has been packed up by a new leak, which reveals that the Galaxy Watch 6 40mm/Watch 6 Classic 43mm looks to be getting a 300mAh battery, and the Galaxy Watch 6 45mm/Watch 6 Classic 47mm will get a 425mAh battery.
These are only marginally larger than the Watch 5 – so don't expect too many fireworks in terms of battery life this year. The leak indicates a 20% improvement, but much of this will be sucked up by the larger display and overclocked processor.
Return of the rotating bezel
The latest Galaxy Watch 6 Pro/Classic rumors suggest that Samsung is set to bring back the rotating bezel.
It was a fixture of the old Samsung Gear range, earning cult status among fans of the smartwatches.
Now, a well-connected YouTuber has revealed that it could come back – but only for the more expensive Galaxy Watch 5 Pro.
Larger display
Leaker Ice Universe has posted another display detail relating to the Galaxy Watch 6, suggesting that Samsung will reduce the bezel size (and thus increase the display size). This has been borne out by the latest leaks.
It's not clear whether such a change would also apply to the expected Galaxy Watch 6 Pro/Classic, but, at least for the standard version of the next-gen watch, the display in the larger 45mm version is tipped to jump from 1.4 inches to 1.47 inches.
This would seemingly have an edge-to-edge effect on the display, much like we've seen with more recent Apple Watch devices.
One UI 5 Watch
Samsung has officially announced that the One UI 5 Watch will launch later this year and teased a number of the upgrades coming to compatible Galaxy Watch devices.
The Galaxy Watch 6 isn't mentioned directly in Samsung's blog post, though the full rollout of the next One UI update typically happens at the same time as new hardware lands.
So far, the company has teased improvements to sleep monitoring, fitness tracking, and safety features.
Exynos W930 chipset details
A filing in the Bluetooth SIG database made by Samsung appears to suggest that the Galaxy Watch 6 series will feature a next-gen Exynos W930 chipset.
However, while the unreleased wearable processor should bring some performance boosts, the fact it shares a model number with the Galaxy Watch 5's Exynos W920 chip could also mean this is more of an iterative update to the platform.
It's rumored to have a faster clock speed, but the manufacturing processes remain the same. So it's unlikely to grant meaningful power efficiency savings.
Features we want to see
1. Bring some personality to the design
Wareable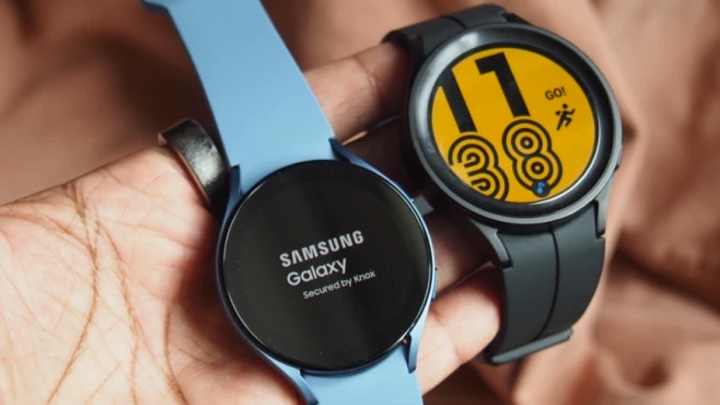 Spotting the differences between the Galaxy Watch 4 and Galaxy Watch 5 would have proved a test for even the most eagle-eyed smartwatch fans - and we're hoping for some bolder design changes in the sixth-gen models.
There's nothing necessarily wrong with sticking to the same design language, of course, but even a slow-moving device like the Apple Watch tends to provide meaningful design changes for every generation. We didn't get anything of the sort with the standard Galaxy Watch 5.
Even the Galaxy Watch 5 Pro has its design issues. Despite being billed as the more outdoor-ready of the pair, it doesn't really offer any of the rugged stylings you would expect, and that feels like a bit of a missed opportunity.
While the pair could do with a bit more of an imaginative look, though, Samsung did get a couple of design changes right with the Watch 5, we think.
The case sizes are now evenly split between 40mm, 44mm, and 45mm options, and the reimagined Pro model is now at least much more unisex than the old Galaxy Watch 4 Classic option used to be.
2. Ditch the Samsung-only features
Wareable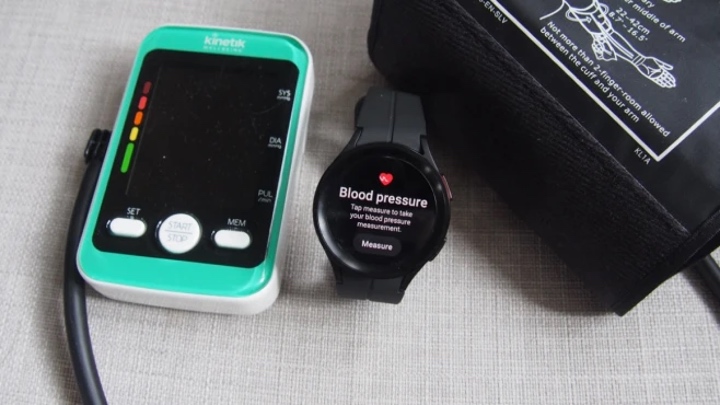 Since Samsung returned to Wear OS, the watches have become Android-only affairs - matching Apple's exclusive approach.
While we can accept that companies have their reasons for keeping a smartwatch experience closely tied to a specific smartphone, it does still feel like a misstep from Samsung and Google to have Samsung-only features available through the Galaxy Watch.
Some of these features can be worked around, but the Health Monitor app being locked off to other Android users is a fairly big omission, given that it provides access to blood pressure monitoring and ECG readings.
We're hoping that the health tracking experience is a bit broader in the Galaxy Watch 6 series.
3. Hone the sports tracking basics
Wareable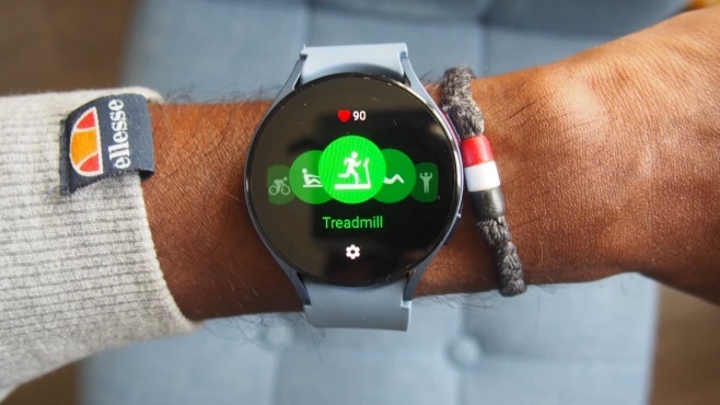 We've always been big fans of how Samsung tracks and delivers fitness metrics, and the health features have generally been the most advanced in the industry. The sports tracking experience, however, has remained bafflingly average in recent generations.
We thought things might have progressed through the introduction of the Galaxy Watch 5 Pro, but, aside from the addition of mapping, there are still some relatively crippling issues plaguing the experience.
We've had our fair share of distance tracking problems from the GPS during testing and plenty of inconsistencies with the heart rate monitor.
The native software isn't actually too bad, and there are still some neat extras being implanted, such as sweat tracking and rehydration recommendations, but we're hoping the Galaxy Watch 6 can come a little closer to reliably matching up to the likes of Garmin and Apple in the basics of sports tracking.
4. Upgrade the battery life
Wareable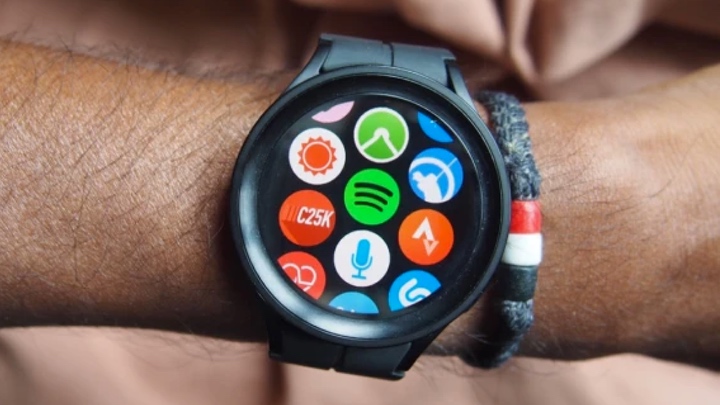 While the Galaxy Watch 5 Pro manages to reach a respectable two or three days of battery life with most of its features still in use, both the 44mm and 40mm Galaxy Watch 5 can often struggle to make it through a second day.
It's still a step up from what you can expect from the Google Pixel Watch, for example, which struggles to reach around 24 hours, but we're really hoping Samsung's 40-hour estimate makes the jump to 50 or 60 hours through the Galaxy Watch 6.
That should see it comfortably last two full days even with the use of GPS tracking, sleep monitoring, and tapping into some of those health features.
We're yet to hear any rumblings regarding the processor for the Galaxy Watch 6, but we do know the Qualcomm Snapdragon W5+ chip that's set to land in countless Wear OS watches in 2023 is also expected to deliver big battery improvements.
If it does, Samsung has plenty of work to do between generations in order to stay with them.
5. Make better use of the temperature sensor
Wareable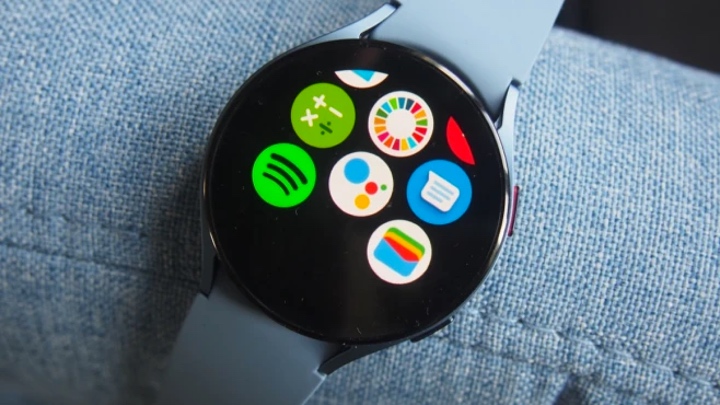 Samsung just squeezed in ahead of Apple in offering a temperature sensor in the Galaxy Watch 5 series, but it's fair to say it hasn't proven to be a transformative feature just yet.
While Apple's equivalent involved menstrual cycle tracking from the start, Samsung's sensor - which also arrived after launch - was initially just used to track patterns during rest. It's not something you could spot-check or even really access in Samsung Health to try and interpret the data yourself, and it left us feeling a little flat.
Since we initially requested more functionality for the temperature sensor, Samsung has actually updated the Galaxy Watch 5 and its temperature sensor for fertility tracking, which is an unexpected but welcome addition.
Samsung has partnered with FDA-approved Natural Cycles, which means we should see it also land on the Galaxy Watch 6. We're still yet to test it out, so here's hoping it lives up to expectations.
---
---