Wareable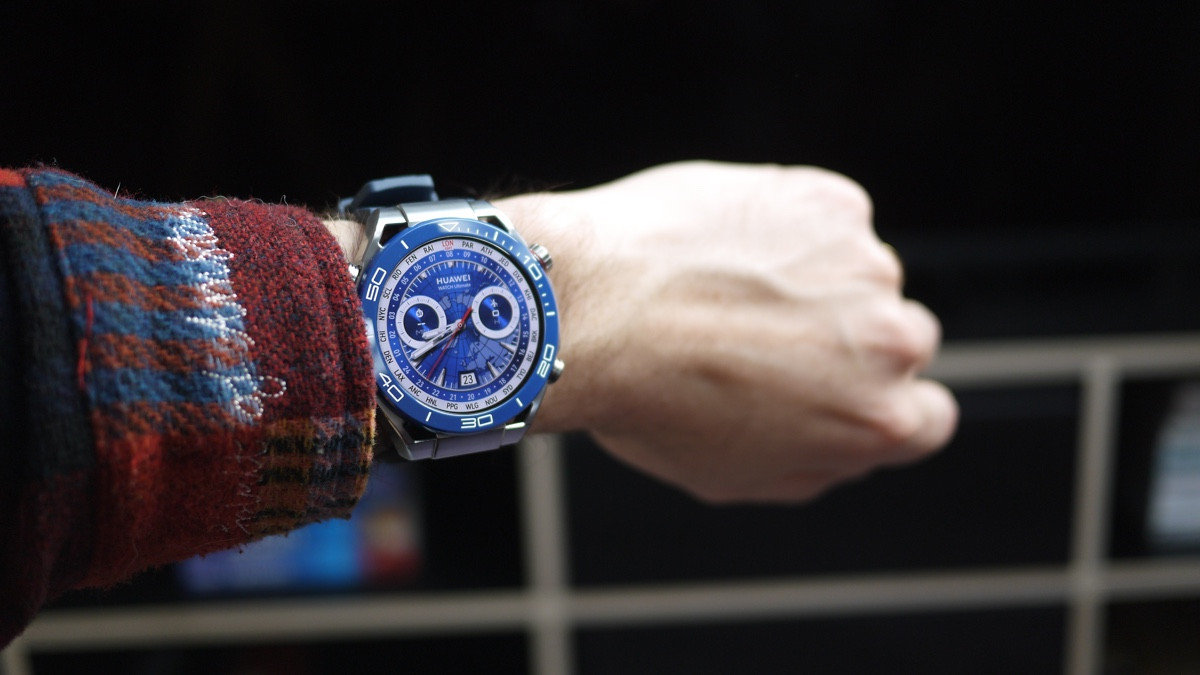 Wareable is reader-powered. If you click through using links on the site, we may earn an affiliate commission.
Learn more
Beauty is in the eye of the beholder, so, if you love the Ultimate's look, it's a strong option, especially for Android users. It's a well-made and high-quality wearable that's comfortable to wear. It's also a solid smartwatch offering tons of features, a gorgeous screen, and excellent battery life. We can't quite justify the price tag, owing to omissions of music/payments/apps, and it sits too close to the Apple Watch Ultra and Garmin Epix (Gen 2) in price. Factoring in the erratic heart rate and GPS performance, it's difficult to recommend to runners – at least until the promised fixes roll out, which may not be until Q4. Buyer beware.
---
Hit
Great materials
Standout design
Top screen
Solid health features
Miss
GPS/workout HR accuracy horror show
No GPS nav in Expedition Mode
Really expensive
Missing premium features
Smartwatches are getting serious, and the Huawei Watch Ultimate is the company's attempt to cut it with the best.
In aiming to combine top-level health and fitness features with a premium design, it targets the Apple Watch Ultra, Garmin Epix, and Garmin Forerunner 965.
And it has a broadly identical set of features to the new Huawei Watch 4, which comes at half the price.
While Huawei has generally been a budget option compared to those rivals, this time it's not held back, and the Huawei Watch Ultimate boasts a huge price tag. But can it justify it?
We strapped it on to find out in our extensive review, with surprise results that have led to Huawei issuing multiple updates to its smartwatch based on our findings.
On test: Best smartwatches 2023
Price and rivals
Wareable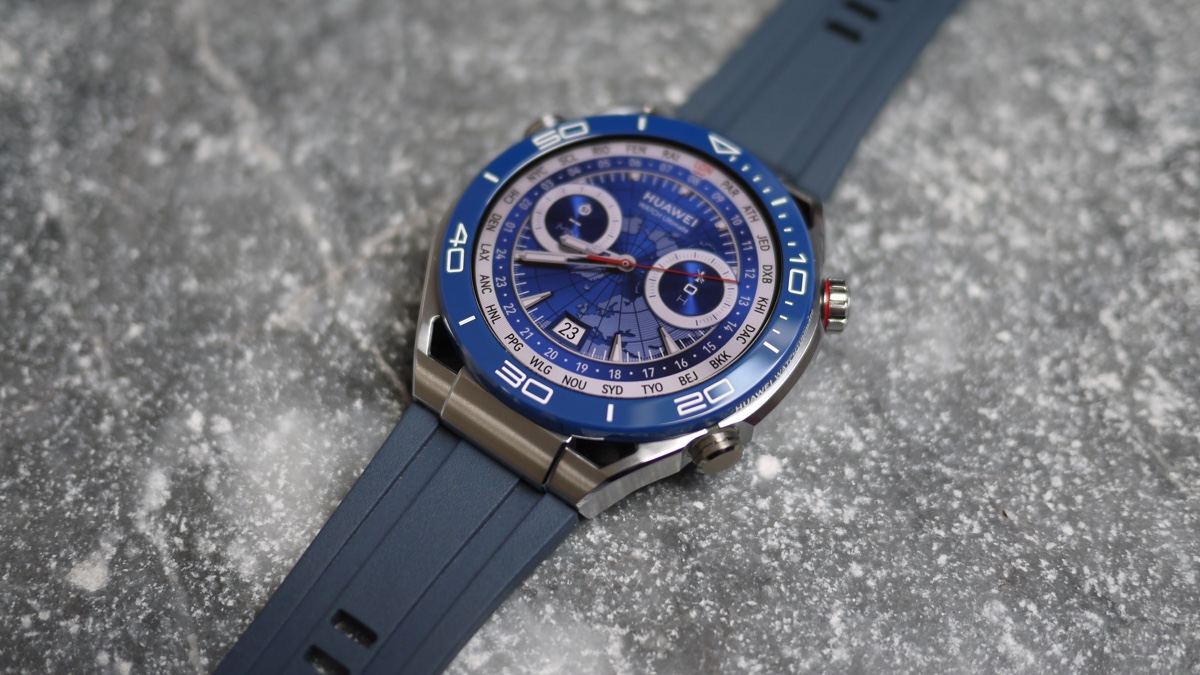 The Huawei Watch Ultimate comes at two price points. It's £699 / €799 for the standard black option and £799 / €899 for the silver/blue we tested. There's no official US pricing, although it will likely make it to Amazon at some point. You also get two straps in the box with the silver/blue version – a titanium metal link bracelet, and a rubber option for workouts.
So, how does that compare with the competition? Well, the Apple Watch Ultra is £849 / $799, so you can make a saving here - especially if you opt for the black version.
The Garmin Epix (Gen 2) also starts at £709 / $899, which is a superior performer as a fitness device, and boasts a full AMOLED screen. Cheaper still is Garmin's newly-released Forerunner 965, which is $£599 / $599.
So you can bag serious smartwatches for similar prices – which puts pressure on the Huawei Watch Ultimate to really deliver the goods.
Design and materials
Wareable
When it comes to reviewing the Huawei Watch Ultimate, much of the decision comes down to design.
Are you willing to pay this much for a Huawei smartwatch that does much the same as one of its mid-range offerings?
Huawei has hewn the Ultimate from 'liquid metal' and added a ceramic bezel, so the quality of materials here can't be quibbled with.
It's a big, oversized watch with a 49mm case, but it's really light and wearable for its size, thanks to the material choices.
The screen is also incredible – possibly the best on any smartwatch – and the 1.5-inch AMOLED is clear and easy to read even in direct sunlight.
We got mixed comments on the design during our time with the Watch Ultimate. A few people have commented admiringly – but an equal number have really disliked it.
That seems to be because it's a not-so-subtle take on the Rolex Submariner – and we're not sure it translates into a premium design quite how Huawei intends. It comes across as a copy, but lacks luxury finesse, and the materials on offer could have been used to create something unique.
Put the Ultimate and a Submariner side-by-side, and the similarities are ridiculous, and to be honest, don't really work in Huawei's favor.
That's where the Ultimate and the Apple Watch Ultra differ. The latter is unique, while the Huawei Watch Ultimate is derivative, from the Apple Watch Ultra itself and the design language of a Rolex.
And while the main exclusive Huawei watch face pictured above looks great, the rest look quite poor.
But it does look more striking and appealing than most Android watches on the market, but we're not sure that we'd pay £700/€800 for the looks alone.
Diving and unique features
Wareable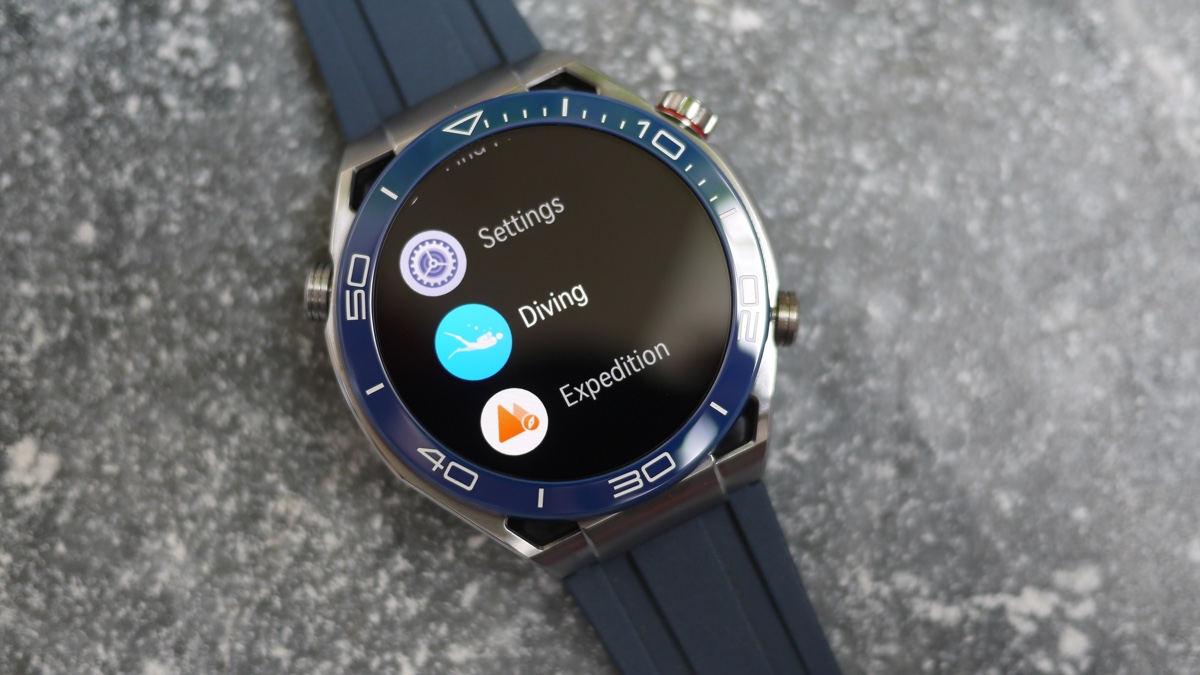 After looks come features, but most of the Huawei Watch Ultimate features are found on other members of its lineup.
But diving is its key strength – which goes beyond the diving features of the Huawei Watch GT3 Pro. It's 100m water resistant, thanks to 10ATM and EN13319 ratings, so it's more than up to a dip in the pool. And Huawei says that it enables the Ultimate to dive in excess of 100m compared to the recreational 40m of the Apple Watch Ultra.
The Ultimate will offer data on depth, ascent, decompression, oxygen pressure, ascent curves, hover timers, and more. The diving features certainly look good on paper, but as non-divers, we will have to leave it to diving experts to ascertain how they actually perform in the water.
Wareable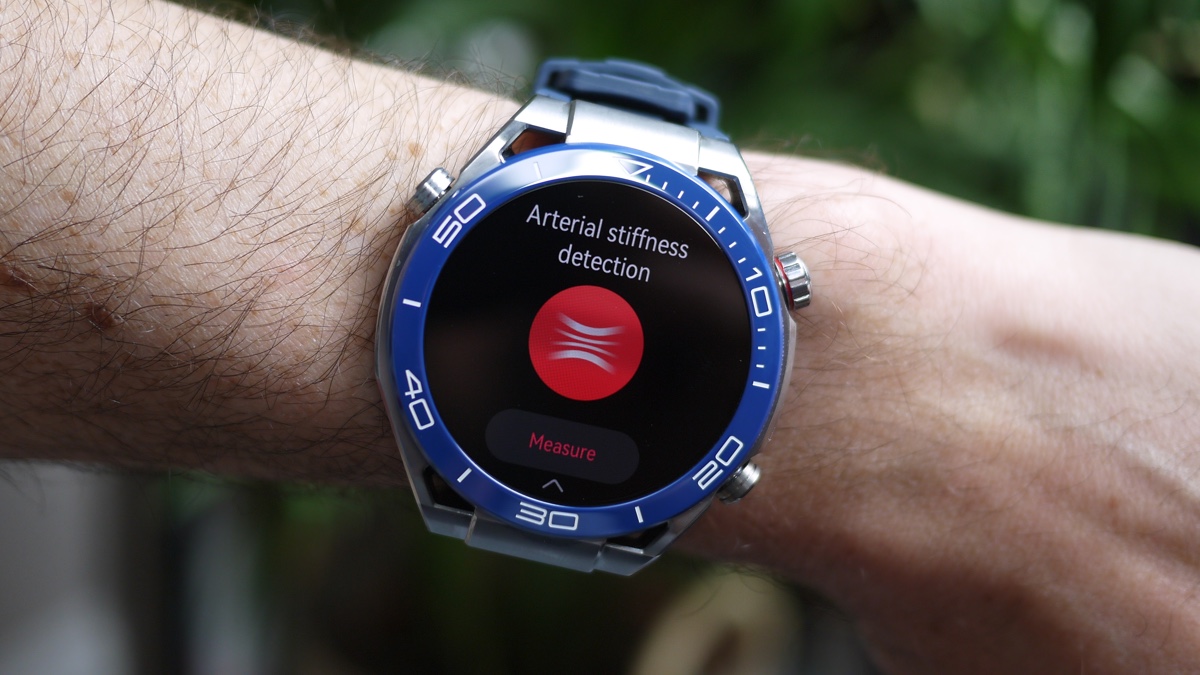 Another addition is 'Expedition Mode', which is a special trekking mode that exists outside of the standard workout menu. It tracks and displays a host of details about hikes and enables you to create waypoints and track back to the start.
It's a supercharged version of a hiking profile that exists outside of the Workouts menu.
You can also toggle on the same night-mode red text as the Apple Watch Ultra. It's a similar offering to the settings in the Ultra's Compass app, but more user-friendly – and it works well.
You can also turn down the GPS sampling rate during Expedition mode to offer extended battery life, which should help offer multi-day tracking.
While you can upload a GPX file for route tracking on the 'Hike' workout mode, it doesn't seem like an option on the Expedition Mode.
It has no option to follow a route, and the app must be open for it to record, so you can't run both at the same time.
It feels like a nice addition – but one that could be better thought out for serious hikers – and that's an issue if you're pricing your smartwatch against Garmin – which has pedigree in this exact area.
A Huawei Watch GT 3 Pro in a shiny case
Wareable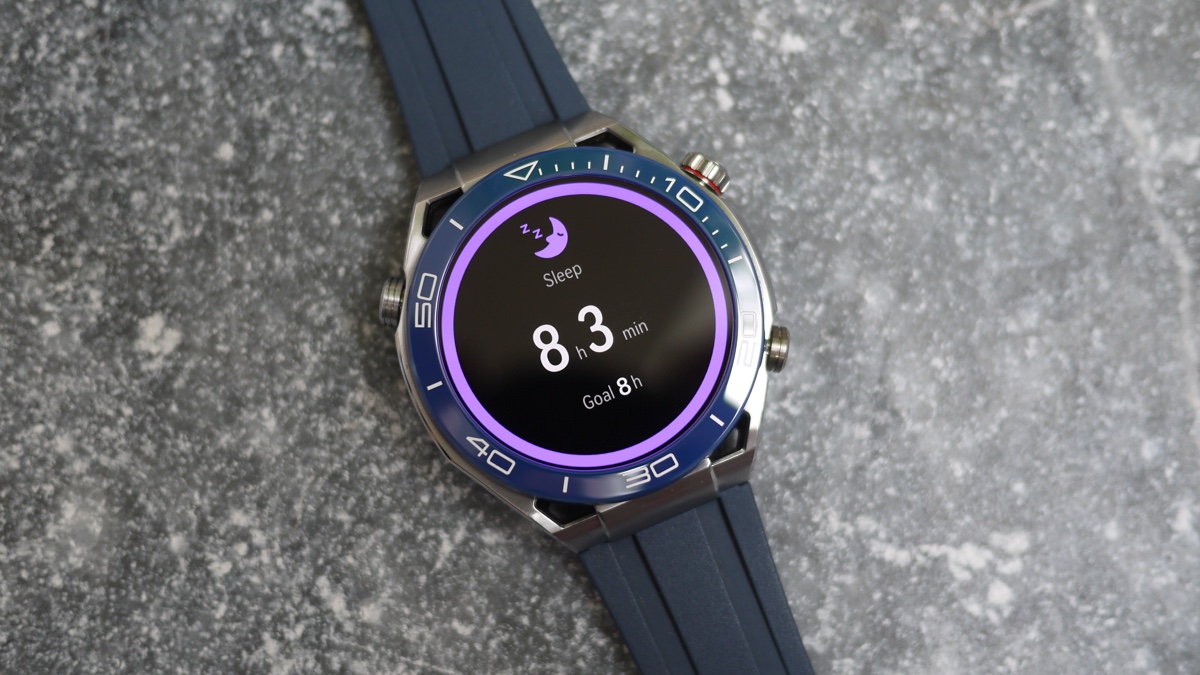 Most features on the Ultimate are derived from the standard Huawei stable, so it is possible to access 90% of the features for 50% of the price by picking a different Huawei smartwatch. The Huawei Watch GT 3 Pro, for example, retails at £299.
The Huawei Watch Ultimate packs dual-frequency GPS (also found on the standard Watch GT 3), which uses L2 and L5 bands, as well as the full range of satellite systems (more on that later).
And you'll also find Huawei's ECG and arterial stiffness features, so it's got decent health credentials – although these also carry over from the Huawei Watch GT 3 Pro.
Like all Huawei devices, there's a SpO2 sensor for the tracking of blood oxygen, and this is done continuously if turned on in the app.
We found resting heart rate accuracy to be spot on against our Whoop 4.0 and established baselines over years of testing wearables. And the Huawei Watch Ultimate was also in full agreement over our VO2 Max with our Garmin Fenix 7 and chest strap, which is also good to see.
Sleep tracking is on board – and while we don't find it as sensitive to waking periods as something like Fitbit and Whoop (and produced longer sleep duration estimates) we do enjoy the breakdown and rating of individual sleep factors, such as deep sleep continuity, and the advice on how to improve elements of your rest.
While it's not gold standard in our book, it is reliable and consistent, even if it will comparatively offer a more cheerful outlook on your sleep duration.
And then comes the duo of stress tracking and skin temperature tracking – both of which still feel meaningless in their implementation.
Stress scores are abstract and hidden within the app with zero context about what could contribute to perceived stress, and skin temperature without established baselines.
Accuracy issues
Wareable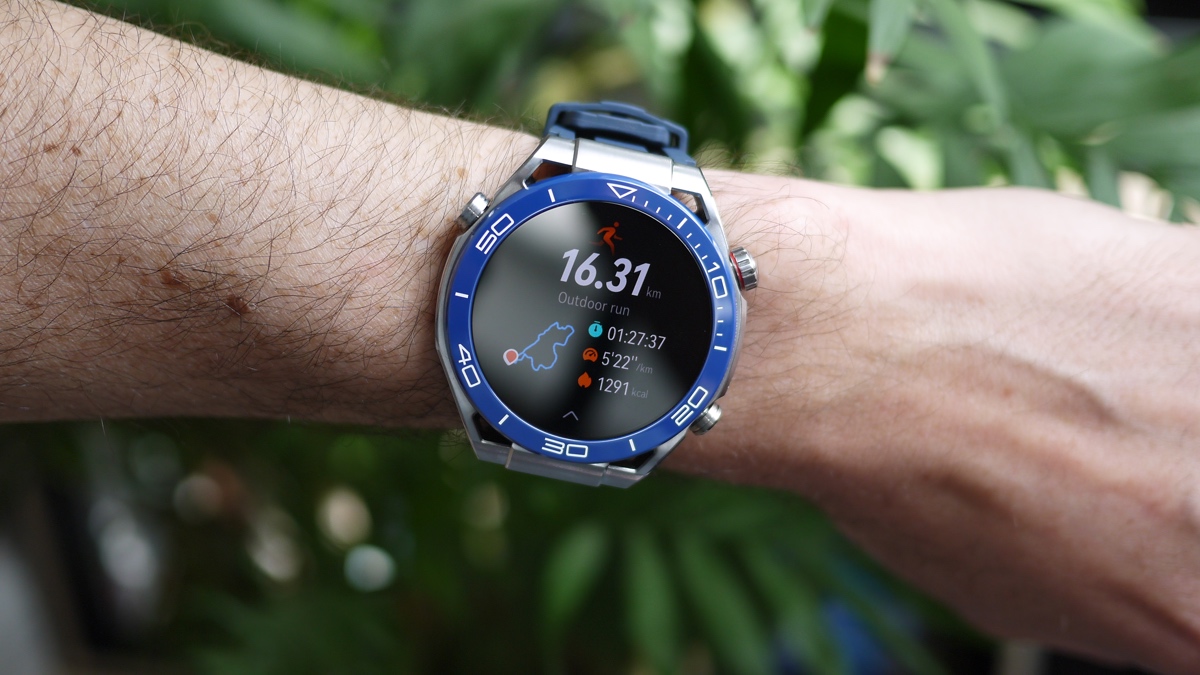 While the Huawei Watch Ultimate may be a pimped-up version of the GT3 in many ways, we found a host of issues here that we've not experienced with Huawei's more modestly-priced rivals.
The first was GPS accuracy, which was very poor. We experienced around 200-300 meters of extra distance per 5K across a number of runs, all in low-rise suburban areas. That meant that a 15km run was clocked at nearly 1000m over. Not one of our test runs was recorded accurately.
We reached out to Huawei and reported the issues, and it blamed tall buildings on our run route, which if true, would be embarrassing for a smartwatch that boasts dual-band GNSS.
But it also confirmed it would launch a software update in May 2023 to address the issue, so we'll be checking back when that's available. It feels like it should be fixable, but also far from ideal.
Curiously, when putting the GPX file from the Huawei Watch Ultimate into Strava or GPX Visualizer (below), it corrects the distance, so it seems as if the watch itself is misinterpreting the data. See below:
Wareable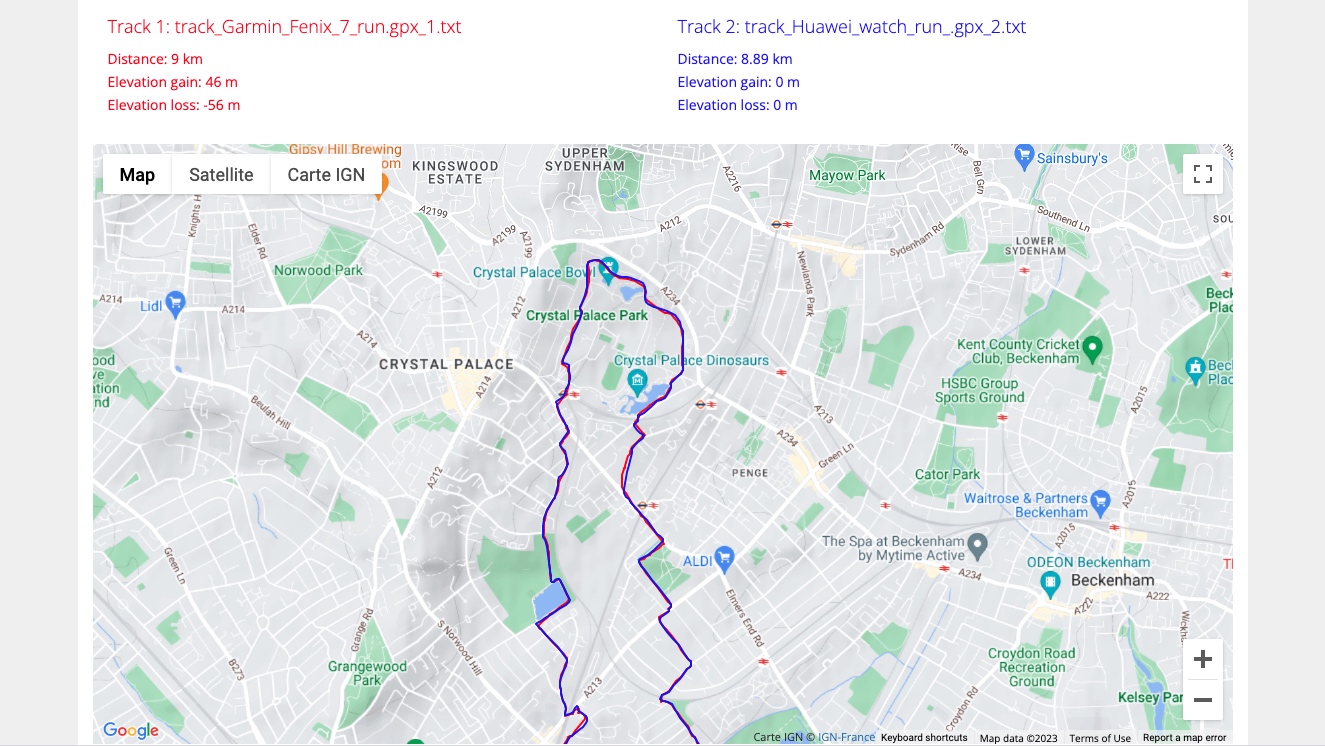 In third party apps the distance is corrected – so the Huawei Watch Ultimate seems to add distance itself
If you zoom in more, you can see that the Huawei Watch Ultimate (blue line) suffers far less GPS wandering than the Garmin Fenix (red line). So it's possible that Huawei's tracking could end up being excellent, if it can overcome the issue with a software update. But sadly, it's not recommendable as it is today.
Heart rate problems
Wareable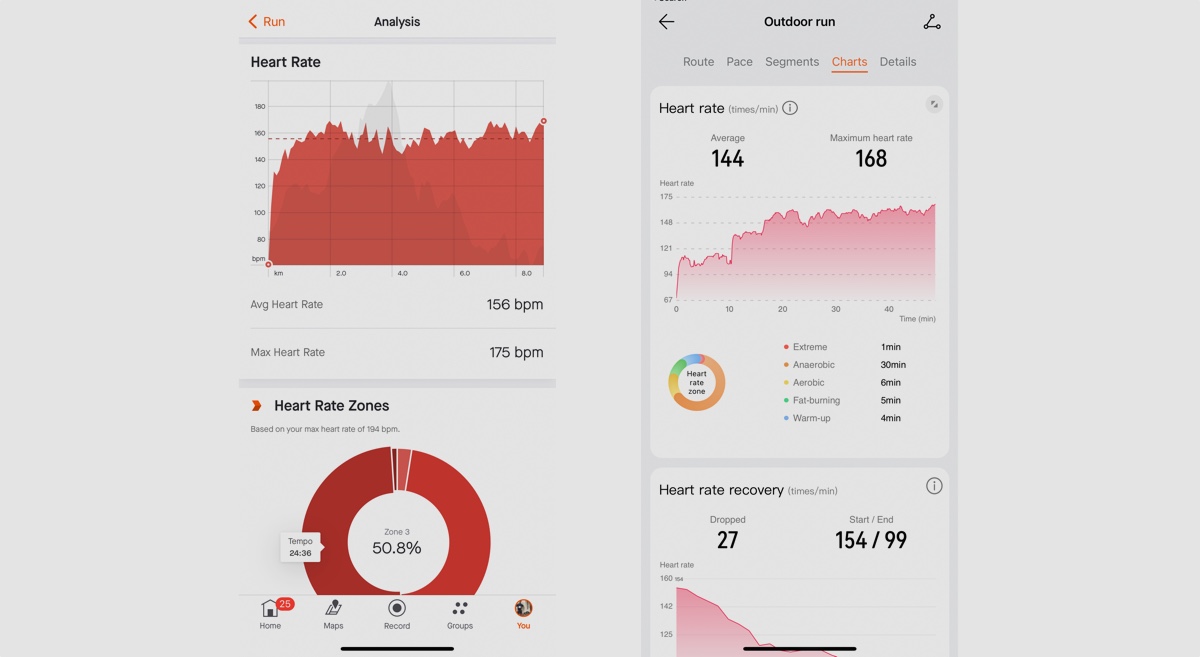 Huawei (right) had issues tracking HR during the first part of some workouts.
Likewise, we also found workout heart rate data to be extremely wayward, particularly at the beginning of workouts.
We found instances of both long periods of extremely high and low heart rate reporting – before a mid-run correction.
The example above shows the Ultimate's heart rate (right) stuck at on or below 100bpm, before correcting.
The comparison with a chest strap (left) shows our heart rate climbing quickly to 150pm, with vastly different averages for the session.
In a separate workout, the Huawei Watch Ultimate reported us running at 180bpm for the first half of a workout, before correcting itself.
And as we've widely maintained, once you start adding duff information in, it undermines all of the analysis a smartwatch offers. It's highly disappointing.
Again, Huawei has promised a fix, but this one will take longer:
"In response to the issue of abnormal heart rate probability in some cases, a special optimization and improvement project has been established, and an update is expected to be launched in Q4," a spokesperson told Wareable.
Smartwatch features
Wareable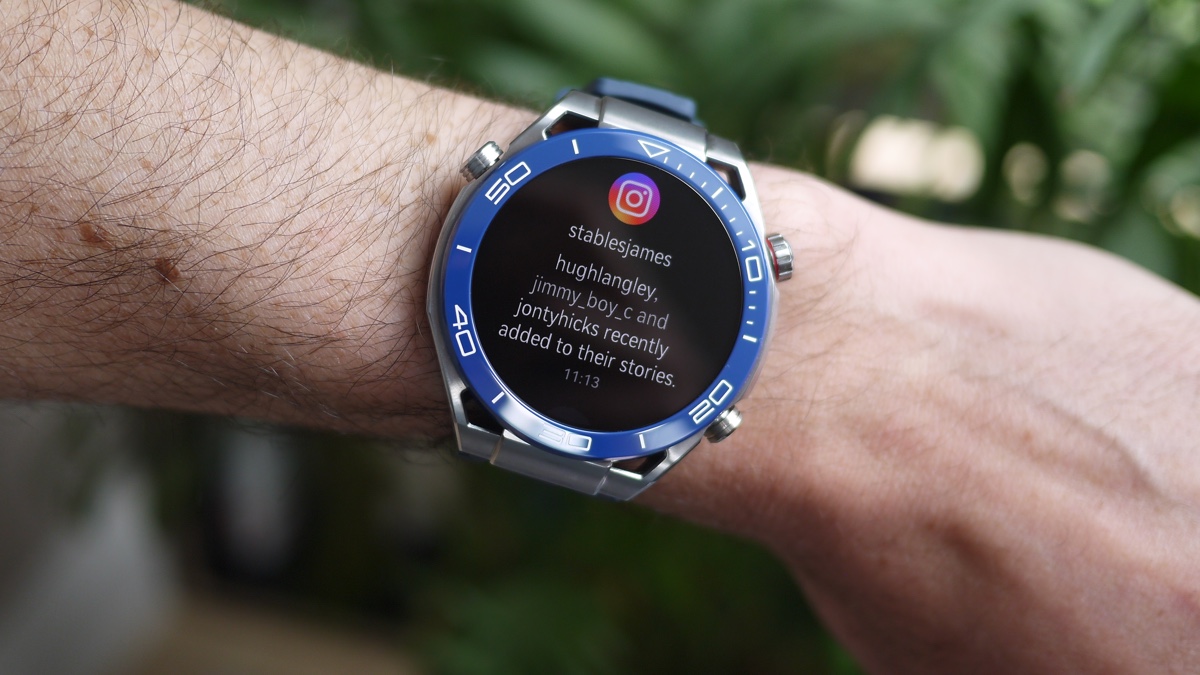 Huawei's arterial stiffness test
The excellent screen does a lot to make for a good all-around experience as a smartwatch, with notifications and widgets well designed, easy to read, and reliable.
We had a few issues with notifications arriving late on the watch, but we suspect that's more to do with the iOS pairing. Ultimately, as well, this isn't really a device that can pass muster for iPhone users, who have the much more impressive Apple Watch Ultra within their grasp.
Of course, there are a few things that Huawei doesn't offer – and, at this price point, makes the Ultimate harder to justify.
There is NFC, but few banks support payments from the wrist – unlike Apple Pay or Google Pay.
There's also no support for streaming services, so you can't take Spotify playlists on the move untethered.
There's no LTE version or support, either. And there's also no meaningful app store, which is an area that mitigates many of the Apple Watch's negatives.
Even Google has improved heavily with Wear OS 3, so Android phone users don't necessarily have to look as hard for a compelling alternative.
Battery life
Wareable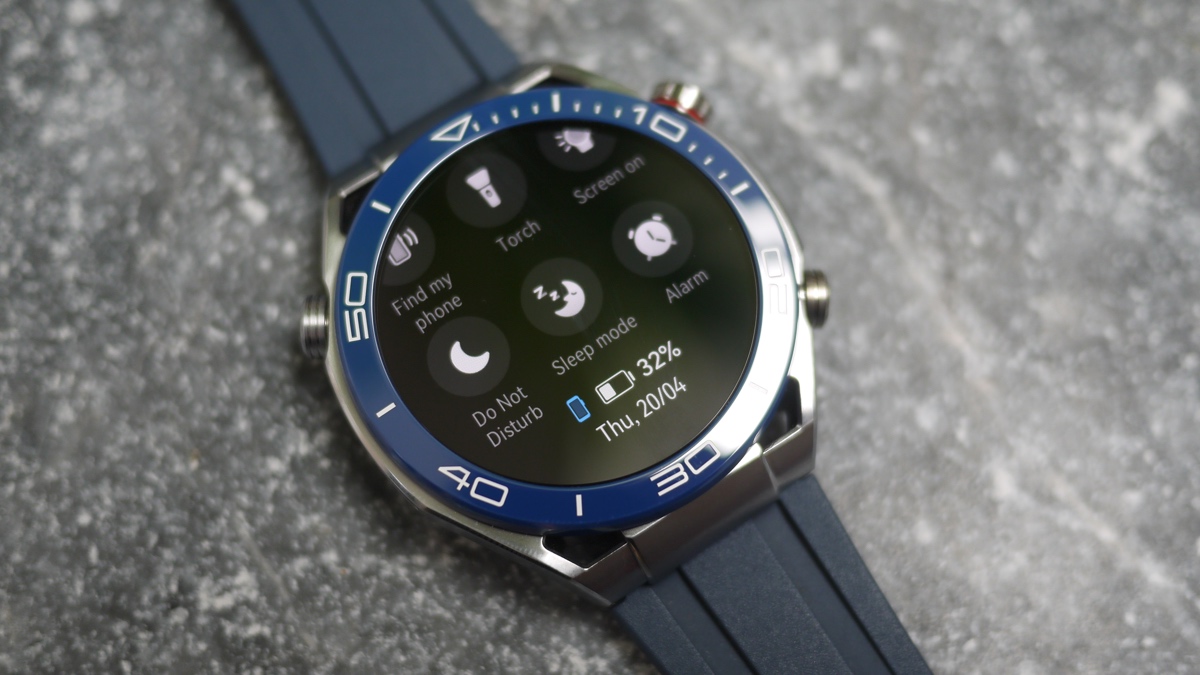 The payoff of not having to deal with advanced smartwatch features is incredible battery life.
Huawei promises 14 days of battery life from the Ultimate, and 8 days with heavy use, including continuous stress monitoring turned on and 180 mins of workouts. Neither of these factors in the use of the always-on display.
With the always-on display active, and all of the health features turned on, we were able to make the Huawei Watch Ultimate last around six days, with GPS-tracked workouts totaling four hours.
We'd say that's an excellent performance, and favorable against Huawei's own estimates.
It's one of the most compelling cases against standard Wear OS and Apple Watch options – although Garmin still excels in this area.
---
---