Wareable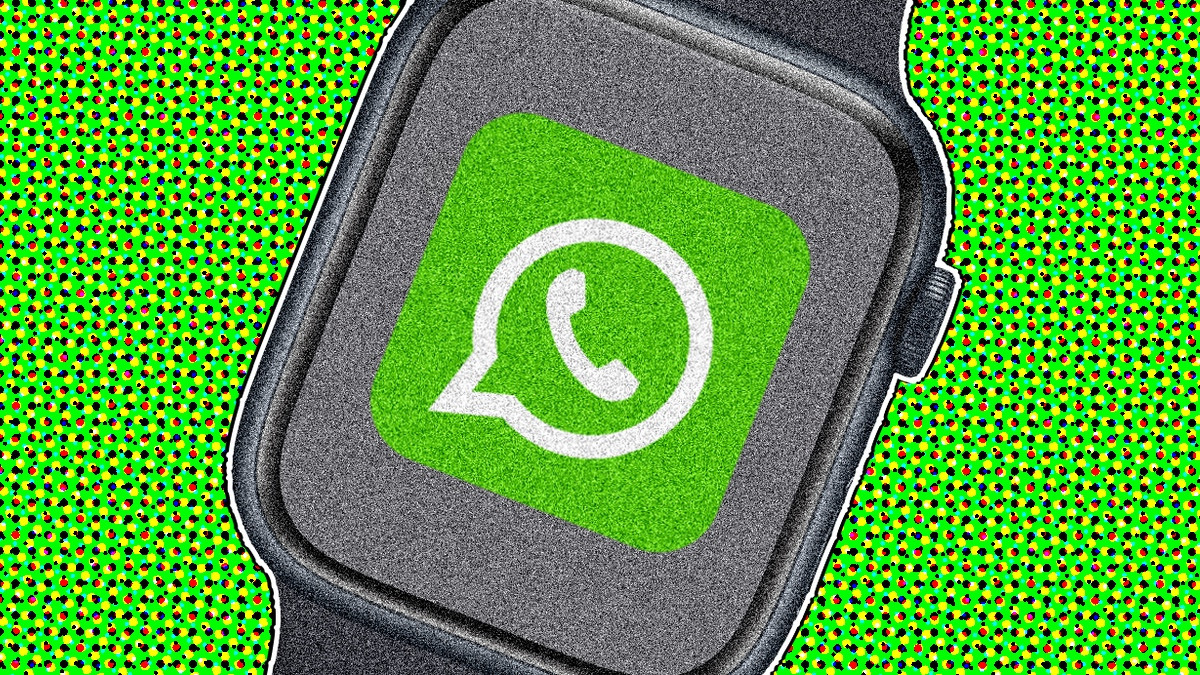 Wareable is reader-powered. If you click through using links on the site, we may earn an affiliate commission.
Learn more
Getting WhatsApp notifications on your Apple Watch is a great way of staying connected - and can help you become less attached to your smartphone.
It's important to understand that there's no official WhatsApp app for the Apple Watch. However, it is possible to receive notifications and reply to messages straight from the wrist, thanks to built-in integrations.
With WhatsApp on Apple Watch, you can:
Read notifications

Reply to messages
However, you cannot (as standard):
Browse received messages

Initiate a conversation with a contact

See multimedia, such as pictures or videos
Learn how to use WhatsApp on the Apple Watch by following our guide below, where we'll provide the key steps on setting up WhatsApp notifications and a very cool workaround to get you sending messages from the wrist.
Get WhatsApp notifications on Apple Watch
Wareable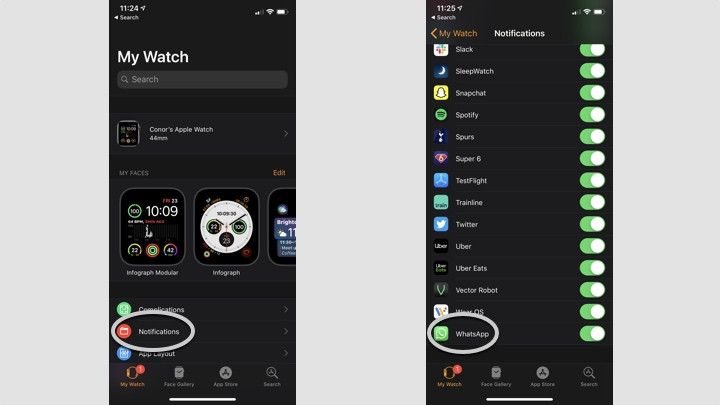 If you're going through standard, official channels, you can receive notifications and also reply from the Apple Watch.
However, you will need to ensure notifications are turned on first in order to have them mirrored on your phone.
1. On your iPhone, go to the Watch app.
2. From the My Watch tab, tap Notifications.
3. Scroll down to WhatsApp and ensure the switch is turned green. You'll see the option to mirror iPhone alerts to bring those WhatsApp alerts to your wrist.
Once notifications are turned on, you'll notice that your wrist buzzes whenever a message comes in.
Reply to WhatsApp messages from your Apple Watch
You can also send messages on WhatsApp with the Apple Watch.
That is a lot easier now thanks to the QWERTY keyboard introduced with the Apple Watch Series 7 (and also found on Series 8/Ultra).
First up, you can pick from a list of simple options to reply, such as, 'Hello', 'What's up?', 'OK' or 'On my way'.
What's more, you can record a custom reply via voice recognition and send that straight back to the recipient.
And if that's not enough, you can even type out your response on the keyboard. It's tiny but quite intuitive.
How to reply to a WhatsApp message
Wareable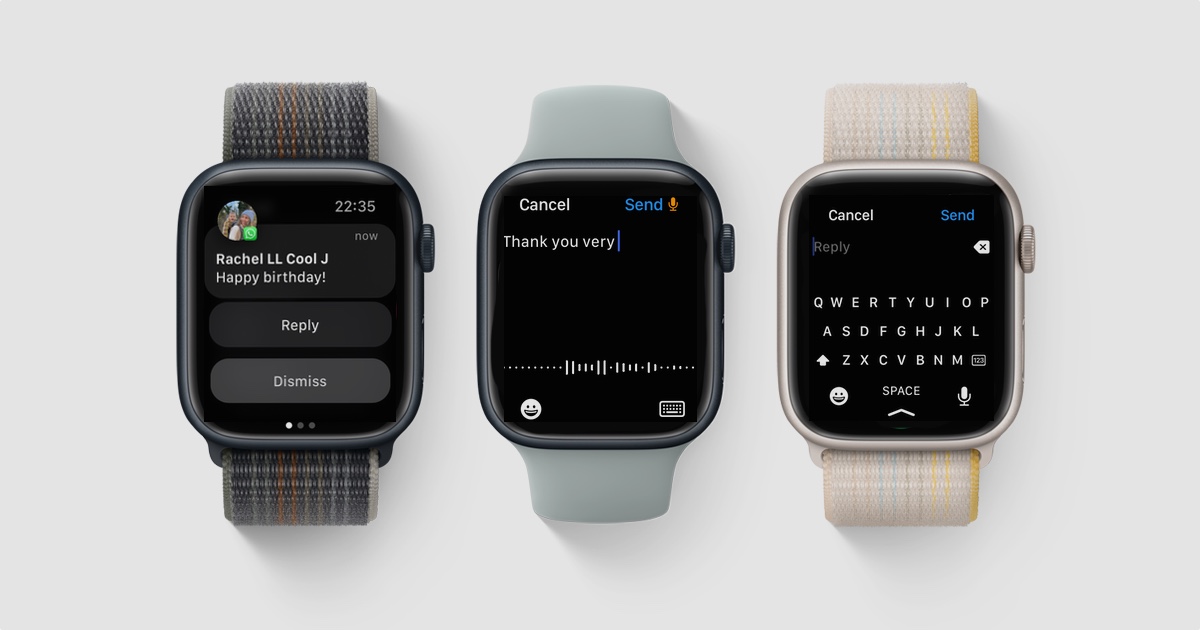 1. Go to the received WhatsApp message notification on the Apple Watch.
2. Tap Reply.
3. Scroll down and choose one of the custom responses.
4. If you want to craft your own reply, you can hit the microphone and record your message.
Send WhatsApp Messages from Apple Watch
Fabian Heuwieser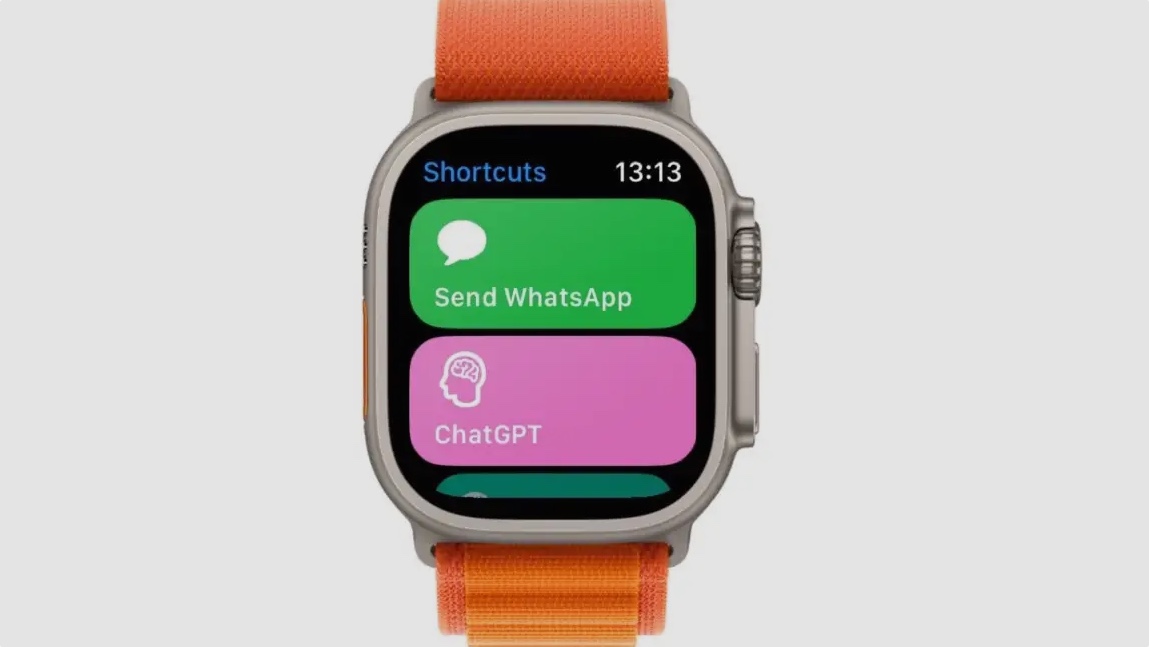 At the top of this article, we said that (as standard) you couldn't send WhatsApp messages from your Apple Watch. But there is a workaround.
The tip came from Fabian Heuwieser, who specializes in using the Apple Shortcuts app. He's created a shortcut that enables you to send a WhatsApp Message from the wrist - even if you're using LTE.
To get started, just head to his blog and download the pre-written Shortcut, which will automatically be added to your Apple Watch.
There are two Shortcuts, one that opens your contacts (which we found fiddly to choose a recipient) and a second that enables you to pre-set some favorites. We explain how below.
To set up the WhatsApp Apple Watch Shortcuts:
1. Download the Shortcuts using the link above.
2. Head to the Shortcuts app on your iPhone.
3. Choose the Template option and tap the button to edit.
4. Rename the first contact.
5. Now scroll down below to the entry. It will say "Send [Text] to [X]. Tap this last entry.
6. Choose a contact. Repeat for other entries.
To send a WhatsApp message:
1. Head to the Shortcuts app.
2. Run the Shortcut.
3. Choose a contact.
4. Write your message (we prefer to use Siri in this instance).
5. Press send.
WhatsApp alternative app
Wareable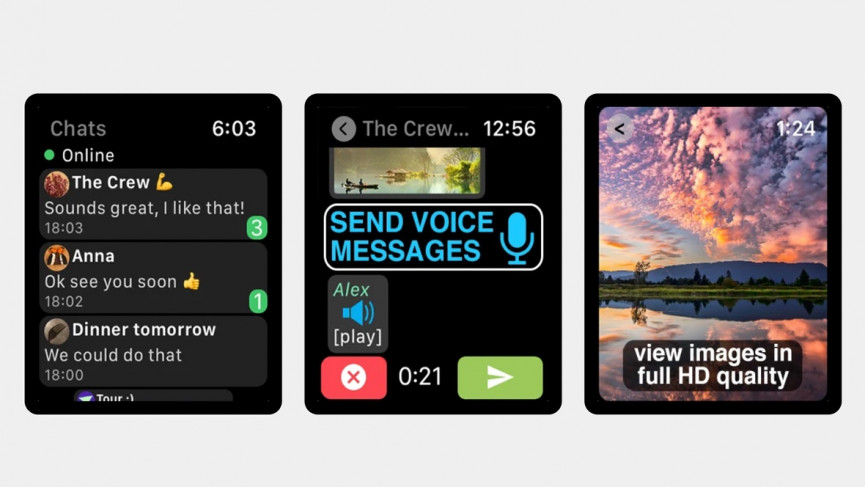 As we alluded to up top, there's no official WhatsApp app available for the Apple Watch. However, that doesn't mean there aren't third-party alternatives to choose from within the Apple Watch App Store.
It's worth noting that there are many to choose from, both free and paid-for, and it can be difficult to work out which third-party WhatsApp solutions are the most effective and reliable in providing a fuller experience.
In our experience, WatchChat 2 (which costs $2.99/£2.99) is probably the pick of the bunch, at least for now.
Wareable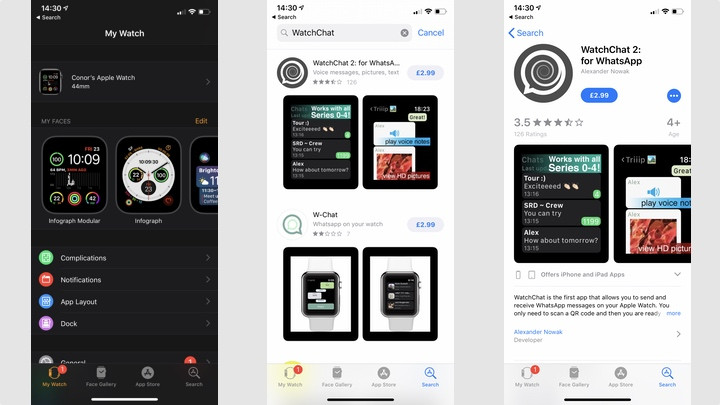 Not only does it let you view and send messages in all your existing chats, as well as dictation and Scribble, watch videos, and view stickers, but it's also fairly simple to get started. Here's how:
1. On your iPhone, go to the Watch app and tap on the App Store.
2. In the search box, type in 'WatchChat 2', then download the app to your Apple Watch.
3. Once downloaded, open the app on your Apple Watch.
4. Then, head to WhatsApp on your iPhone, before going to Settings > WhatsApp Web > Scan QR code.
5. Scan the QR code that appears on the Apple Watch.
---
More Apple Watch guides
How to make an Apple Watch face
How to use Apple Health
How to use Spotify on Apple Watch
How to add music tracks to Apple Watch
How to update Apple Watch
How to take an ECG reading on Apple Watch
How to pair Apple Watch
How to improve Apple Watch battery life
---
---